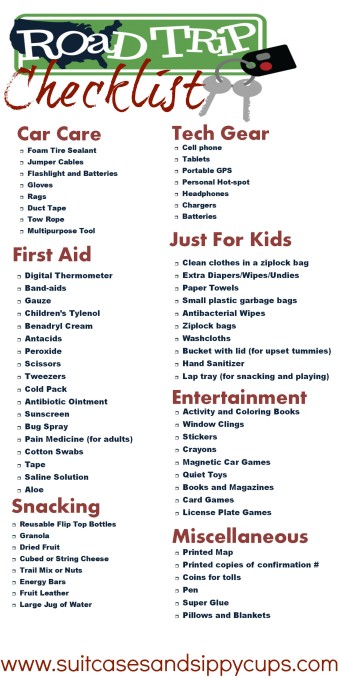 Is there anything that feels more like summer than the freedom of setting out on a road trip? As warm weather winds down, AT&T is celebrating the road trip as the last summer hurrah, and has asked me to share my must-have packing list for the perfect road trip with kids.
Packing Perfection
Before we get into the nitty gritty of packing, it has to be said that it's not what you pack, it's how you pack it when it comes to road tripping. Throw out the way you have packed for any trip involving a plane. For road trips, you need to pack by the day rather than by the person. (I'll wait, while you recover from having your packing world blown wide open.)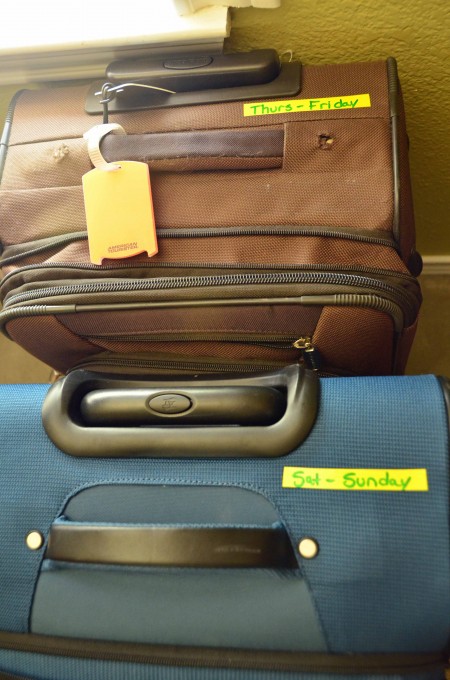 ~Suitcases are labeled with the days that they will be needed~
Here's how it works: Instead of packing all the necessities of each person (or two) for the entire trip, pack each suitcase with everything the entire family will need for each night or stop. Using this method, you only need to bring one or two suitcases into the hotel each night. You can also more easily pack the car, placing the bags needed later in the trip on the bottom.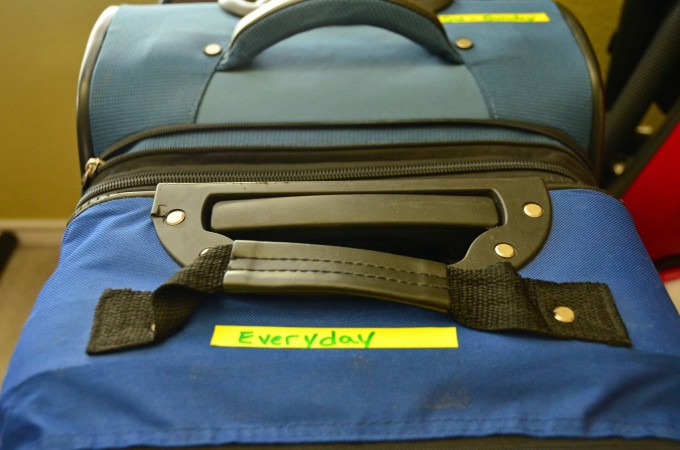 ~Pack one suitcase with all the things you need every day~
The first time I packed this way, I was simultaneously thrilled with the results and mad that I hadn't tried it before.
Keeping Things Organized
My biggest challenge and frustration on any road trip is that the car is like a Bermuda triangle for important things like chargers, but a matter replicator for things like trash. To keep both from happening, I try to have a system for putting things away and keeping things clean.
Mini trash bags are a big boon for traveling with kids. I pass one back as we near each gas station and ask them to fill it before getting out to take a pitstop. The other way to keep clutter at bay is to have a specific place for everything. Case in point: we have a plaid bag-affectionately called the plag- that holds all electronics, games, extra batteries, movies, etc. The kids know that this is the bag to look for when they need something electronic. They also know that this is the bag where they put electronics. At the end of each day as we are going into the hotel, the plag is filled with appropriate gear so that they can go inside to be charged.
Likewise we have a designated place for our first aid kit, movie headphones, and other road trip essentials, so we always know where to look when we need them.
While we are talking about keeping things organized, let's talk about keeping things clean. Every road trip should include a 'clean up kit' complete with paper towels, a couple of washcloths, some kind of disinfectant wipe or spray, and ziplock bags. Trust me, you are going to want to put all of this in a largish Tupperware bucket WITH A LID, and store it under your car seat. Hopefully, the travel gods will make it so you never need to pull out the 'barf bucket,' but if someone sounds the alarm while you are flying down the interstate, at least you will be ready.
Along that same vein, pack a change of clothes for everyone-including mom-at the top of your suitcase or in a separate bag that is not buried at the bottom of the pile. I like to put a single outfit for each person in a large ziptop bag and stash those all in a bright colored draw string bag that is easy to grab if anyone needs something clean. Bonus tip: if you are potty training or have a child in diapers, bring at least twice as many undies/diapers as you think you need.
I'll be honest, ten minutes into any trip my car looks like some kind of episode of Hoarders, but I like to at least start out with an organized space.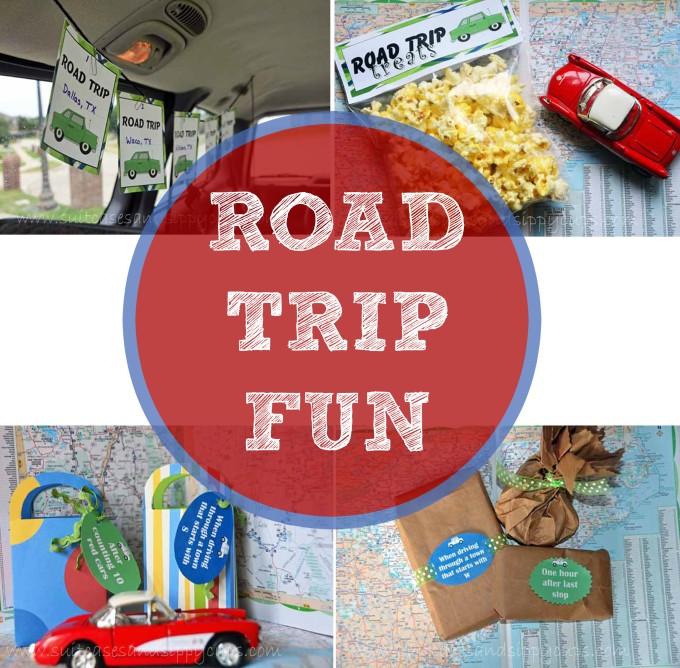 ~A few printables, like countdown cards, can make roadtripping even more fun~
Keeping the Car and Kids Healthy
In my early traveling days, I roadtripped with the overkill of first aid kits. It was a giant bucket filled with the entire contents of the nearest Walgreens. As time and sanity tempered my fear of not being prepared, I have found it much more convenient to travel with a compact-but well stocked first aid kit. I broke down and bought the ubiquitous red first aid kit and filled it with the things we need most. I love this because I can keep it in my car and easily throw it in my purse or backpack where ever we go.
The basics of my car first aid kit include:
· Digital Thermometer
· Band-aids
· Gauze
· Children's Tylenol
· Benadryl Cream
· Antacids
· Peroxide
· Scissors
· Tweezers
· Cold Pack
· Antibiotic Ointment
· Sunscreen
· Bug Spray
· Pain Medicine (for adults)
· Cotton Swabs
· Tape
· Saline Solution
· Aloe
For car care, my go-to gear is a AAA card. Barring a flat tire, any car trouble leaves me in damsel in distress mode and I am more than happy to call in the big guns, so to speak. If my husband is traveling with us, he insists on being a bit more prepared, and since he has the know-how, it makes sense to have the tools.
His car care list includes:
· Foam Tire Sealant
· Jumper Cables
· Flashlight and Batteries
· Gloves
· Rags
· Duct Tape
· Tow Rope
· Multipurpose Tool
AT& T Recommends: Connected Car which features speed alerts, vehicle maintenance notices, and roadside assistance with a simple plug-in device.

~Healthy Snacks are easy to grab if you know what works on the go~
Eating Makes the Road Seem Sweeter
No road trip is complete without plenty of snacks. To organize the snacks, I use two large see through Tupperware buckets with a lid and handle. One bucket holds healthy, on-the-road snacks, and the other holds treats that can only be accessed at each gas station. My kids-and their mom-love to snack while we drive, but I don't want them snacking on junk all day. The bucket that rides in the car with us is filled with healthy, nutrient dense snacks. These snacks aren't just chosen for their nutrition, but also for their messiness, or lack thereof. Snacks that are going to be eaten while we drive need to be not too crumbly, not too melty, and easy to pass around and eat.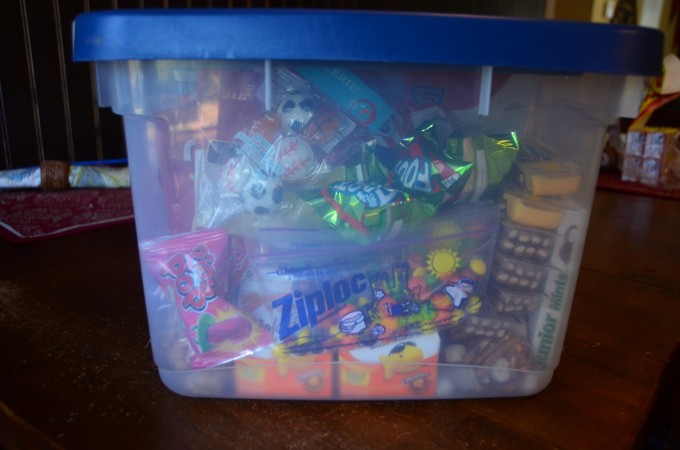 ~Clear bucket makes it easy to see what's available in the snack department~
For healthy, road worthy snacks, we choose:
· Reusable Flip Top Bottles
· Granola
· Dried Fruit
· Cubed or String Cheese
· Trail Mix or Nuts
· Energy Bars
· Fruit Leather
· Large Jug of Water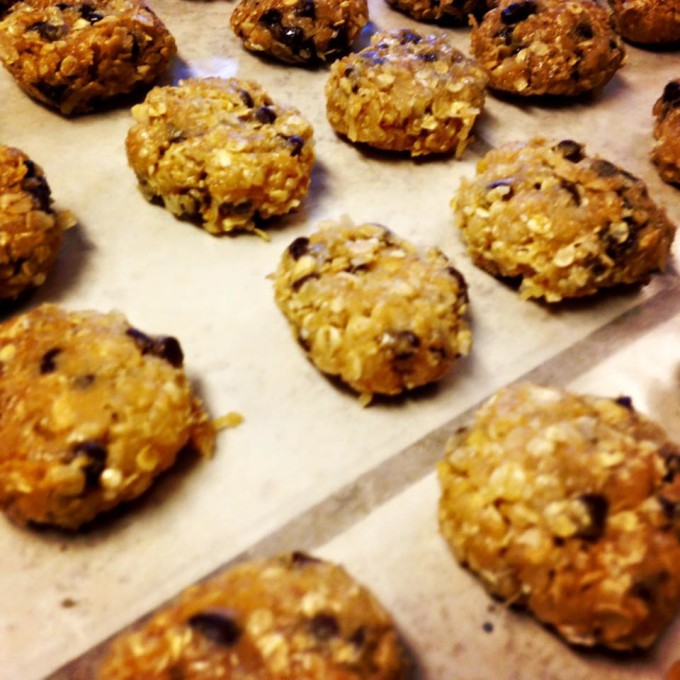 ~No Bake Energy Bites are a Perfect Road Trip Snack~
Of course, road trips are also a time to relax the standards and enjoy some candy, so I have a bucket for that, too. This bucket stays in the back of the car and only gets pulled out after everyone has taken a bathroom break. I choose treats that I know the kids will love, and break big packs of candy into reasonable servings contained in a small ziplock bag. With this method, we skip the gas station candy aisle completely and hurry back to the car to choose a treat from the bucket. It saves tons of time and money, but still allows the kids to enjoy some treats when we travel.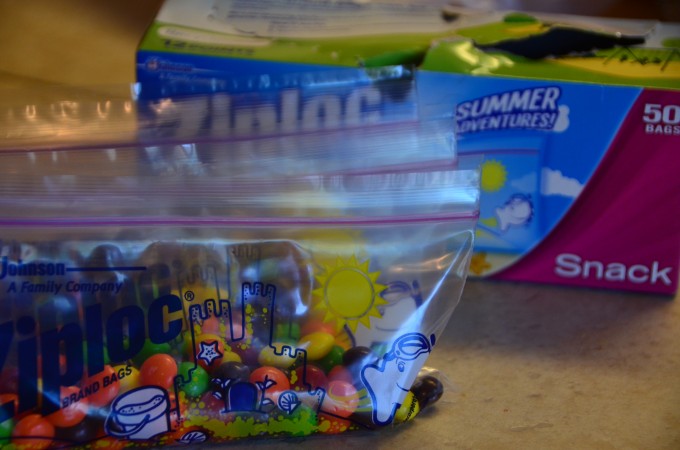 ~Package large bags of snacks into individual bags to keep sugar under control~
The Single Gadget the Changed the Road Trip
Let's just stop for a moment of silence in praise of the smartphone. There was a time, my young friends, when planning a trip meant a giant paper book called an atlas, loading up your six CD changer with your favorite disks, and having quarters for phone calls was a must. Depending on your demographic, you are either nodding your head in remembrance or shaking your head in confusion, but either way, we can all agree that the modern smartphone has changed the way we all travel for the better.
At the very top of my must-have list for road trips is a good GPS, great music, and a way to make plans wherever the road leads us. It is a miracle-a plain miracle, I tell ya'- to have all of those things in one pocket sized device. If you don't see the miracle, you have probably never run out of quarters trying to make a hotel reservation from a dusty roadside diner.
Smartphones also have the added bonus of a built in camera. A Luddite I am not, but I have avoided using a camera phone-even though it is right at my fingertips-simply because I feel like my DLSR does the job so much better. I still pack my big camera for every trip, but I love that camera phones are getting better, plus the convenience of not needing to dig out the camera to snap a shot from the road.
AT & T Recommends: The Samsung Galaxy S6 Active with features including a rugged design that withstands dust and water, and an extended battery that is built to last even the longest road trip. For photos that can be captured quickly an even in low light, the LG G4 features 16MP rear-facing camera, Optical Image Stabilization, a faster shutter speed, Laser Auto Focus, and an improved white balance sensor
Tech Gear and Other Sanity Savers
An all in one-der smart phone is a road trip given, but there are several other tech gadgets that can make road tripping easier. While many parents wisely eschew the regular use of electronics, long days in the car are a great occasion to relax the rules on electronics. Second only to smartphones are tablets for road trip gear that makes traveling awesome. Before a big trip, we can load the kids' tablets with books, magazines, movies and more. To keep the fun going through the miles, the car has to be packed with chargers-both wall chargers and car chargers- and headphones for everyone.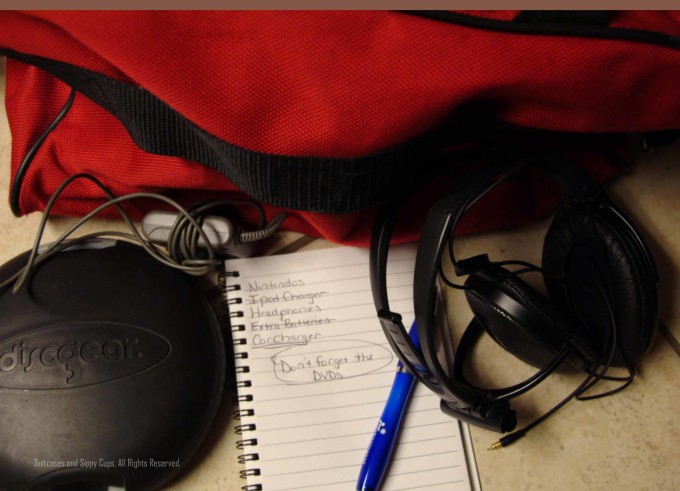 For my sanity, I require a special selected and rockin' set of road trip tunes and my own headphones, just in case I need to go to my happy place. I also like to bring along a portable GPS, just in case my phone is out of range or I need a separate unit for some reason. Before traveling, it makes sense to check your cell phone coverage, which you can do here if you are an AT & T customer.
AT & T Recommends: The iFrogz 7800 mAh GoLite Universal Battery is a stylish accessory that has enough power to charge your phone up to four times.
~I was compensated to write this post on behalf of AT & T~