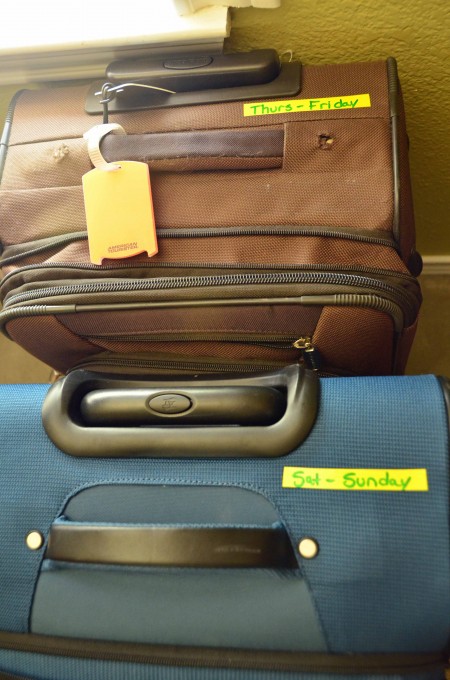 I learned a new way to pack for a road trip recently, but I can't decide if I am thrilled that this new packing method will make things so much easier, or mad that it has taken me so long to figure it out. Think of all the time, energy, and frustration I could have saved myself if I had only known this before!
What is this little miracle packing tip? It's so simple, really. Instead of packing all the necessities of each person (or two) for the entire trip, pack each suitcase with everything the entire family will need for each night or stop. Using this method, you only need to bring one or two suitcases into the hotel each night. You can also more easily pack the car, placing the bags needed later in the trip on the bottom.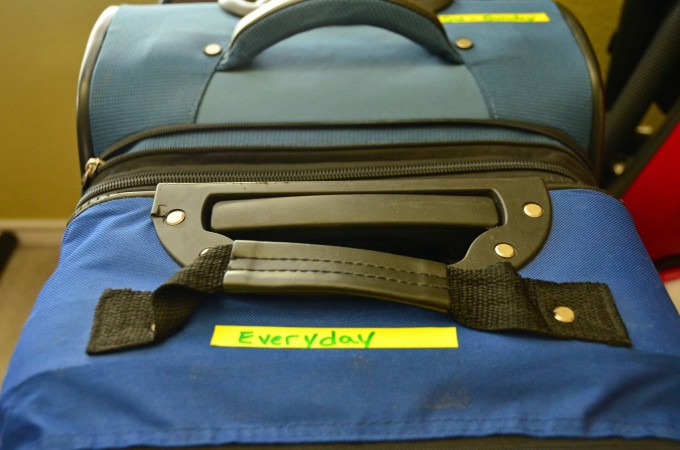 I took this new packing method for a test drive recently on a road trip to Houston and I was really happy with the results. Here's how I made it work:
One bag was designated our everyday bag and into went the things we would need every day. This included underwear and socks for everyone for the entire trip, swimming suits, pajamas, and toiletries. Having all the swimming suits and pajamas in one bag was such a headache saver. Normally, my kids cross the hotel room threshold and become streakers in an attempt to get out of their clothes and into the pool as fast as possible. Then, the inevitable "Where's my swim suit" comes at me from four directions and suitcases are pilfered and destroyed in the search. Having them all in one place was so much easier. It also really came in handy for the nights when we rolled into the hotel way past bedtime. That everyday bag was the only one needed to get clothes changed, teeth brushed, and everyone into bed.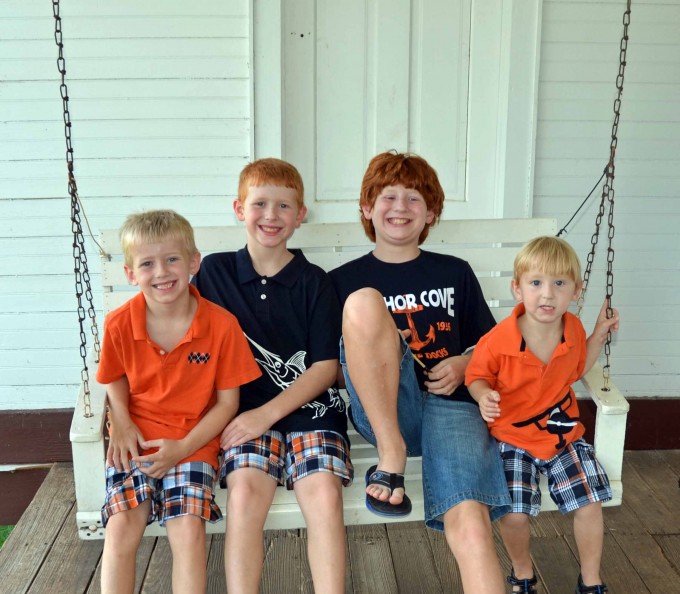 Bags for daily clothes were packed for each night (or two) that we would be on the road. I was pleasantly surprised to learn that I could pack for two nights for the entire family in one small suitcase. When, we travel, I like to dress my kids in similar colors, not only because it looks cute in pictures, but because it makes packing easier. For this road trip packing method, I would pack all the similar outfits in one stack, that could be easily removed in the hotel and everyone dressed quickly.
Label each suitcase. You can go with the 'Bubba' method of using a strip of duct tape, or use another type of tape, like electrical tape. I found that by the end of the trip my strips of electrical tape had become much less sticky, so it the future I will make a loop of tape to stick around the handle, so they stay put.
What great travel tips have you learned lately? Share your best tips and link up below