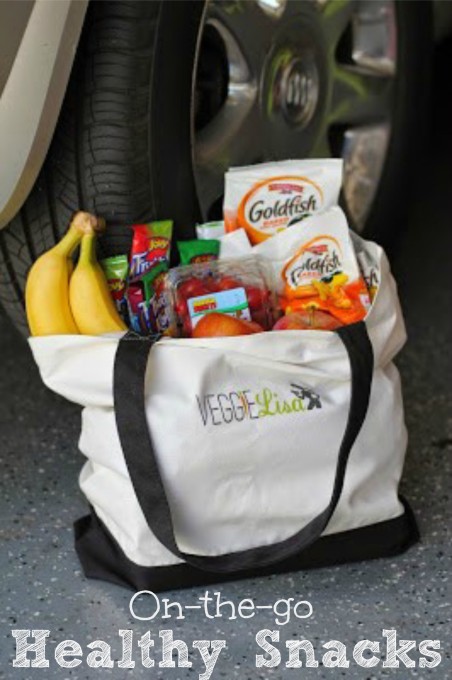 Hitting the open road is exciting, but add 4 hungry kids and the excitement quickly turns to stress.
"Mom, I'm hungry."
"Mom, I'm thirsty."
"Mom, I'm still hungry."
We all know that the one of the most stressful parts of a family vacation is trying to be prepared for every situation or emergency. Things you think about are Tylenol for the teething baby, Band-Aids for the scratched knees, and most of all, food for the rumbling tummies. Not to mention, because you are a total supermom, you want that food to be healthy. Say goodbye to the sugar laden, red dye #6, gas station goodies. I am here to teach you how to pack the perfect snacks for even the pickiest eaters! First things first, when traveling, fresh fruits and vegetables can be hard to come by. And if you do find them, chances are they are loaded with salt, oil, and probably sugar. So, let's talk about what fruits and veggies to pack along.

In my experience, fruit can be more appealing to children than vegetables. When packing fruit, you want to pick ones that have a peel, this makes them more portable, and eaten without a big mess.
Fruits That Travel Well
-Bananas:thick peel allows for great portability, as well as easy clean up
-Cutie Oranges/Clementines: perfect kid size, sweet and juicy, but not enough to make a mess
-Apples:make sure to wash beforehand or in a pinch use a wipe to scrub
Many vegetables stay fairly fresh, even if they aren't refrigerated for a day or two. Make sure to do your entire cutting before you go. The best way I have found to pack these is to put them in sandwich baggies to hand out as you drive. If you have multiple children, bringing Dixie cups and filling them with some of these fruits and veggies is a great way to keep the mess to a minimum. Toddlers love just about anything they can do themselves.
Veggies That Travel Well
-Carrot Sticks:I have a hate/hate relationship with baby carrots. Use real carrots and then cut them into sticks. They have a much better flavor and aren't soaked in chlorine. Also, I throw a little water in to keep them from drying out.
-Cucumber Sticks:The mini cucumbers are great for this or it can be more cost effective to buy regular cucumbers and cut them up on your own. They will stay good for about a day until they get watery.
-Sugar Snap Peas
-Cherry Tomatoes: You will want to pack these in a hard shell container.
-Celery
-Sliced Sweet Peppers
One great way to get kids to eat veggies is to serve it with a great dip. I usually portion out smaller containers-2 or 4 oz cups work great-so that I can hand them out with the veggies. Here is a great recipe for a healthy veggie dip:
Veggie Dip Recipe
Blend 1-cup of cottage
cheese in blender until smooth. Mix in 1 TBSP ranch
seasoning. Allow to sit in fridge for 2 hours. Divide into containers and keep in cooler until ready to eat.
Now that we have packed our fruits and veggies, let's talk about snacks. Kids love snacks. But many of the prepackaged snacks contain preservatives, added sugar and the dreaded trans fats. On every car trip, airplane ride, or trip to the zoo, I have a bag of sandwiches. I literally buy an extra load of whole wheat bread, and add some natural peanut butter and raw honey. Each sandwich is cut into quarters. Chances are the toddler will only eat a quarter before it is dropped on the ground or fed to a bird. There have been many trips where these sandwiches have saved us from a fast food run or an extra stop along the way. The best part is they don't need to be refrigerated! Another road trip treat that kids just love, are my Granola Energy Bites. These are easy to throw together beforehand and will stay good for awhile. Plus, they taste better than a candy bar, with no yucky ingredients.
Recipe: Kid-Friendly Granola Energy Bites

1-cup old-fashioned oats
1/3-cup raw honey (you can even decrease this if needed)
1 cup shredded unsweetened coconut flakes
1 scoop protein powder (any flavor)
Handful of sprinkles or mini chocolate chips
Combine all ingredients in a bowl. Stick in the fridge for 30 minutes. Roll into balls. If they are too dry and not sticking together you can add a splash of water or almond milk. Makes 1 dozen. Store in fridge until ready to go.

There are also some last minute store bought snacks that I like to include. Fruit leather, banana chips, freeze dried fruits, applesauce packets, and fishy crackers are all travel staples for my family. Like I mentioned earlier, an easy way to do this is to bring individual bags (sandwich or paper) or Dixie cups to put the snacks in to hand out to each child. I usually have the box of food right behind me in the passenger seat. This lets me grab the food easily, pop in it a cup and pass it back. Then when we do stop, the kids can grab their empty cups to throw away and eliminate most of the mess. Another really great healthy snack for the road is trail mix. Making your own trail mix is easy and more affordable than buying it at the store. Also, you can add in the food your kids love and leave out the things that everyone picks around. I'm talking to you raisins.

Make Your Own Trail Mix

-Yogurt covered pretzels
-Sunflower seeds
-Nuts (cashews, pistachios, brazil nuts, peanuts, almonds)
-Chocolate covered almonds
-Coconut chips
-Golden raisins
-Pumpkin seeds
-Goji berries
-Dehydrated blueberries, apricots, cranberries or pineapple
-Mini chocolate candies
-Cheerios
-Yogurt covered raisins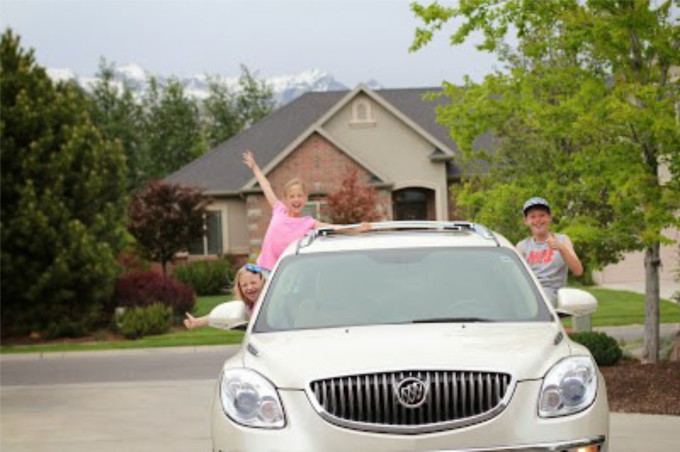 I love having my kids help me throw this together at the last minute, letting them each pick one or two things they really like. One trick to getting your kids to like healthy food is having them help you create the menu so that there is accountability on their part. If they help choose it, chances are they will be more excited to eat it. Being prepared is half the battle to having a stress free vacation.