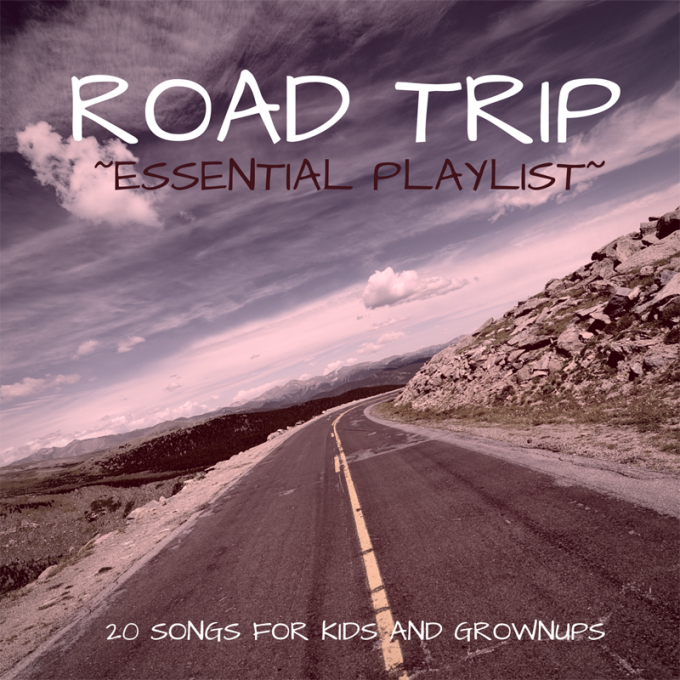 There are a few elements that elevate a road trip from good to great. A well designed route with entertaining stops is a must, as are properly chosen snack foods, but the one thing that can take a road trip from great to epic is the music. The right tunes can make the miles slip by quickly and keep the driver entertained- and awake. Perhaps even more importantly, the tunes you hear while driving become the soundtrack that bring back the memories of the trip.
In our car, the driver is the DJ, and while I like to choose music that I know the kids will love, I am really choosing songs that will be entertaining to me. The music and the open road merge together and make the miles more bearable. I like to build several playlists that I can cue up to suit my mood, and try to pick a good variety to keep it fresh. For a western road trip, encompassing 5000 miles, I have chosen these songs for high energy driving.
Twenty Roadtrip Songs that Parents and Kids Love
1. Real Gone by Sheryl Crow- Written for the 2006 Disney Pixar film Cars and just about perfect for fast paced driving music.
2. Born to Run by Bruce Springsteen-The message doesn't even come close to being family friendly, but it's about the beat, right?
3. Broken by Jack Johnson- If you are a person who loves to travel, the lyrics of this song will sing to your soul. Plus, it's Jack Johnson-there's nothing bad there.
4. Life is a Highway by….Rascal Flatts- It's pretty much the quintessential road trip song, and while I think I am a purist at heart and definitely don't want to start a war, I like the remake of this song better than the original. I know, it's almost sacrilege, but the heart wants what the heart wants.
5. Route 66 by….John Mayer- I'm breaking with tradition again here, but while Chuck Berry made the song (and maybe the road) famous, John Mayer made it awesome.
6. 813 Mile Car Trip by They Might Be Giants- If you have ever been on a 800 or more mile car trip with a kid, this pretty much spells out the whole beautiful/miserable experience in 60 seconds of musical genius.
7.We Built This City by Jefferson Starship- My kids can belt this song like it's the end of time. The fun level of that kind of road trip sing-a-long is the stuff that memories are made of.
8.I'm Gonna Be (500 Miles) by The Proclaimers
9.Paradise City by Guns and Roses-No explanation needed really.
10.Beautiful Day by U2
11.It's My Life by Bon Jovi- Gotta expose the kids to the classics.
12.Time of Your Life by Green Day-
13.Free by Zac Brown Band-It's a slow ballad, but a good representation of the freedom that comes with simple act of driving.
14.Best Day of My Life by American Authors
15.Break my Stride by Matthew Wilder- 80s classics represent.
16.Tell the World by Eric Hutchinson
17.The Road Less Traveled by George Strait- Gotta get a little country education from King George.
18.If I Had a Million Dollars by Bare Naked Ladies- It's a two part songs, so pick your part and sing it strong.
19.Against the Wind by Bob Seger
On the Road Again by Willie Nelson- An oldie, but a goodie. Teach your children well.
~Welcome to Travel Tips Tuesday!
READ THIS FIRST: The purpose of Travel Tips Tuesday is to build a community that encourages sharing and support among travel bloggers and writers. As your hosts, we don't want to create a list of rules for participation, but we ask that you use the "Golden Rule" whenever you link up to the carnival. We would be thrilled if you would

add a link to one of your hosts

in your post, or give us a shoutout on social media, and we will do our best to reciprocate. In the spirit of community, it would be ideal if you visit some of the other blogs and keep the travel tip love circulating.
Posts on both Suitcases and Sippy Cups and Walking on Travels will go live at 11pm EST on Monday night. You only need to link to one of these sites to have your link show up on both.
Spread the word via Twitter using the hashtag#TravTipsTues
Please note: any and all spam links will be deleted immediately to uphold the integrity of this blog carnival. This is not the place to post advertising or sponsored links. Please contact the hosts directly with these types of inquiries.