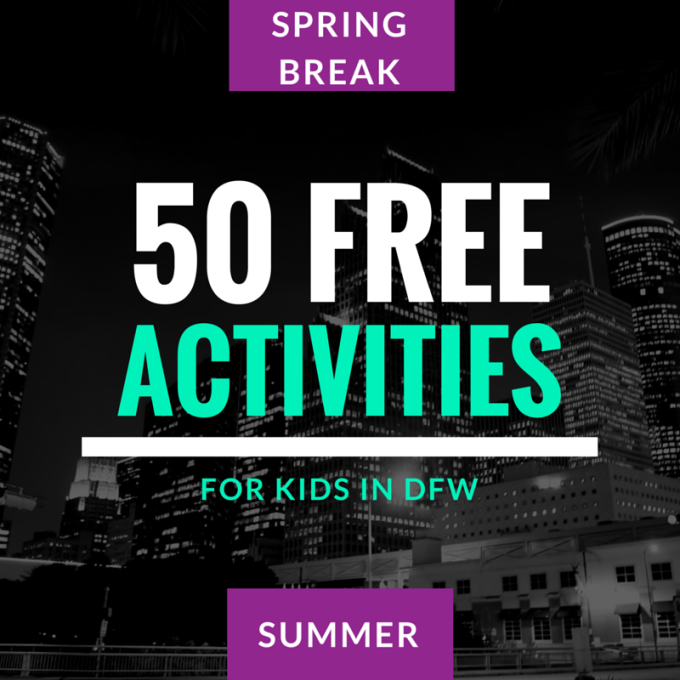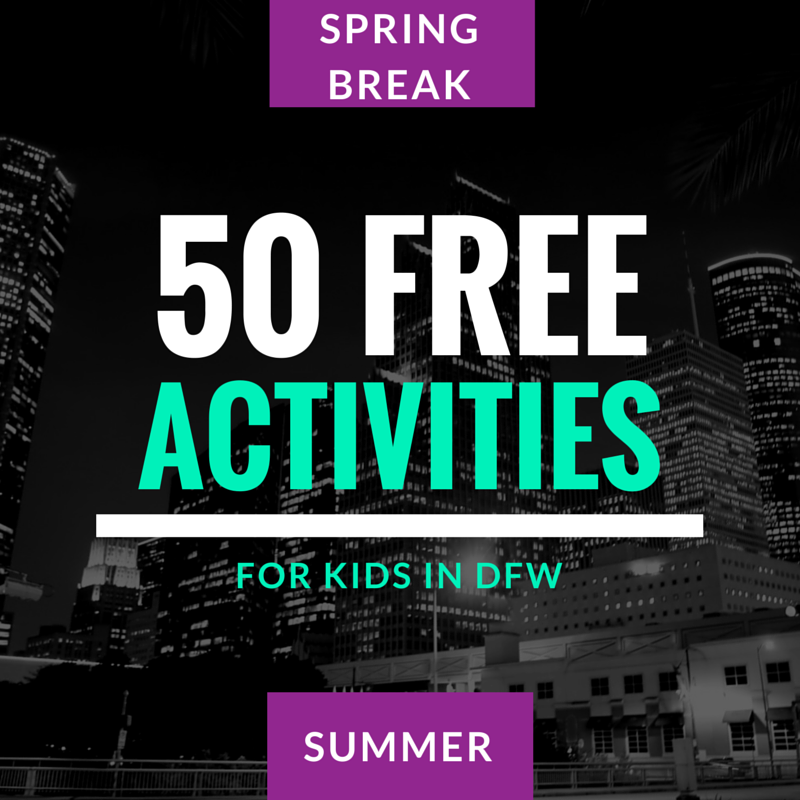 Saving money over Spring Break doesn't mean skimping on the fun. There are some big time ways to entertain the kids in Big-D and Cowtown that don't cost a dime.

~Sketching outside at the Kimball Art Museum~
Get those kids some culture
Spring Break can be a perfect time to sneak in some extra learning, especially with all of the FREE art museum choices in the area.
The Dallas Museum of Art has long been a staple in the art world, but with a recent grand gesture, the museum is now free, free, free. Programs inside the museum, including a 12,000 play and creation space just for kids makes this museum perfect for young artists.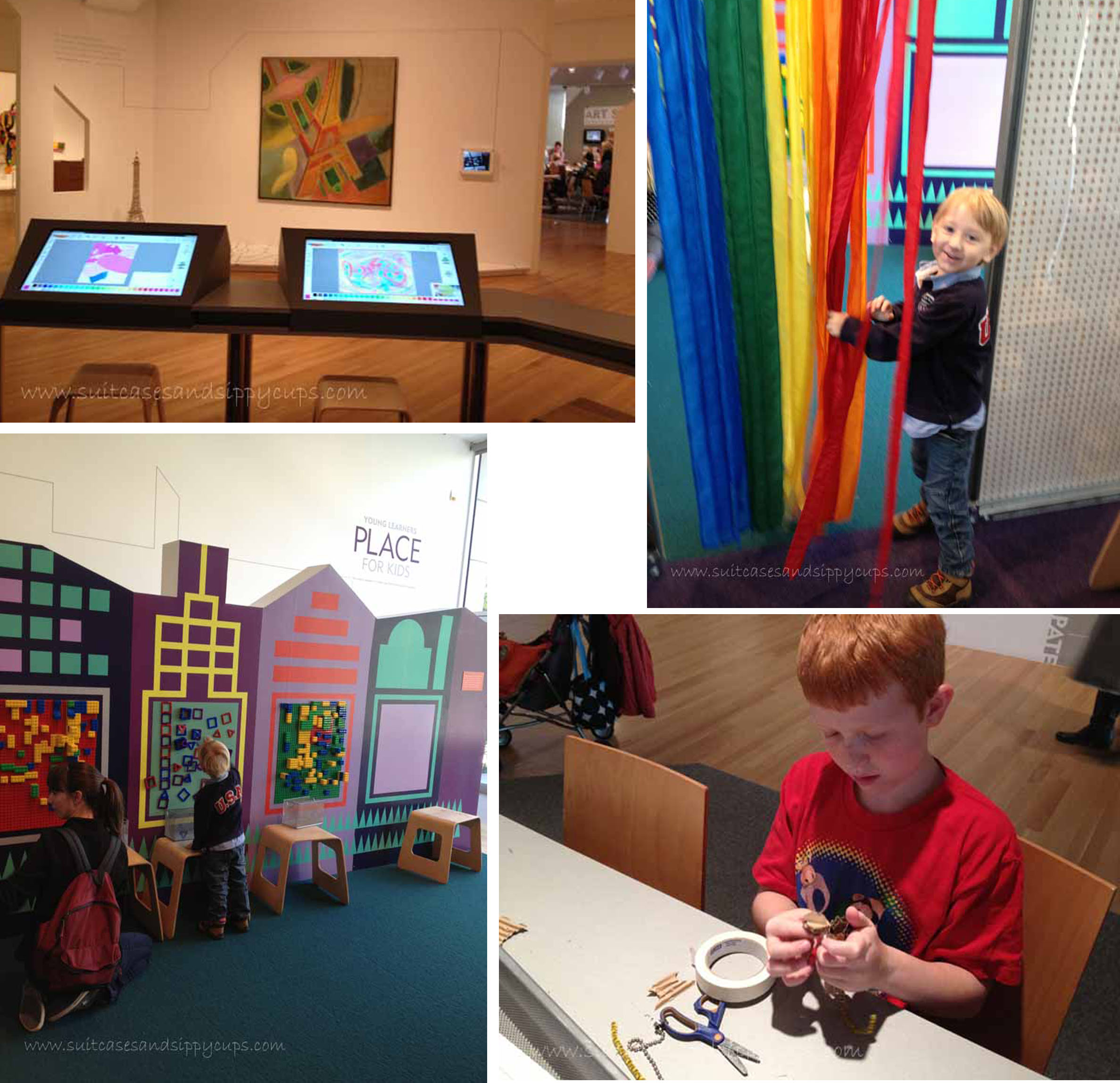 ~Scenes from the Center for Creative Connections inside the Dallas Museum of Art~
On the other side of the Metroplex, the Kimball Art Museum permanent exhibits are a small, but impactful collection. This emphasis of quality over quantity makes this an ideal museum for kids. The intimate space is easily digestible for young visitors, and the carefully chosen pieces ensure that kids will be exposed to a high quality representation of the period. Best of all, the permanent collection is free every single day, so you can easily pop in for a short visit, and leave before anyone reaches meltdown mode.
In the same museum district, free admission is available to the Amon Carter Museum of American Art, while the Modern Art Museum of Fort Worth is always free for children under 12 and provides free sketchbooks.
The art options in DFW aren't limited to the major museums. There are many other options, in some of the most unlikely places to get your art on.
· Art Scavenger Hunts at the Hilton Anatole include a smart phone app that leads visitors through the extensive collection in a fun way that kids love.
· Art Program at DFW Airport is a FREE 60 to 90 minute guided program through the 37 piece, $8 million dollar collection. Non-flying guests can arrange a tour in advance.
· Eastland's Outdoor Art Exhibit consists of 41 wonderful pieces of art placed near or on businesses throughout Eastland. Each piece of art includes a story of the painter's life or interesting details about the original piece of art.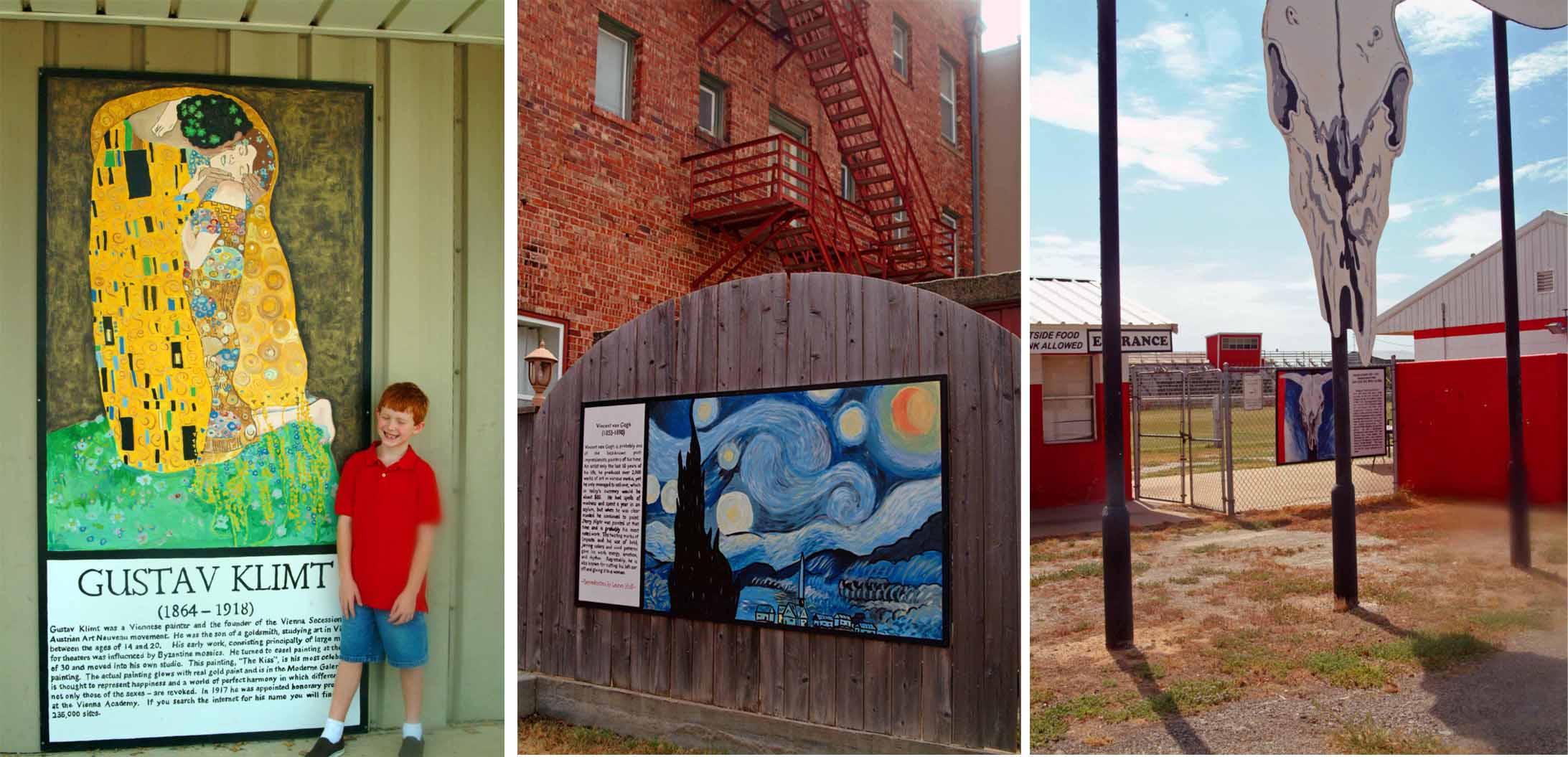 ~Just a few of the works of art around Eastland~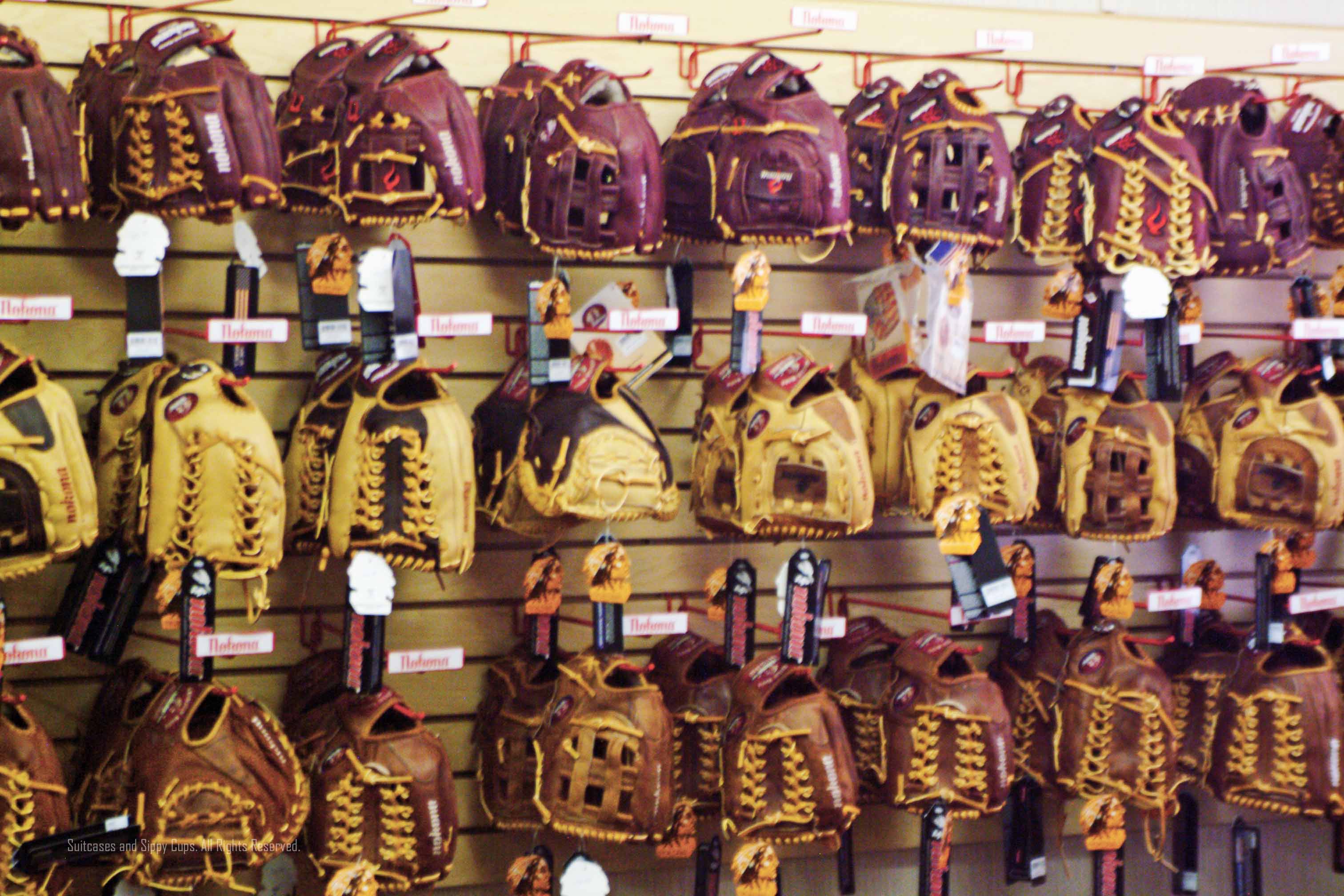 ~Walls of gloves stitched by hand in Nokona, TX~
Check Out the Way Things Work.
Kids are full of questions. How does lipstick get in the tube? Does money grow on trees? What's so great about sliced bread? Answer these questions and more with a factory tour.
What does a billion dollars look like? This might be your only chance to find out. A 45 minute tour of the Bureau of Engraving and Printing in Fort Worth, TX walks you through the entire paper money printing process.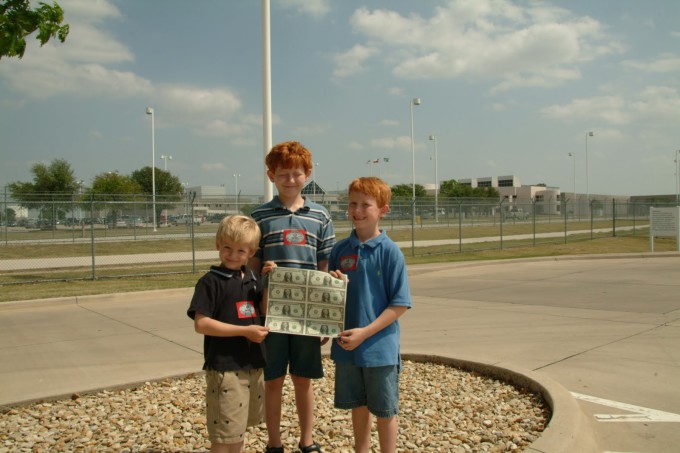 ~A sheet of uncut dollars is the perfect souvenir from the Bureau of Engraving and Printing~
Any story with a pink Cadillac in it has got to be a good one, but a Mary Kay factory tour is especially intriguing. Little girls who love all things pink will be thrilled with the factory tour in the heart of Dallas, but don't think this is a 'No Boys Allowed' event. All those tiny bottles whizzing around in a rainbow of colors are fascinating for anyone.
Is there anything more delicious than the smell of freshly baked bread? Without spending a lot of dough, you can see the production of hamburger buns and a loaf of bread from ingredients to package at Mrs. Baird's Bread Factory Tour. *Note Factory Tours have currently been suspended in 2015, but they are hoping to return at a later date.
In and around DFW, there are plenty more places to see how things are made that are both FREE and fun.
· Old Doc's Soda Shop, now known as Dublin Bottling Works in Dublin, Texas to see an old-fashioned bottling line.
· D-Bat Wooden Bat Company in Mount Pleasant. Have a bat made with your name.
· Vetro Glass Blowing in Grapevine where you can watch glassblowers create works of art.
· Nokona Glove Factory in Nocona, TX. Tours are $5 per person, but still worth mentioning.

~Room for art and a little PE at the Texas Sculpture Garden~
See the Shape of Sculpture
Outdoor sculpture collections abound in DFW, including many world renowned collections that are absolutely free. The Mustangs of Las Colinas is the largest equestrian sculpture in the world, and definitely worth the trip to see the nine majestic bronze horses thunder across the granite stream in William Square Plaza. A nearby museum, also free, teaches about the creation of the sculptures through hands-on exhibits and video presentations.
Pioneer Plaza Cattle Drive is a historical significant focal point in Dallas with a recreation of a cattle drive in bronze. In keeping with the "everything is bigger in Texas" theme, these sculptures are the largest of their kind in the world. Man-made cliffs, waterfalls, and plants make this area a fun place for kids to play.
One more for the record books: the Texas Sculpture Garden in Frisco is the largest collection of Texas sculpture available to the public. Winding trails weave around lakes and waterfalls that serve as the perfect backdrop for 41 sculptures by well-known Texas artists. This outdoor collection is ideal for introducing art to little ones who still need some space for pint-sized energy.
For even more FREE sculpture options, check out:
· The Sculpture Garden at the base of the Trammel Crow Center
· CenterPark at Northpark Center for a lush garden atmosphere with larger than life sculptures.
· Nasher Sculpture Center is free to the public on the first Saturday of each month
· Public Art Walk Dallas is a free, self-guided art walk that winds 3.3 miles through Dallas while highlighting 30 pieces of art and architecture. Download the guide here.
· Irving Arts Center Sculpture Garden is a 2 acre oasis with large sculptures sprinkled amongst spraying fountains and pools.

~Tours of the Interurban Railway Museum are like a step back in time~
Planes,Trains and Automobiles
Who doesn't like thinking about transportation and where it can take us? There are plenty of options to explore transportation without paying a penny.
M-Line Trolleys provide free transportation on restored vintage trolleys through downtown Dallas.
All Aboard for the largest permanent model train display in the US at the Children's Medical Center of Dallas. Eight trains run simultaneously throughout the day.
The Interurban Railway Museum in Plano, TX is housed in a building that served as a primary stop along the Texas Electric Railway and includes a museum that has plenty of hands-on exhibits relating to electricity and transportation.
Watch up to 2000 planes take off and land at Founders Plaza DFW International Airport. Picnic tables, telescopes, and a large grassy area make this a perfect place for kids to play in the shadow of the airport.

~Climbing in the shadow of Downtown Dallas at Klyde Warren Park~
A Little Bit of Science and Nature
Everything from biology to astronomy to ecology is waiting to be explored in the many indoor and outdoor museums that are FREE around the area.
Mineral Wells Fossil Park provides the fossil enthusiasts of all ages an excellent opportunity to see and collect well preserved "Pennsylvanian Period" fossils with ease and abundance. These fossils have been dated to be just over 300 million years old, and are FREE for the taking.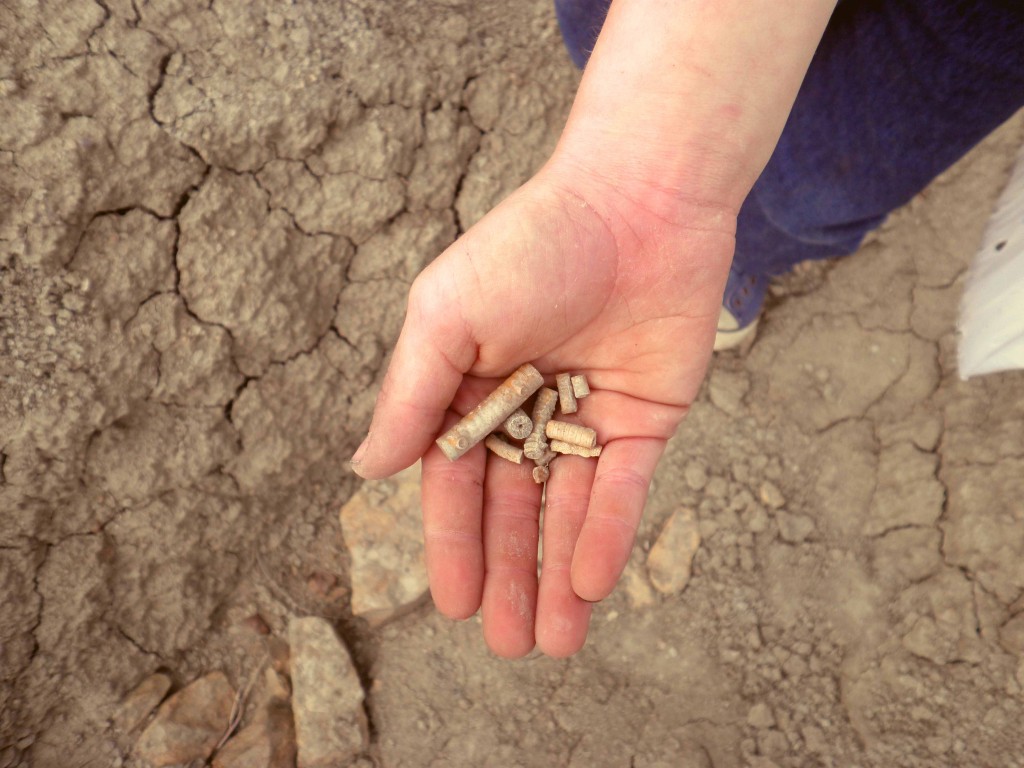 ~Some of the fossils you can find at Mineral Wells Fossil Park~
The Fort Worth Botanic Gardens is the oldest botanic garden in Texas and not only offers 109 beautiful acres to enjoy, but several dedicated spaces just for children. The Texas Native Forest Boardwalk is a 995 boardwalk that winds through the woods with 13 interactive educational stations. A physical fitness trail sized just for preschoolers is also located in this area. The Botanical Research Institute of Texas (BRIT) is also located here to serve as an educational tool for the community, highlighting the myriad ways both organizations and individual citizens can improve their own sustainability.
Located on the banks of the Trinity River, the Trinity River Audubon Center gives visitors of all ages the opportunity to explore miles of trails filled with local birds, wildlife and vegetation. The Children's Discovery Garden serves as a great introduction to the beauty of gardening with kids. Free on Thursdays.
Klyde Warren Park is a five acre gem connecting downtown and uptown Dallas with a lovely green space that is chock full of free activities. Kids can enjoy playing on the playground, running along the Grand Allee, or playing the board games located in the free game library. Activities and concerts are often happening on the lawn.
Science explorations are everywhere in DFW. Here are a few more:
· River Legacy Living Science Center in Arlington features terrariums and aquariums filled with native animals, self-exploration stations offering seasonal, hands-on activities and investigations, and rotating exhibits spotlighting fossils, art and the Trinity River.
· The Monnig Meteorite Gallery located on TCU campus offers the chance to hold a piece of space in your hand as you explore types of meteors and other space objects in hands-on exhibits.
· Fritz Park Petting Farm in Irving include a variety of animals including cows, horses, goats, sheep, chickens, deer, turkeys, rabbits and peacocks at the city's petting farm. Visitors will observe eggs hatching in the incubator and chicks in various stages of development. *Note: Only open during June and July
·

~Twice daily Cattle Drive through the Historic Stockyards~
History Repeats Itself
Glimpses of life in the past are all around and FREE for the exploring in DFW.
Nash Family Farm of Grapevine is the oldest intact homestead in Tarrant County and offers free tours that explore the how early North Texas farmers met their survival needs. Petting the resident sheep Cinnamon and Jane are a fluffy reward for a day exploring the farm.
Fort Worth Stockyard District has plenty to boast about including a day full of free fun. Watch the cattle drive that happens twice daily, marvel as the trains spin on the roundabout, watch demonstrations from authentic cowboys, and wander through the barn and pet the animals. Check out this list of things to do in the Stockyards with Kids
Need more history? Check out these free options:
· Fair Park is a lovely place to wander with fun paths and fountains for kids to explore, but it also has a handful of FREE museums including the Hall of State Museum. Texas state history, including a large collection of state flags is on display here.
· The African American Museum is also located at Fair Park with FREE admission to the collection that celebrates the cultural, artistic, and historic contributions of African-Americans.
· Fire Station # 1 is housed in the historic fire station built in 1907 and includes a guide to 150 years of Fort Worth History
· Freedman's Cemetery is a per-Civil war cemetery that honors former freed slaves
· A.W. Perry Homestead Museum offers a glimpse of life in North Texas at the turn of the 20th century.
· Chisholm Trail Outdoor Museum offers a snapshot of Texas just before the Civil War with tipis, log cabins, and authentic, restored buildings that include a schoolhouse, jail, and courthouse.
· National Scouting Museum is a massive state-of-the-art facility that features a Norman Rockwell art gallery, high adventure rescues, hands-on learning experiences, and a historical collection that traces the Scouting movement from its beginnings. Free on Sundays and Mondays.