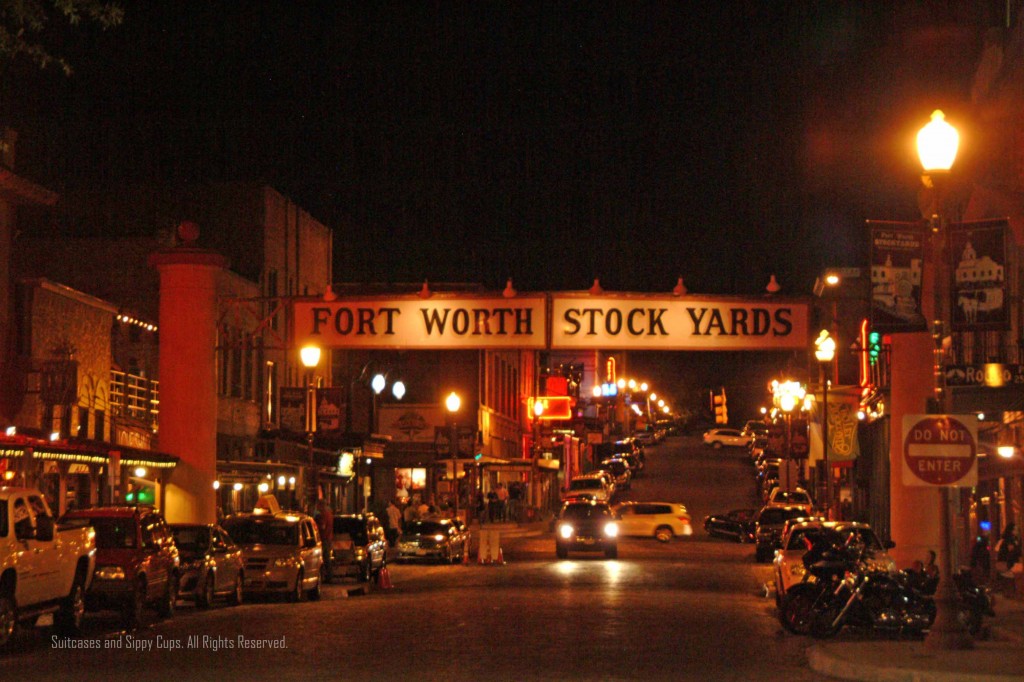 Maybe the days of the Wild West are long gone, but there is still a place where you can still catch the spirit of rambling plains and rugged cowboys. The Historic Stockyards were established in 1876 with the arrival of the railroad in Fort Worth, and by 1907 over 1 million cattle were sold here every year. Today, the Stockyards are the only remaining stockyard in the country and are a great place for family fun.

Cattle Drive
Twice daily, at 11:30 and 4:00, a herd of Texas longhorns are driven down the uneven brick road of Exchange Avenue as homage to the historic events that led Fort Worth to be known as "Cowtown." Genuine cowboys and cowgirls, dressed in authentic garb from the mid 1800s, drive the cattle about a ½ mile at a gentle pace that is perfect for photography. Most visitors conjure up in their minds a thundering herd and cowboys that are as wild as the vast Texas prairies. In reality, the drive only contains about ten cattle that, in all honesty, seem to have had Quaaludes slipped into their hay bales, and is over almost as soon as it begins. Don't let that be an excuse to miss the drive, though. Coming to the Stockyards and skipping the cattle drive is like going to Disneyworld and missing the Mouse.
Time Out for Tips: All spectators are required to stand (not sit) on the curb and out of the street.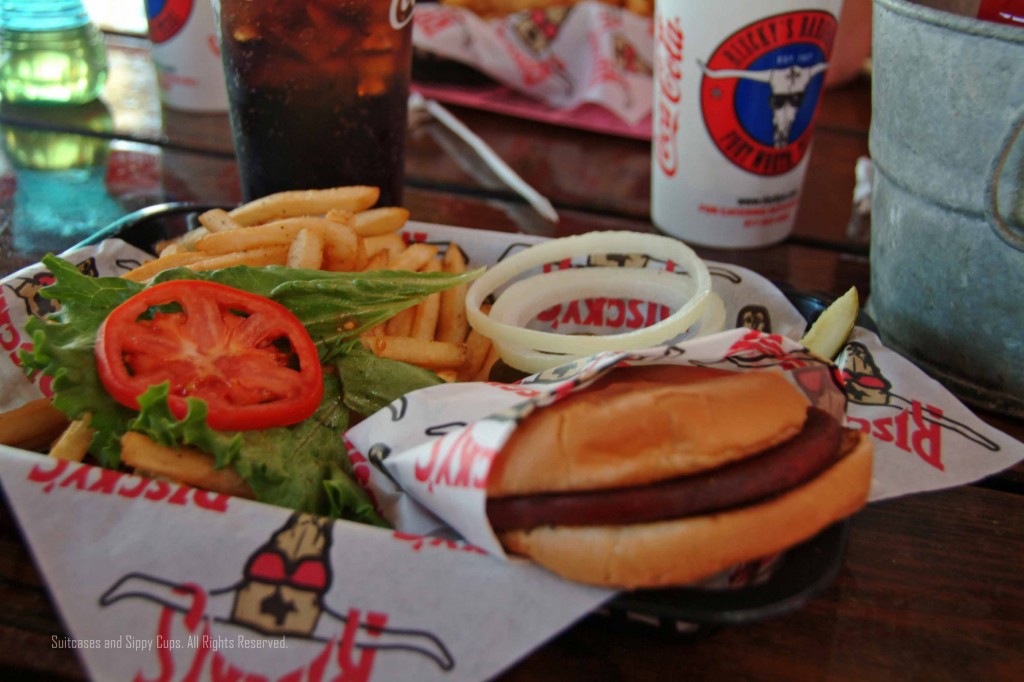 Where to Eat
After the cattle drive is the perfect time to grab some lunch or dinner and there are plenty of family friendly restaurants within a block or two along Exchange Avenue. Riscky's Steakhouse and Joe T. Garcia's are good choices if your hoping for a great steak or mouthwatering Tex-Mex. Riscky's BBQ is our usual go-to Stockyard restaurant, particularly because they have a great covered patio where it's not so necessary to force the kids to use their "inside voices." You'll definitely want to order an appetizer, as you can smell the deliciousness of fried onion rings or fried pickles a block away and your won't be able to resist. Of course, the BBQ is delicious, but for a real treat, order the BBQ bologna sandwich. As a kid, my mom served fried bologna as a quick and cheap lunch and I loved it. The Riscky's version is a thick slice of bologna, dusted with "Riscky dust" and served with a buttered crispy bun. A single slice of onion, pickle, and pepper complete the meal. To some this may not sound like something that you would ever want to eat, but to me it tastes like everything that is good and right about comfort food from childhood.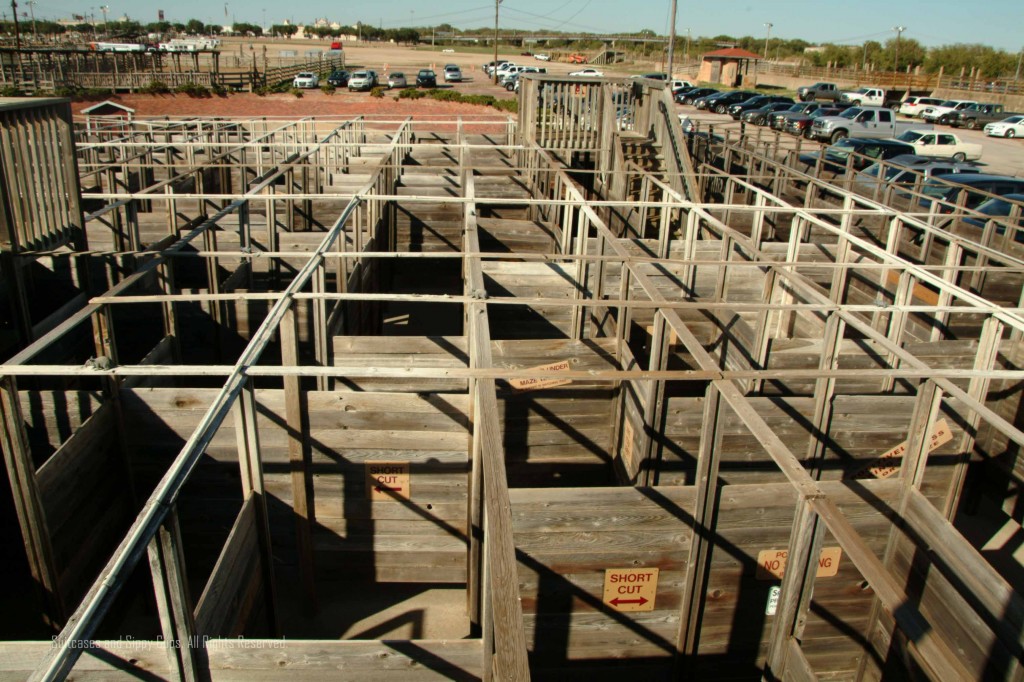 Cowtown Cattle Pen Maze
This is 5400 square feet of maze that resembles the cattle pens of the old west and is a great place for the kids to run off some steam. Because it is located right across the street from Riscky's BBQ, you could easily send older kids over to run the maze while you continue to nurse your sweet tea on the porch. If you want to supervise a little more closely, you can watch the kids scramble like calves from the observation deck above the maze. For $5, kids are given a time card that they must stamp at four stations inside the maze and clock in for their time to receive a small prize.

Mechanical Bull
There are multiple mechanical bulls throughout the Stockyards, but there is one conveniently located right next to the Cattle Pen Maze and is a great way to work all the calories you consumed for dinner and then some. All the boys in our party wanted to ride and since I had lived in yeehaw land all my life and never taken a whirl on a mechanical bull, I figured I should give it a go. The boys easily stayed on for their 90 seconds and just as it was my turn, one of the little smart alecks said, " I bet you're gonna fall and scream like a little girl."
Well, them's fightin' words are far as I am concerned, so I kicked off my heels (yes, I was wearing heels at the Stockyards) and hoisted myself up on the bucking contraption. I should have known from the beginning that it was going to be a rough ride, as it was pretty difficult just to get on the thing, but I could not have anticipated anything like what was to come. With my southern sense of stubborn pride, I stayed on the back of the bull as it gyrated and whirled around wildly. I rubbed blisters on my feet, and I think I blew out my bicep, and my thighs felt like they have been through the thighmaster of death, but I did not fall off and I did. not. scream like a little girl. I think I might have won some cool mom points with my efforts, but as I am still paying with pain five days later, I'm not sure it was worth it. It's $6 per person for the privilege of being shaken until you can't see straight. And, yes, you should do it, just so you'll know why you should never do it again.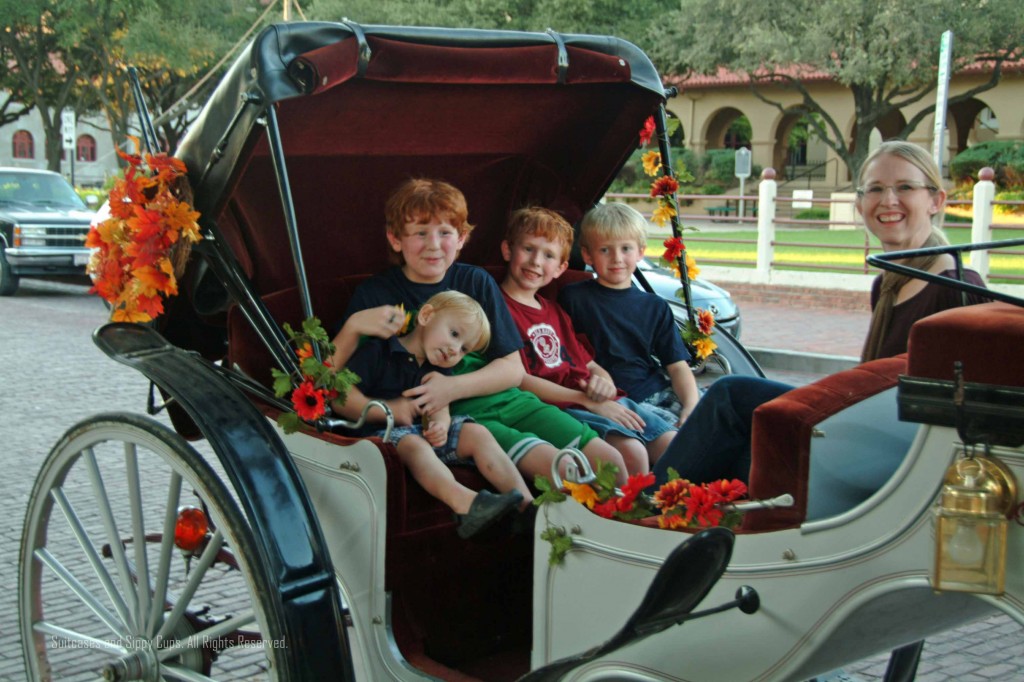 Carriage Ride
After the mechanical bull, we decided that we needed something a little mellower, so we went in search of the carriage rides. On Saturdays, visitors can ride in an authentic stagecoach, but we had to settle for a regular carriage and a somewhat skittish horse named Rosie. The carriage ride was $10 per adult and $5 per child and loads behind the Hyatt Hotel along Exchange Avenue.

Fort Worth Stockyards Museum
This is a small museum with a suggested donation of $2 per person that showcases guns, furniture, and other artifacts from the glory days of Fort Worth. Unless you have a member of your family that lives for old west memorabilia, you can probably skip it, although the "bad luck wedding dress" that reportedly brought misery to everyone who wore it, is morbidly interesting. You can pass through the museum and reach the cattle pens to see the famous longhorn cattle herd and horses that participate in the cattle drive. Pass through the door next to the alley way to climb up to elevated walkway to overlook the cattle pens. For a bit of history, look beneath your feet to see bricks that were manufactured in Thurber, TX, once a booming coal town, but now a ghost town.

Fun and Free Extras
There's plenty of free fun to be had in the stockyards if you know where to look. The stables are just across the street from the museum and house everything from horses to reindeer. Feel free to tour the stables and you might even meet a cowboy who is willing to give you a roping lesson or two. If you happen to be lucky enough to be in the area when the Grapevine Vintage Railroad rolls into the station (about 2:30) you can watch the marvel of the train turning around on the huge roundabout. If you'd like to ride the train, that'll cost you extra, but roundtrip tickets can be purchased in the station. If you need a place to run off some energy, the yards outside the rodeo are fenced so that you can feel free to let kids roam in safety away from the traffic. If you still have any energy left after all that, you could always mosey down the street to Billy Bob's Texas, the world largest honky tonk. You probably won't want to go inside with kids in tow, but vehicles are not allowed along this side street, making it an easy walk. Along the way, look out for the Texas sized spurs and belt buckle.

Stockyards Championship Rodeo
Cowtown Coliseum is at the heart of the Stockyards and home of the historic Stockyard Championship Rodeo. Plenty of rodeo history happened within these walls, as it was the first indoor rodeo and the first rodeo to introduce bull riding as an event. With all this history, this is the best place to catch a rodeo, especially if you are a first timer. The participants really make an effort to put on a good show, as well as help rodeo rookies to learn a little about the intricacies of the sport. Contestants compete in bull riding, calf roping, and barrel racing. Kids can even try their hand in the ring for the calf scramble and mutton scramble, a hilarious race to catch a calf or lamb and remove the ribbon attached to their back. Kids tickets are often free on Fridays, making this a fun and affordable family outing.