Normally, bribing my kids is something I reserve for truly desperate situations, but judging from the eye rolling coming from underneath the ten gallon hat, a little money under the table might have been the only way to salvage the evening. I can't say that the attitude is surprising. Most kids work their whole life not to have to see their parents dance at all, and here I was dragging my kids to line dancing lessons where I expected them dance with me. In public! It was a tall order, for sure. At least, they looked the part, and for the moment they were still dragging their boots into Billy Bob's Texas for the Thursday night family line dance.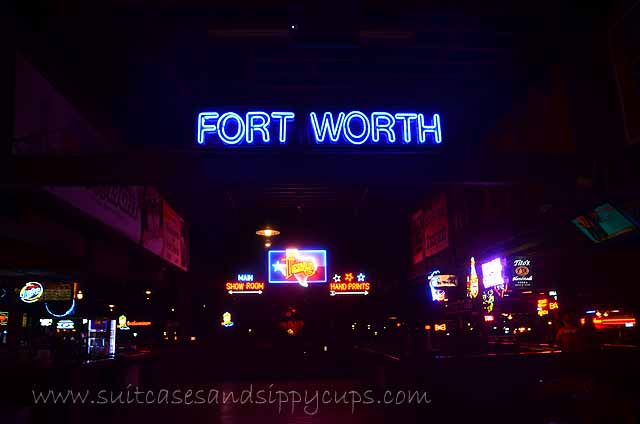 To add to my worries about the evening was the fact that I was bringing my children to, well…a bar. Not only a bar, but the World's Largest Honky Tonk. That's definitely not something that seems family friendly, unless maybe you are the "Honey Boo-Boo" family. So, even before it started, I was already to admit that this evening had potential epic failure written all over it. As much I was putting on a brave face, I was also ready to click my fashion boots and whisk us home.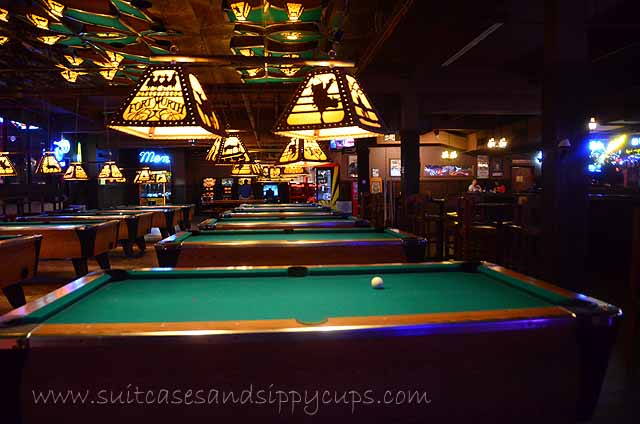 I paid the $2 entrance fee, and stepped inside Billy Bob's for the first time in my Texas career. To my surprise, it wasn't only family friendly, it seemed like it was the place to be for parents and kids. Before the lessons began, some kids racked up points on the arcade games while other families were seen enjoying a friendly game of pool. BBQ and other meals were available in the eatery, with kids' meals on the menu, and families grabbing a bite together. The atmosphere was a bit like Chuck E Cheese, if Chuck E was less annoying and wore cowboy boots.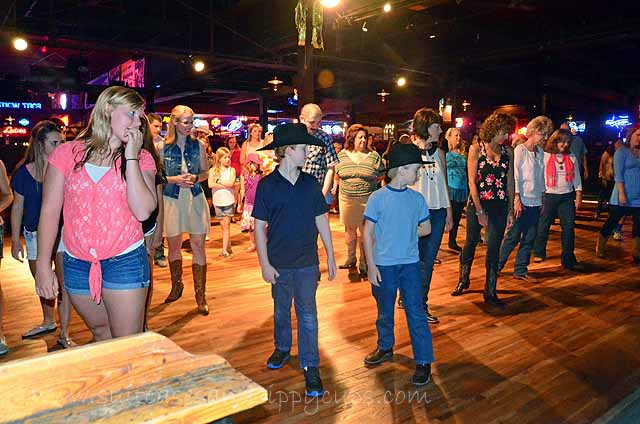 At 7:00, all attention turned to the wooden dance floor, as Wendell Nelson turned on his mic (and his dry sense of humor) and started the lesson. Standing in line while intently watching the instructor, my two young cowboys seemed to have completely forgotten to be mortified by being forced to dance in public with their mother. Maybe it was the affable manner of the twenty year dancing veteran, or maybe it was the Brooks and Dunn twang ringing from the loudspeakers, but the boys were hooked. They grapevine-d, and cross turned, and double kicked their way around the floor like champs. The music played loud enough that we couldn't really talk, but I caught a glimpse of my boys out of the corner of my eye and beamed at the look of enjoyment on their faces.
When the final twangy note rang out, my two little boot-scooters rushed up sweaty-faced and proud of their accomplishment. We shared a few stories and I bragged on their *ahem* genetically inherited dance skills, then I reached into my purse and grabbed two fistfuls of quarters for them to share at the arcades. They had so much fun, there's no need to call it a bribe, but maybe a reward for having the guts to try something new.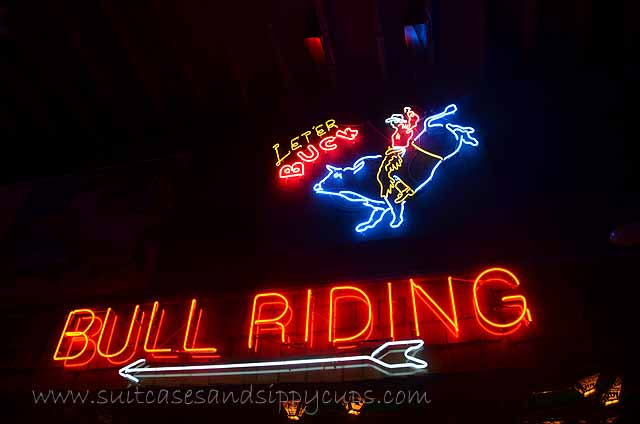 Five Things for Families to Do At Billy Bob's Texas
1. Play a round of pool or go head to head in the arcade. Pool tables specially reserved for families are available in the arcade area.
2. Take a Line Dancing Lesson. Free lessons are available every Thursday night from 7-8 pm.
3. Catch the live professional bull riding show each Friday and Saturday at 9 and 10. Admission to Bull Riding is $3 per person.
4. Stroll the Celebrity Hand Print Hall of Fame-if only to make yourself feel old at all the folks your kids don't recognize.
5. Get a souvenir photo on the bucking Photo Bull. Kitschy and priceless family memories!