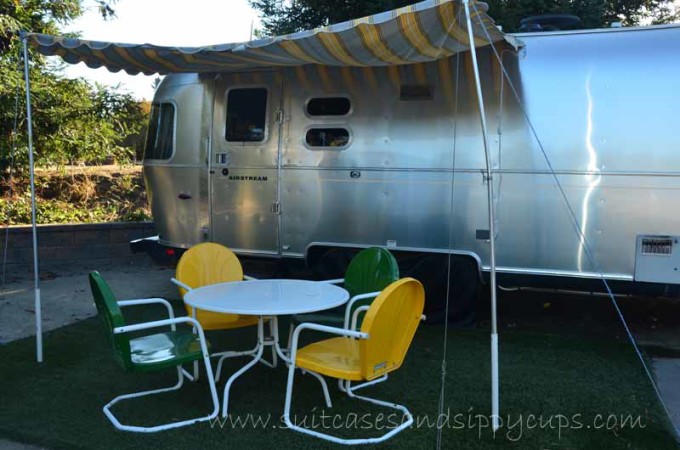 I have a (possibly unhealthy) obsession with vintage airstream trailers. The shiny metal exterior beckons to me like the nostalgic days of childhood. Short of owning my own trailer, which I would love to do someday, I have been hoping to camp in one and scratch my nostalgia itch. And, I decided, if you are going to do it, you might as well do it right. The sunny California coast seemed like the perfect place to get my airstream fix. Just play me some Beach Boys and I would be set.
When I started researching renting an airstream in California, I found some modern airstream trailers available at the Santa Cruz/Monterey Bay KOA. I am already a big fan of KOA both for their amenities that make camping easy for families, but also because they often have activities that are great for kids. If I could have the airstream and the kids could have some fun on their terms that was a win/win.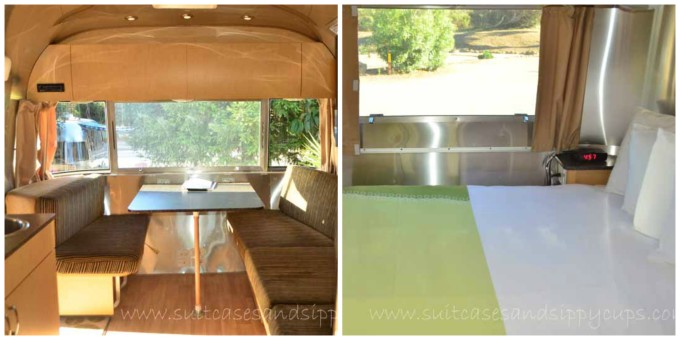 ~Dinette during the day, converts into a bed at night. In the rear, a comfy queen bed.~
Aluminum clad trailers hit the road and the height of travel fashion mid-century, but they have been updated and redefined by KOA. The gleaming exterior is the same, but the interior has every convenience of a modern RV. Stepping inside my airstream home for the weekend, it was bittersweet not to see an avocado green stove and sink, but the ease of cooking on a modern stove while enjoying central air conditioning more than made up for it. The kitchen was also fully stocked with basic cookware and dishes, as well as linens for the bathroom and bedrooms.
~Fully stocked kitchen inside the airstream~
When it comes to sleeping, the trailer includes a very comfortable queen bed in the back, while the dinette converts to two single beds for kids up front. Although the trailer is outfitted for four, we were easily able to find room for five to fit comfortably in the available sleeping arrangements. A flat screen TV that could be viewed from the bed made bedtime a breeze.
~Plenty of kid-approved fun~
As promised, there was plenty of kid-approved fun to be had at the beach themed play area. A game room with ping-pong and other games was the favorite gathering place for the kids from every campsite. When the kids tired of being inside, they would run out barefoot into the sand and hit the giant jumping pillow to jump off some steam. And if that wasn't enough, belays for climbing coconut trees and bananacarts were also available, as well as miniature golf and a miniature train ride. With the kids so happily occupied, I was free to kick back on my outdoor patio furniture and enjoy the truly modern luxury of having pizza delivered right to my airstream camper. Nostalgia can only go so far, and then you have to eat. Don't worry though, I was singing Little Surfer girl in my head the entire time.
~KOA hosted our stay at Monterey Bay/Santa Cruz KOA. They did not require that I express a particular viewpoint and all opinions are my own~