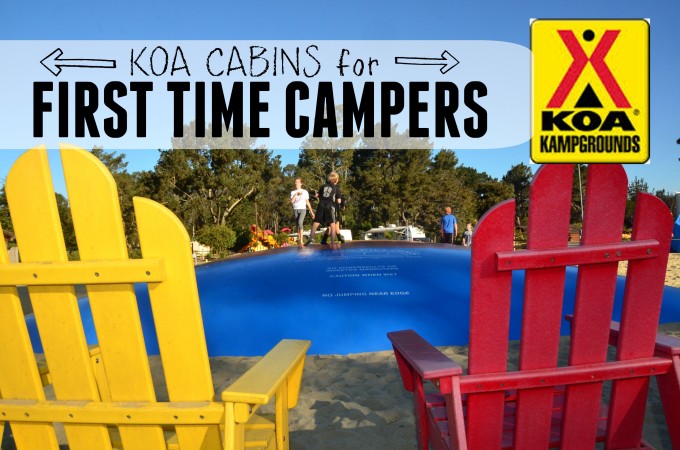 People tell me all the time that they do not like to camp. There is no compromise and they are very emphatic about their choice. No camping! No way! Most of the time, if I do a little digging, I learn that these are camping neophytes. Camping is something that has never been tried, but must be avoided.
The ever-present 'mom voice' in my head always wants to say "How do you know if you like it if you haven't tried it." Usually, I say nothing, not only because I try to keep the majority of my bossiness for my kids, but because before I can say anything, they are hitting me with the list of reasons why camping is NEVER going to happen. There's a list that involves bugs, roughing-it, sleeping on the ground, and usually bugs again. Occasionally, snakes, or worse are added into the mix. There is a very "lions, tigers, and bears, oh my!" attitude than many people apply when they have never camped before.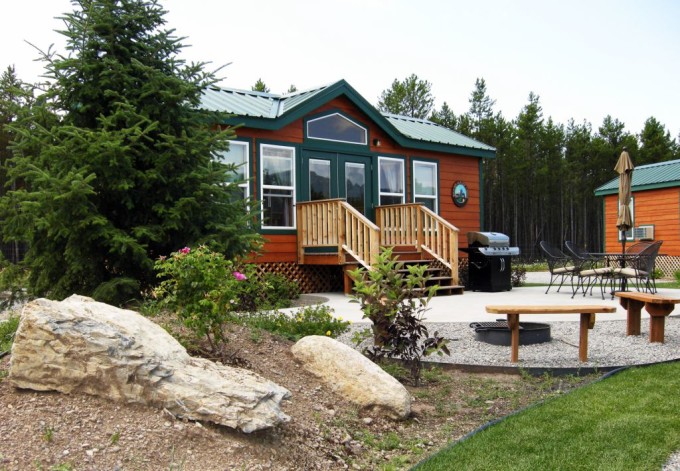 ~Exterior of a KOA Cabin with all the Camping Amenities~
KOA-The Antidote to Camping Fear
There is a bridge between camping fear and camping fun called KOA. KOA, or Kampgrounds of America is largest network of campgrounds with over 500 campgrounds in North America. The American icon of camping celebrated 50 years in business in 2012, proving that they can weather the changes of the travel industry. As the demand has changed, KOA has kept a finger on the pulse of travelers' needs and adapted. I will admit that I had some pre-conceived ideas about KOA that involved old people and RVs, but if that was ever the ideal demographic for KOA, it has certainly changed. In my opinion, KOA has the corner on the market in family friendly accommodations that are both affordable and enticing for parents and kids alike. And, their offerings are so much more than just RV slots, although that is certainly available as well. Lodging options range from exotic safari tents to deluxe cabins with four solid walls and private bathrooms. Having that authentic camping experience no longer requires tons of specialized gear, or even sleeping on the ground.
"KOA experiences are really all about making outdoor adventure easy. We provide something very unique to the campground, and that is service." James D. Rogers CEO
The Little Cabin That Could
For many first time campers, it is the fear of letting go of creature comforts that keeps them from really checking out the benefits of camping. KOA cabins offer the best of both worlds that include a setting where you can be surrounded by nature and enjoy outdoor pursuits, but where you can happily remove yourself from the elements and sleep in luxurious comfort. KOA's Deluxe Cabins are an ideal first camping choice. Each model includes a private bathroom, beds with comfortable mattresses, and a variety of amenities designed for comfort. Models vary from park to park, but most Deluxe Cabins include kitchens, separate bedrooms for the kids, and climate control. Many cabins are even outfitted with room for six, a huge plus for larger families.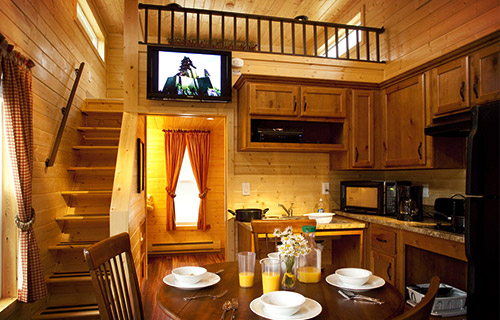 ~Interior of a KOA Cabin~
With amenities that are equal to a standard motel, first timers can slowly test the waters of camping by gradually enjoying the outdoors, all the while knowing that a safe and comfortable place to sleep, eat, and bathe is waiting.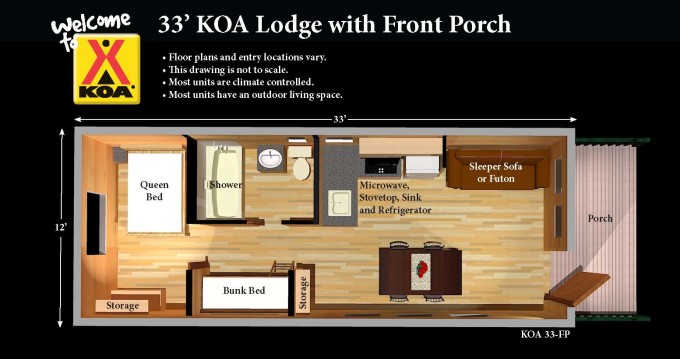 ~Layout of a Deluxe Cabin with room for six to sleep~
Camping and Resort Living Combined
A popular term combining the words 'glamour' and 'camping', or glamping, has been coined recently to describe this type of camping where you still have all the comforts and luxuries of home. KOA Cabins certainly fall into the glamping category, but there is an entire layer of activities and amenities that elevate KOA way beyond the typical campsite. Again, amenities vary from location to location, but pools, playgrounds, and mini-golf are common. Rock climbing, jumping pillows, and peddlecarts are also common. The amenities only get more exciting from there. Places like Ventura Ranch KOA have a soaring zipline, while Santa Cruz KOA allows the opportunity to climb a palm tree with a belay system or ride a train through the park. In addition to amenities, many KOAs offer activities that have a very summer camp like feeling. Guided hikes, hands-on science experiments, and crafts are offered throughout the day.
A Typical KOA Day
With so many resort activities, there is no such thing as a typical day at a KOA, and every KOA has something just a little bit different. Let me give you an idea of how you can meld a little bit of outdoorsy explorations with the many offerings at each KOA with this mock-dream schedule.
Wake up for breakfast and decide if you want to grab a quick cereal and fruit or if a hearty pancake breakfast is what you crave. All of the elements you need to cook your favorites are right in the kitchen, just like at home- and nothing like a tent. While you are cleaning up breakfast, and maybe enjoying another cup of coffee from the swing on your private deck, the kids can get the day started by jumping on the in-ground inflatable pillow. Pack a quick lunch and put on your hiking shoes to hit the trails. Enjoy walking in the wilderness with your family, and only stop when you find a quiet place to have a picnic.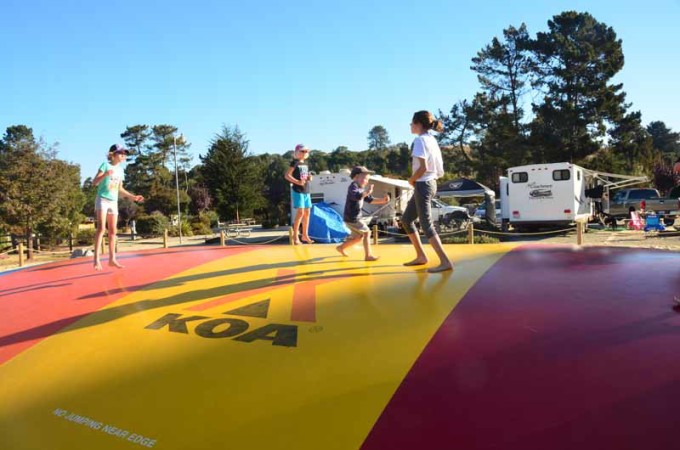 ~An in-ground jumping pillow is a favorite for the kids~
When afternoon comes around, head to the center of the camp where there are plenty of activities for the kids. Peddlecarts are ready for a derby race around the dirt track or there are games and activities in the game room. Camp coordinators have a tie-dyed T-shirt activity planned for later in the afternoon, so there is always time for a dip in the pool. As you sign the kids up for tie-dying, you can also put your name down for the guided nature walk through the forest later in the day.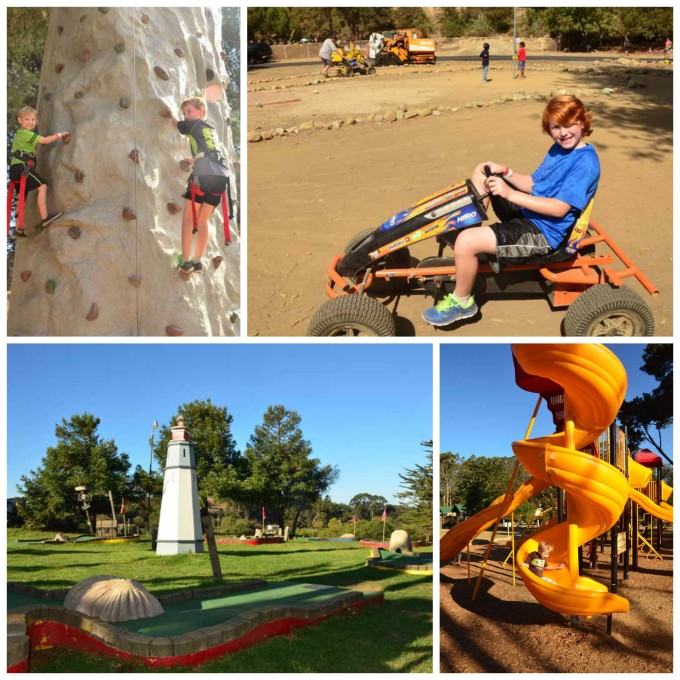 ~ Some of the fun amenities at KOA~
As dinner nears, try your hand at building a fire for roasting hot dogs, and of course, smores for dessert. Don't worry, you always have your kitchen to back you up if things go up in smoke. As the sun sets, you might be ready to kick back on your porch and enjoy the sounds of nature, but you don't have to relax if you don't want to. A kid friendly movie will be showing by the pool, and a stargazing guide is assembling a group to discuss constellations. Good thing you have another night to enjoy the campground, so you can have movie night tonight and see the stars tomorrow.
At the end of the night, a cozy bed is waiting, and that makes camping not only more comfortable, but much less intimidating.