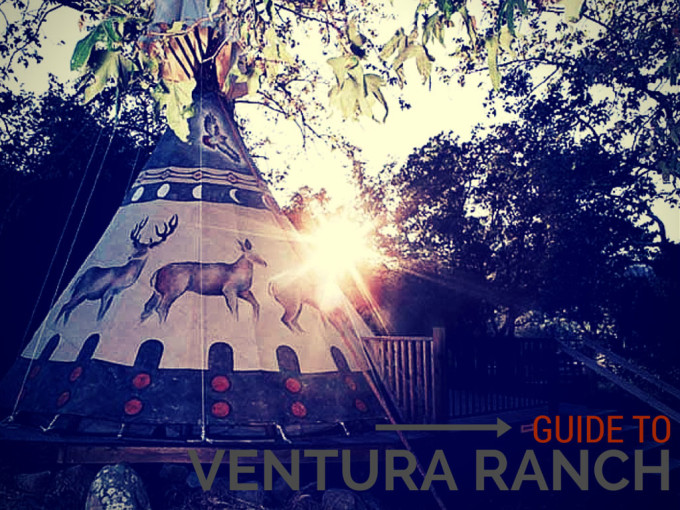 Before I started traveling extensively, the lodging choice was an extraneous part of the decision making process. It was just a place to sleep at the end of the day and it didn't much matter where it was or what they offered. A few more years and many more miles under my belt have taught me that the lodging choice can make or break the vacation. Now, I look for options that have a little something special because that unique flavor is what makes memories. I want to choose a perfect setting for those "remember when" moments.
While traveling the California coast, I knew that after a few days in LA, we would need a little natural getaway. One of the life lessons I have learned from long term travel is that we get very city weary and need to recharge. An invitation to check out the new offerings at a local KOA was perfect chance to escape the city and see if a resort style campground would fit our family. We chose Ventura Ranch KOA with our eye on the resort amenities and unique lodging options, as well as the get-away-from-it-all camping vibe we love.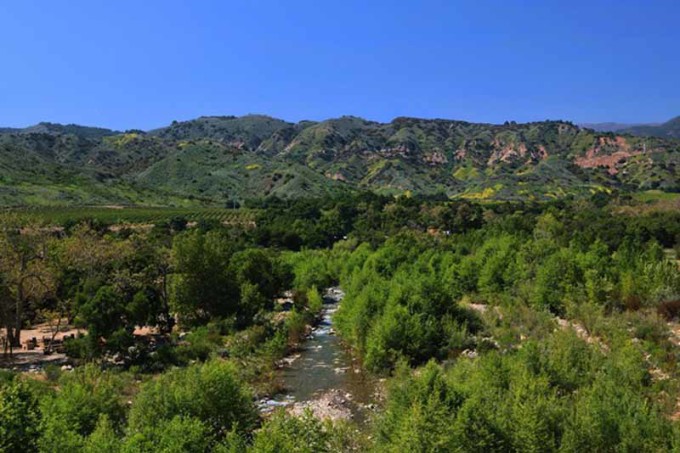 ~ Beautiful views~
Location, Location, Location
Every place in California seems to score in the above average to heavenly range, and Ventura Ranch is no exception. Located an easy 90 minute drive from LA in the Heritage Valley, the rolling campground is located in the foothills of Topa Topa. A forest setting close to a babbling creek is where you will set up your tent, or enjoy other much less rustic options. The property is far enough from civilization to block out the highway noise and project a carpet of constellations each night, yet the beach is only 15 miles away.
Lodging Options
Ventura Ranch has a range of lodging options from the very rustic to so far from rustic it might as well be a hotel. On the roughing-it end of the scale are the large tent sites with no electricity and nearby access to running water and showers. Authentic Indian teepees are another non-electric and rustic options, but these have the added luxury of cot-style beds and, of course, the cool factor of sleeping in a teepee. The teepees are also located in a primo location at the center of camp overlooking the pool and entertainment areas.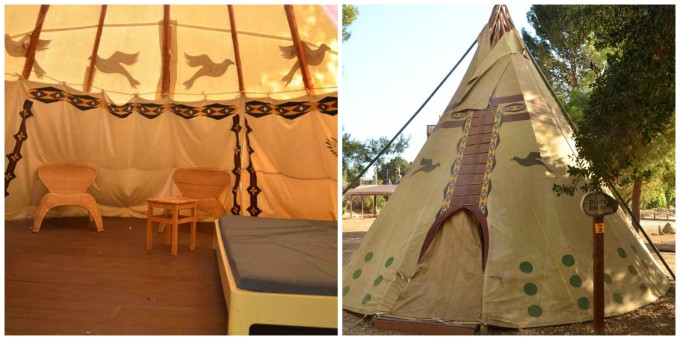 ~Teepees are rustic, but have a few creature comforts like wooden floors and cots~
For those who want to run far, far away from the idea of communing with nature, the deluxe cabins are a perfect way to enjoy the camping experience without needing to sleep anywhere near the ground. Deluxe cabins are fully furnished to include linens, towels, kitchen supplies, full size appliances, 38" flat screen TV, DVD player, central heat/air and an oversized deck with a gas BBQ grill. Before you start to think you aren't camping at all, you also have your own fire pit to enjoy the authentic camping ritual of Smores. Deluxe cabins are perfect for first time campers who want to ease into the camping experience or for those who just don't want to have to deal with setting up a tent (or doing without electricity.)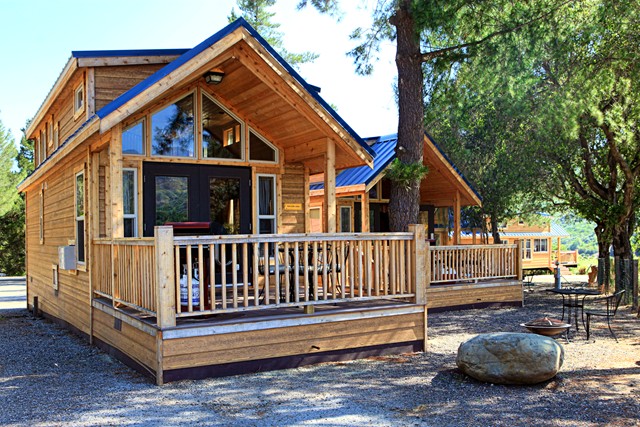 ~Little (Deluxe) Cabin in the Woods~
The choice that really attracted us to Ventura Ranch was the perfect marriage of tent camping and luxury, also known as a glamour tent. Furnished with a cozy queen bed and futon couch, the safari style tent includes electricity, a microwave and mini-fridge. I have always loved the feeling of falling asleep in a tent and listening to the sounds of nature while the light fades through the canvas. I also love the feeling of sleeping on a mattress with a backup heater if it gets a little chilly. A glamour tent is like the best of both worlds.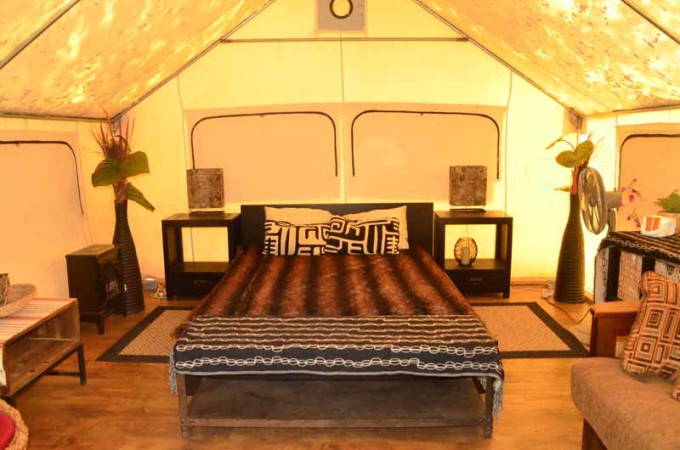 The glamour tents are located up the hill and away from the recreation area and tent sites, which makes them the most private and secluded lodging options in the park. A private front porch is another amenity that adds to the luxury retreat of the glamour cabin. It is easy to stay tucked away in luxurious privacy, as long as you don't mind the occasional peacock visitor on your deck.
~Peacocks
The inside of the glamour tent is the stuff that dreams are made of. The beds are cozy, and the décor is both in keeping with nature, but still thoughtful and luxurious. Visitors can bring their own towels and linens, or arrange a glamour package in advance which includes towels and toiletries.'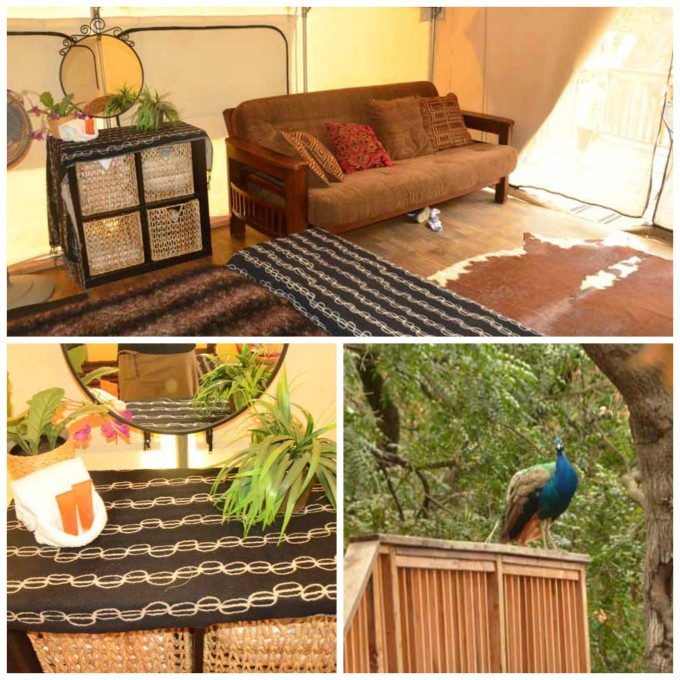 ~The glamour package includes all the amenities you would expect from a hotel, including toiletries and linens-
What to Do at Ventura Ranch
A range of special lodging options is not the only thing that makes Ventura Ranch stand out. There are also resort amenities that might surprise visitors as very un-camping like. In fact, if you haven't been to a KOA in a while, you might be pleasant surprised to find an atmosphere more like an upscale summer camp than backwoods boring.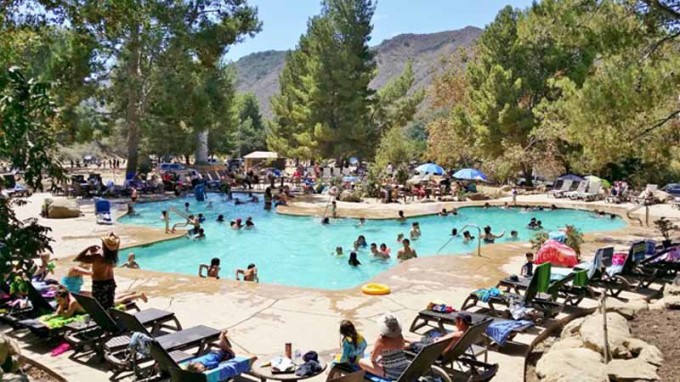 ~Newly constructed pool is a great place to cool off during the day~
For starters, a central recreation area is outfitted with a huge swimming pool, jumping pillow and rock climbing tower. A playground and a dirt track for racing pedal cars are also available for kids to enjoy. But that's not it. Above all of this fun is a dual zipline, where families can zip through the air side by side and enjoy not only the natural view, but the joy of watching each other squeal. Planned activities that hit the summer camp vibe include guided nature walks, arts and crafts, and movie nights under the stars. There is also the opportunity to take a guided tour of the Bigfoot Nature Trail. Bigfoot sightings not promised, but the imagination is certainly stimulated.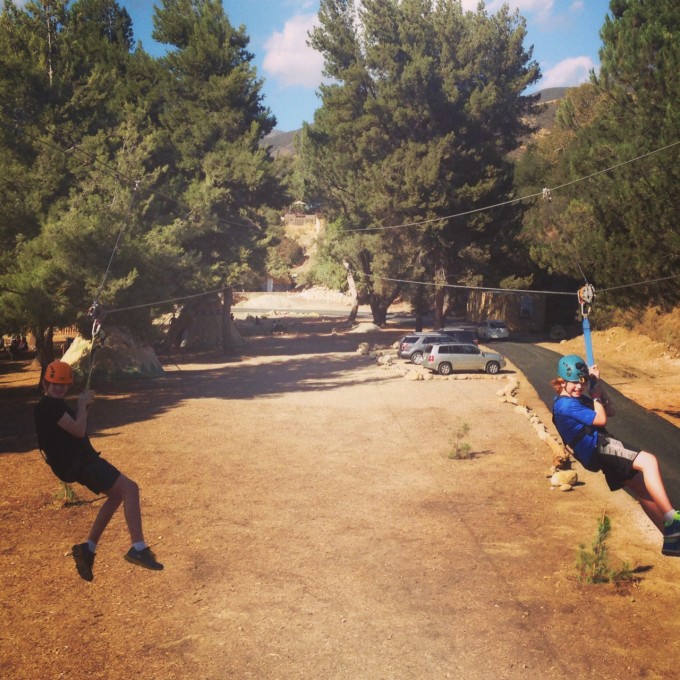 ~Dual Ziplines are a great family activity~
Relaxing at the Ranch
We've done all kinds of camping, with some methods being work than others, but the appeal of camping is that it is relaxing. Yes, really! There is something soul soothing about the rhythm of nature. The air seems clearer and time seems to slow down enough that the beauty around us is actually enjoyable. Maybe it's just that there are less distractions, but whatever it is, it works and it so vital!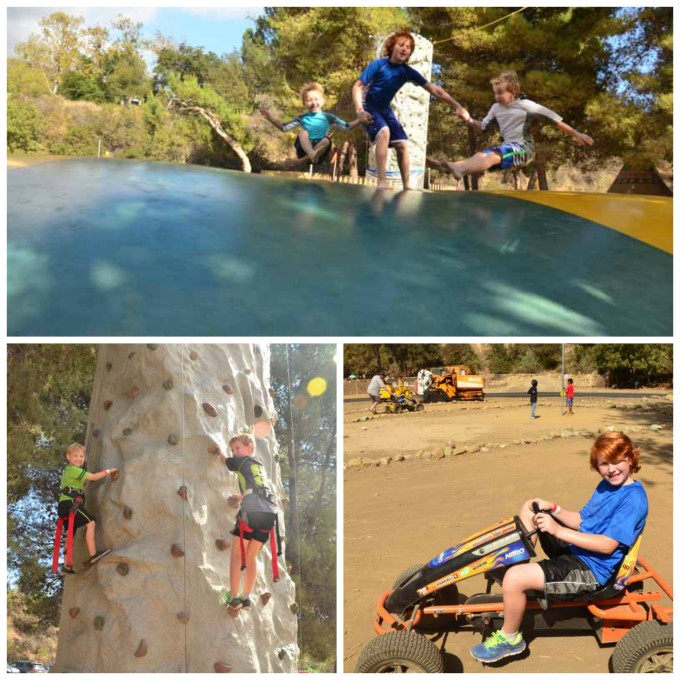 ~Activities for the kids abound~
While we were camping, or glamping as the case may be, we got exactly the relaxation that we always crave, but it was even more relaxing than normal. The variety of activities kept the kids busy with both typical camping options and fun resort options Happy kids= happy parents. Having such a luxurious place to sleep with all of the details provided just added to the ease, and made it all the more delightful to crawl into bed and fall asleep listening to the quiet sounds of nature at night.
~Ventura Ranch KOA hosted our lodging and activities during our visit. They did not require that I express a particular viewpoint and all opinions are my own.~