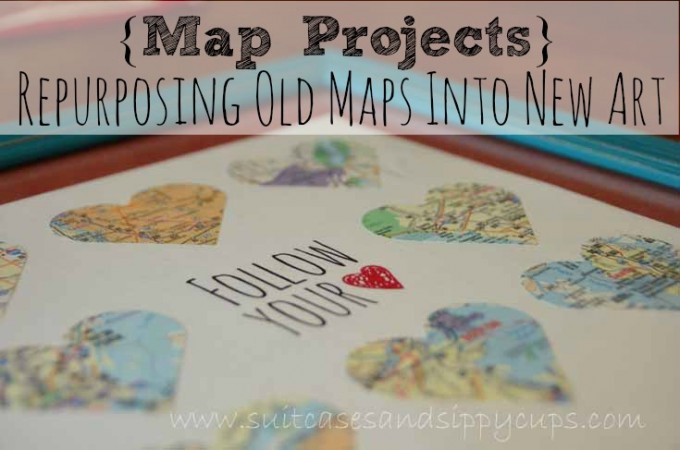 I have maps on the brain. I've been looking at a ton of online maps, as I am planning a road trip out west, but I also have a giant stack of glossy, gorgeous maps sitting in a pile in my living room- and they have to go! It's not that I don't love them. It's more that I am in the middle of one of my bi-annual "can't take the clutter anymore" cleaning sessions. These sessions are cutthroat. To stick around, you have to be an actual living thing or something we use and love every day. Piles of maps, no matter how glossy, just don't make the cut.
So while my precious maps to glorious places can't stay, repurposing them into something beautiful that we can use and love is definitely an option. The only stipulation for these projects is that they have to be easy. (I barely have time to deal with the piles of clutter in my house. Multi-step project just aren't happening at this stage of life.)
I thought my last map project was tipping the easy scales, but I was wrong. This project took 15 minutes tops, and five minutes of that were finding the perfect place to put the frame.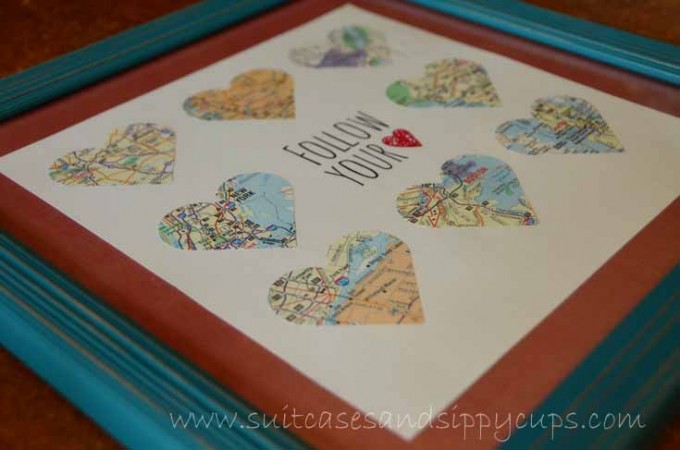 Super Simple Steps for Repurposing Old Maps into New Art
Supplies: Maps, glue, scissors, white paper, heart paper punch or template, frame, scrapbook paper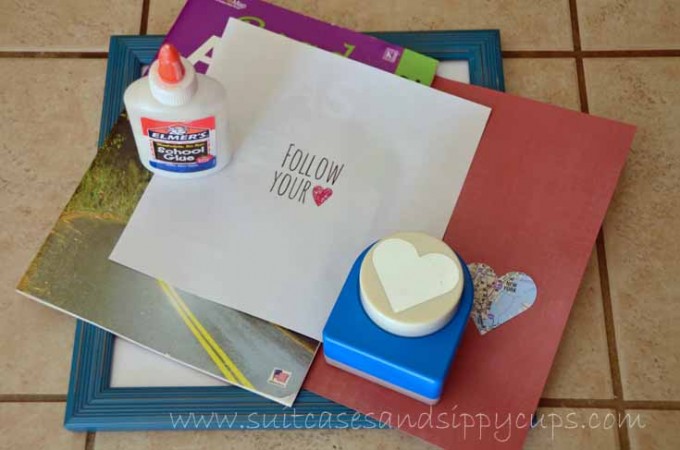 Step One: I used Picmonkey to create the text on my art and print it onto white paper. I used textured white linen paper to make it extra fancy. "Follow your heart" matched my theme perfectly, but you could choose any words-a quote, a date, names, etc..
Step Two: Choose the map sections you want to use for your art. A fun way to make the art even more meaningful would be to choose locations that have some significance and highlight those in the heart punches. In my case, I picked some cities that we love to visit, but mostly I was looking for the right color combination.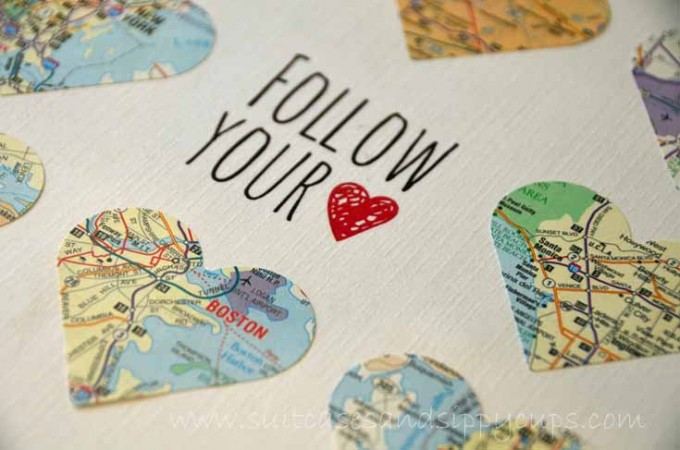 Step Three: Punch the heart shape from each map using a paper punch. If you don't have the right size paper punch, you can easily print a heart template and trace and cut around each section of the map. It will be a little more time consuming, but it is still doable.
Step Four: Position the hearts around the words and glue in place.
Step Five: Cut paper to fit frame. I had a frame that was 10 x 10, so I cut my white paper to 8 x 8 and created a custom color mat by gluing it to a piece of scrapbook paper.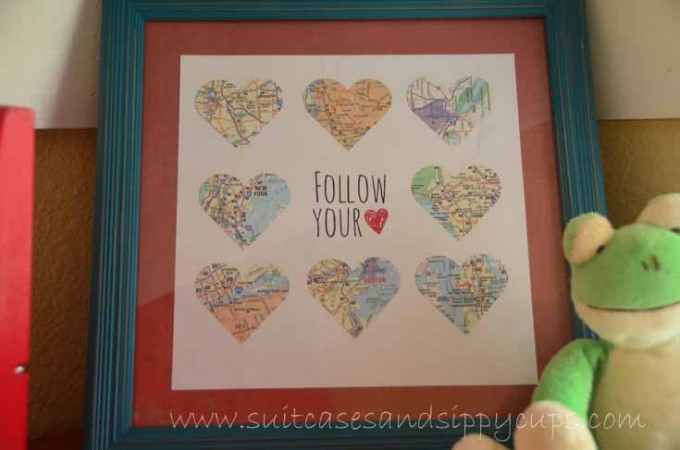 And, done! Ten minutes from pile of maps to cute new art that represents some of our favorite places and one of my life guiding sentiments. Oh, and I decided to put it in my son's new closet into a bedroom room. The colors were a perfect match and everyone needs a reminder to follow their heart before they head off to dreamland.
Welcome to
Travel Tips Tuesday!
READ THIS FIRST:

The purpose of Travel Tips Tuesday is to build a community that encourages sharing and support among travel bloggers and writers. As your hosts, we don't want to create a list of rules for participation, but we ask that you use the "Golden Rule" whenever you link up to the carnival. We would be thrilled if you would add a link to one of your hosts in your post, or give us a shoutout on social media, and we will do our best to reciprocate. In the spirit of community, it would be ideal if you visit some of the other blogs and keep the travel tip love circulating.
Posts on both Suitcases and Sippy Cups and Walking on Travels will go live at

11pm EST on Monday

night. You only need to link to one of these sites to have your link show up on both.
Spread the word via Twitter using the hashtag

#TravTipsTues

Please note: any and all spam links will be deleted immediately to uphold the integrity of this blog carnival. This is not the place to post advertising or sponsored links. Please contact the hosts directly with these types of inquiries.