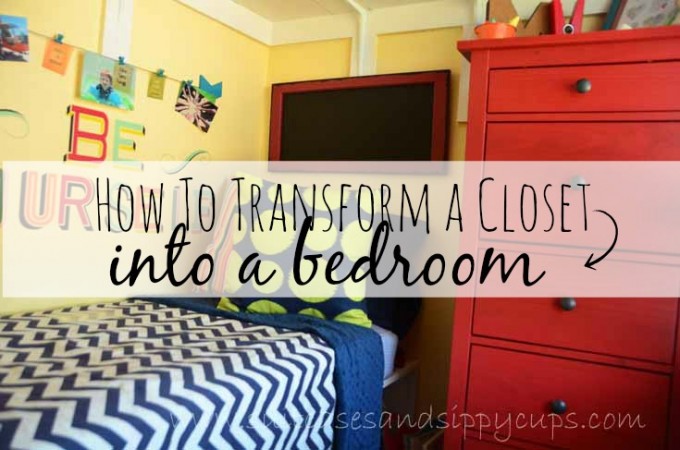 The saying goes, "If you want to see your priorities, look at your checkbook." So what do you do when you look at how you allocate your money and it doesn't line up with what you say you want?
Well, in our case, we downsized.
Five years ago we were doing a great job of paying lip service to the idea that we wanted to make memories rather than accumulate possessions, all while having a house payment that made that difficult. In what felt like a pretty bold move to us, we sold our larger, albatross-like house and downsized to something that allowed us much more wiggle room in our monthly budget.
The exchange felt like the ticket to travel adventure that we had desired, but it was not without cost. The biggest cost, by far, was figuring out how to fit an already oversized family into an even smaller space. Downsizing our possessions was easy enough, but the number of kids was unchangeable, and our new home didn't have a dedicated space for each of them.
They would simply have to share bedrooms, and we reasoned that there was much character building and camaraderie to be gained from such an arrangement. The shared bedroom arrangement worked brilliantly, until it didn't. Growing kids with a genuine need to have some privacy, as well as growing personalities that needed some space, combined with a variety of differing bedtimes was a recipe for disaster. We tried a variety of different permutations to make it work, but what we really needed was just one more bedroom space.
So, we did what we have done for years- made it work with what we have. In this case, that meant turning a closet into a brand new bedroom for our littlest.
Now, before anyone gets all faux-shocked and starts going all "nobody puts Baby in a closet" on me, this closet has room for a bed and a dresser. Plus, it has a window. It's not a sad, dark little hole. Okay.
And….I think it might be my favorite room in the house. I cannot get over the cuteness of it, nor can I believe that we were able to make a pretty small place into a very livable space. Bigger is not always better.
Tips for Turning a Closet into a Bedroom
1.Choose a light colored paint. Light colors reflect and make the space seem airy. Dark colors in a small space just won't work.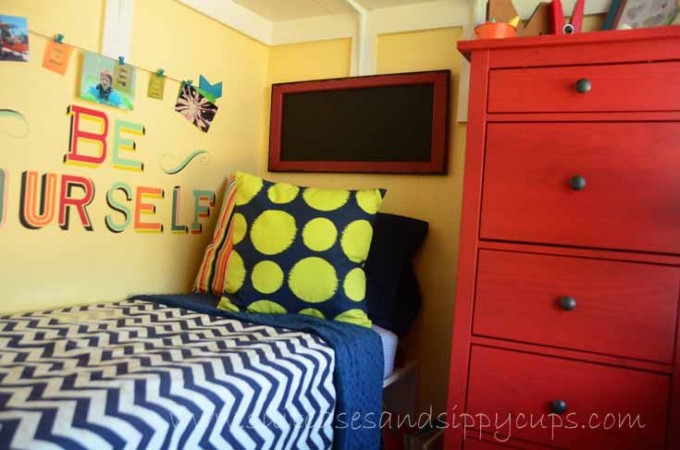 ~ A creamy lemon color is the perfect light color for a small space~
2.Think vertically. We knew we would need storage space, but since spreading out wasn't an option, we looked up with shelving for toys. Labeled buckets keep things looking neat. Shelves placed up high also have the added benefit of making the space looking taller by drawing the eye upward.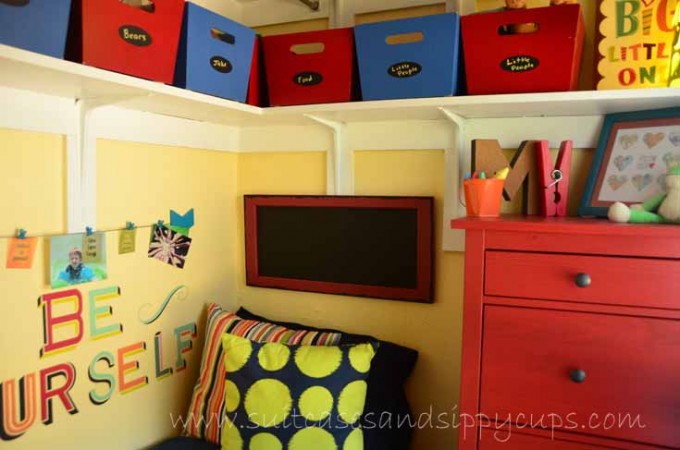 ~Shelving running along the top of the closet maximizes the space (and chalkboard labels keep things organized)~
3.Consider built-in options for furniture. When dealing with a limited space, it is important to use every inch to the fullest potential. We found a standard sized bed that would fit in the space, but we could get 7 extra inches out of the bed, if we opted for a built-in. Instead of wasting those extra inches, my mom and dad designed and built a bed for the space (God love them!) and made it even more usable.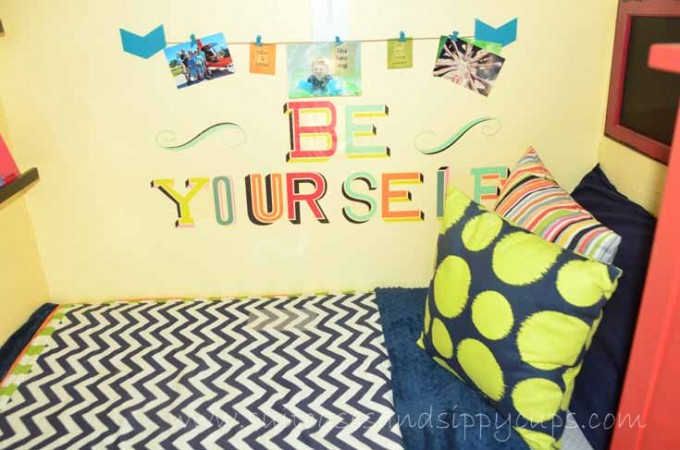 ~Built-in bed corner~
4.Utilize hidden storage. Another benefit to building your own furniture is the option to make it work for you. The bed platform doubles as a hidden storage cubby, which makes the small space even more usable.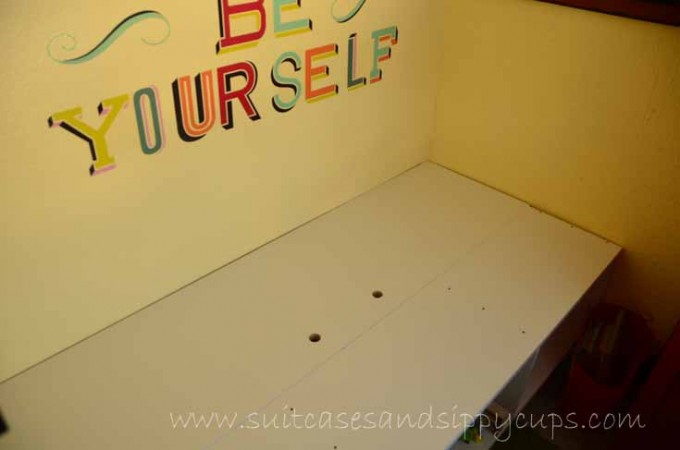 ~Built-in bed opens up to allow for storage underneath~
5.Let there be light. We were really lucky to have a closet with a window in this space, but I added several light sources to amp up the light even more. One single overhead light source directs the eye into one place, but several small lamps keeps the eye moving around the space, making it seem larger.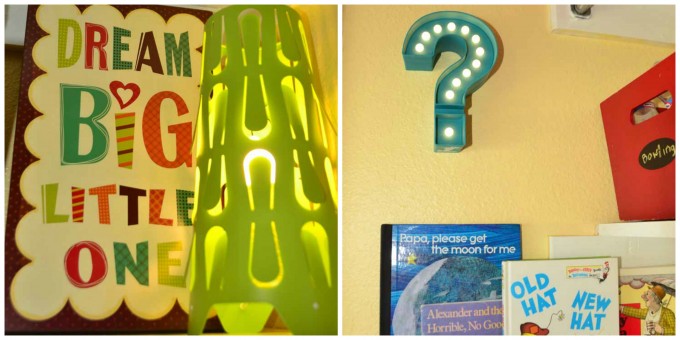 ~Funky Ikea lamp and battery operated question mark add light in the darker spaces~
6.Add décor that does double duty. I knew that we would need tons of space for books. (Hi! My name is Jessica and I have a book buying problem.) Knowing this helped to direct my décor choices. Shelves underneath the bed were installed for books, as well as shelves at the foot of the bed for more books. I love the display at the foot of the bed that enticingly suggests a quick story before drifting off to sleep. Another double duty décor is the chalkboard above the bed. I felt the space really needed some kind of headboard, and who doesn't like a headboard that can also be an art canvas?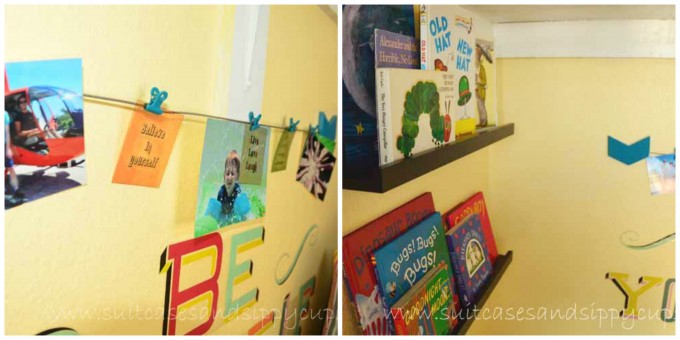 7.Ditch the door. This is a personal preference, but the door was much too coffin-like for my taste. Instead, we replaced it with a sheer curtain, so air could still move freely and it can be tied back during the day.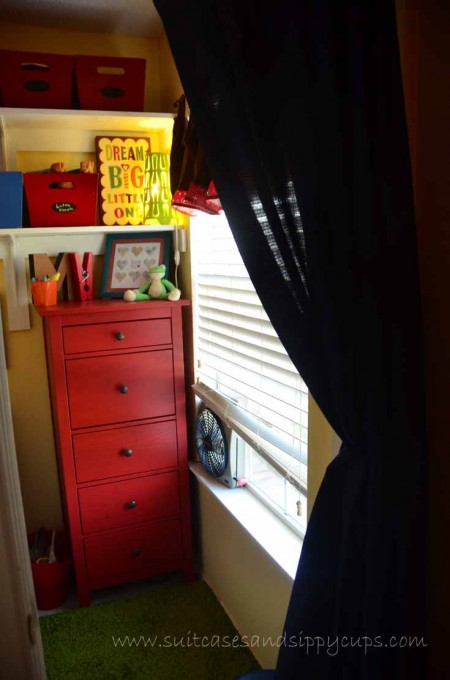 8.It's all the (fun) details. With a small space, it's obviously important to make every inch work for you, and in a kid's room that means there has to be some space for fun. My little guy loves to hang up pictures of his family and things that he has created, so a place to easily hang his art was a great addition. He also loves to play house with his little people, so I saved one precious shelf as a little tiny nook for the tiny people. The sight of it makes me want to squeee! ( and I never squee.)