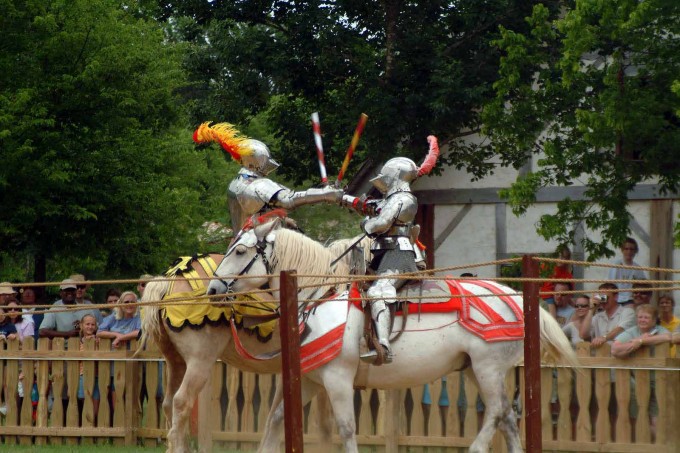 For over 30 years, the Scarborough Renaissance Festival, located in Waxahachie, has been the time machine that transports visitors to the 16th century world of King Henry VIII. Yes, you absolutely can take the kids to this event and enjoy one of the largest Renaissance festivals in the country. And you should, but be prepared with a few quick tips for family fun.
Arrive Early. The King will "throw wide the gates" with a ceremonial presentation at 10 am, so you will want to be in attendance for the fanfare. There are also some fairly practical reasons to arrive early. The earlier you arrive, the cooler it will be and the easier it will be to beat the crowds. By arriving early, you will build in a little extra time to navigate the traffic and crowds and be ready to party 16th century style from the start of the day.
Buy your tickets in Advance. Discount tickets are available for purchase at Dallas/Fort Worth area Tom Thumb stores and Austin Area Randalls stores beginning in March. Ticket prices at Tom Thumb or Randalls are $21.00 for adults and $9.00 for children. Discount coupons are available at Waxahachie Autoplex in Waxahachie, Texas.
Plan Ahead. A daily schedule of events is available online. If you plan to see many events throughout the day, print and highlight your schedule before you arrive at the gate. Popular acts will perform many times throughout the day, while some events will only happen once or twice. Plan your day ahead of time to make sure you get to see everything you desire.
Choose comfortable shoes. The festival is located in a beautiful pastureland, so much of the ground is uneven and the pathways are made of gravel. Plan to wear shoes that can navigate the rough terrain. Sandals and little pebbles of gravel are not an awesome combination.
Bring Cash. Most of the vendors are able to take credit cards, but all food, drink, and activity vendors require cash. Ye Olde Money Machines are available throughout the festival if you are having so much fun that you run out of cash.
Rent a Costume or Bring Your Own. You could be a lord, you could be a fairy, you could be a fire breathing dragon. The options are virtually limitless within the realm of the Renaissance. Many people will be seen in the parking lot swapping out their street clothes for something a bit fancier. If you don't have a costume of your own, costumes can be rented just inside the gates. Shoes are not included with the costumes, however. If you are not feeling costume-y, feel free to wear your regular clothes. You will not be out of place.
Set a spending limit. Particularly if you have kids, but even if you don't you will want to have some sort of limit on the amount of cash you shell out. Although all the shows are included, everything else is extra. For kids, it is helpful to give them a budget at the beginning of the day, so they can choose the activities that they want to do most and not break the bank.
Strollers, diapers, and other needs for the wee ones. Privies (that's 16th century for bathroom) are available throughout the festival, but many of these are of the more primitive variety. For changing facilities, visit the permanent facilities at the front of the festival. Strollers can be used throughout the festival, but the terrain is not ideal. If possible, use a baby carrier or leave the stroller at home.
Be aware of the unique flavor of a Renaissance Festival. Renaissance Festivals are certainly appropriate for families, but depending on your relatively level of residual Puritanism, you may be shocked. Costumes can be revealing and jokes will be off color. If you are at all prone to pearl clutching, you might want to rethink the festival with kids. Don't be scared off, though, most shows will be PG with adult humor that is subtle enough to go right over the kids' heads. Any shows that are for more mature audiences will be listed as PG-13 in the program.
Choose the right activities for the right age. After years of attending the festival, we've discovered the ideal age is infants that are still young enough to sleep through anything or kids from ages 9-12ish. Preschoolers and young elementary aged kids can still have fun at the festival, but you will want to limit the number of shows you see and spend more time in the active areas of the fair. Many of the shows rely on comedy that will not easily entertain young kids and they will get antsy. The tween and early teen set is the perfect age to marvel at the skill and guffaw at the comedy.
Read more about what to expect at Scarborough Renaissance Festival and while you are in the area, take a look at the Wacky and Weird Side of Waxahachie
Welcome to
Travel Tips Tuesday!
READ THIS FIRST:

The purpose of Travel Tips Tuesday is to build a community that encourages sharing and support among travel bloggers and writers. As your hosts, we don't want to create a list of rules for participation, but we ask that you use the "Golden Rule" whenever you link up to the carnival. We would be thrilled if you would add a link to one of your hosts in your post, or give us a shoutout on social media, and we will do our best to reciprocate. In the spirit of community, it would be ideal if you visit some of the other blogs and keep the travel tip love circulating.
Posts on both Suitcases and Sippy Cups and Walking on Travels will go live at

11pm EST on Monday

night. You only need to link to one of these sites to have your link show up on both.
Spread the word via Twitter using the hashtag

#TravTipsTues

Please note: any and all spam links will be deleted immediately to uphold the integrity of this blog carnival. This is not the place to post advertising or sponsored links. Please contact the hosts directly with these types of inquiries.