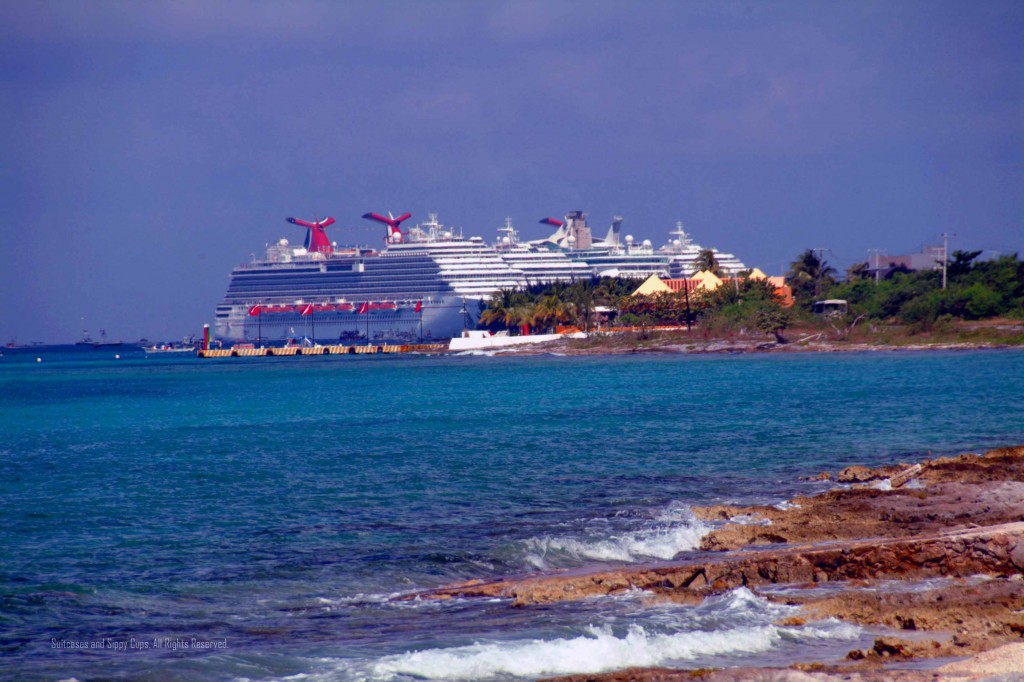 Carnival Magic in beautiful Cozumel
Every traveler has a unique personality that influences their traveling choices, and our family is no exception. While traveling, we are watching our budget carefully, rarely care about fine dining, and like to fill the day with back to back educational outings. Eschewing tours or programs of any kind, we prefer to set our own pace, meander off the beaten path and stay away from crowds. My understanding of the cruise experience just didn't fit with our traveling personality. We weren't "cruise people" I had always told myself.
A week aboard the Carnival Magic quickly turned my preconceived ideas on their head and taught me that cruising can not only be an enjoyable family vacation, but it might just be the ideal family vacation.
So, what did I learn aboard the Magic that made me a believer?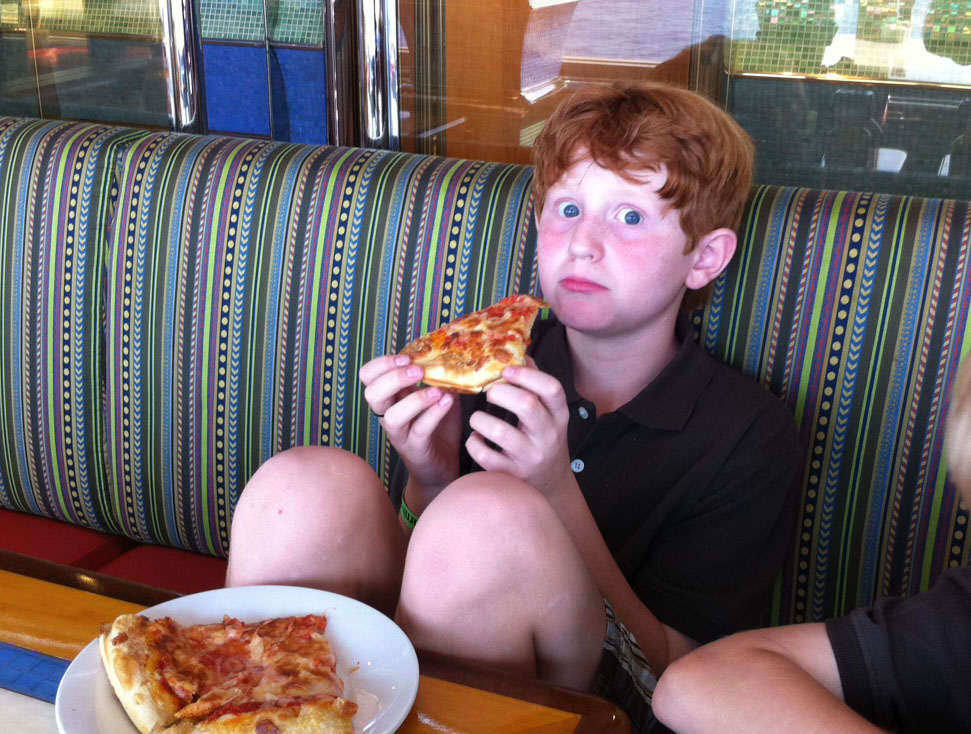 What? It's only my eighth piece today!
Cruising is budget friendly. Traveling with a larger family means always keeping an eye on the bottom line. That often means that all inclusive vacations don't offer the best value. However, cruises are available from as low as $60 per night per person –that includes all meals, great entertainment, and lodging. That's a great value and considering that my kids can eat their weight in pizza, the value just keeps going up.

There is so much to do. One of my biggest worries about cruising was that we would do everything the ship had to offer in the first day and be stuck at sea with nothing to do. I need not have worried. Onboard the Magic we found the Sports Square with a ropes course, a water park with two awesome waterslides, a nine hole miniature golf course, and two swimming pools. Not to mention the nightly entertainment that included an over the top magic show and a comedic juggler. Being bored while at sea was never a problem. Now, being so exhausted from the fun that you fall asleep the minute your head hits the pillow is another story.
Yep, that's me. Actually relaxing.
There is so much NOT to do. Maybe it's a case of adult attention deficit disorder, but I just do not like to sit still. Because of this, our trips are usually high energy and fast paced, as I try to squeeze in as much activity into each day. Cruising allows you to adopt a slower pace-and sometimes that is just what you need. The days at sea build a natural rhythm of relaxing between ports and allow you to enjoy moments where you can just hang out and be silly with your kids or share another round of ice cream. The moments of doing things may build memories, but the moments of doing nothing build relationships.
A little quality time at the foosball table
This is a vacation that MAKES you unplug. It will come as no surprise to the people closest to me when I admit that I am addicted to my IPhone. It just fits so nicely in my hand and provides me with instant information at the touch of a button. When we are traveling, I try to unplug as much as possible, but it's just so darn easy to hop on the phone for a minute or two. Cruising eliminates that temptation completely and allows me to plug in to the actual living human beings around me. Of course internet access is available on the ship, but not with the ease that allows me to check things many times a day. Just about the time we hit international waters-the same magical moment when the casinos and duty free shops open for the first time-my cell phone went into to complete connection shutdown. It even gave me a farewell ding as a friendly reminder that the world would indeed go on spinning without my constant input for the next seven days.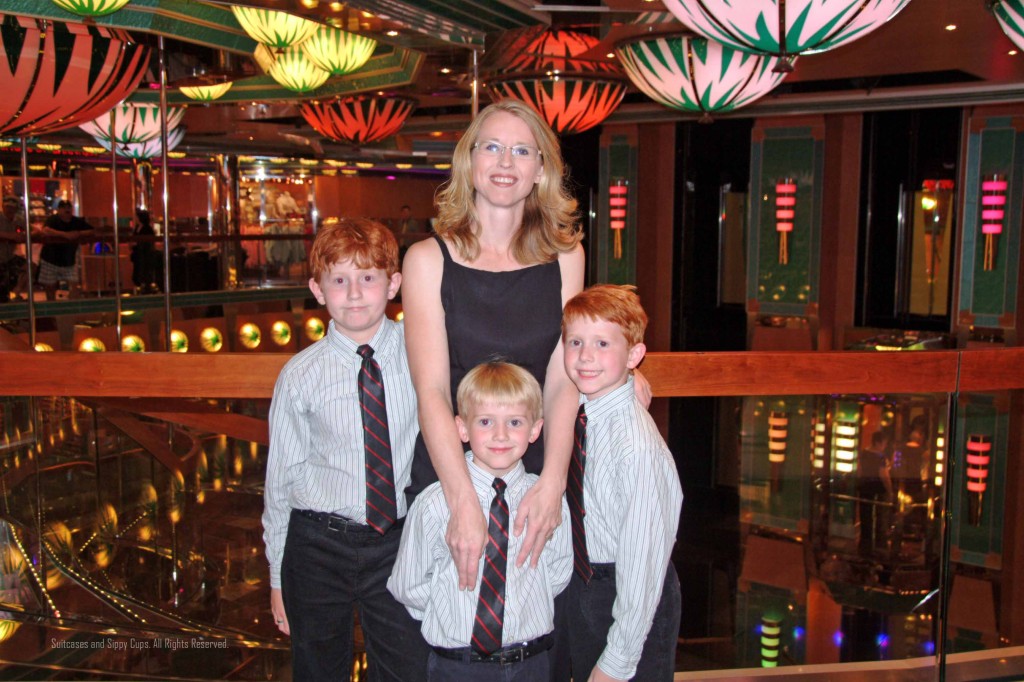 Dressed in our best and (mostly) thrilled about it
Cruising introduces you to things you wouldn't normally do. One of the things I enjoyed the most onboard was dining in the dining room each evening. Although we have eaten in nice restaurants before, our normal fare is usually of the fast food variety. I looked forward each evening to the leisurely pace of a three course dinner complete with dishes and silverware that don't go in the trash when you are finished. The highlight of the week was formal night which allowed me to dine with all my guys dressed to their best. The boys mostly willingly wore starched shirts and ties, and I only had to barely start my "I carried you for nine months and gave birth to you painfully" speech to get them to be on their best behavior. Those dinners were some of the best moments on the trip, as we had a chance to really connect and dig into important conversations.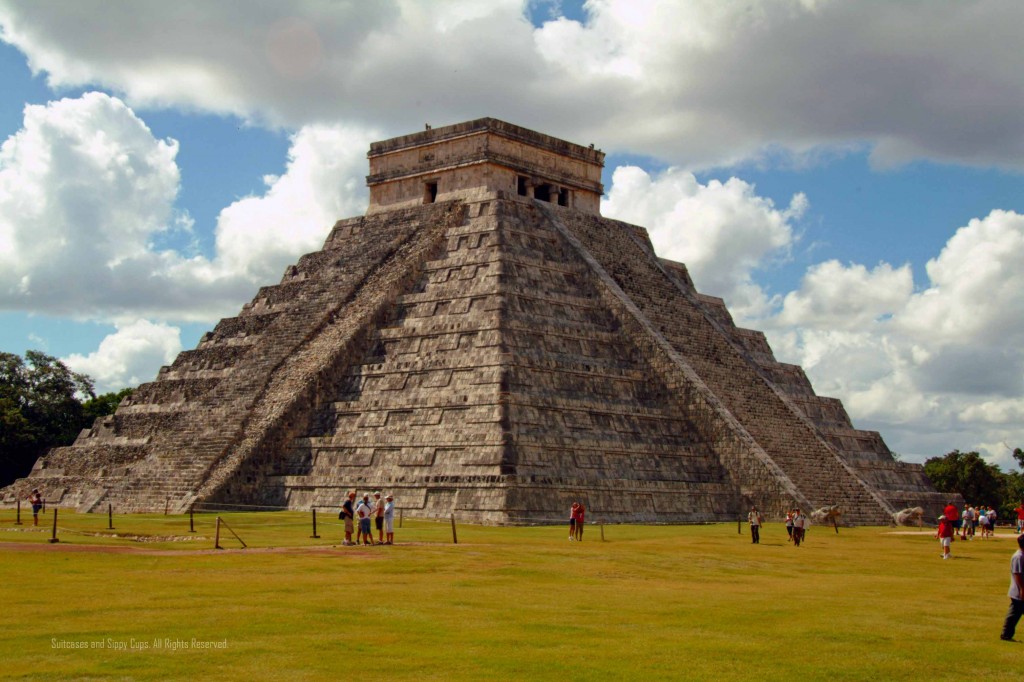 Chichen Itza~One of the Seven Wonders of the World
Cruising introduces you to places you wouldn't normally go. Cruise ports are unique travel destinations because they are built to entertain in all kinds of ways for all kinds of interests. The cruise ship is a perfect guide to your time in port because they know the port well and want to help you find ways to have fun while you are there. An unscheduled stop in Progreso turned out to be the perfect opportunity to check out Chichen Izta, a site I have often wanted to visit, but never been close enough to see easily. Our second port was Cozumel and although we had been there many times before, it was the excursion guide aboard the ship that recommended that we spend the day at Chankanaab which turned out to be the most perfect day in the whole of family travel history.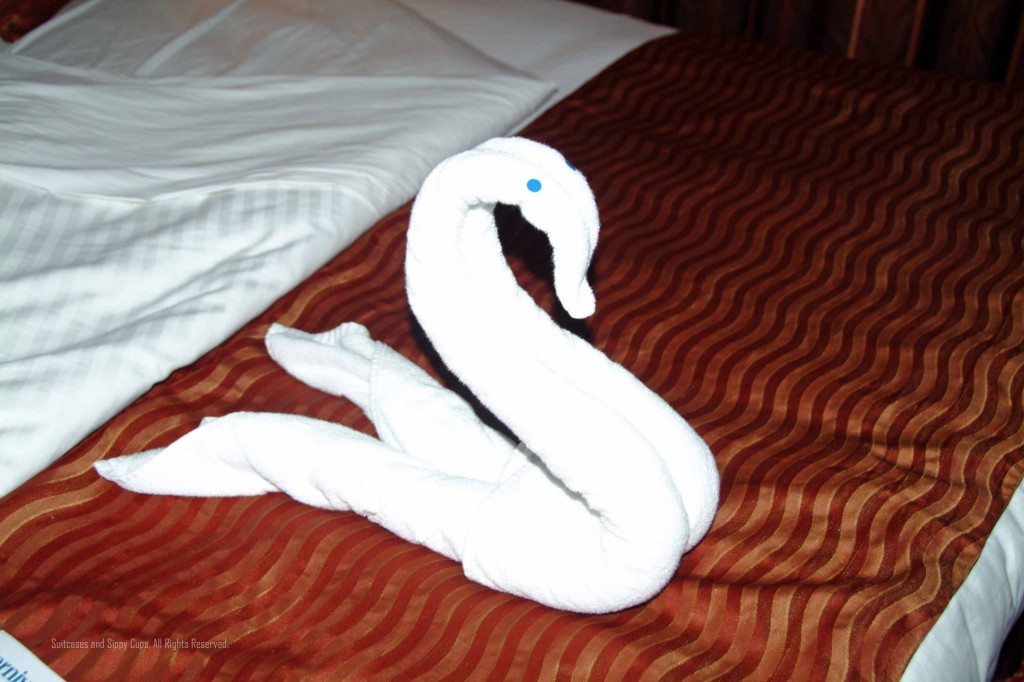 Cruising is the closest thing to a vacation a mom can get. We all know that moms are the last people to get vacation time. If you are a mom, taking the family on a trip just means taking your work on the road. On a cruise ship everything from breakfast to bedtime is planned and executed for you. All meals are prepared, all beds are made twice daily, your entertainment guide arrives promptly on your pillow every night with a chocolate mint and cute (and clean) little towel animal. Now that I am back at home making my own bed and using a towel folded in a boring square, I really miss those guys, but I am grateful for those seven days that gave me a chance to relax and reconnect with my family.
What about you? Do you believe in Magic?
~Carnival Magic generously invited my family aboard the inagural sailing from the Port of Galveston. All opinions are my own~