The internet is an invaluable tool when it comes for researching upcoming travel, but, like most things in life, you learn the most about how to travel by just doing it yourself. As I was packing for our second family cruise, I felt so much more prepared than the first time. In so many ways, I didn't know what I didn't know on that first cruise. That experience taught me what we needed, what we didn't, and what we absolutely couldn't live without on a cruise ship. Some of these "must haves" are things that I never would have thought to pack for a cruise, but experience has taught me what often forgotten and random items I will throw into my cruising suitcase from now on.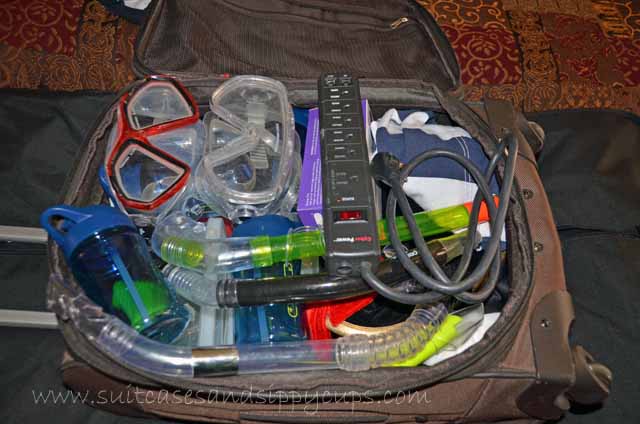 Must Have Items for a Family Cruise that Aren't Already on Your List
1.A power strip. Power outlets are very limited in your stateroom, and unless you are planning to unplug completely, you will need more than a couple of spots to plug in your gear. Complete electronic shutdown would be tantamount to torture, as far as my kids are concerned, so we need to max out our power. Also, keep in mind that the outlets are often not located conveniently, so you may want to bring an extension cord. Some cruise lines (like Disney) have extension cords onboard to borrow for the cruise, but they are first-come, first-served.
2. A Refillable Drink Container. Tea, lemonade, and sometimes soda flow freely onboard a cruise ship at any hour of the day or night. That's the good news. The bad news is that they are served in teeny, tiny cups to keep you from overindulging. Ha! Overindulgence is the hallmark of any good cruise, and you don't want to be left out. A refillable drink container will allow you to fill your cup to the brim, and carry with you throughout the ship or ashore for a port adventure.
3. An empty duffle bag. Much like dirt never goes back into the hole, clothes never go back into a suitcase quite the way they did when they were first packed. An empty duffle bag allows you to relieve your overflowing bags and even have some room for those souvenirs.
4. A day bag. Whether you are going ashore or just exploring the ship, you will have a few items that you want to carry with you. A small shoulder bag will do the trick.
5. A light jacket or sweater. Oh sure, it's all about sun and surf, and I am sure you are dreaming of soaking up some rays. When the sun goes down and the wind blows (if the ship is moving, the wind is blowing), it can be downright cold on deck. Indoor areas are often over air-conditioned, as well.
6.Ziplock Bags-quart and gallon sized. Ziplock bags, oh how I love you. Let me count the ways. I love you for holding wet swimwear and for packing a snack to take ashore when we are in port. I love you for holding ice when a race down the stairs ends in abruptly with collision. I love you for containing the sunscreen and not letting it leak all over my luggage. I love you for gently encasing that ridiculously overpriced picture I purchased. Your uses are just too numerous, my dear.
7. Highlighter . One of the highlights (pun totally intended) of any day on a cruise ship is coming back to your room after dinner and finding it prepared for the evening. It's not just the thrill of the little chocolates on your pillow, and the too cute towel animals that excite; it's also the arrival of the schedule for the next day. A highlighter will help you emphasize what you don't want to miss on the schedule.
8. Map. Of course, it's the captain's job to know where you are going and how to get there, but you can have a little geography fun of your own while onboard. Bring a laminated map and see if you can find the home countries of your servers and other people you meet onboard. The servers love to show the kids where they live, and the kids will be picking up a little geography as a bonus. (Shhh! Don't tell!)
9. Wipes. Don't leave home without them.
10. Sticky Notes. Great for leaving your family a note in the stateroom, or let your cabin attendant know that you need something extra. It's fun to leave little notes for your kids on the bathroom mirror, too. It's a vacation, after all. Enjoy it!