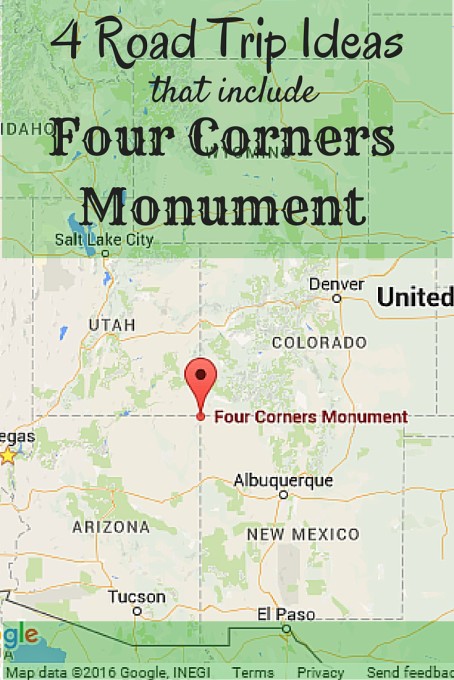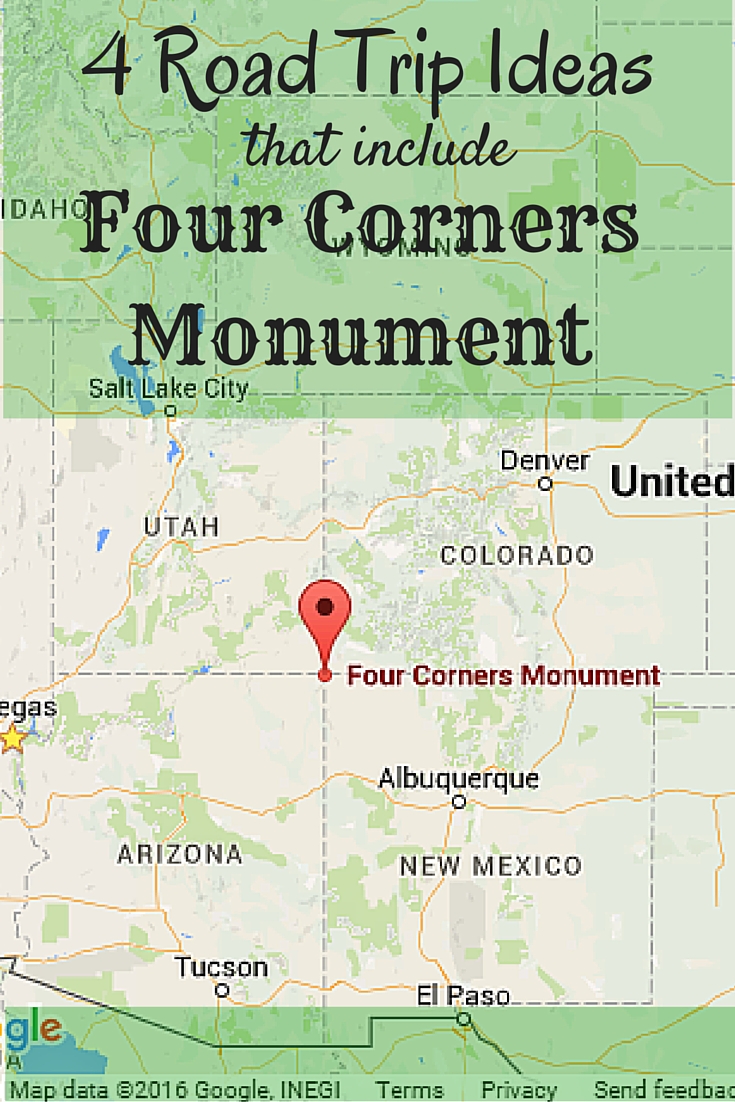 As schoolchildren we learn that there is one place in America where the corners of four states geometrically come together to form the point of four perfect 90 degree angles. It's not until we grow up and start planning a family vacation that we realize this tourist attraction is actually in the middle of nowhere. With four directions to come from, however, including the Four Corners Monument in an epic western road trip can be possible. The key is to know what other worthwhile sites you can see along the way.
If you're coming from…
Utah…Most likely, if you're visiting the Four Corners Monument from Utah, you will be coming from the national parks in the Moab area. Driving south on Hwy 191 stunning views are available on both sides of the road. Wilson Arch and The Hole in the Rock are not far out of town, but both nice stops to build excitement for the rest of the trip. The Arch is free with a parking pullout. Hole in the Rock is quirky and touristy, but if you want to tell people you've walked through a cave home and an exotic animal petting zoo at the same time, this is the place for you!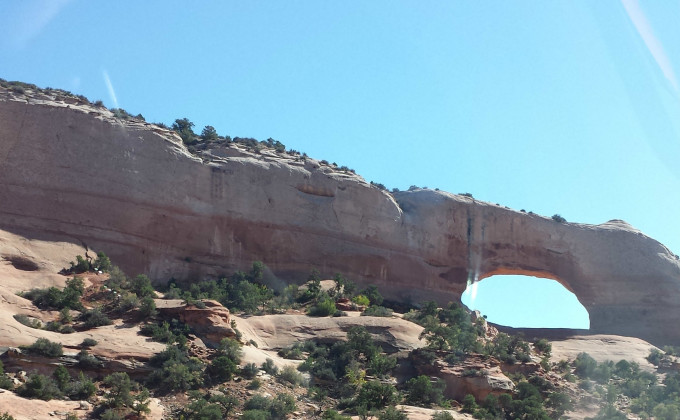 Continuing down the road, the red rock terrain begins to be dotted, and then blanketed in green cedar trees. After traveling through the small towns of Monticello and Blanding, Edge of the Cedars State Park, with a large display of Anasazi pottery and an authentic pueblo to explore, makes a great place to get out and stretch your legs. An alternative to this stop is the Trail of the Ancients Visitor Center which shares great information on the history of the land you will be traveling through on your way to Four Corners.
Total Drive Time: 2 hours, 30 minutes. South of Blanding signs for the monument will direct you from Hwy 191, to UT-262, and then CO-41 before arriving at the monument.
Colorado…Colorado is the state that makes the most sense for making a quick jaunt out to the Four Corners Monument. From Cortez (a gateway to Mesa Verde National Park, and near Durango), the drive takes less than hour. You can do the drive out and back and get on to exploring in Colorado, but why not make it a fun family day trip? Head northwest out of Cortez for a 1-hour drive to Hovenweep National Monument, and spend a few hours exploring the prehistoric village ruins. Hopping back in the car, the drive from Hovenweep to Four Corners will also be only an hour. After taking the obligatory "feet in four states" photos, finish the loop by making your way back to Colorado.
Total Drive Time: From Cortez to Four Corners, 40 minutes. Follow US-491 south to the US-160 turn and follow the signs. To take this day trip, 2 hours, 45 minutes. Follow US-491 northwest and watch for signs near the town of Pleasant View. After leaving the park continue south until the county road reconnects with UT-162 and complete the drive the same as listed from Utah above. Finish the drive by reversing the Cortez directions.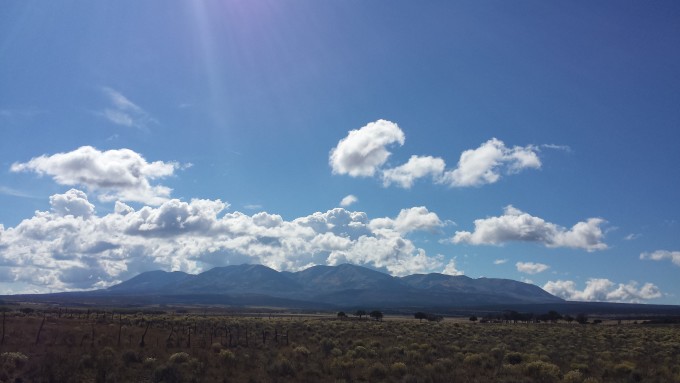 Arizona…Visiting the Four Corners Monument from Arizona takes a little bit more time and commitment. Departing from either Flagstaff or the Grand Canyon will require longer than 3 hours' drive through beautiful, but sparsely inhabited land. If you are hoping to make a quick stop to see the survey marker on your way to somewhere else, taking a northern route across US-160 will be the fastest route. If there is time to spend an extra night, consider taking a 25-mile jog off the main road to visit Monument Valley. It is possible to drive through and be on your way, but the views are breathtaking and worth the time to slow down and take it all in.
If you want to get an early start and take a more scenic, colorful route, head east from Flagstaff and then veer north through the heart of the Navajo Nation. Going this direction will add an hour of driving time. You may want to allow enough time to drive through the Petrified Forest National Park and/or Canyon De Chelly National Monument for beautiful demonstrations of the effect time and the elements have played on the local topography.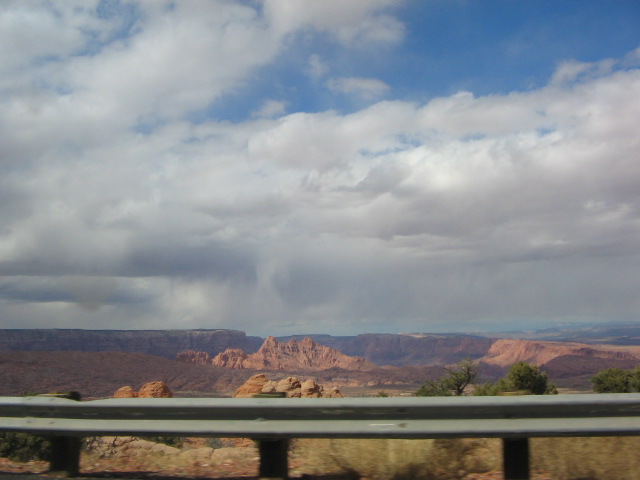 Total Drive Time: Driving north, 3 hours 40 minutes straight driving time. Connect to US-160 from US-89 and follow it all the way to the monument. Detouring to Monument Valley will add20 miles each way. Driving east, 4 hours 25 minutes. Follow I-40 to Winslow, AZ, then turn north on US-191, eventually connecting up to US-160.
New Mexico…There is really nothing in the northwestern part of New Mexico that would make sense for a quick drive out to the Four Corners Monument. A majority of the western area of the state is in the Navajo Nation and very little development or preservation has occurred there. The only logical reason to plan a stop there from the Enchantment State is if you happen to be on your way from Albuquerque to a state farther north. Whether you take scenic route over US-550, or the practical route along I-40, both will meet up with US-491 and take you to the turnoff just before exiting the state.
Total Drive Time: 4 hours from Albuquerque on either US-550, connecting to US-491 and then US-64, or on I-40, connecting to US-491 and eventually following the signs.
Any one of these itineraries can stand on its own as a round-trip excursion or combine together in an extraordinary family road trip. Please keep in mind that Four Corners Monument is not a final destination. Check the closing time before you go. There is NOTHING more disappointing than getting all the way out there to find a paddle-locked chainlink fence across the entrance. The amenities are primitive, with only a few local vendors set up in a farmer's market style venue. Properly plan and be sure to bring food and water with you.
All sparseness and long driving aside, a visit to Four Corners Monument does turn out to be exciting. Approach it with the excitement you felt learning about it as a child and make the most of the journey your family takes to get there!