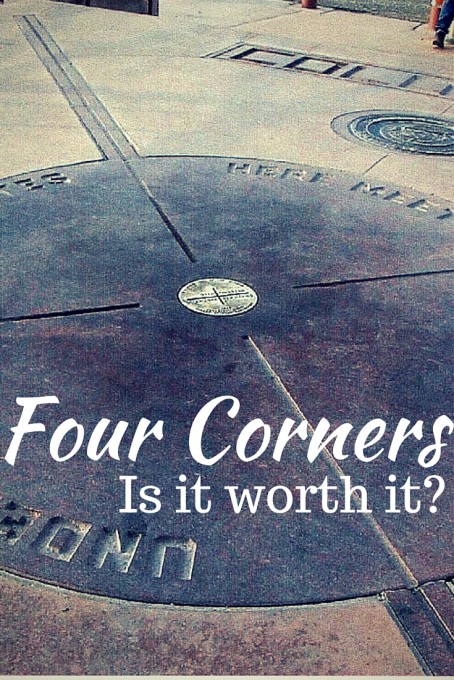 As the saying goes, "A wise man will climb Mt. Fuji once; a fool will climb Mt Fuji twice." That adage sums up my basic feelings about visiting Four Corners, the exact spot-and the only one in the US- where four states come together. Four Corners has long been a roadtrippers' and map geeks' dream destination. I mean, where else can you stand in four states at one time or travel the span of four states in a matter of seconds? So, in theory, this place is a traveling mecca, but is it really worth it?
Although it is easily accessible from a Mesa Verde National Park or Arches National Park, Four Corners is definitely in a remote location. Imagine pretty much 30 miles of dry, brown nothing in any direction. As an aside, there is no running water, which means no flushing toilets at the site. This is the definition of the middle of nowhere.
So, you have to work to get there, and you also have to pay to get in. Many people mistakenly refer to the site as Four Corners National Monument, and thus think it will be free to visit. The Monument is jointly owned by the Navajo Nation, who own the corners of Utah, Arizona, and New Mexico and the Utes, who own the southwest corner of Colorado. Admission is $5 per person for everyone over 6 years old.
The site sticks out of the middle of the desert like a sore thumb oasis and can probably best be described as the Native American version of Disneyland. Surrounding the site is a plethora of permanent booths that sell Navajo souvenirs and handmade goods. Four Corners is first and foremost a business venture for those who own the land, and like Disney, they know how to monopolize an audience. Drinks and snacks are also available from vendors.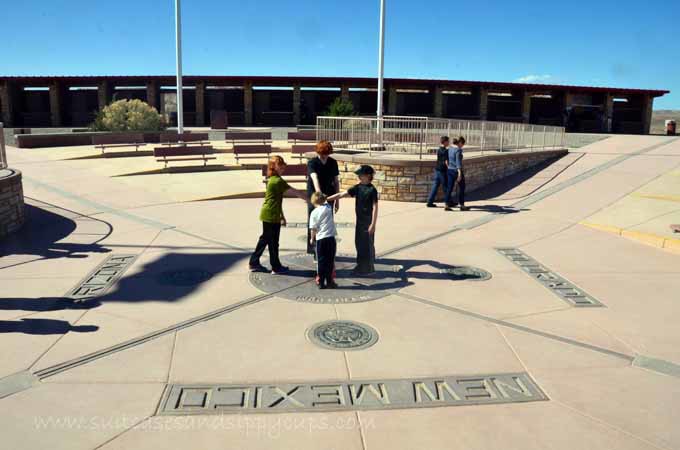 Once inside, you will have to wait your turn to take the obligatory "one foot in each state" or in our case "one kid in each state" picture, and that is pretty much the extent of the attraction experience here. It will take you longer, by more than double to drive to the site than it will to actually enjoy the site.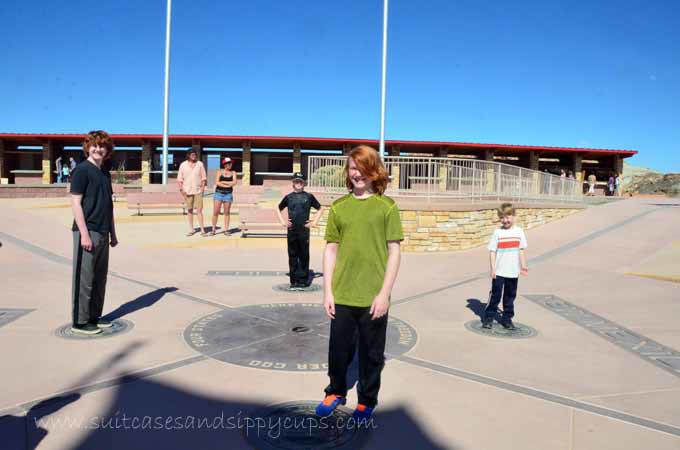 With all that- the distance, the lack of facilities, the relative letdown in activities- is it still worth it? It turns out, it is! There are plenty of educational opportunities-especially for kids-in the visiting the Four Corners. We learned about US Geography, state flags, and the history of Native American reservations while we were there. We also had the opportunity to do the proverbial "Look! Now I am in Colorado. Now I am in Utah. Now I am in New Mexico. Wait! I just jumped to Arizona!" gag. We were also able to mark this very unique site off our family travel bucket list and agree that it was worth the visit-but only once.