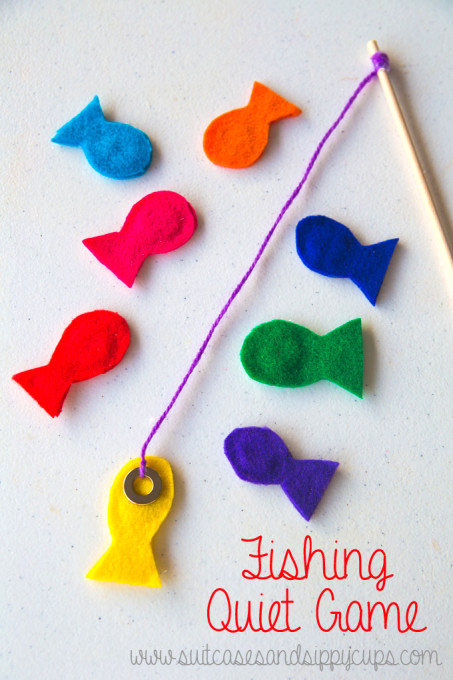 Ahh, road trips. It's my favorite way to travel, until the little one gets bored. My son has severe motion sickness (as we discovered driving down I-35 in South Texas...that was FUN), so anything with a screen is not really an option in the car. We take lots of trips just the two of us, so it's important that activities be something that he can handle on his own. I've come up with a few non-electronic activities to keep him occupied, but this Fishing Quiet Game is one of his favorites! We keep it inside a zippered pencil case so that he has easy access to it. Not only does he love playing it, but it helps work on his hand-eye coordination. We even use it to exercise his color recognition. I'll call colors out from the driver's seat and he is supposed to try to snag the matching fish with the rod.
Fishing Quiet Game
Here's what you need to make this Fishing Quiet Game:
● Colored Felt
● Washers
● Hot Glue
● Magnet
● Yarn
● Round dowel rod
Cut out matching fish shapes from the felt. I made our fish smaller so that they would fit easily in our busy book.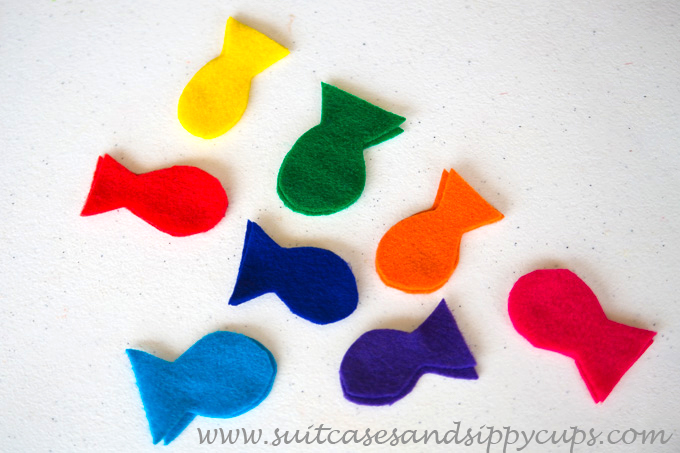 Place a washer between two matching pieces of felt and hot glue it in place. Glue around the edges to seal the fish shut.
​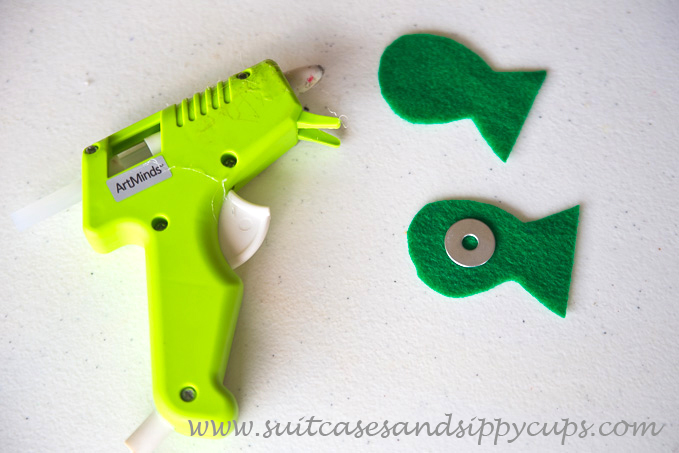 Tie a piece of the yarn around the magnet. If your magnet doesn't have a hole in the middle, use two magnets and glue them together with the string between them.

Tie the yarn to the stick and hot glue it in place. Now you've got your fishing rod!
​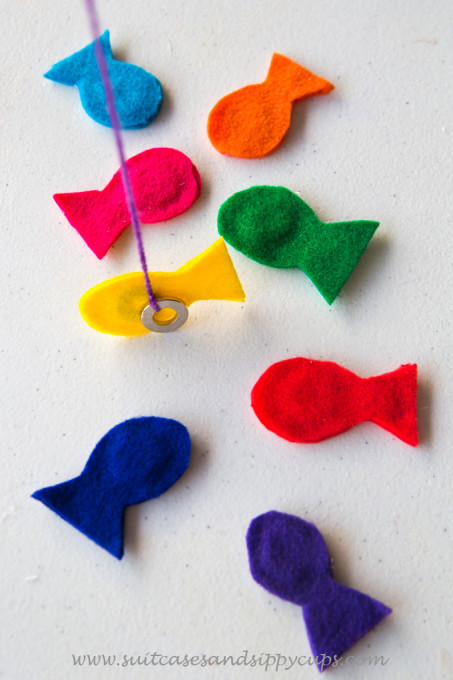 Time to go fishing!

Store your fish and fishing rod in the pencil pouch and keep it in the car for last-minute trips. Isn't it fun?
​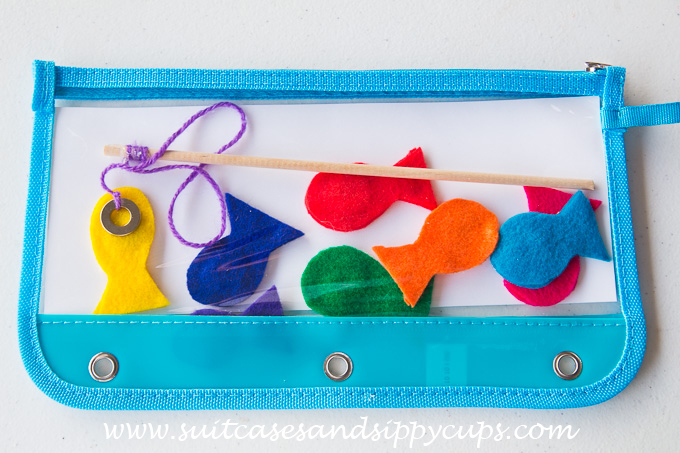 Need another way to keep them busy? Get some alphabet magnets and repurpose our

Cookie Sheet Magnetic Board

as a road trip activity kit!
Looking for more ideas?
● LEGO Road Trip Activity Kit from The Nerd's Wife
● Flags of the World Bingo from Suitcases and Sippy Cups
● Activity Bag Ideas from Kids Activities Blog
● Restaurant I Spy Printables from 3 Boys and a Dog
● Paint Chip Matching Game from Moonfrye
● Road Trip Adventure in a Box from The Dating Divas
● Road Trip Grab Bags from Make and Takes