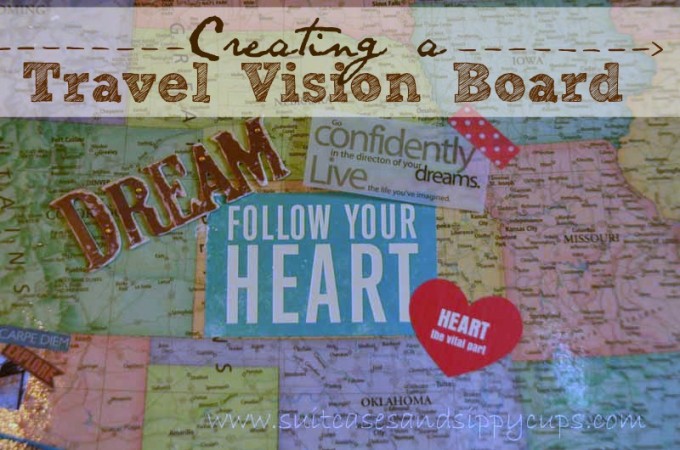 Travel Burnout. It happens to me at least once for every trip, even the short ones, but especially the long ones. Nine times out of ten, the burnout happens before we have even boarded the plane or gassed up the car. It happens in the seemingly never-ending frenzy of getting all this schutuff for all these people into suitcases and the many other preparations that make travel possible. Even when I try to do things gradually (and I promise, I really, really try), it always piles up on me.
And that's when I hit the wall. The wall that says, "It's not worth it you fool! Stay at home and watch TV!"
I hit the wall today- one week before a planned month on the road.
Rather than wallow around in my misery and piles of unwashed, unpacked clothes, I decided to try something new. My plan was to make a travel vision board- a visual representation of where we were going and why. The idea was that the act of making the board would remind me why I wanted to do this in the first place, and just seeing the board throughout the week would buoy me towards my goal.
If you are rolling your eyes, I'm usually right there with you. I'm not at all a touchy-feely kind of person who generally subscribes to ideas of visualizing what I want, or speaking my beliefs into the universe. However, desperate piles of clothes not getting themselves into a suitcase call for desperate measures, or at least deserve a new idea.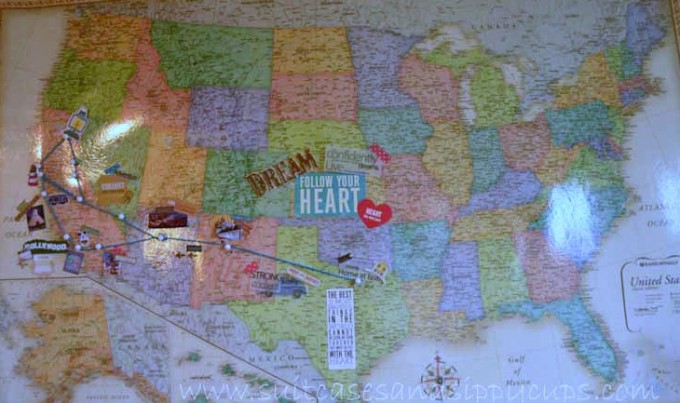 Weeks ago, I had pinned up a map to mark our route for the kids. Using pins and string, I showed the route we would travel and we talked about what we would see along the way. My hope was that seeing the plan would help make our travels more concrete and encourage excitement.
Using that map as my base, I decided to add a little something that would encourage excitement for me. First, I riffled through my long forgotten scrapbook supplies to find stickers, embellishments, and other doo-dads that represented places we would go or reasons why we would go there. With a decent pile of inspiration travel stickers, I grabbed my computer and printed out some photos of each of the destinations. I wanted to loop the kids in here again by visually showing where we would go, but also let myself get excited about the destinations.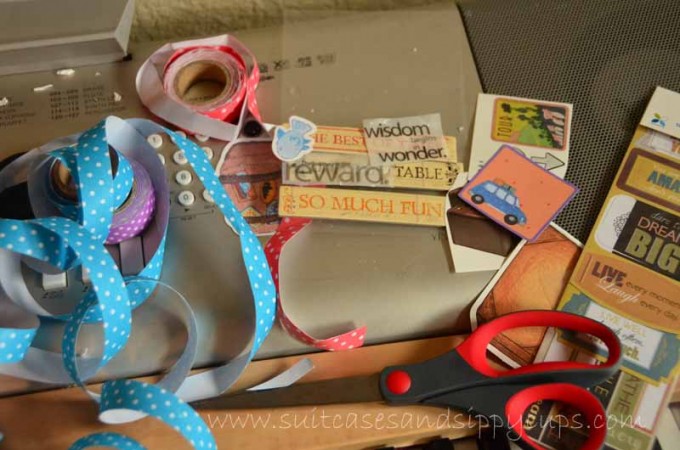 With all of that gathered, I grabbed some scissors and tape and started slapping things on the map. My goal was not to create a work of art (thankfully), but have all my hopes and plans in one place. I added the pictures of each destination with an inspiring quote or word thrown in for good measure.
When it was all completed, I honestly felt 100% better about the trip. The process reminded exactly why I push through the not so fun parts of traveling to get to the really good stuff. Looking at my map, I can see the Grand Canyon, a site I have dreamed of seeing my whole life, and I can remember that the Grand Canyon alone is worth it.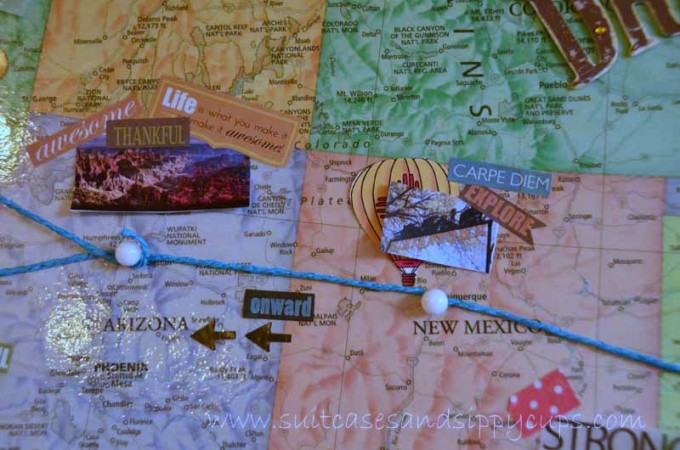 But, of course, it won't just be the glory of the Grand Canyon. There will be the memories we make along the way, and the soul stretching beauty of seeing and doing something new with the people you love. It's all waiting for me. And it's worth it. The clothes still aren't going to get themselves into the suitcase and I have seemingly more work to do than I have hours in the day, but at least when I walk down the hall 50 million times to get it all done, I'll have a great reminder of why I'm doing it.