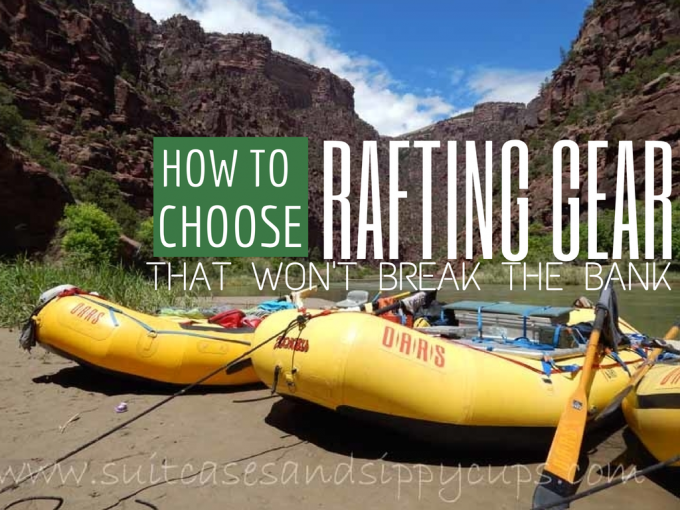 When the opportunity to hit the river for a four day rafting excursion fell into my lap, I first felt giddy excitement followed by pure panic. It wasn't just the thought of falling off the back of the boat or peeing in the woods that had me worried; it was the prospect of collecting the specialized gear for a new sport. No matter the sport, gear is expensive and I wanted to make sure I found the balance between outfitting myself properly and not breaking the bank.
Five Tips for Buying and Packing for a White Water Rafting Trip
Don't Fall into the Specialized Outfitter Trap. There are plenty of rafting outfitters that will sell you everything you need for a rafting trip, but specialized stores often have a higher premium. There might be one or two items you can only get from the "Rafting Superstore," but most of your needs can be standard issue. Rain gear is a good example. Rafting outfitters offer expensive options, but a standard rain pants and rain jackets worked just fine for us.
Check with your Rafting Guides to See What They Provide. I was surprised to learn that splash jackets were provided by our guide company. I hadn't purchased a splash jacket, but if I had, it would have been a wasted purchase. Check before you buy.
Check your Other Gear Before you Buy. Camping and skiing both lend themselves nicely to gear that can do double duty. Polyester thermals make great base layers that will dry quickly when the weather is cool. Camp gear can easily be brought along to make life at the end of the day more comfortable. My kids are obsessed with Under Armor type shirts for sports, and those made great quick dry shirts for the trip. Be creative about using what you already have on hand.
Don't Overbuy-even and especially Specialized Gear. The most you need of any type of item is two, one to wear today and one to wear tomorrow. Your clothes just need a chance to dry between river runs, and with the arid climate in most rafting areas, you can usually dry your clothes overnight.
Don't Overpack. Packing for rafting is not about quantity, it's about quality. If you are the kind of packer who needs an outfit for every day, you are going to be sunk (not literally). As long as you pack good quality, quick drying clothes, you will only need 1 or 2 of any item. Any more than that will not only overflow the allotted space in the dry bag, it will not get used.
Four Things I Couldn't Live Without and Three Things I Brought that I Didn't Use at All
Even though I followed the "ultra-prepared" list provided by OARS to the letter, it was still more or less a shot in the dark whether I really packed what I needed. In the end, there were items that got more use than I ever thought possible, and there were some things that never got the chance to come out of the dry bag.
Three Things I Didn't Need
1. Swimming Suits. In my head, rafting and swimming went hand in hand. That works in Texas, I suppose, where the water is warm, but in Colorado in late June the water had only "warmed" to 56 degrees F. There was no swimming; we took a far more cat-like approach to the water and avoided it at all costs. Disclaimer: Other people in our group wore swim wear on the warmer days, but they were all men and only wore swim trunks. Not a single woman was seen in a tankini or swimming suit top.
2. Extra Shirts. I brought a shirt for every day, thinking that changing into something clean would make me feel clean. Yeah, that only works if the body you are putting it on starts out clean. We were pretty wet and dirty from Day One. As long as the shirt was dry, it didn't really matter if it had been worn the day before.
3. Shorts. I wanted to use them, but it was just too cold/sunny/buggy for shorts on our trip. Even on the hottest days, the bugs were intense on parts of the river and I was glad to have full coverage. In the end, it was far more comfortable to wear my one pair of quick drying pants and let them protect me from all the elements.
Four Things I Couldn't Live Without
1.Quick Dry Performance Underwear. I know it sounds nutty to expect your underwear to do anything but be there, but this underwear was a lifesaver. It dried as quickly as my outerwear, and I not ashamed to say that my tushie really appreciated the consideration.
2.Long Sleeved SPF Shirt. This single garment performed in practically every scenario. It made for a great base layer when it was cold, kept me protected from the sun and bugs when it was warmer, and dried quickly when it was wet. Of the four days on the river (which spanned the temperatures from 37 to 92) I wore the shirt three out of four days.
3. Camp Sandals. At the end of the day on the river, I knew I would want my feet to be dry, but it also felt so good for them to be able to get some air. My camp sandals were perfect for that and also let me have a quick pair of shoes to slide on when I needed to run to the bathroom.
4. Lightweight Rain Jacket. My run of the mill rain jacket that I can wear anywhere was a godsend. The splash jackets provided were super at keeping out the water, but they were very bulky and warm. Even when it was warm, I still wanted to stay dry (56 degree water remember), so it was great to have a lightweight option. When it was wet and cold, it easily layered under the splash jacket because it was so thin.
Welcome to
Travel Tips Tuesday!
READ THIS FIRST:

The purpose of Travel Tips Tuesday is to build a community that encourages sharing and support among travel bloggers and writers. As your hosts, we don't want to create a list of rules for participation, but we ask that you use the "Golden Rule" whenever you link up to the carnival. We would be thrilled if you would add a link to one of your hosts in your post, or give us a shoutout on social media, and we will do our best to reciprocate. In the spirit of community, it would be ideal if you visit some of the other blogs and keep the travel tip love circulating.
Posts on both Suitcases and Sippy Cups and Walking on Travels will go live at

11pm EST on Monday

night. You only need to link to one of these sites to have your link show up on both.
Spread the word via Twitter using the hashtag

#TravTipsTues

Please note: any and all spam links will be deleted immediately to uphold the integrity of this blog carnival. This is not the place to post advertising or sponsored links. Please contact the hosts directly with these types of inquiries.