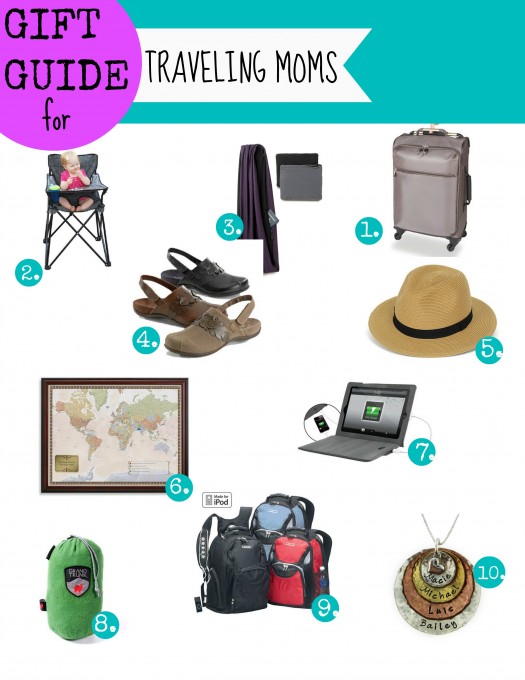 Every time I get on an airplane, one thing I could count on, other than not enough legroom and that one kid who kicks the seat, is the SkyMall catalog. Tucked in the seatback pocket, amidst the taunting white airsick bag is a diversion that purports to sell "the coolest stuff in the world" For me, it has been a popular way to distract my children on the plane. On every flight, we play the game "what would you buy," a silly game that lets us dream about the things we would buy if money were no object. It is a fun way to the pass the time for the kids, but I would be lying if I hadn't done my share of virtual gift shopping at 30,000 feet via the SkyMall catalog. On one particularly long flight, I chose Christmas gifts for my entire family, right down to the family dog. So, when SkyMall contacted me and asked me to take a look at their online catalog and choose some gifts suitable for the Traveling Mom, it was easy to say yes.
Ten Perfect Gifts for the Traveling Mom
1.The World's Lightest Suitcase. Traveling Moms have packing light down to a fine art, but the suitcase is often the heaviest part of the whole outfit. The last thing a mom needs while lugging a baby on one hip and a carseat on the other is a heavy suitcase. Enter the world's lightest suitcase at a mere four pounds. I have been drooling over this suitcase for some time, so I purchased it for myself as an early Mother's Day present. After all, the start of every great Mother's Day is picking out your own present.
2.Portable Highchair. Yes, I know Mother's Day gifts are supposed to be all about the mom, but anything that makes mom's life easier is a great present in my book. I would have loved this when my kids were little, especially for camping and other roadtrips.
3.Sholdit Scarf. Give mom an extra set of hands (you know she needs it), with this crossbody bag/fashionable scarf. Unfolded, it is a stylish infinity scarf that cleverly hides two zippered pockets to hold cellphone, car keys, money and more. I have dreamed about something like this every single time I get on a plane with my kids, and here it is.
4.Orthaheel Rachel Clog: Shoes for travel need to be cute, comfortable, and easy to slip on and off. These shoes hit all three, and get extra points for a design that allows feet to be properly aligned.
5.Havana Hat. Once again, cute and comfortable with extra points for travel-ability. The SPF 50+ hat rolls up and pops back into shape. Perfect.
6.Personalized World Map. Records travels, past, planned, and future with colored pins and personalized name plate. I think this would look great in my office, right next to the handprint turkey from last year.
7.Rechargeable Power Case. The Justin Case Rechargeable Power Case has a built-in battery to recharge your iPad up to two times or your iPhone up to seven times. Again, it's more likely that the kids would use this more than I would, but anything that keeps the kids quiet is totally all about me.
8.Grand Trunk Travel Blanket. Great for both airplane and camping, but the best part is the ultra-luxe cashmere quality fabric and the foot pocket for keeping cold toes warm. It's almost awesome enough for me to close my eyes and feel like I am in first class. If only someone would do something about these chatty kids. Oh, those are mine? Nevermind.
9.Techno Backpack. It's outfitted for an iPod and ultra-durable, but moms will notice that the best feature is that it has enough pockets to store everything your kids need. Extra bonus: it's a handsfree option, and you know you need both hands for traveling with you kids.
10.My Four Treasures Necklace. Whenever a mom travels, she always takes her kids with her. If they aren't physically attached to her body, they always come along in the dark circles they create under her eyes and the imprint they leave on her heart. This is a perfect reminder of all the little people that make being a mom the best title ever.
For a Mother's Day present for all my readers, SkyMall has offered a sitewide 25% discount on any product through May 31, 2014. Use the code:SM25JESS.
Welcome to
Travel Tips Tuesday!
READ THIS FIRST:

The purpose of Travel Tips Tuesday is to build a community that encourages sharing and support among travel bloggers and writers. As your hosts, we don't want to create a list of rules for participation, but we ask that you use the "Golden Rule" whenever you link up to the carnival. We would be thrilled if you would add a link to one of your hosts in your post, or give us a shoutout on social media, and we will do our best to reciprocate. In the spirit of community, it would be ideal if you visit some of the other blogs and keep the travel tip love circulating.
Posts on both Suitcases and Sippy Cups and Walking on Travels will go live at

11pm EST on Monday

night. You only need to link to one of these sites to have your link show up on both.
Spread the word via Twitter using the hashtag

#TravTipsTues

Please note: any and all spam links will be deleted immediately to uphold the integrity of this blog carnival. This is not the place to post advertising or sponsored links. Please contact the hosts directly with these types of inquiries.