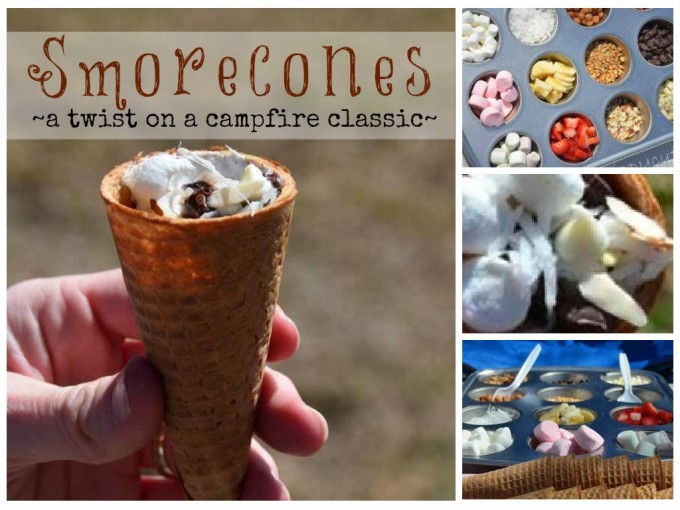 S'mores are the quintessential camping food, but it's time to give this camping classic a customizable update. Through the magic of Pinterest, I found an idea to bake s'mores in an ice cream cone, adding our favorite toppings for more flavors and less mess. It was too cute not to give it a try at our next campout, so I stocked up on toppings for S'mores in a Cone, or Smorecones, as we christened our new S'more inventions.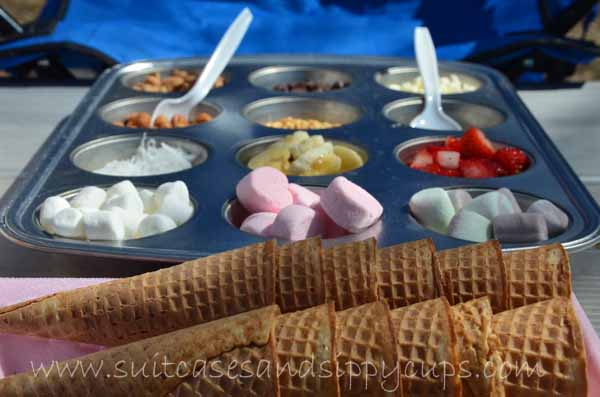 Ingredients and Supplies
Ice Cream Cones (we used sugar cones, but waffle cones would work for a jumbo sized treat)
Basic S'more ingredients-chocolate chips, mini marshmallows
Gourmet S'more Ingredients-white chocolate chips, strawberries, bananas, nuts, coconut, etc…
Tin Foil
Charcoal
Tongs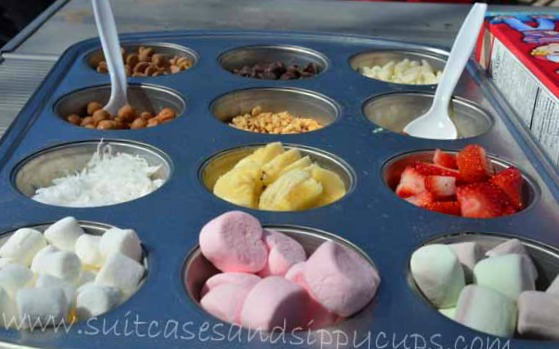 Instructions
Choose your gourmet S'more ingredients based on your taste. For easy serving, use a muffin tin and fill each hole with a different topping. For our Smorecones, we used chocolate, white, and peanut butter chips, coconut, almonds, caramel nibs, chopped bananas and strawberries, mini marshmallows, strawberry marshmallows, mint chocolate marshmallows, and peanut toppings.
Layer your cone with the flavors of your choice. Wrap the cone carefully and completely in tin foil, taking care to cover the top so the loose ingredients won't spill out. Place on the grill above hot charcoal and warm until the insides are warm and gooey. Allow the foil to cool before you unwrap and enjoy.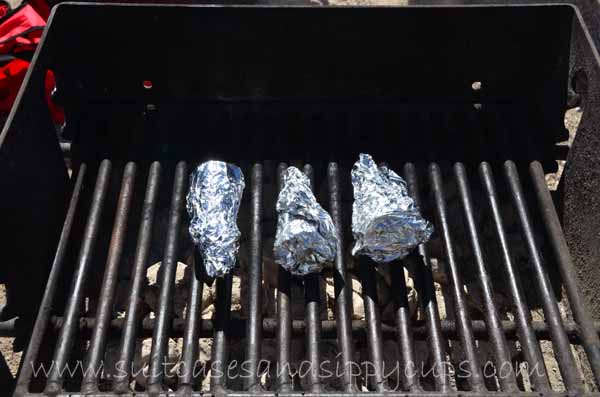 Tips for S'morecone Greatness
With such simple instructions, it seems like it would be a no-fail recipe, but there are some tips for taking average S'morecones to the next level of greatness. Since this was our first experience building S'more in an ice cream cone, we had to do some experiment to get it just right. Of course, we had to sample all the various hits and near misses to get the best tips, but it was worth the sacrifice. Here's what we learned:
Layer your cone very carefully so that the ingredients all mesh together. Just a little of each ingredient at a time will ensure that your flavors melt together and give a mixture of flavors.
Be sure to use lots of chocolate. That's more just a life lesson than a lesson specific to S'morecones, but we found it tasted best with chocolate in every bite.
Cut your fruit into small pieces, so you don't get huge chunks of fruit.
Wrap the cone in foil very carefully or the cone will break.
Expect to do some experimenting with the temperature to get the melting point just right. Somewhere between 5-10 minutes was perfect for our S'mores, but we had to peek a few times to get the timing right.
Don't place the cone directly on the coals or they will burn. You need to use a grate.
After cooking on its side, stand the cone upright between the grate to melt the ingredients a the bottom of the cone.
Do not put the cone directly on the coals or fire. It will burn.
Let the foil cool before you unwrap and eat.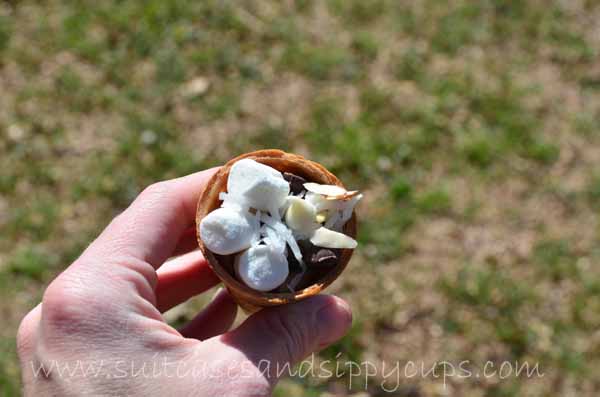 The S'morecone Verdict?
I feel like a traitor to the old faithful standard s'mores we have enjoyed on so many campouts, but I like S'morecones better. The extra flavors-toasted coconut, anyone?- were just so delicious and they were easier to eat. Even better, we didn't have to wait for the evening fire to roast the marshmallows, so they made a perfect midday snack by heating over the coals used to cook lunch. These could also easily be made at home over a grill when you need a S'more fix and there's not a campfire in site. I am sure we will pull out the old standard S'mores from time to time, but S'morecones are the new camping staple.
Don't forget to pack the top ten obvious and not so obvious gear for camping with kids.