Bunny Trail Alert: In the blogging world, being a niche blogger has a delightful way of helping to focus the content. I am a travel blogger, so I blog about travel. That is a niche where I am very comfortable, but every now and I then I want to write about something that doesn't fit the niche. Today is one of those days. In the spirit of "it's my blog and I'll write what I want to," I would like to share my son's super science birthday party. I will return to the regularly schedules travel tips, inspirations, and mishaps soon.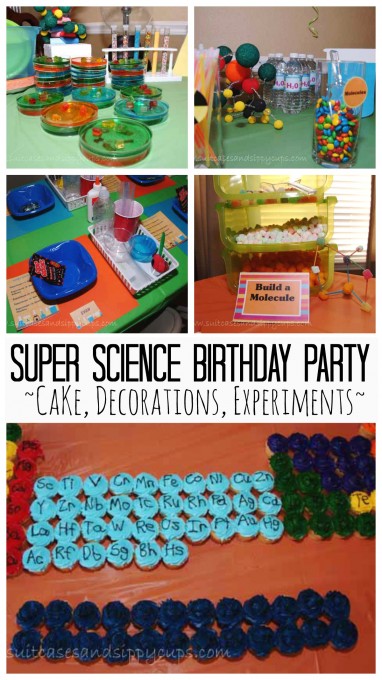 The typical yearly birthday party with gifts and friends and cake is not the standard fare in our house. Rather, for each child's birthday we offer a birthday party at home with friends, or an opportunity to travel somewhere to celebrate. More often than not, our kids opt for a birthday celebration on the go, so when they do request the status quo party, I try to make it special.
For his eleventh birthday, my oldest son wanted a science themed birthday party, and with such a fun theme it was easy to go a little overboard (I blame Pinterest!) All of the ideas were just so fun, and I apparently do not have an editing eye when it comes to over the top birthday party fun. The result was a party that was unbelievably fun and memorable. I'm simultaneously patting myself on the back and kicking myself for planning a party that will be hard to top in the future.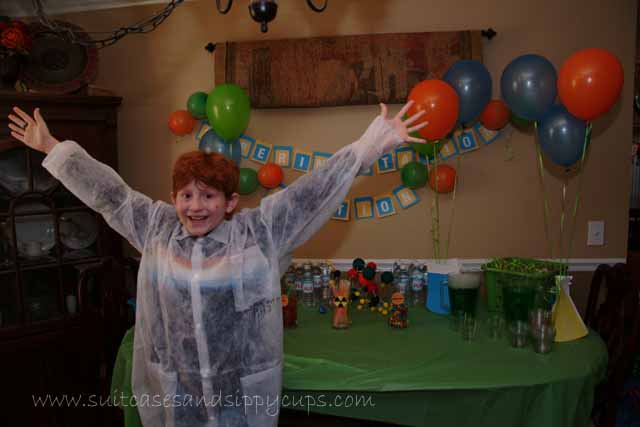 Setting the Scene
I like to give a nod to the theme of a party from the very beginning, so I created door decorations to greet the guests. My son loved the hand scanner, but he was totally stoked about the radioactive sign that led into his birthday lab. Sometimes, it's the little things.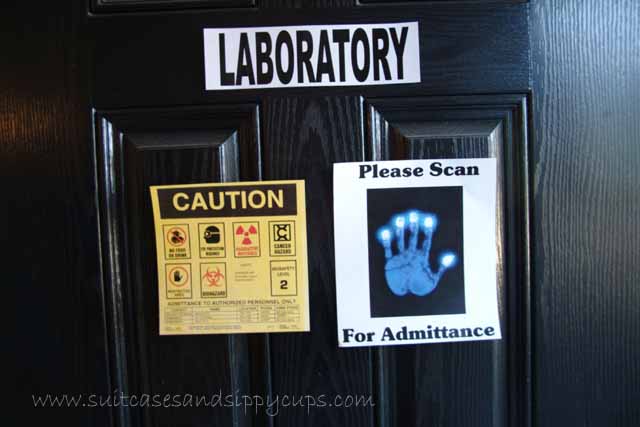 Just inside the door, I set up a table with paper lab coats and permanent markers so that guests could create their own lab coat design. The lab coats were ordered from a medical supply company for less than a dollar a piece and I happily tucked the extras away to use for messy art projects in the future.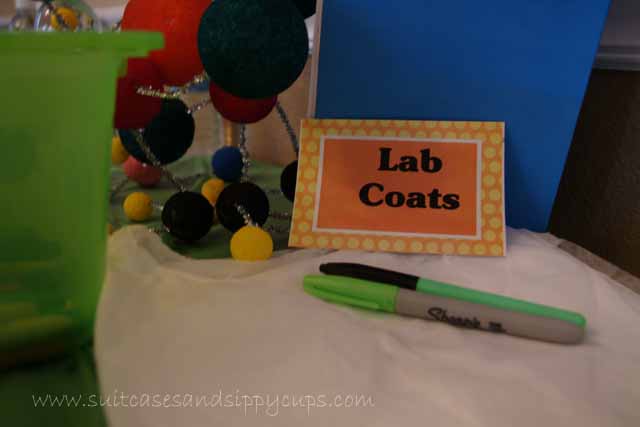 Party Decorations
I found two sets of science birthday printables online and couldn't decide between them, so I got them both. I printed off a banner to hang over the party table and used the beaker printables to form tripods to sit on the tables and use as balloon holders. The rest of the decorations were various science elements and supplies from around the house.
The Cake and Other Treats
The cake was the mega-hit of the party, which makes me feel a little like I cheated since it was so very easy. The cake is composed of 104 individual cupcakes, and there was no way I was going to bake all of those myself. I hit the easy button and ordered the cupcakes in the appropriate colors from Walmart. At home, I used black icing to pipe the element symbol onto the cupcakes and assembled in a reasonable approximation of the Periodic Table. A simple label at the top and it was done. Served along with the cake were plastic test tubes filled with a variety of colored sprinkles so that they kids could add a personalized sugar shot to their cupcake.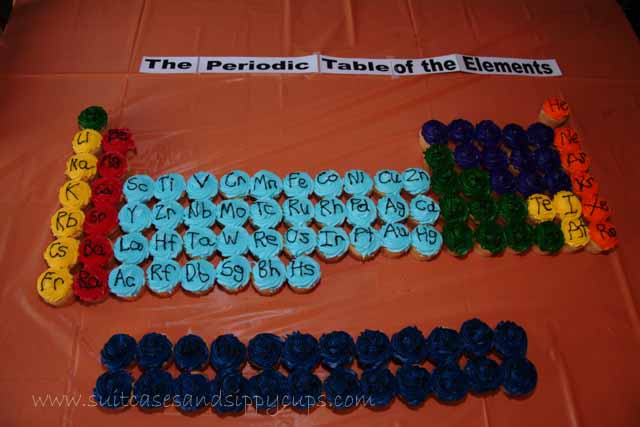 For actual food, I served cheese, fruit, and chips, but I also created some treats that doubled as fun decorations. M & Ms and Gummy Worms in tall glass jars served as molecules and germs respectively. My favorite creation was the petri dishes filled with Jello and topped with chopped pieces of gummy worms. For beverages, H2O in bottles and Potion Punch (green Kool-aid with dry ice) was served. Apparently, I was feeling guilty about the easy cake, so I painstakingly added permanent marker beaker lines to plain plastic cups.
Pre-party Activities
Knowing that there would be free time as guests arrived, I planned for several open ended activities that appealed to a variety of ages. For the younger kids, food coloring, eyedroppers and clear plastic cups made for a perfect coloring mixing activity. Other activities included microscopes for up close exploration, baking soda boats, and magic sand. The clear favorite of these was the Molecule Building Station. Gumdrops, marshmallows, and cheese balls served as the molecules, while toothpicks were the bonds to hold it all together. I am certain that as many molecules were used for snacking as for building, but everyone loved the process.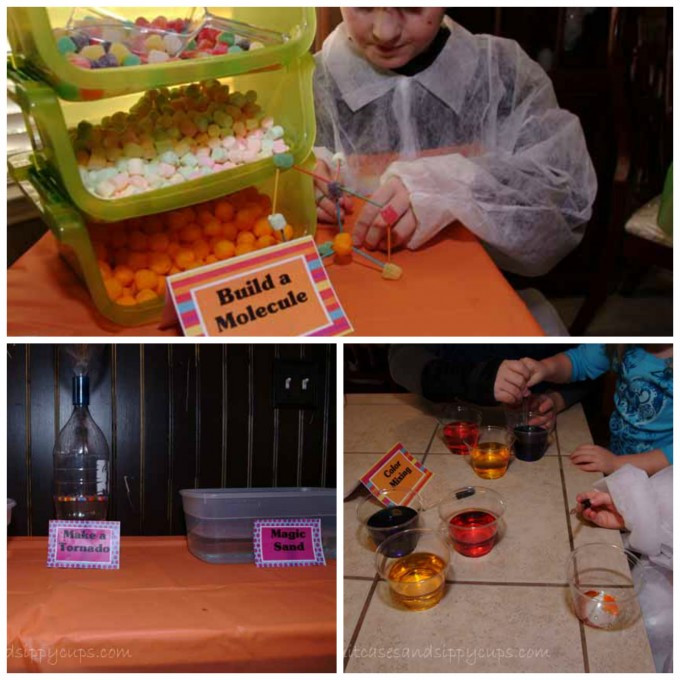 Hands-On Science Experiments
No science party is complete without a chance to experiment in the lab. My plans to do five projects with dozens of kids kicked me into first grade teacher mode, complete with nametags at each seat. I pre-assembled the supplies in a basket at each seat, as well, so that the kids could easily find their materials. With this extra preparation, the experiments went very smoothly, even with a large group of kids. Because the kids would be making projects that they would want to take home, I pre-labeled the containers, so that could easily go home with the right kid at the end of the party. Each child was also given an experiment card that listed the order of events.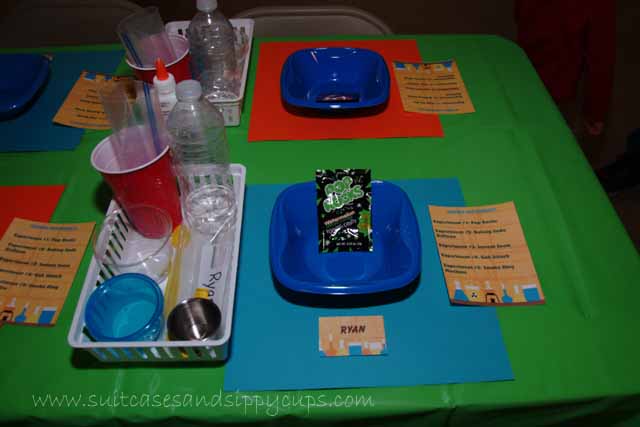 The list of experiments included tasting Pop Rocks (so fun!), using baking soda to blow up a balloon, making insta-snow, making slime, and making a mini-smoke ring machine. I printed myself an cheat sheet for the experiment that included the instructions and some scienc-y wisdom to impart to the kids to help them learn a little as they played.
The final experiment-the mini smoke ring machine-was so easy and required simple materials, but the kids were thrilled with the results. Before the party, we cut holes in the bottom of plastic cups and attached a ziplock bag to the mouth of the cup with a rubber band. During the party, we only needed to add a bit of water and a small chunk of dry ice inside the cup. When the kids gently tapped on the plastic bag, a perfect smoke ring puffed out.

Science Show Starring Dad
While the kids were busy making enough mini-smoke rings to fill the room, Dad broke out the big guns. Using a new trash barrel, plastic sheeting, and large amounts of dry ice, he created a mega-version of the smoke ring machine. It was absolutely as cool as it sounds! More demonstrations with dry ice and liquid nitrogen elicited the right amount of ooohs and aahhs from around the room and ended the party with a (very safe) bang.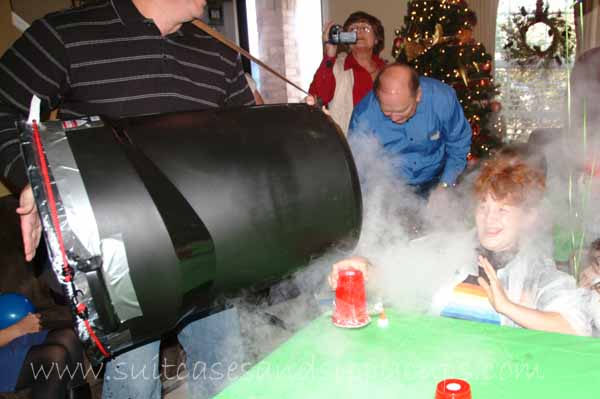 Party Favors
As a parting gift, I assembled do-it-at-home science experiments for each kid. All the needed supplies and instructions were included in a ziplock bag with a cute little bag topper to tie into the theme. The kids also took home their slime and snow experiments that they created in pre-labeled containers.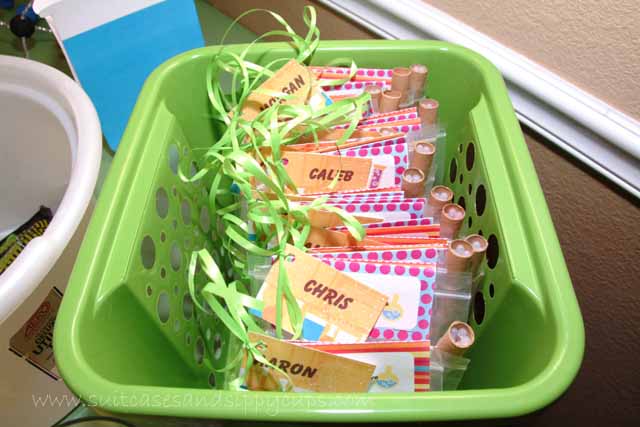 A Happy Birthday Shower
A science party just isn't complete without a little Diet Coke and Mentos shenanigans, but true to form, we took it to the next level. For the singing of Happy Birthday, we assembled all of the guests in a circle around the birthday boy, Diet Coke in one hand, Mentos in the other. At the final Happy Birthday to You, the Mentos were released and a fountain of Diet Coke was spewed forth. Wisely, the Birthday boy had donned a poncho and enjoyed every minute of his science inspired birthday bath….er bash.