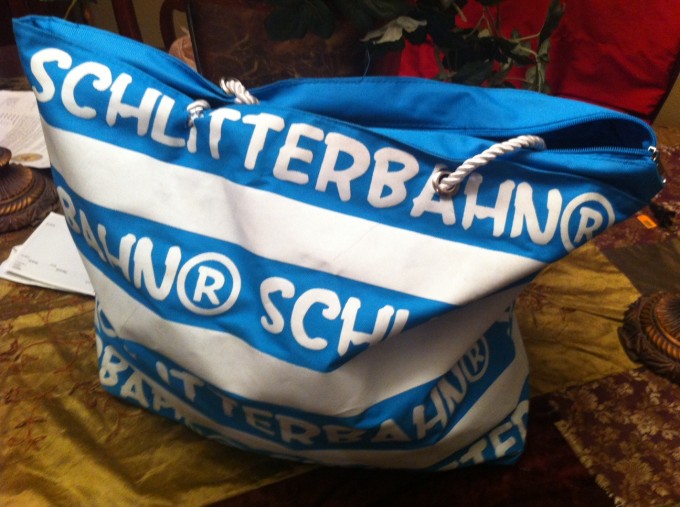 ~The Bag of Summer Goodness~
There's a bag that sits in the corner of our garage waiting most of the year to be taken out for a good time. Rubbery goggles, diving sticks, and various pool accoutrements spill out the top of the bag in the topsy-turvy way they were discarded on the last summer day. My kids can hardly wait for warm weather to roll around again so that we can grab the bag and head out for a day in the water. They know that seeing the swimming bag sitting by the front door means a day in the pool, so you can imagine their surprise when the bag was packed into our car during a November trip to Galveston. They were even more surprised when we pulled up to Schlitterbahn, one of their favorite swimming places, and told them that even though the weather was cold, we would be spending the day in the water.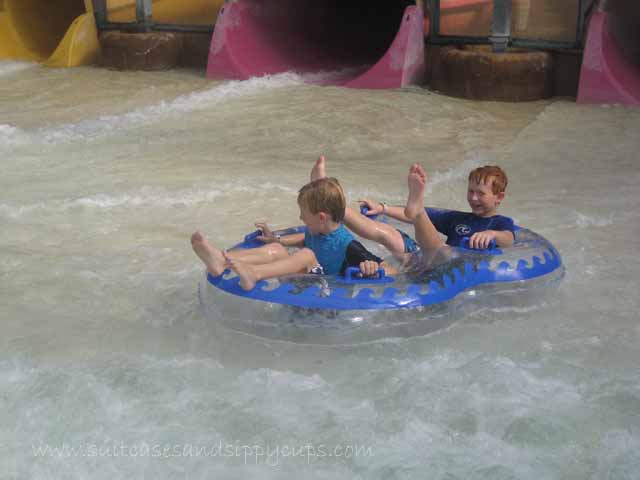 When Summer Ends, The Fun Moves Inside
During the summer, Schlitterbahn Galveston operates just like any other water park with tons of rides, pools and splashy fun for every age. During the winter (beginning late September or early October) a 70,000 square foot portion of the park is enclosed and heated to keep the pool fun happening year round. Known for their ride innovation, it is not surprising that Schlitterbahn would offer the first enclosed water park in Texas.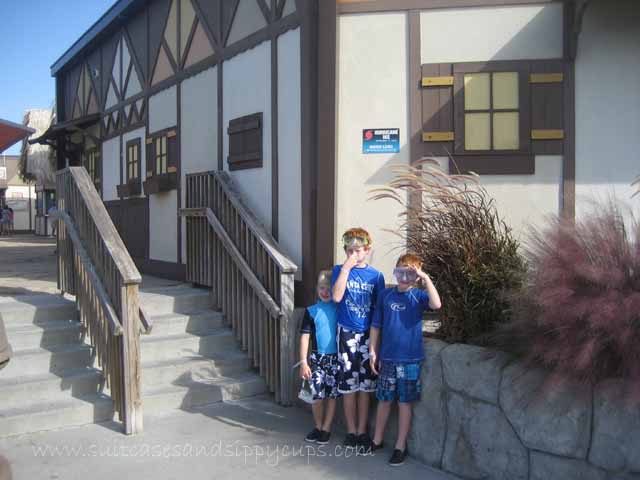 ~The line on the plaque shows the water level after Hurricane Ike in 2008~
What Rides are Open During the Winter Season?
A dozen attractions for all ages are open during the year-round season at Schlitterbahn Galveston. The rides and passageways to the rides are enclosed and heated to ensure that you stay nice and toasty while splashing and playing. The water is also heated for comfort.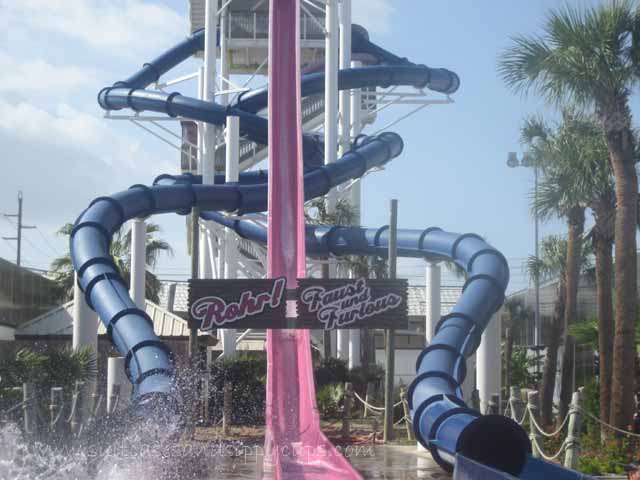 ~Body Slides (note these rides exit in the open air)
· Faust und Furious- Two speed slides that begin 60 feet in the air and are great for racing
· Rohr-Vertical plunge from 70 feet above goes up to 30 mph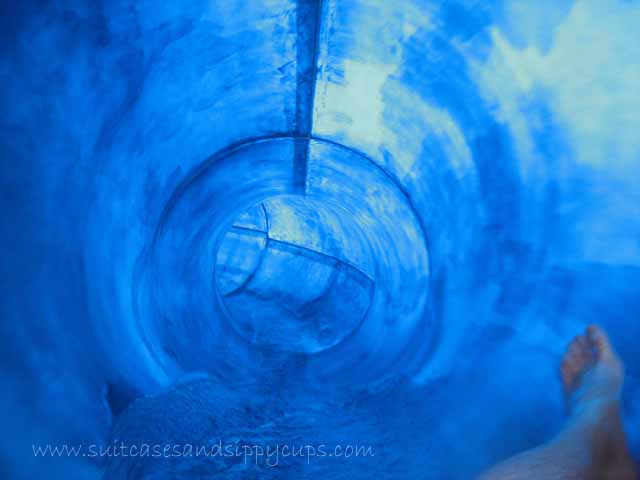 ~Tube Slides (all tube rides empty in the enclosed building
· Loopy Luge Tube Chute- two different slides that begin two stories high
· Guada-Loopy Tube Chute-two different slides that take a white water journey in the dark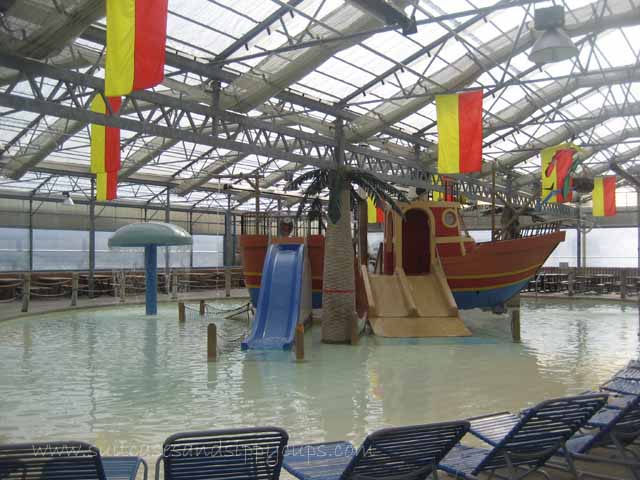 ~Wasserfest Kids Playground~
~Pools and Playgrounds
· Torrent Beach Kids Area-shallow water, and low speed attractions for little ones
· Torrent River-1250 foot continuously moving river with high waves
· Wasserfest Kids Area-shallow water and low speed attractions for little ones
· Wasserfest Swim up Bar and Heated Pool-heated pool and hot tub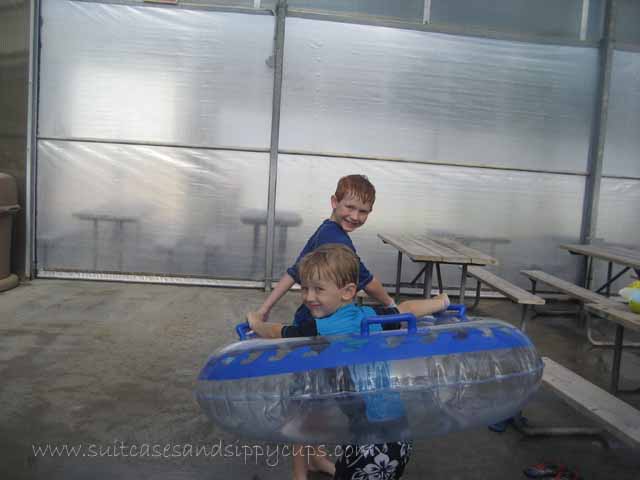 ~Tube carrying takes teamwork~
Why Indoor Schlitterbahn is my Favorite Water Park Experience?
I don't like water parks, but I love my children and they like water parks, so my hands are really tied here. However, despite my distaste for water parks, I actually really love the indoor Schlitterbahn experience.
1. No sunscreen needed! Hello, that totally makes it worth it.
2. Manageable Size. The smaller size and relatively constricted area of the attractions makes it much more manageable, especially for a family with a wide age range. In this setup, I can easily play with the little guy on the playground while the bigger boys jet around the lazy river and wave hello as they shoot out of the water slides. Everyone is within eyesight and (mostly) contained.
3. All the perks of Schlitterbahn. I haven't been shy about my love for Schlitterbahn as a company because I feel like they do plenty of things right where families are concerned. Allowing picnic lunches and free parking make a family feel good environment.
4. It's a perfect pre-cruise activity. As we have turned from a reluctant to ecstatic cruising family, we spend much more time in Galveston as our first port of call. And since we are also cheap, we are often there in the winter when the cruise prices are lowest. Kicking off our cruise fun with a tropical activity sets just the right tone.
5. It's just plain cool. There is a novelty to coming in from the cold and stripping off your layers to spend the day swimming that just can't be beat.
~Our tickets to Schlitterbahn Galveston were provided by the Galveston CVB. They did not require that I express a particular viewpoint and all opinions are my own.~