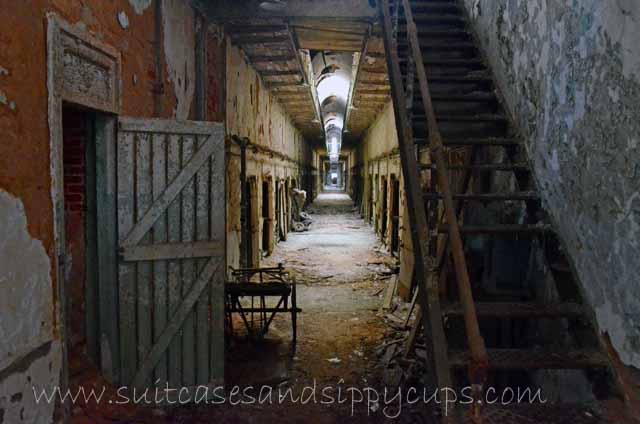 ~Eastern State Penitentiary in Pennsylvania~
A penitentiary frozen in a state of arrested decay, a ghost town that was once the hub of society, a bustling city that was long ago forgotten. These abandoned places, derelict and overgrown, stand with a foot in the both the present and past. No matter how time and neglect has tried to choke out the history, the stories of what happened in these once grand locations still linger like ghosts. Perhaps their stories have even more power as the beauty of what is left behind and the poignancy of what was so easily forgotten mingle together in a place that represents a new story of mystery and intrigue.
~~~~~~~~~~~~~~~~~~~~~~~~~~~~~~~~~~~~~~~~~~~~~~~~~~~~~~~~~~~~~~~~~~~
Some of my favorite travel locations are the abandoned and forgotten ones. Somehow they are more beautiful and more intriguing than they would have been in their heyday. Here are a few of my favorite forgotten places and what makes them unique.
Thurber, TX: A Coal Miner's Ghost Town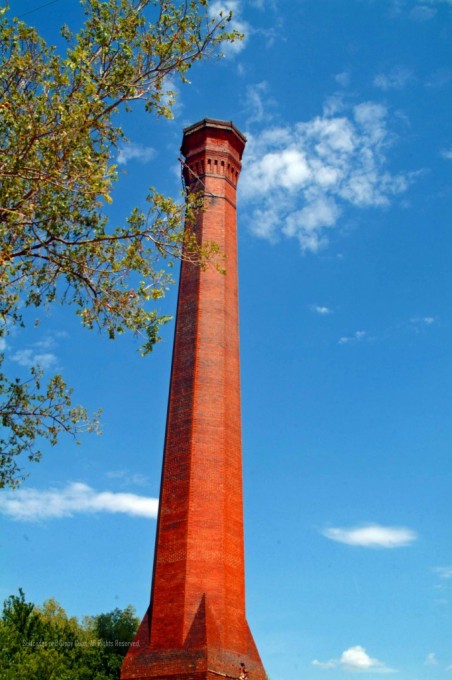 Thurber, Texas was just a typical turn of the century town that experienced a huge boom in population around 1920, with an influx of 10,000 people representing 20 nationalities. Coal mining for the burgeoning railroad system was the bread and butter for Thurber, although quick thinking investors also developed brick production to diversify the money making opportunities. The discovery of oil in nearby Ranger was the ultimate demise of the town of Thurber, as workers and investors deserted coal mining for the more lucrative oil.
Read More About the Ghost Town of Thurber
Eastern State Pententiary: Penitence Past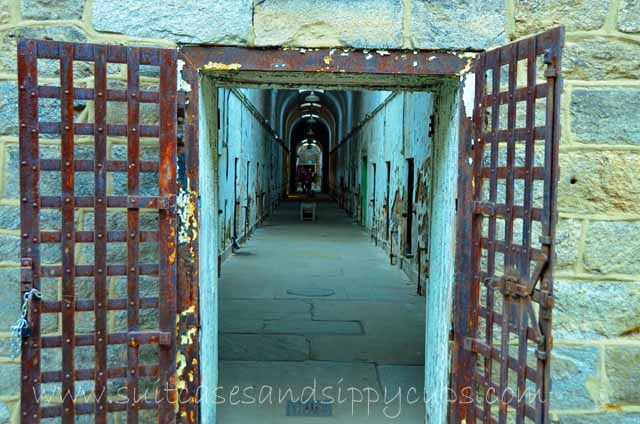 Eastern State Penitentiary in Philadelphia was the first building of its kind in the world when it was built in 1829. The Gothic exterior with imposing stone walls and threatening turrets was designed to create an ominous warning against criminal activity in the city, but it was the interior that was truly revolutionary. The interior of the Philadelphia structure was the first true penitentiary, a building designed to inspire penitence-or true regret- in the hearts of criminals.
Read and see more of Eastern State Penitentiary
Ancient Corinth: A Metropolitan City In Decay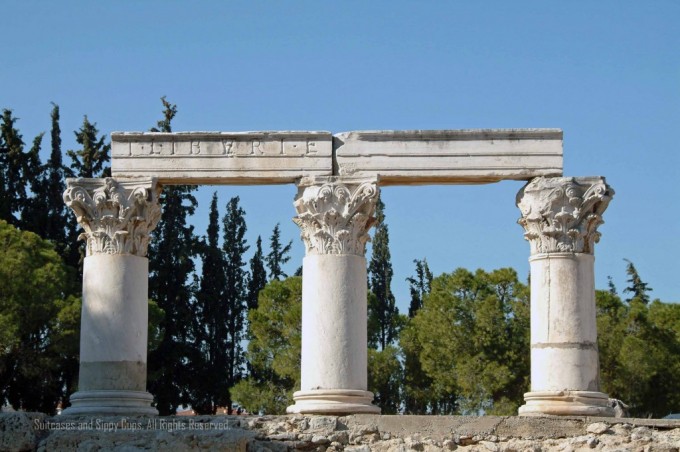 Greece boasts more than its fair share of abandoned places,and although ancient Corinth is not the most glamorous, it is the most interactive.Unlike the restrictions at the Acropolis, ancient Corinth is relaxed (or decayed enough) to allow much more climbing among the rubble and exploring the remaining buildings.
Read more about our Sunday in Ancient Corinth with Kids
~~~~~~~~~~~~~~~~~~~~~~~~~~~~~~~~~~~~~~~~~~~~~~~~~~~~~~~~~~~~~~~~~~~~~~~
I'm not the only travel writer that is swept up in the mystery of what is left behind when time marches on. These are some of the abandoned places that have captured the imagination of travelers from around the world.
Up on the slopes of Moana Loa on the Big Island is this abandoned prison which has had many incarnations as a potential retreat, boys school and detention center. But now it sits abandoned but still filled with mystery and bygone history. I love seeing old places like this, they are so beautiful to capture and photograph.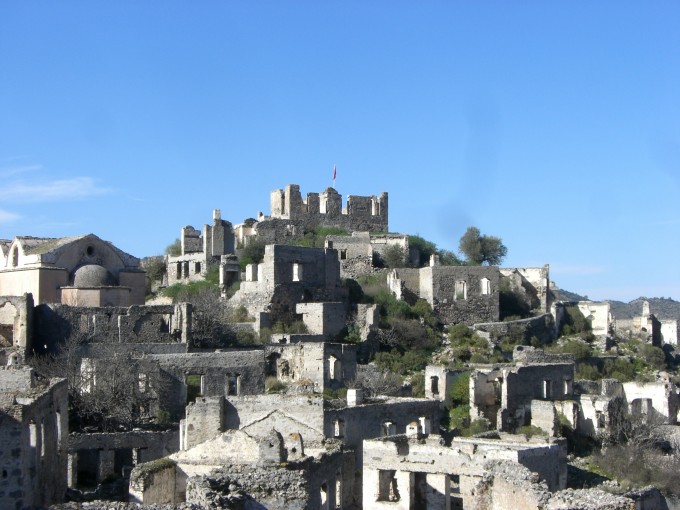 This is the village of Karaköy, a ghost town in southwestern Turkey. Though once inhabited by Greek Christians, the entire village was evacuated in 1923 as part of a population exchange agreement. Turkey sent its Greeks to Greece, and Greece sent its Turks to Turkey. The village still stands as an open-air museum, empty and silent.
McDonald's Cove in Seafoam, Nova Scotia from Turnipseed Travel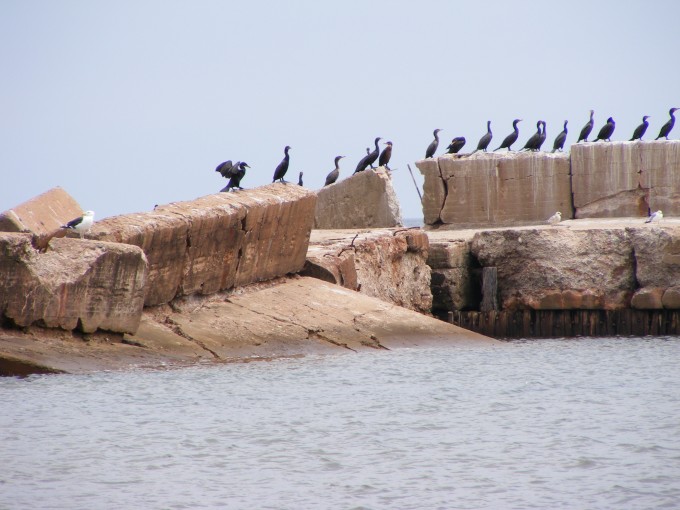 This pier, long fallen into disrepair, was once a government maintained wharf. There is a small, equally dilapidated sign advising not to climb on it, but other than that it has been utterly neglected to rust and crumble into the ocean. Well, I can't say it's entirely abandoned, as it seems to be quite the happening hangout - if you're a seabird!
It's now part of McDonald's Cove, a small, community-run preservation site in Seafoam, Nova Scotia and it is my favourite beach in the world. If you are driving in the Canadian Maritimes, between Nova Scotia and New Brunswick, I highly recommend taking Highway 366 over the main road - you'll enjoy beautiful scenery like this along the drive!
Bushiribana Gold Mill Ruins in Aruba from Calculated Traveller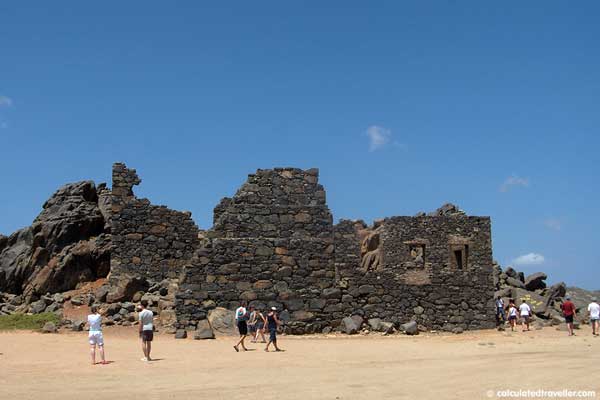 Located on the wild northern coast of Aruba sits the Bushiribana Gold Mill Ruins. This "wild northern side" of the island is quite a contrast from the seven-mile strip along the west coast with all of its resort hotels, calm waters, beaches and people. Here you will only find rocks, sand, high tides and isolation. The ruins are only accessible by car - a 4x4 is recommended, as there are no roads. The abandoned gold mill was built in 1824 during Aruba's gold rush period of the nineteenth century to process ore that was mined from the nearby Ceru Plat hills. It was only in operation for 10 years. Now, this site is the perfect spot for photos, scrambling over the rocks and experiencing a bit of the wild in Aruba!
Christchurch Catholic Church in New Zealand from Flashpacker Family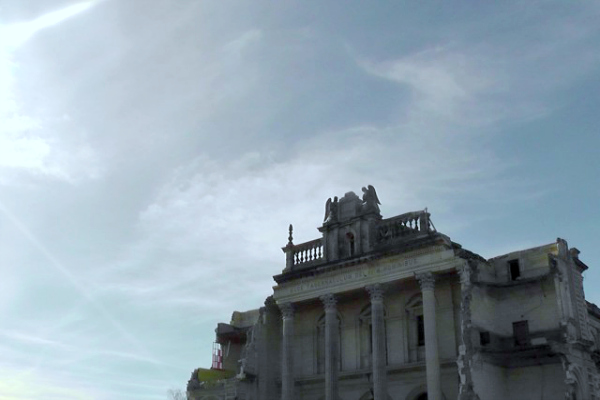 The Christchurch Catholic Cathedral stands ruined and abandoned two years after the magnitude 6.3 earthquake that flattened this New Zealand city. It's sad to see my home town in such a state of disrepair. I was shocked when Lonely Planet announced Christchurch as one of the ten best cities to visit in 2013. There is still a lot of work to be done to move the city towards being a great city for tourists or residents. The sad state of the city is one of the factors that motivated us to leave permanently.
French Colonial Building and Bokor Station in Cambodia from 30Traveler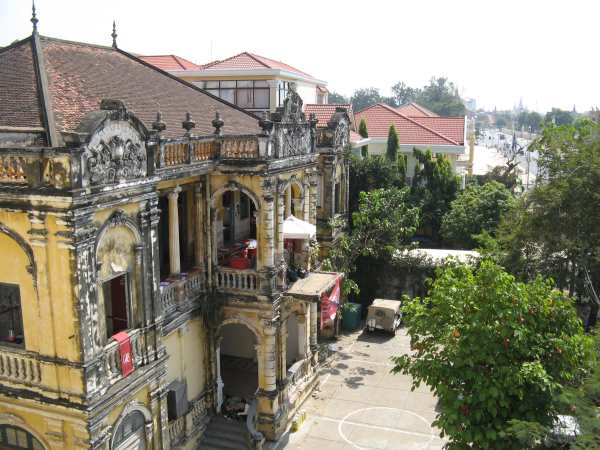 This is a beautiful abandoned French Colonial building in Phnom Penh, just next door to the French Correspondent's Club at Riverside. I love it's architecture and peeling, decayed look. I am not aware of it's specific history.Cambodia was a French Protectorate (but essentially a colony) from 1863 until 1953. During that time the French did little to benefit Cambodia. They were harsh rulers who did not promote development, or the education of the Cambodian people as this would have encouraged opposition. They gathered revenue by charging high taxes which made them more unpopular.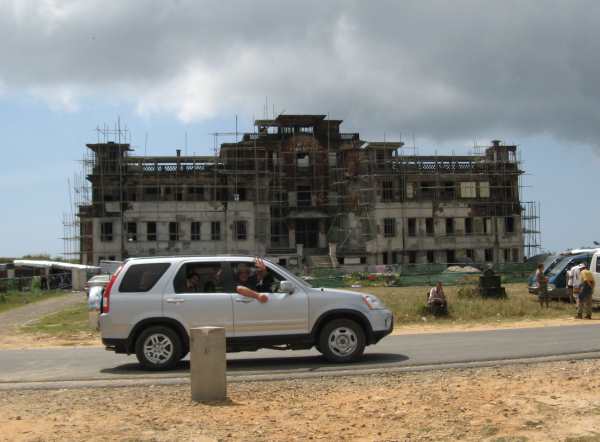 It is an interesting fact that during Cambodia's hot monsoon season the wealthy French would escape the heat by travelling up into the mountains behind Kampot and party and gamble at Bokor Station ( another photo attached). The cool mountain air was also favoured by Cambodia's puppet monarchy at the time. The French abandoned this famous building when they fled Cambodia and it has been a popular destination since tourists returned to Cambodia after the fall of the Khmer Rouge. It is currently being restored to it's former glory. The French Colonial buildings in Cambodia are beautiful relics of that era.
Tranquille in Kamloops, BC from Barefoot Nomad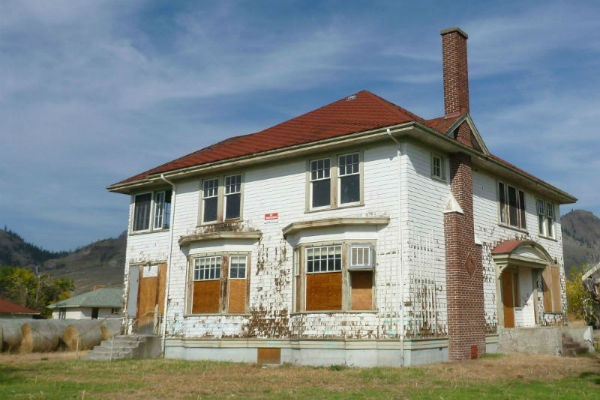 Nestled on the banks of the Thompson River in Kamloops, BC, Canada, this abandoned site is known as Tranquille and for a while as Padova City.Tranquille was opened as a tuberculosis sanitarium in the early 1900s, and was converted to a mental institution in the 1950s. The mental institution was closed in the 1980s, and the buildings were left to crumble.
There are over 40 abandoned buildings here, from houses and shops to schools and hospitals. All with mysterious tunnels snaking underneath connecting them. Today, the site's being given a new start as Tranquille Farm Fresh, a local farmer's market and residential development.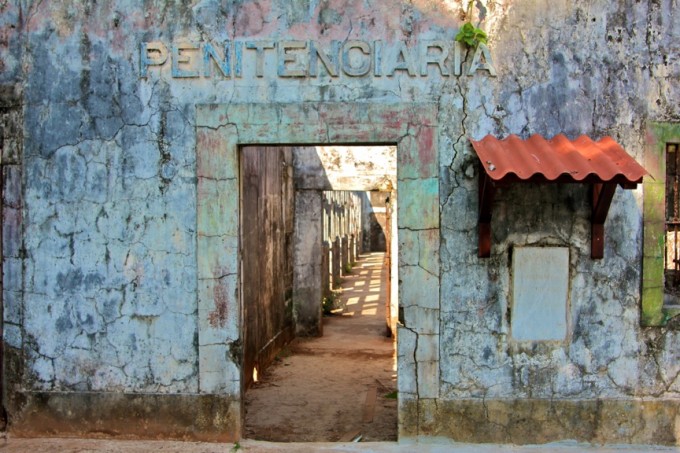 Panama's Coiba Island was once a penal colony that housed political prisoners deemed threats to the regimes of dictators Manuel Noriega and Omar Torrijos. Those who dared to speak out were imprisoned here, tortured and often executed. Thankfully, Noriega's regime has been toppled and Panama has emerged as a burgeoning ecotourism hotspot worthy of ranking alongside Costa Rica and Belize. Though it was once associated with torture and tragedy, nature has reclaimed this pristine land, making Coiba National Park a must-see for nature lovers seeking adventure off the beaten path.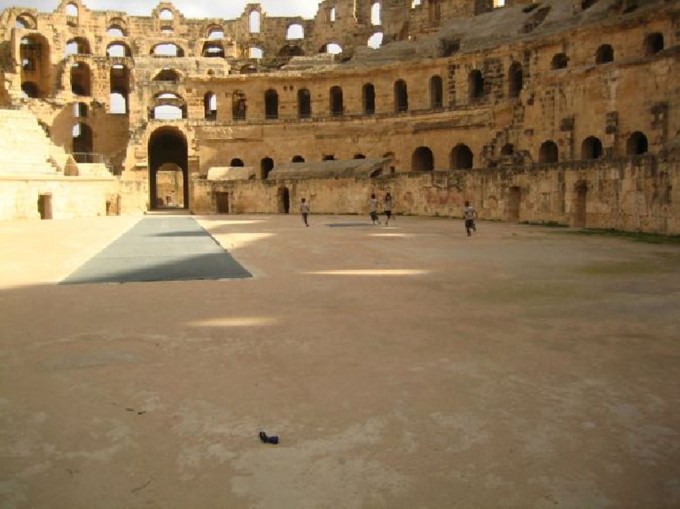 El-Jem is a town about 60 km south of Hammam-Sousse. It is the sight of some of the most important Roman ruins in North Africa. There is a colosseum there which rivals that of Rome itself; a little smaller, but far better preserved, and virtually untouristed. The kids gleefully grabbed flashlights and dove into the caverns beneath the arena floor where animals and gladiators would have been kept and explored the deep wells in some rooms and wondered about the slots in the floor in others. Having exhausted the subterranean level, they turned their attention to the grand arena itself. We found seats, on the first level of the gallery and watched the show. They trumpeted loudly and announced one another as they ran out onto the arena floor through the main entrance as at the end, as Gladiators, and made a lap for the crowd. Then, they brought in the lions...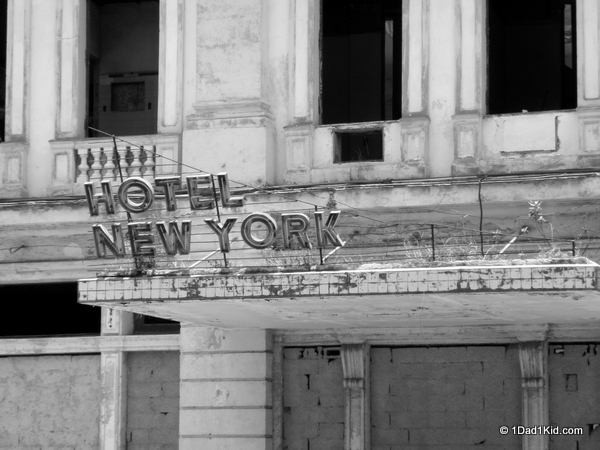 We came across this abandoned hotel while walking through Old Havana, the historical part of Cuba's capital. This hotel was just outside Barrio Chino, which is like a Chinatown but much different from any other Chinese neighborhood we've seen in the world. This building seemed to have so much to say. I just couldn't pass by it without taking a photo.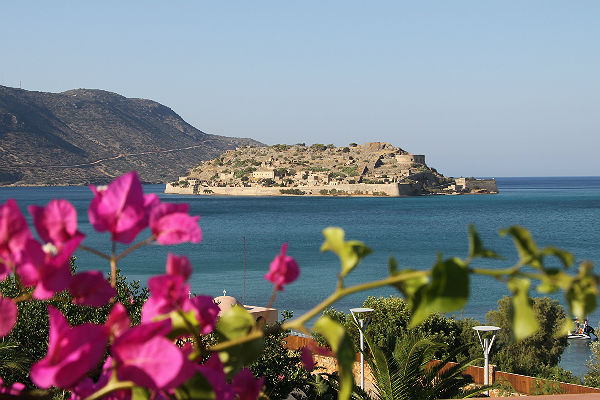 Pictured here is the abandoned island of Spinalonga, as seen from the Domes of Elounda luxury resort. This picturesque, fortified island off Crete, Greece, was once actually part of Crete but was carved out from the mainland during Venetian rule. Today it is a popular tourist attraction but it is in fact an abandoned leper colony; it is one of the last active leper colonies in Europe and wasn't abandoned until just over 50 years ago (1957). Today it remains unoccupied but still receives regular boat visits from the towns of Elounda and Agios Nikolaos, as well as the small village of Plaka. Spinalonga is the setting for the popular 2005 novel 'The Island' by Victoria Hislop, which tells the story of a family's ties to the leper colony.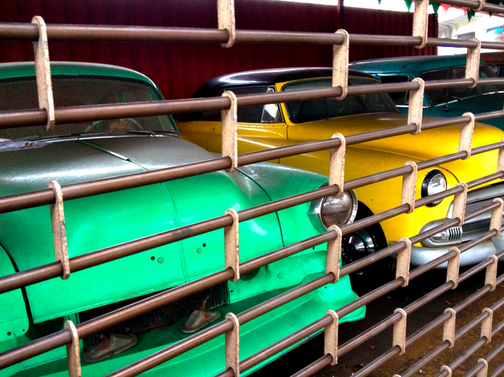 While my daughter and I happen upon many desolate, abandoned places while traveling the world, the last place we expect to find them is in our heavily populated neighborhood of Bushwick, Brooklyn. This parking lot of abandoned Chevys from the '50's and '60's, however, located behind a metal gate along a busy street and entirely devoid of people, feels like a graveyard in the middle of the city. I'm haunted by those empty cars. Who drove them? Where are those people today? Have the cars outlived their first owners? Cars honk on the street, subway cars pass overhead, and music blares from an apartment across the street. Taking one last look through the gate at the cars as I walk by, I feel the heartache one has only when realizing that this is one mystery that will remain unanswered.
Abandoned Bridge in North Dakota from Michigal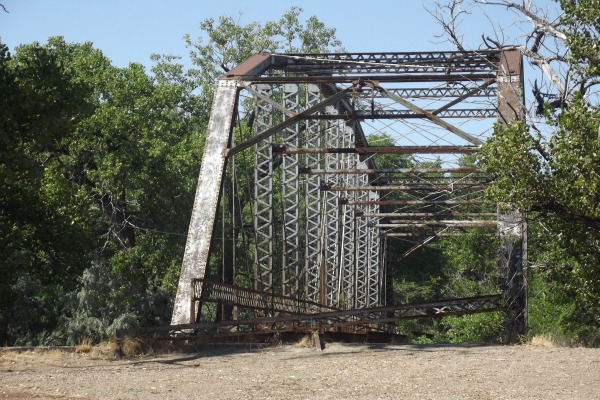 My mom and I happened upon this abandoned bridge while stopping at a gas station in rural North Dakota. It went over a little stream, connecting an overgrown field to a wooded, weedy lot. We wondered what its original purpose had been, and marveled that it had been left intact, with its open bottom, and sharp, rusty edges ready to jab any dare devil who tried to cross it. I don't remember what highway we were on, nor what town we were passing through. I just remember thinking how odd it is that structures are just left like that, unused and decrepit, and that someone could really get hurt by it.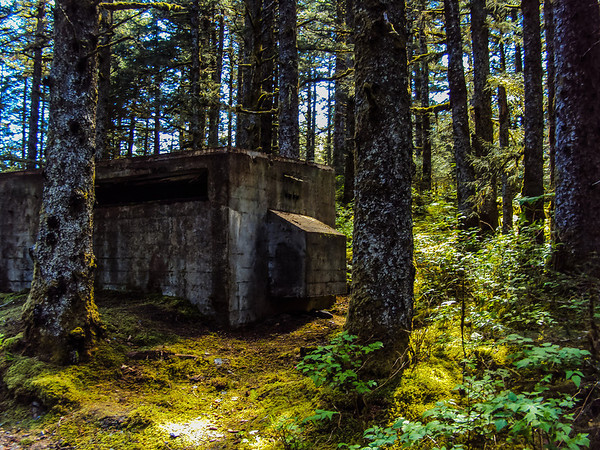 After the surprise attack on Pearl Harbor, American command felt like Alaska would be vulnerable to invasion by the Japanese. Forts and outposts quickly went up all over the coast of Alaska, and Kodiak Island served as the Alaska Defense Command between 1942 and 1943. The men stationed there at Fort Abercrombie scanned the skies for Japanese planes. They never came, although there are legends that the Japanese did come, but the fog was too heavy for the pilots to actually find the large island. After the war, the armed forces quickly pulled out of the area but the building remained. They are now part of the Fort Abercrombie State Park, a beautiful natural area near the city of Kodiak. While you are hiking through the moss covered forest and looking over the cliffs at the Pacific ocean, you can find the abandoned buildings of the fort. It was one of my favorite Alaskan experiences!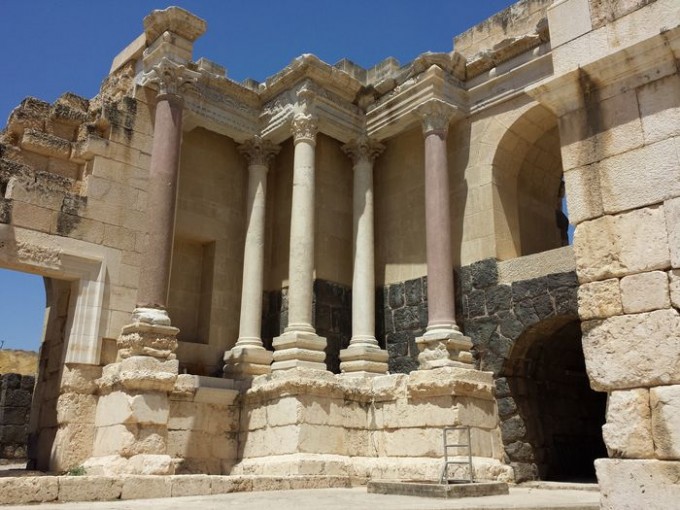 Beit Shean in Israel. One of the most astounding archaeological sites in the country as it was built and destroyed 18 times and is still standing. The earliest occupation of the site is believed to date back to the 6th/5th millennia BCE. We visited the site in the height of the Israeli summer on a normal 40C day. While I wanted to spend more time visiting this abandoned relic I only lasted half an hour in the sun. The pieces that remain standing are deliciously intricate and beautifully maintained. To have imagined it through all its stages – Egyptian, Biblical, Byzantine, Arab Caliphate, Crusader, Mamluk, Ottoman, British and now Israel, it's truly the epitome of abandoned.
Kohunlich Mayan Ruins and Temple of the Masks in Mexico's Yucatan Peninsula from The World is a Book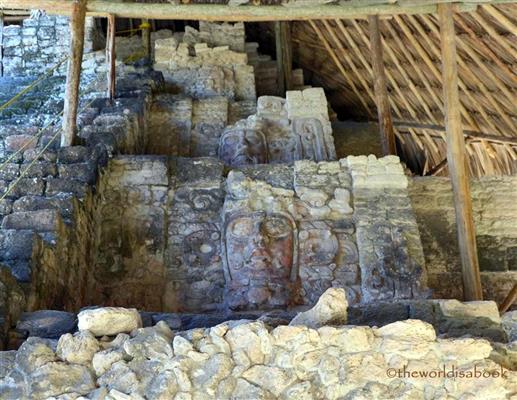 Surrounded by a lush rainforest and several hours away from major tourism hot spots, this remote complex of structures was once a thriving city possibly used as a trade center. Structures included palaces, residential areas and an acropolis. It was believed the Mayans abandoned it in the 12th century for unknown reasons. Excavations of the area started in 1969 but two-thirds of the area is still buried.
The highlight here was the impressive Temple of the Masks. It contained large, well preserved, three-dimensional faces believed to represent rulers and Maya deities. The ruins have wide, open spaces and plenty of structures to explore. It is well worth a visit from the Costa Maya cruise port as an excursion and with a tour guide.
Nuttalberg in Southern West Virginia from Wandering Educators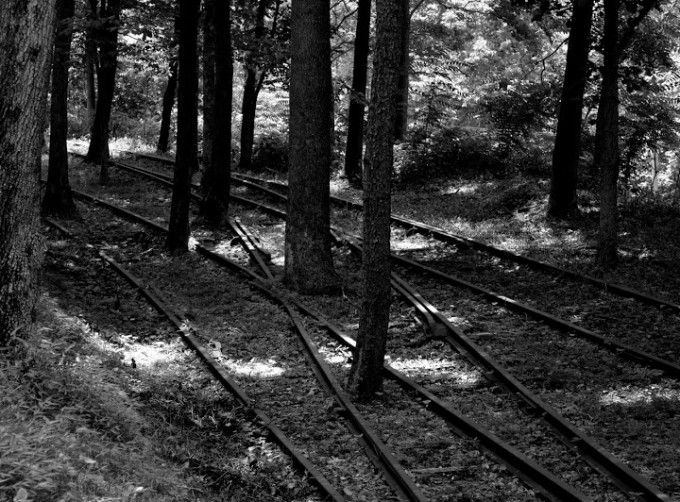 The New River Gorge National River in Southern West Virginia is known for it's abundance of old coal towns. Within the gorge over 50 such towns sprang up between 1873, the year the Chesapeake & Ohio Railway (C&O) was completed, and 1910. One of the easiest accessed and best preserved of these towns is Nuttallburg, WV. The mine was established in 1873 by John Nuttall, an English immigrant from Pennsylvania, and by 1878 the town had 40 coke ovens. These ovens were used to refine the coal into coke, a hotter burning derivative used in the production of steel. The mine and land holdings were held by the Nuttall family for several years.