~Posing outside the Santa Maria in Columbus, Ohio~
"Mom, what are we doing today?"
Those are the six words demanding my attention whenever we wake up at a new destination. It is my job as the planner of all things fun to be sure I have an answer to the question and a plan for the day. In the past, travelers had to rely on static guidebooks that may or may not be geared for kids, and might even be written by someone who hadn't really visited the area. That just won't do when you are trying to satisfy the little adventure seekers. You need an expert-someone who has "been there done that with kids" and shares their inside information for planning an outing that will please the troops.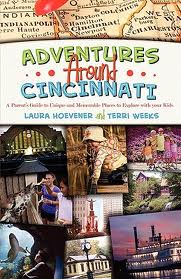 That's why I was so excited to come across Adventures Around Cincinnati by Laura Hoevener and Terri Weeks. I am not at all familiar with Cincinnati and the surrounding area, so I wanted some expert advice. My experts, Laura and Terri are friends who love to travel and take their four kids along for the ride. Cincinnati is their home turf, so no one knows where to go and what to do with kids better than they do. Best of all, each recommendation in the book is a place they have personally visited with their kids, so you get the low down on what to expect.
What I Loved About the Book:
Over 80 destinations within a two hour drive of Cincinnati. Although Cincinnati was our official "home base" I like to explore the areas around a city, and this book gave m a road map for what was within driving distance.
Geographically organized with a special interests chart in the back for reference. The activities were organized by geographic region, so I could quickly get an idea of what to do in each area. Thanks to the chart in the back, though, I could also search the entire book with our interests in mind and not miss the things we like most.
Handy maps in each section help you plan your day. Each destination is plotted on a map, so you can see which attractions are close together and which are across town.
Handy tips and insider information help me make knowledgeable decisions. Tips like target age group and stroller friendliness helped me to know if it was a good fit for my family. I especially loved the time recommendations for each destination, helping me to know how to plan my day.
A "just the facts" approach to each destination. The authors pack a ton of information into each page, but include only the most important facts so that I can quickly scan the page and know all I need to know.
Suggestions for free, low cost, and quirky destinations. Locals are the best source of finding off the beaten path and unique attractions, and this book doesn't disappoint.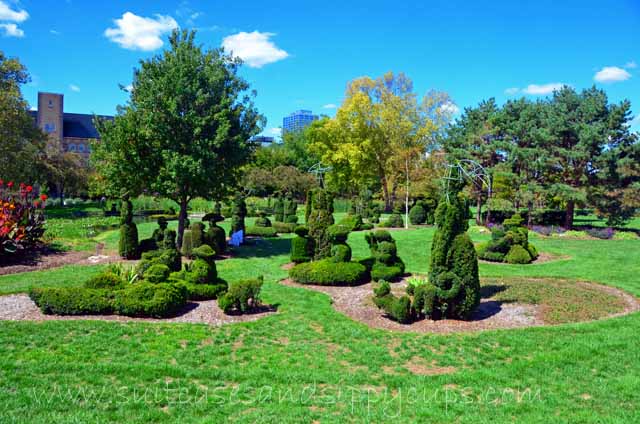 Adventures in Cinncinnati was a great resource as I pre-planned our trip to the area, but it was really worth its weight in gold once we were in the area. When we visited the Science Museum and discovered it was closed for the day, I was able to pull out the book and salvage the morning with a trip to Topiary Park. Also, thanks to the recommendations of this book, we visited Jungle Jims-a grocery store unlike any other in the country, and it was one of our most memorable visits.
A big thanks to the authors of Adventures of Cincinnati for providing me with a copy of the book, and an even bigger thanks for creating a "for parents, by parents" guide to Cincinnati!