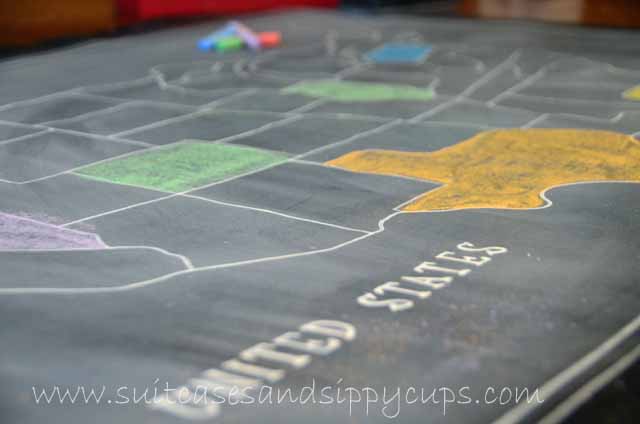 I've recently gone on a "Travel Nesting" jag which is my way of finding something to do with my nervous energy as I wait for our MOART launch date to arrive. This nesting urge has compelled me to create random crafts, and I have to admit, I have had some great results.
While my first craft-a Travel Themed Magnet Board-was way more cute than practical, this craft actually has a pretty important purpose (and it still gets major cute points.) You have to first understand that we are majorly obsessed with maps around here. Two huge maps are the central focus of our school room, and my older son has a wall sized map in his room that he likes to doodle on with a dry erase marker. We have globes of all sizes, even a talking one, and map books of every variety. We like maps. A lot.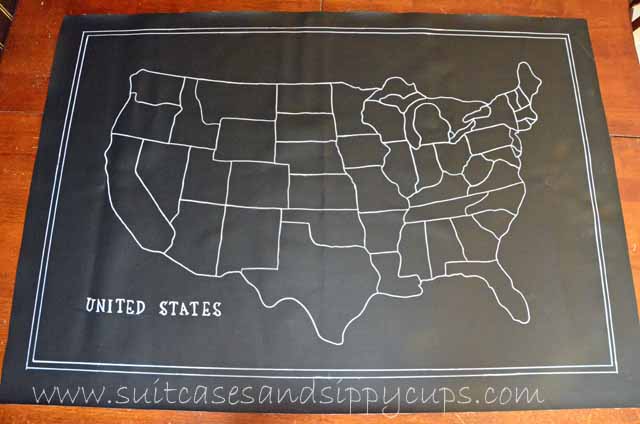 I want to use our travels from state to state as a way to really learn the geography of the country, and for that we need a map. The camper size really limits what we can carry, though. I can't bring our big wall map, and I have no use for a little personal map. I wanted a map we could really interact with. I was dreaming of a chalkboard map that we could use to color the states we have visited, mark our route, draw rivers, or whatever struck our fancy. But there was no way a chalkboard was going to fit in the camper. Again, Pinterest came to my rescue, and I found this great craft using-wait for it-chalkboard fabric!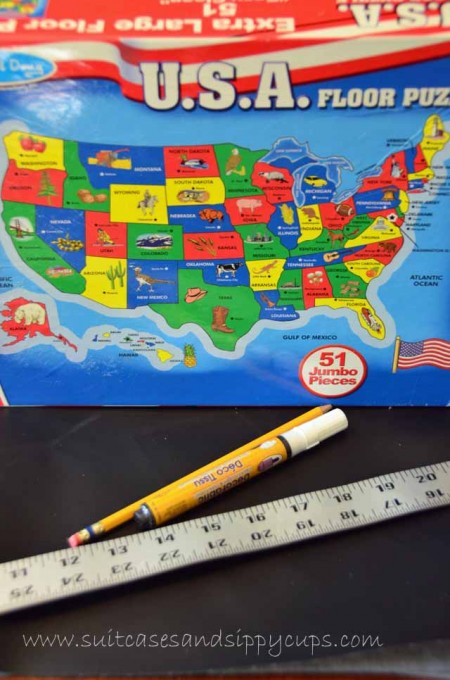 Step by Step Guide to Making a Chalkboard Map
Supplies:
1 yard of Chalkboard fabric (buy at Joann Fabric in store or online)
Map of the USA or puzzle of the USA
Meter stick
Paint pen (I used white)
Rubber stamps (for lettering)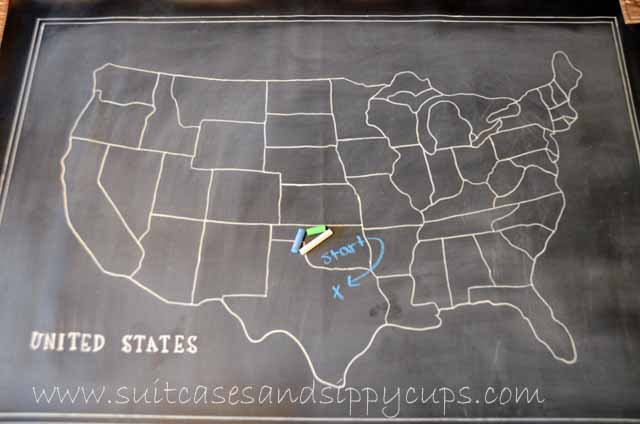 Step One: Trace the Map onto the Chalkboard fabric. I had a USA puzzle in the perfect size for my map, so I was easily able to trace the outline of each state onto my map. If you don't have a puzzle, you could make a pattern using an existing map and some tracing paper, but that will be much more time consuming.
Step Two: Trace over the pencil outline of the map with a paint pen. Be sure you work from top to bottom and left to right (if you are right handed) so you can avoid smudging your work.
Step Three: Create a frame. I used my meter stick to draw a simple double straight line frame around my outline of the USA.
Step Four: Stamp a title onto the map. I used a rubber stamp set to ink the United States title onto the map.
Step Five: Prime the fabric. This fabric has to be rubbed (fairly violently) with a plain piece of chalk to prepare it for chalk writing.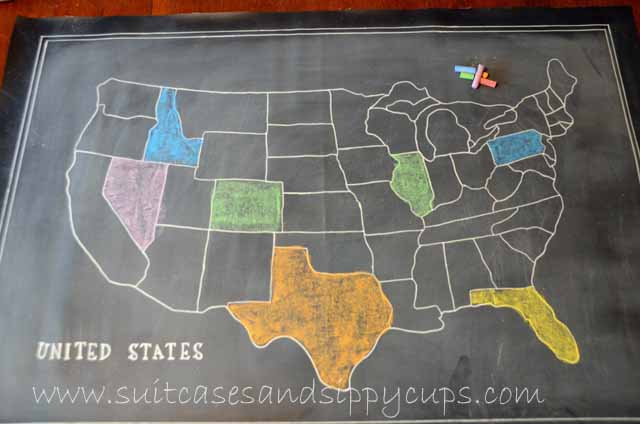 I am in love with this map!! It is so versatile and rolls up very nicely to fit in the camper, but can easily be unrolled and used to explore Geography whenever we want. For semi-permanent marking on the map, I have purchased some liquid chalk pens, so that we can still roll up the map, but keep our work in place until we want to remove it with a damp cloth. The liquid chalk is also dust free, which is a big plus. I can't wait to start marking up our map as we travel across our great country.