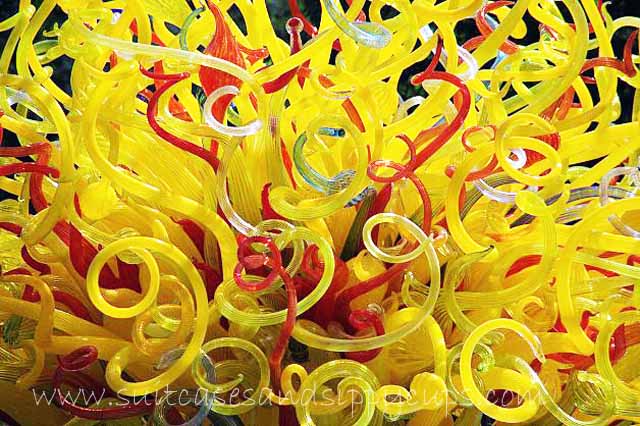 Being a "boy mom" is something that has come very naturally to me. So much so that I find it rather strange (and rude, if I am being honest) when someone asks me if I was hoping for a girl. Boys just make sense to me, with all their rough and tumble shenanigans. Even before became the reigning queen of the testosterone jungle, I was not very girly. I love sports with a passion that could rival any red blooded man and I really, really don't care for pink. Really.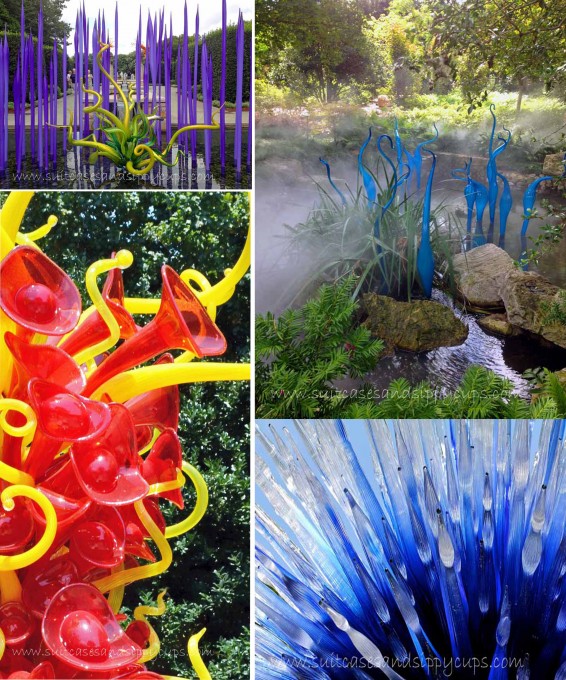 I do have some "feminine" wiles, though, including a passion for all the arts, but especially the visual arts. For a while, I wondered how four boys made of a glorious combination of noise and dirt would be able to enjoy that passion with me. Fortunately, they all have an artistic side that includes taking a brief pause from body slamming each other to enjoy art along with their mom. Together we have toured some of the finest art institutions in the world and I have had some of my proudest "mom" moments watching them enjoy themselves as they absorb a new artist.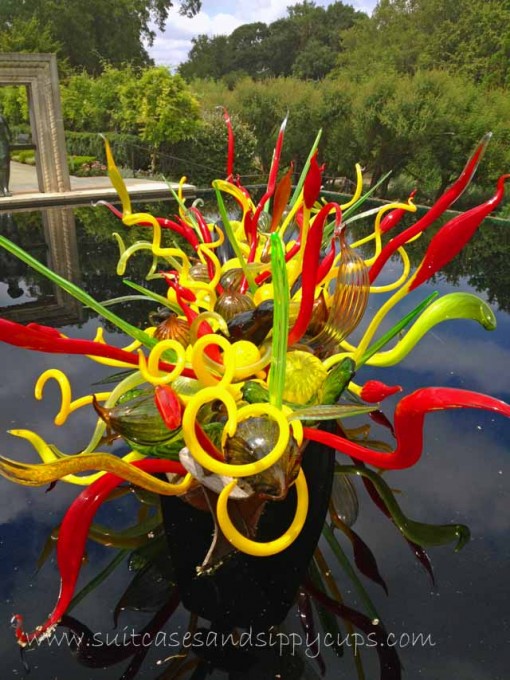 Even with all that arty background, they have never responded to an artist with the fervor that they brought to the Dale Chihuly art installation at the Dallas Arboretum. It isn't any wonder that they were so inspired by these remarkable art glass sculptures. The multi-colored brilliance of the larger than life sculptures stops visitors young and old in their tracks.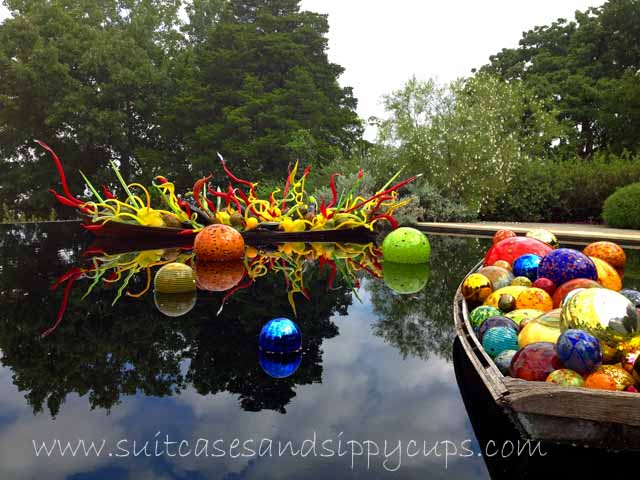 The twists and turns of the glass radiate color with such intensity when paired with the persistent Texas sun that the Dallas Arboretum seems a perfect setting to showcase the art. While the sculptures are certainly the stars of the show, the garden does its part to create a perfect canvas for the sculptures to mimic nature, but remain so whimsically unnatural that the instantly capture the imagination.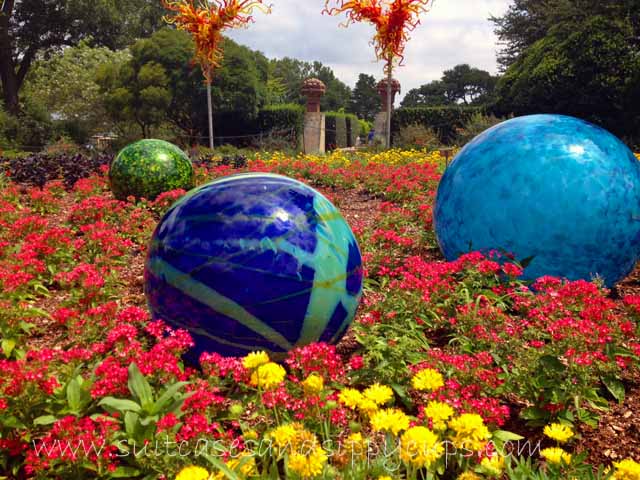 Across the garden, my kids would catch a shimmering sculpture peeping from behind a shrub and they would begin to shriek and run as though they had caught a glimpse of Mickey Mouse for the first time. I honestly couldn't believe this art was getting such a reception, but the beauty and power of the sculptures seemed to be infectious. The openness of the garden air allowed their exuberance to overflow as they studied the sculptures from all angles and discussed what they thought each sculpture might represent. Unlike visiting an art gallery, where I often have to work diligently to pull them into the art, they were fully engaged from first sight.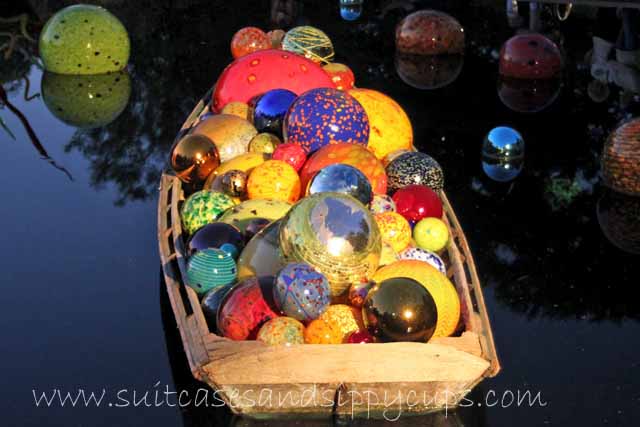 After exploring for most of the morning without even one word of complaint or sigh of boredom, I happily considered the day a rousing success in the world of boys and art and outings. As we exited, they were happily chatting about their favorite sculpture and when we could come back and see them again. Perhaps, I shouldn't have been so surprised that the works of Dale Chihuly were so heartily received by children, after all. Kids and this art really have so much in common-colorful, wild, full of energy, and something magical to behold with wonder.
~Dallas isn't the only place to find the art of Chihuly and my kids aren't the only ones who love his art. Check out these other posts from familes who have fully experienced his art. ~
Arrows Sent Forth treated her little one to a hands on exhibit inspired by Chihuly's art.
Chihuly's art was the breakthrough into art loving for little Backpack to Buggy
Delicious Baby is lucky enough to live in the home state of Chihuly and shares her experience with visiting his museum.
Check out the World's Largest Permanent Chihuly exhibit at Go Big or Go Home
Mother of All Trips enjoyed a rare kid free day exploring Chihuly's sculptures in the arid Desert Botanical Gardens.
Take a Roadtrip with Girlfriends and check out the Chihuly exhibits at the Toledo Museum of Art Glass.
St Petersburg, FL has a permanent Chihuly exhibit as shared by Trekaroo
The Tacoma Museum of Glass offers an unbelievable bridge of Chihuly's genius as shared by The Vacation Gals
Would you take a toddler to a museum full of glass? Walkingon Travels has great tips to make it happen.
Take a walk through the Meijer Sculpture Gardens with Wandering Eductors
~ Today I am linking up with Budget Travelers Sandbox and R We There Yet Mom?~