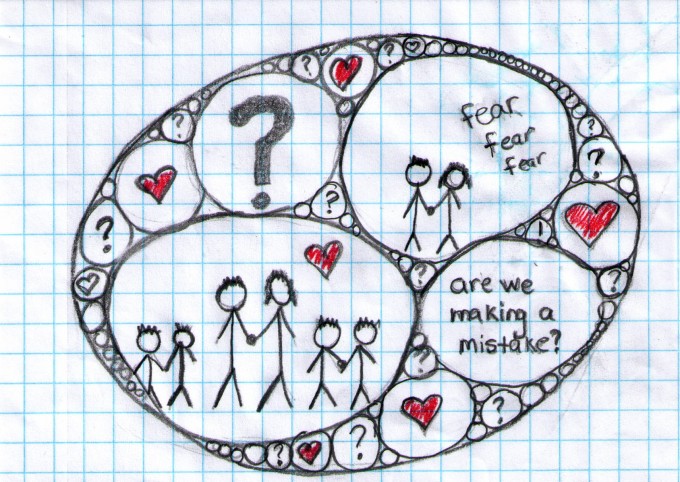 When it comes to glasses, mine are half full and rosy-or to put it more simply, I have a fairly natural positive outlook on life. Don't get the wrong idea though, that I'm all sweetness and light. Think less Pollyanna and more Pippi Longstockings and you'll have the right idea. I'm not so much the kind of positive person that goes around spreading sunshine but rather, when I am focused on a goal, I have an uncanny ability to become immune to the negative as I drive headlong towards my target. Oh sure, negative stuff happens, but it just doesn't register on my life-o-meter.
I guess that is why it came as some surprise to one of my closest friends when I began to share some of my misgivings about our upcoming trip. She remarked that she understood of course that everyone had fears, but I so rarely express mine that it was shocking. And all of a sudden, I felt like a poser. In my dogged pursuit of positivity, I was missing the mark in keeping it real. So, here it is-The really, real fear filled thoughts that scroll in the background of my brain like a stock market ticker.
I am going to miss my friends and my family. Terribly. On the plus side, I am not going to miss the dogs-at all. (Don't tell my kids. They think I'm all broken up.)
I have a bone shaking fear of the trailer. Pretty much every system on the trailer gives me some level of pause, although the sewage sloshing around in the bottom ranks high on the ick factor and the whole possibility of a wreck makes its way into my dreams regularly.
I am afraid that being in such a small space with so many high energized bodies will drive me to drink, and since I don't drink, I guess I'll have to resort to hiding out in campsite bathrooms, or maybe duct tape.
I am terrified that gas prices are going to continue to climb. There's nothing that makes you wish for local drilling like a vehicle that gets 8 miles to the gallon. (Environmental lovers, I will await your chastisement.)
I have a sneaky suspicion that my marital communication skills will be pushed to the brink of muttering obscenities under our breath and darting icy stares of death. Oh, and there might be some yelling, too. There goes the marriage of the year award. Again.
I am afraid of breakdowns: vehicular and mental.
I am afraid that when my kids are making a list of things to tell their therapist, things from this trip will be at the top of the page.
I am afraid of sickness, tornadoes, high winds, crowded campsites, mosquitoes, running out of money, running away from home, running out of energy, running out of gas, flood, famine, petulance, dump stations, lack of storage, cranky children, burnout, raccoons, no privacy, balancing work, driving in the dark. And bears.
Maybe getting all that out of my head and onto paper was, in part, an exercise in exorcising those negative demons, but it is more than that. Choosing to live a life less ordinary is not something that is done only by the fearless. Quite the contrary! People who make life less ordinary decisions just simply come to the point where they fear giving up on their dreams more than they fear the things that stand in the way. That's where I am. Not without fear- in fact often filled with fear. But, even if every single one of my fears comes true, I will at least be able to say "Oh well, we tried. We gave it our all!" The only other option is to give in to the fear and be faced with the mocking question "What if?"
And a life of what if-well that's just too big a fear to face.