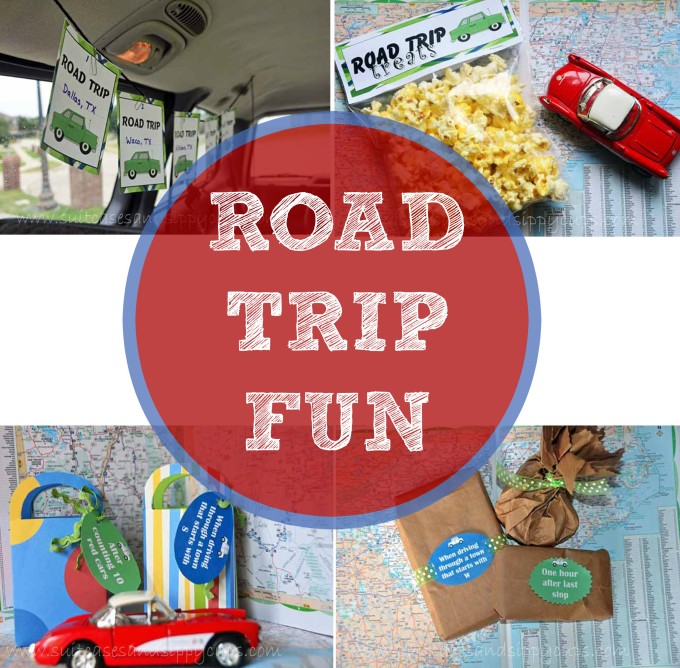 It's Road Trip Time! Road trips are probably my favorite way to travel, but there is a certain amount of planning that is needed to make them successful. With our Mother of All Road Trips (MOART) coming up, I've been cooking up a few new ideas to make the miles seem less monotonous. And since today is Travel Tips Tuesday, I am excited to share some of my ideas for managing road trips with kids and making it more fun on the way. Please link up your travel ideas below and share your best traveling tips.
A WARNING about cute and creative crafts: The internet is filled with sites that seem to only be designed to make moms feel bad that they are not slaving for hours creating handmade masterpieces for their kids (Yes, Pinterest, I am looking at you!!) Parenting is not meant to be a competitive sport and the woman with the best glue gun skills does not win a prize. Only use and create these crafts if you think you will enjoy making them and your kids will enjoy using them. If not, ditch the crafts (and the guilt) and do what works for you.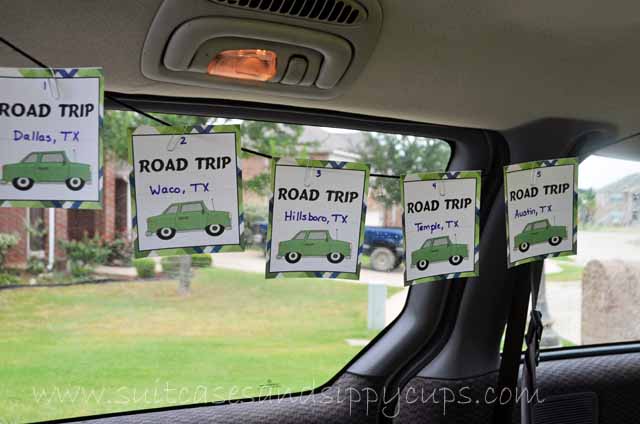 Make a Road Trip Countdown
Way before kids can tell time or read maps they can yell "are we there yet" from the backseat. Printing these cards will give kids of all ages a visual representation of the miles yet to travel and the miles already behind you. Print the cards onto cardstock and fill in the blanks with cities or milestones you will pass on your route. With younger kids, make the milestones closer together so they won't have to wait too long. On the back of each card, write a fun game or treat that the whole family can look forward to doing as that milestone is passed. Hang the cards on a ribbon or string in your car using clothespins or paper clips and watch the miles melt away with all the fun of yanking each of those suckers off the string.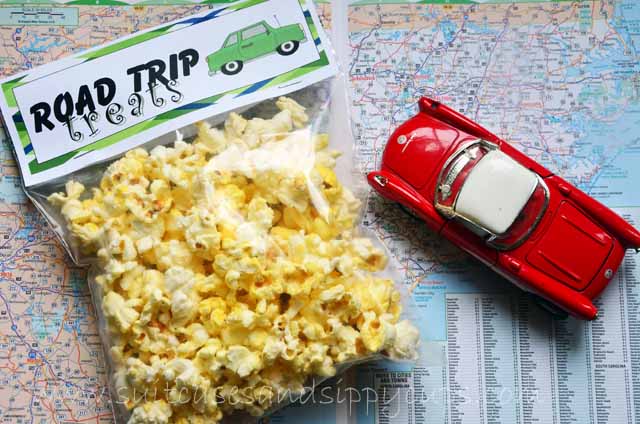 Make Snacking Fun
A perfectly timed snack is a surefire way to stave off the hungry, cranky beast in the back seat. With just a printer and stapler, you can make your snacks much more Martha Stewart worthy with very little effort. Fill quart and gallon sized ziplock bags with your kids' favorite snacks and then staple these snack toppers to the top. As a bonus, these fun snacks are also friendly to your budget. Gas station snacks are so tempting and can really add up. Knowing that these cute snacks are packed and waiting for you in the car makes it so much easier to speed past the candy aisle and get back on the road.

Packing in the Fun
Planning new games and activities along the way can be the difference between the highway to heaven or well….you know. Finding a clever way to hand out those treats can add even more fun (and distraction) to your car weary crew. Print these little tags and attach them to wrapped presents or tiny gift bags filled with card games, art supplies, or other trinkets that will keep kids busy for at least a few miles. This paper gift bag template can be printed onto colored cardstock of your choice to satisfy your inner scrapbooking goddess. However, if you are short on time (or just haven't found your inner scrapping goddess), you could fill paper take-out containers from the dollar store, or wrap activities in plain brown paper.
Print your own free road trip printables below and don't forget to link up with Travel Tips Tuesday!