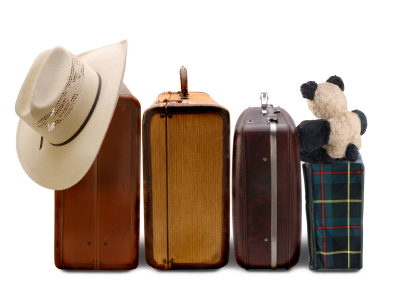 We aren't the only families who are hitting the road to make memories-not by a long shot! Check out these other inspiring families who are traveling the world and sharing their stories.
Arrows Sent Forth~A stay-at-home mom in Indiana blogs about the adventures she takes with her two young sons. You'll find posts about far-off destinations, outings they take within an hour or two of home, and plenty of tips and tricks they learn along the way.
Baby Loves to Travel ~ Global travel with your kids should be simple and fun! A blog about travelling with young children, offering mums and dads helpful travel tips and product reviews, as well as advice on activities for kids in all the places we visit.
Everything-Everywhere Family Travel: Travel blogging expert, Amy writes about her standby travels with her husband and two children, Claire and Luke, whom she homeschools. She's a big believer that travel is an excellent education and tries to work in as many learning experiences as possible during their journeys.
Family Adventure Project~ A beautifully written blog + website full of stories, ideas and inspiration to help families to get out, get active and benefit from adventuring together. Stuart and Kirstie's blog includes 10 years worth of ideas, experience and real life stories that capture the joys and challenges of active independent family adventure, from day to day mini adventures at home to once in a lifetime trips.
Family on Bikes~ A family showing that adventure doesn't have to end the moment Mr. Sperm meets Ms. Egg. Their most recent adventure of cycling from one end of the world to the other may not be the most traditional of family vacations, but it might be the most rewarding.
Family Trek~ Our quest to work less, live more, and travel the world with our family.
Go Big or Go Home~ This humorous family travel blog, "Go BIG or Go Home," chronicles what happens when a small-town family visits the "world's largest"…whatever! The family of four hits the road to seek out the world's largest bowling pin, kaleidoscope, light bulb, etc., then rates the attraction so you can decide whether to Go BIG, or stay home!
Gone with the Family~ A new blog from a Mom who has been travelling for more than 14 years with kids in tow – one trip at a time. Includes personal trip reports as well as news, tips and musings about traveling with kids and keeping everyone in the family reasonably happy.
Have Baby Will Travel~ Have Baby Will Travel is your online destination for hotel reviews, trip reports, destination information, useful articles, travel tips and packing lists, all geared to those traveling with babies and small children.
A King's Life ~ The Kings are slow traveling this globe with their 3 & 1 year old. Follow them on their beautiful blog about their extraordinarily normal life in incredible places. Great personal stories, photos and tips on destinations.
Livin on the Road~ We are a family of six travelling Australia indefinately in a 22' caravan. We've been on the road for 1.5 years. From pristine beaches to temperate rainforests, rugged coastlines to inland seas, ski resorts to deserts, desert oasis to vineyards, we are exploring region by region. We have calculated our costs so far at $14 per day per person.
More Kids Than Suitcases~ I write about wild cat herding, or maybe it just feels like it as I try and get my kids out of their rooms to expose them to new places and experiences.
Mother of All Trips~ In Mother of All Trips, Mara Gorman relates real life travel experiences with her two boys. She doesn't shy away from the problems one sometimes encounters on the road, and she accompanies her travelogues with plenty of practical tips and wonderful candid shots of her well-traveled family. Her writing is engaging and professionally crystal clear.
My Little Nomads~ A blog for families that love to travel. Travel information on the best destinations, best gear, and best tips and advice for vacationing with kids and family.
Our Travel Lifestyle~ We are an ordinary Australian family who simply decided that there has to be more to life than the day to day that we were experiencing in the years leading up to this trip. The decision to pack it all in and travel happened quite quickly. We have now been on the road for over 470 days and plan to continue indefinitely.
Raising Miro on the Road of Life~ A single mom & son's travel blog & podcast, chronicling their nomadic adventures as they travel around the world together; Raising Miro on the Road of Life.
Snaps and Blabs~ A family from Australia travelling the world for a year…fabulous photography, insightful and witty commentary on life.
R We There Yet Mom~R We There Yet Mom is the perfect stop for fun family ideas in Texas and Beyond! Go along with this kooky Texas family as they find out what makes Texas so unique. You'll find posts ranging from historical sites to where to find the craziest candy (chocolateto dipped bacon anyone?) to how to make lasting memories with your kids!
Travels with Children~ Linda writes about her travels and adventures with her husband and four children. She writes about their long road trips and fun day trips. Great travel trips for road tripping with a family!
The Vacation Gals~ Sure, we cover romantic getaways and girlfriend trips (hey, moms need "me" time, too), but the three Gals who co-own TheVacationGals.com are all moms of children ranging in age from 5 to 12. We offer family-friendly destination profiles, tips for family travel, Q&As with other savvy travelers, gear and hotel reviews, plus we love to give stuff away!
Walkingon Travels~ When you won't let the kids stop your wanderlust, this is the place to go. A full time mom and freelance writer with a background in photography and journalism looks past the fears and books trips to make lifelong memories.