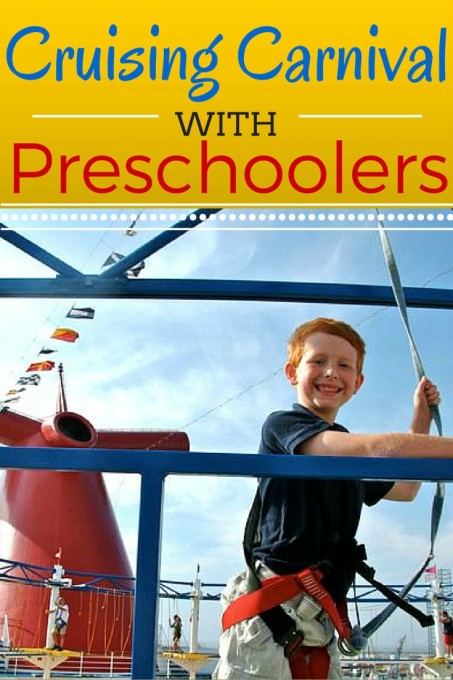 Thinking of taking a cruise with your little ones? It can be the perfect stress free vacation option, and one that is great for multi-generational travel, but choosing the right cruise line with the right amenities for preschoolers can be tricky. After our first cruise with our own pre-schoolers, (and the extended family) we found Carnival to be the a great cruise line to accommodate our little ones' biggest needs – having FUN!
5 Things Your Preschoolers Will Love Onboard a Carnival Cruise Ship
1. Check out the Sports Zone. Play Miniature Golf, learn a little basketball or table tennis, all a while watching your big brother or sister climb the sky zone high in the air above you.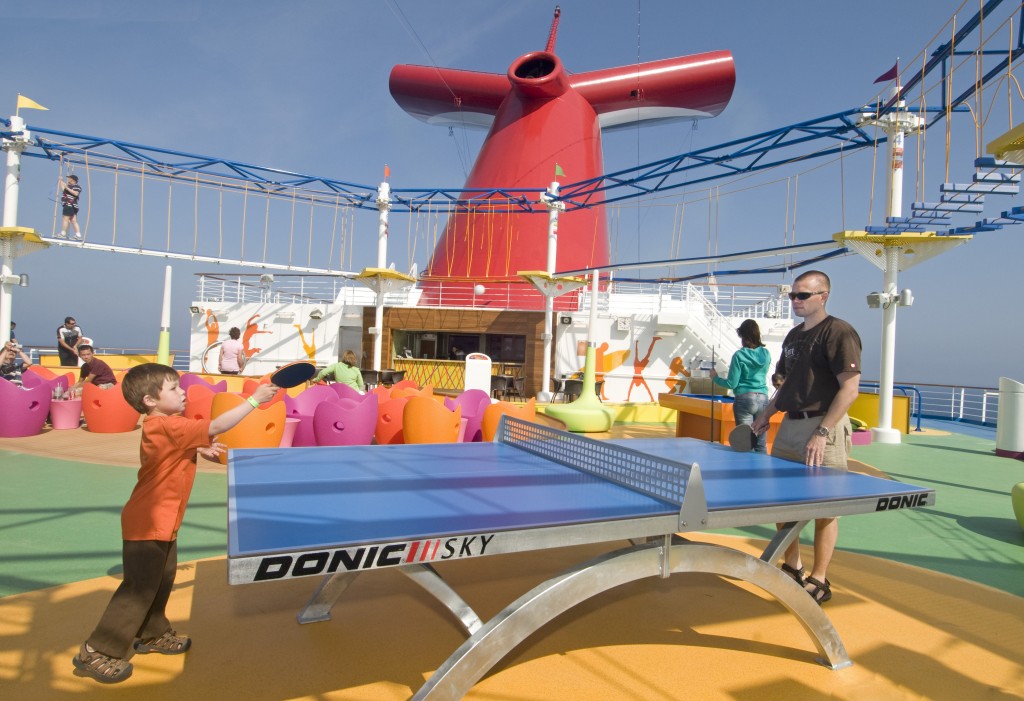 2. Parade around in Dr. Seuss fashion: The Seuss-a-palooza parade hits the decks of 2.0 Ships with The Cat in the Hat, and his sidekicks, Thing 1 and Thing 2 leading little ones around to a song and dance that ends with a Seuss-themed storytime.
Small Slide at the Carnival Splash Works
3. Zoom and Splash at the Carnival's Waterworks. Get drenched and sprayed in the interactive park with 40 different water features, a 300 gallon water bucket that kids love, plus side-by-side kiddie slides for those who are just shy of the 42″ inch height requirement to ride down the Twister or Speedway Splash slides.
Having breakfast with Thing 1 and Thing 2 during Carnival Cruise Lines 'Suess at Sea'
4. Eat at"Seuss at Sea". One of the best kept secrets on any cruise ship is skipping the buffet and enjoying breakfast in the dining room. Now, Carnival has made formal breakfast time for kids. Suess at Sea is imaginative, yummy, and a little zany! Watch out for Thing 1 and Thing 2. They might just butter your arm and mistake it for piece of toast. (Reservations are required for Suess at Sea, and is an additional $5 per person).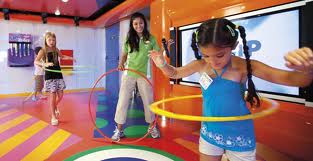 5. Play at Camp Carnival. Kids camps are not created equal, but Camp Carnival is both kid and parent approved. It is clean, well supervised, and full of age-appropriate activities geared towards your pre-schoolers, or older children in the room next door. The camp is split into 3 age groups, 2-5 for the younger children, and 6-8, and 9-11 for the older ones. On newer ships there is even Camp Ocean where kids can get a little education on the marine life. Kids at Camp Carnival will enjoy crafts, games, music, and parties. Just don't get mad if they are eating goldfish and candy at 10pm.