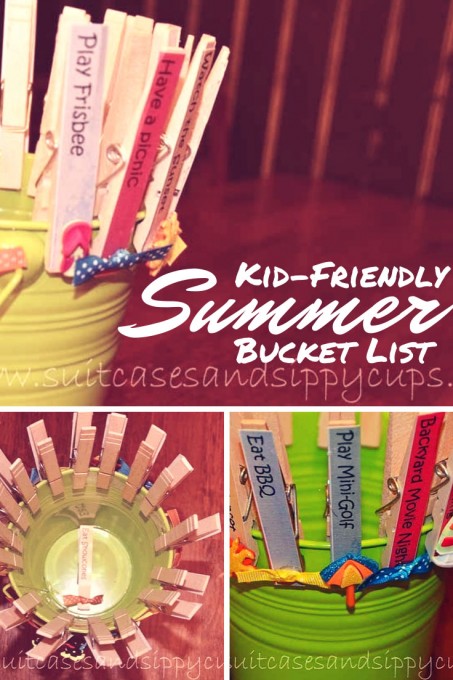 School is almost out for the summer and that means moms everywhere are busily scrambling to make sure the season doesn't become endless days of "I'm bored" and "can I play the x-box….again." The internet is filled with ideas to keep kids busy all summer-commonly known as "Bucket Lists." Some of these bucket lists have amazing crafts to go along with them, but while I love the intricacy of some of these creations, I wanted an easy craft that my kids could do on their own. I want them to feel ownership with their summer fun list, so that it will be something that they will want to do.
So I needed a craft idea that would be easy enough for the kids to do on their own, wouldn't take too much time, and wouldn't need tons of special materials. Yes, such crafts actually do exist, and with the intention to create a "bucket list" it just made sense to grab a bucket and a few clothespins to make a kid-friendly bucket list craft.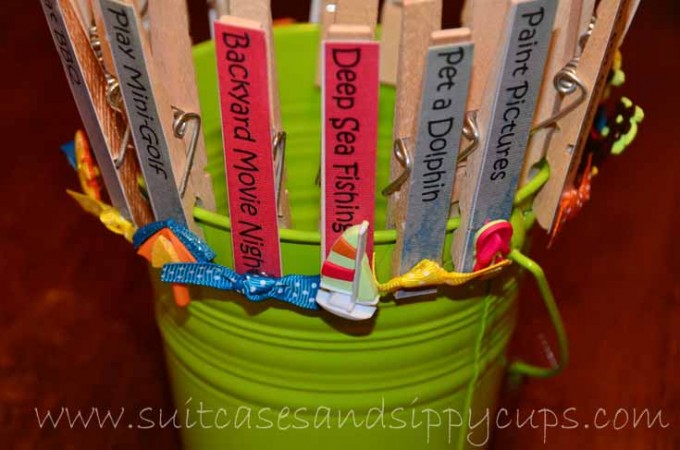 Making a Kid's Summer Bucket List
Materials: Metal bucket or sand pail, wooden clothespins, colored paper or cardstock, summer themed stickers, ribbon, foam letter stickers, printed bucket list, modge-podge, glue, or spray adhesive
Time Needed: 30 minutes
Important Notes: The most time consuming part of this task is creating your bucket list. Use our pre-designed bucket list and feel free to customize it to make it your own.
Step One: Print Bucket List onto heavy cardstock and cut along the lines.
Step Two: Use glue, modge-podge, or spray adhesive to attach each strip of paper to a clothespin. Allow to dry
Step Three: Embellish each clothespin with a sticker, ribbon, or other cute gee-gaw. Or leave it plain.Just make it your own and make it fun.
Step Four: Use foam letters or stickers to personalize the bucket with a name or a label.
Step Five: When dry, attach the clothespins to the side of the bucket. Drop in them inside the bucket as the tasks are completed.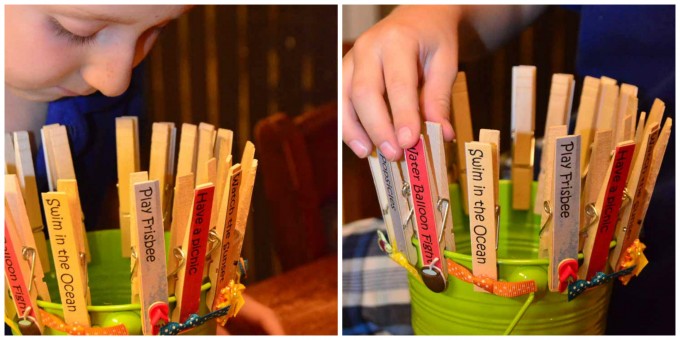 Resources for More Summer Bucket List Fun
Print a copy of our summer bucket list to inspire your family to dream big and do big all through the season.
Inspire your children to create their own bucket list with Panama City Beach Bucket List Challenge
Get the step by step guide to creating a magnetic bucket list from scrapbook paper and cookie sheet.