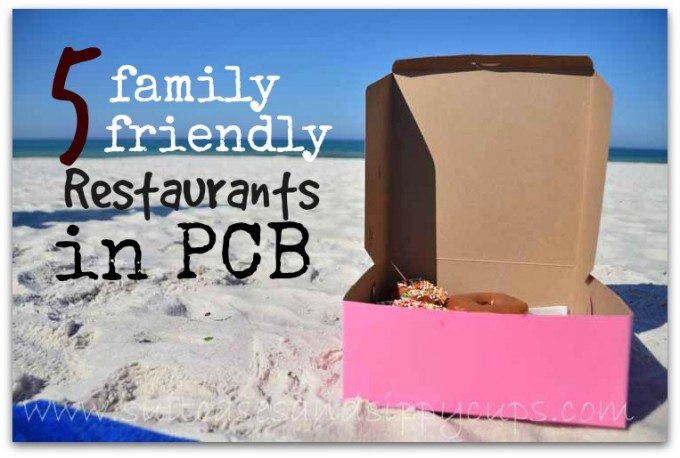 Panama City Beach has long been a great vacation destination for people looking for tons of family fun. Hitting the sand and surf works up a giant sized appetite, even for little ones. Shake off the sand and head to one of these family friendly restaurants in PCB that offer kid pleasers and unique dining experiences for families.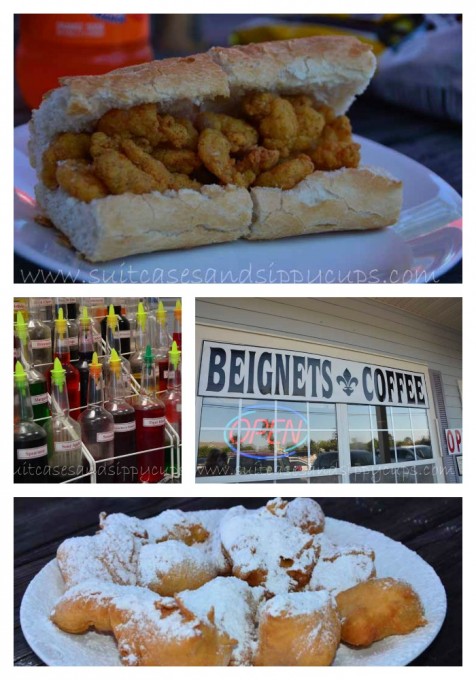 David's New Orleans Style Sno-Balls
13913-A Panama City Beach Parkway
Dining Details: Although the restaurant name suggests a snow cone shack, David's is so much more than snow cones, although they have those in 40 flavors. Along with the best frozen treats in town, the unassuming beach shack rivals top restaurants in the Big Easy for Cajun style cooking. Muffalettas so stuffed with meat that they can easily feed two are a big hit, as well as beignets that are every bit as good as Café' du Monde.
What Makes it Special: It's hard to beat New Orleans for certain dishes like po-boys and muffalettas, but it's happening right here 300 miles from the Crescent City in PCB. Everything we had at David's was delicious and if we could have, we would have eaten here every day. In fact, we went back for one last beignet fix on our way out of town and they were closed. My four year old wept at the loss of one last beignet fix. He's four and prone to hysterics, but I nearly joined him. It was that good.
Kid Pleasers: Don't forget the sno-cones! Kids will love this sweet treat in hot weather. The shack is famous for its "stuffed" sno-cones-a soft serve scoop of ice cream covered with sweet shave ice. When in doubt, do as the Floridians do and order the Key Lime sno-ball pie complete with graham cracker crumbles on top.
Signature Dishes: Did you not hear me say beignets? Beignets!!
Honorable Mention: I hate to even put this in the honorable mention category, but the shrimp poboys were a close second to the beignets.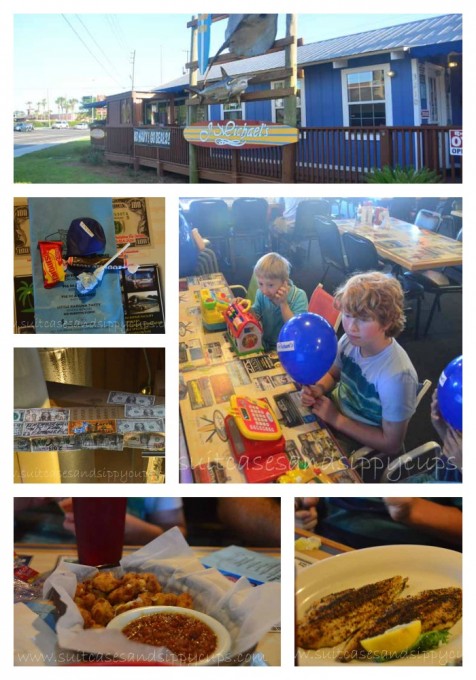 J. Michaels Dockside Bar and Grill
3210 Thomas Dr.
Dining Details: Nothing fancy, but that's part of the appeal. Conveniently located near the marina, it is a favorite of locals both for their reasonable prices and consistently good food for over 35 years. American style seafood is the fare and vintage license plates and dollar bills line the walls of this rustic hangout.
What Makes it Special: Locals love J. Michaels for their specials and recommend this restaurant for their Hook and Cook prices. It was an ideal place for our family to take our catch and have it blackened to enjoy after a long day on the boat. The atmosphere and service at this restaurant are like sitting down to eat with family and they go the extra mile to make your dinner effortless.
Kid Pleasers: Kids are king at J. Michaels, or it seems that way from the extras they offer to keep the little ones happy. A play table with toys and cartoons waits for kids at the front, and kids are welcome to bring the toys to the table while they wait for dinner. A goodie bag is also offered to each kid and contains a balloon and a bit of candy for a treat before dinner. Kids are also encouraged to color a picture on a dollar bill and attach it to the wall to leave a little piece of themselves in J. Michaels history.
Signature Dishes: J. Michaels "Infamous" Roast Beef Supreme combines the best roast beef money can buy with secret spices and an equally famous black pepper gravy.
Honorable Mention: Cheese Curd Appetizer. These light breaded and fried Wisconsin cheese bits with a springy texture take everything that good about fried cheese sticks, but with an extra level of good. Warning, these are addictive!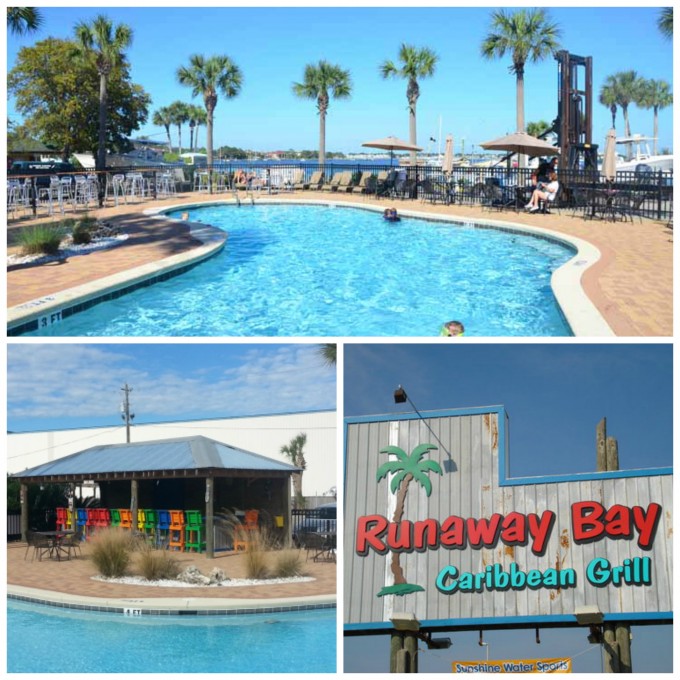 Runaway Bay Caribbean Grill
3901 Thomas Drive
Dining Details: Overlooking the beautiful Grand Lagoon sits Runaway Bay known for its jerk chicken, jerk pork, and tropical concoctions.
What Makes it Special: Runaway Bay is located just next door to the marina, so it is an ideal place to grab an economical bite before or after a sailing charter, but it's the pool that brings the level from average to epic. After eating here, you will wonder why more restaurants don't have pools out back. Genius.
Kid Pleasers: It's all about the pool, mon.
Signature Dishes: Jerk Chicken-juicy, spicy and all around good.
Honorable Mention: Lunch Buffet. It's only $6.99 Monday-Friday with a variety to please everyone.

Finn's Island Style Grub
7220 Thomas Dr,
Dining Details: It's a mix of Mexicana and fish tacos with a side cerviche all served out of a vintage style Airstream trailer. Sodas are served out of a cooler and dining is picnic table style, but the gritty details are just part of the charm. The real winner is the food. All of it.
What Makes it Special: When we pulled up, the line was already long and instead of tourist in flip flops, the patrons were locals sporting business suits and grabbing a bite on their lunch hour. This place is the Holy Grail of local eats.
Kid Pleasers: A mini-playground with climbing toys sits adjacent to the picnic lot which makes the wait a little more manageable for the young set.
Signature Dishes: Ahi Tuna Tacos and Cerviche. Fresh, fresh, fresh.
Honorable Mention: Shrimp Tacos. The fish and cerviche take top billing here, but don't overlook the shrimp tacos. Just the right amount of spicy here.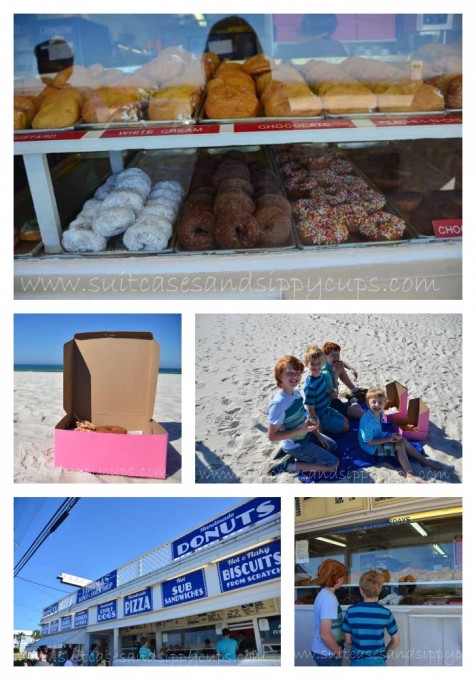 Thomas's Donuts and Snack Shop
19208 Front Beach Rd,
Dining Details: Located on beautiful Panama City Beach, this simple snack shack is known for two things: great fast food when you don't want to go too far from the beach and donuts with a view.
What Makes it Special: Grab your early morning donuts and coffee (or biscuits and gravy, if that's how you roll) and head out for a picnic on the beach. Early in the morning the beach is quiet, so it is a great way to start the day. Of course, some seagulls will join you, so you won't be too lonely.
Kid Pleasers: Donuts are a kid pleaser anytime, but sprinkles with a side of sand are an extra special treat. My kids enjoyed eating their donuts on the beach so much that they started dreaming up all kinds of other treats to eat on the beach.
Signature Dish: Apple fritters.
Honorable Mention: Boxed lunches and other snacks are available throughout the day for a quick grab and go lunch without ever leaving the beach.