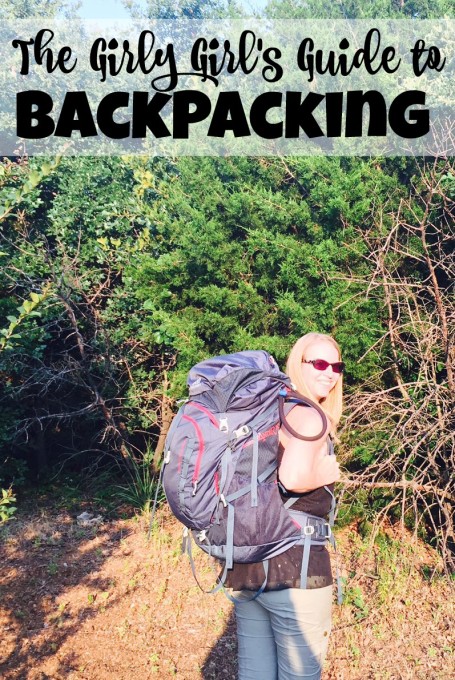 Today we answer the question: Can a high-maintenance girl survive in a backpacking world?
Being high-maintenance or "girly" (although it is certainly NOT only girls to whom this applies) seems to fall into a spectrum with the three-kinds-of-face-cream,-mani-pedi-every-week people on one end and the roll-out-of-bed-brush-teeth people on the other end. On this spectrum, I would fall right in the middle. I am girly enough that I like wearing makeup and having my toenails done. Also, I am…ahem…mature enough that I need a few deep moisturizing tricks in my bag, but other than some middle of the road beauty routines, I am fairly get up and go. However, this spectrum changes drastically when compared to REI-clad, sunkissed, glowing skin of regular backpackers and outdoor aficionados. In this group, I might as well be Kim Kardashian. In other words, my typical beauty routine doesn't mesh with days outdoors with minimal gear and no discernable creature comforts-at all!
That said, I don't believe in letting anything, including a love of smooth skin and conditioned hair, stop me from trying new things, so I signed up for a backcountry weekend to see if I could somehow make a girly-girl fit into a backpacking world. Along the way, I learned a few things about how to make the two worlds mesh. It turns out that I did not have to give up on being clean and comfortable entirely, although everything had to be compromised, and I was able to find a balance that made backpacking fun for me.
Five Things Girly-Girls Need to Know Before Backpacking
Get a mani-pedi before you go. Wait, what? I thought this was supposed to be tips on how to pare down your beauty routine and it is, I promise. Making sure your feet are in tip-top condition before you walk many miles with heavy stuff on your back is a high priority. You want to make sure you don't have any hang nails or ingrown toenails, and, most importantly, you have to make sure your toenails are not too long. Long toenails will jam into the end of your shoe as you clamber around rocks and hills, increasing the odds by a million that you will lose a toenail from your hiking experience. Short toenails are a must. Just watch the first two minutes of Wild, if you don't believe me. As for your fingernails, that's totally up to you, but I like my fingernails to be short, as well to save myself from snagging one and pulling it off or having lots of crevices for dirt to collect. P.S. You can totally do this mani-pedi business at home. I never go to a salon for nail care. (Trying to regain some low-maintenance points here.)
Choose your undergarments carefully. Being girly, you already know that the undergarments make the outfit, and these rules don't change in the woods. The type of underwear you want will change, however. Forget about bringing anything you bought from Victoria's Secret. Especially forget about bras that have underwire or any itchy, lacy parts or underwear that is purposely designed to make a wedgie. What you want in your underwear is something that has great coverage and support, made of a quick-drying synthetic (no cotton!), and soft. For bras, I like a full coverage, but not compression-type sports bra. For underwear, I like performance bikini-briefs. Now, here's the high-maintenance part, I like my bra and underwear to match-as in, be the same color. That way, when I need to strip off my clothes to swim or bathe, I feel more like I am in a swimming suit and less like I am wandering around in my underwear. It's okay to feel put together, even in the woods. Note about packing extras: always have at least one clean, dry pair of underwear. For the love of John Muir, don't go to sleep in wet underwear. No one needs to be that low-maintenance.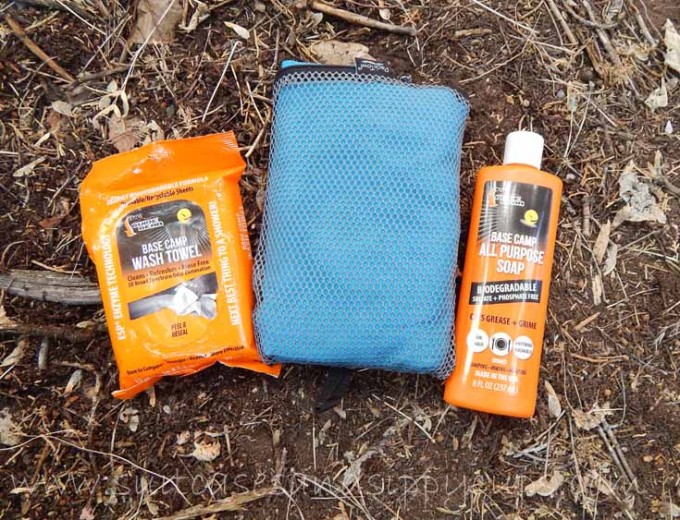 ~Biodegradable soap, shampoo, and quick dry towel~
Keeping clean, or something like it. Dedicated backpackers will tell you to leave your deodorant and shampoo behind in favor of relishing your own natural odor. I don't mind skipping a shower for a day or two, but anything beyond that is a hard pass for me. Instead, I think there are some easy ways to feel (and smell) clean and comfortable that are also compatible with the lightweight necessity of backpacking. A travel size deodorant is the first thing that I put in my bag for cleanliness. It's important to note that scented deodorant can attract bears and bugs, but days with no deodorant can make me stay at home, so it's a worthy tradeoff. For bathing, there are personal wipes that can work great for underarms and other smelly areas when water is not available, but when water is available, washing off in nature's bathtub is the best. Soap is not necessary, although biodegradable soap will work. Just jump in and scrub. You can even jump in fully clothed and wash your clothes at the same time. Clean and convenient. For hair, you can wash every other day or so using a river or waterfall or whatever is available with biodegradable soap and follow it up with a dollop of leave-in conditioner. Nature safe soap is great, but it strips your hair like turpentine and you will want something to give you a little extra moisture. Two notes: if you are going to wash your hair, do it well before bedtime, so you are chilled from having wet hair. Also, be sure that anything you use that has a scent goes in your bear bag with your food. Bears don't know the difference between actual apples and conditioners that smells like apples.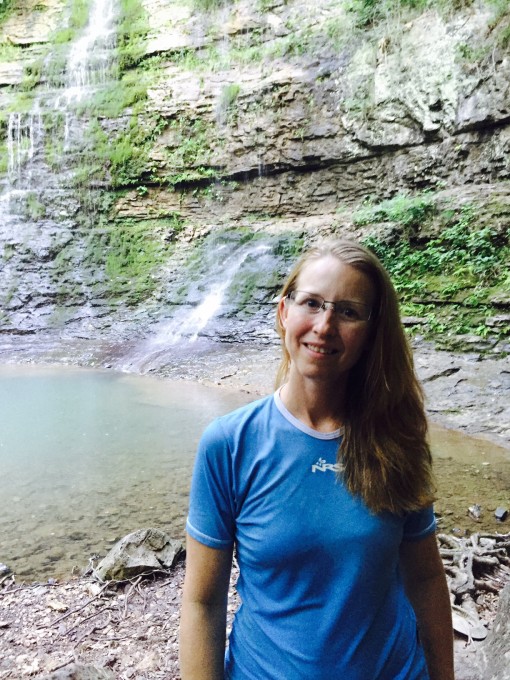 ~ (Waterfall) Shower Fresh~
It's all about the night. Quite possibly the most important part of enjoying backpacking is getting a good night's sleep. Beauty sleep is possible, even in the wilderness, but you have to be prepared. First, you must, must change your clothes to sleep. Insisting on sleeping in clean, dry clothes doesn't make you high-maintenance; it's just common sense. You will sleep so much better if you are comfortable. Silk long johns in a weight that is appropriate for the weather is the perfect choice because they are light in your pack and comfortable in your sleeping bag. Go ahead and pack a clean pair of sleeping socks. These socks are just for sleeping. Guard the sanctity of these socks with your life and you will always sleep with warm, cozy, CLEAN feet. One more piece of advice: bring a pair of earplugs and save yourself from waking at every wood noise thinking that you are being approached by extras from Deliverance.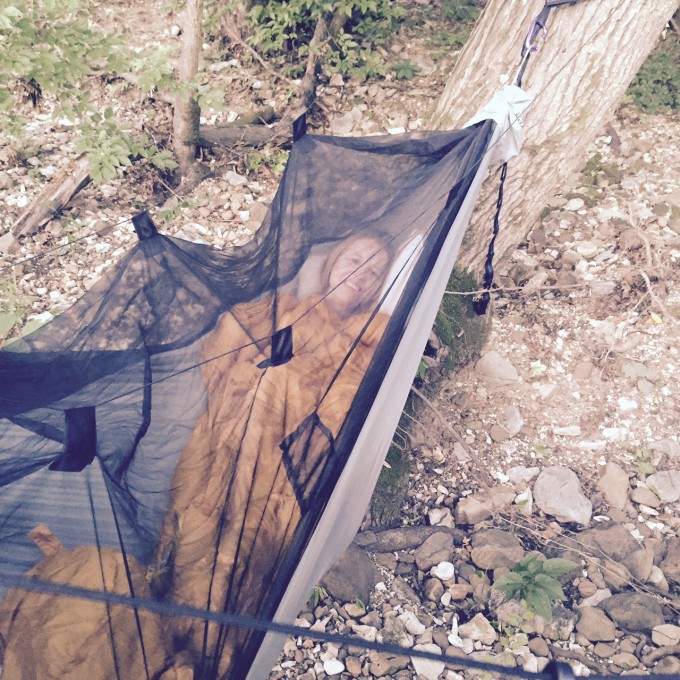 ~This is what a good night sleep in clean clothes looks like~
A few creature comforts. You are going to need sunscreen, so make it a good moisturizing sunscreen, so your skin stays hydrated while you are avoiding the sun. Because you'll be communing with nature, choose a biodegradable sunscreen to keep nature safe. Chapstick is also a must for me when outdoors. You can go "all-glam" and choose a tinted chapstick or pick something with less bells and whistles. Either way, be sure your chapstick has SPF. Lips get sunburned, too. For my face, I like Clearsil wipes for all my travels, but especially outdoor travels. It's a quick and easy way to clean my face and keep breakouts at bay. I also bring a little travel sized brush so I can brush my hair a few times and feel human. Toothpaste and a toothbrush are also in my bag. With this particular style of travel, a toothbrush cap is a necessity. Lastly, I bring along a few capsules of deep moisturizing serum to rub on my face at night (I use Rodan and Fields, but there are many other options.) While these are certainly not necessary, and are even indulgent, they weigh like 0.01 ounces and it's worth every ounce to feel like both my glamourous side and my outdoorsy side can coexist.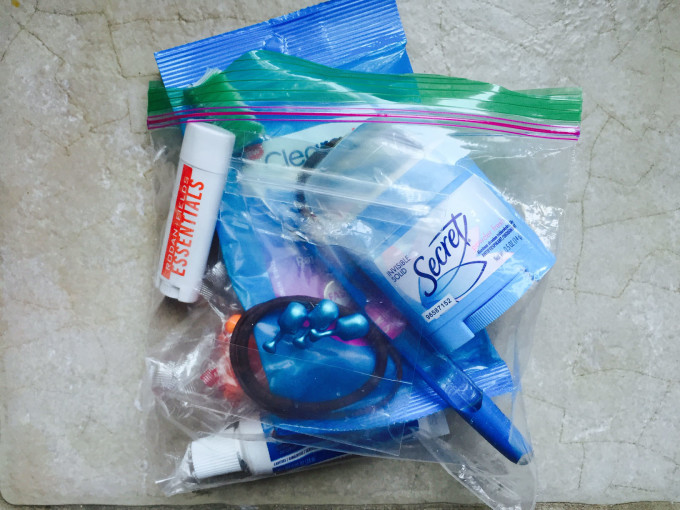 ~Everything I Need for a Little Bit of Comfort~