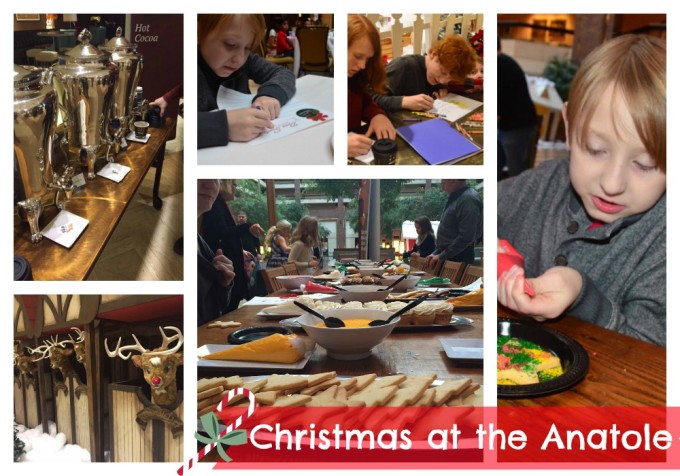 When it comes to Christmas, I basically have two goals: try not to forget where I hid all the presents, and find a way, despite all the madness, to make some family memories. The problem comes every year, though, when my life goals and my Christmas goals are at odds. My life goals are pretty simple: try to get a string of hours in a row to sleep, not forget to pay the bills (too late) and not forget to pick up the kids (too late). Basically, it's just busy around here (can I get an amen?) and Christmas just adds an expert level layer of busy. That's when all the well intentioned Christmas memory makers get pushed to the back burner while I run around trying to find the hidden Christmas presents. I want to make cocoa and cookies and Christmas crafts, but I also want to sleep. It's tricky.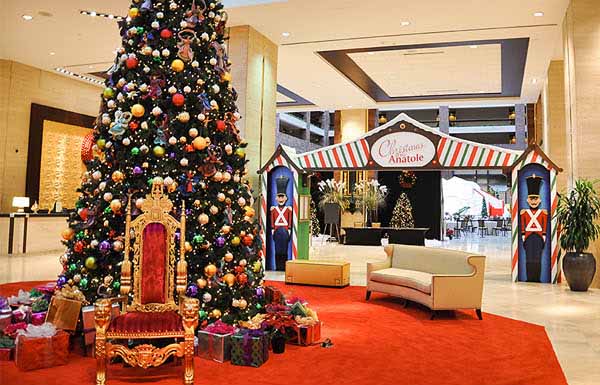 ~The Entrance to Breakfast with Santa and the majestic Christmas Tree~
Pushing the Christmas Easy Button
Rather than get trapped in the tyranny of too much to do, I wanted to make Christmas fun a priority, but I also wanted to be realistic. I needed the easy button for Christmas magic. Basically, I needed someone else to do all the prep work and I just needed to show up with some kids and make a memory. It's really not too much to ask for the right venue, and it this case it was the Hilton Anatole in Dallas. I'm convinced that Christmas at the Anatole was designed by a table full of tired moms who wanted to have some Christmas fun with their kids, but they also didn't want to clean up glitter and sprinkles.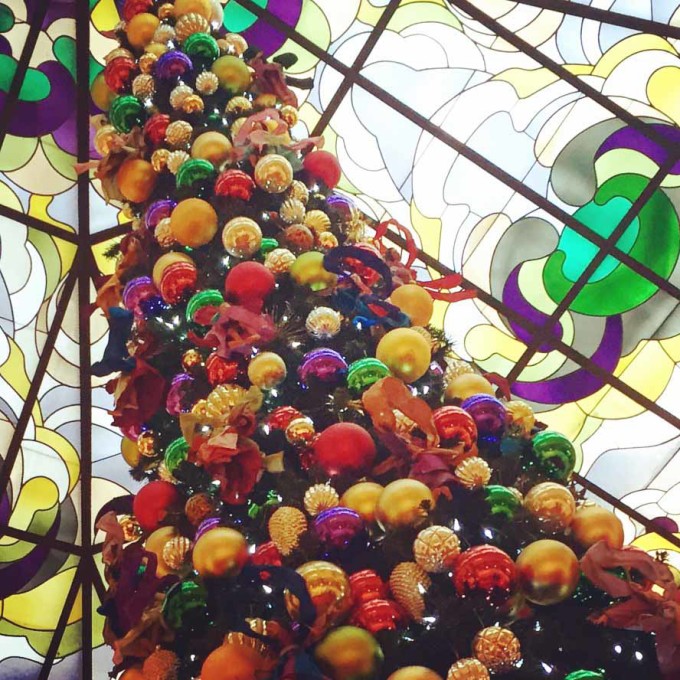 Checking In and Checking Out
Operation Get Some Dang Christmas Cheer began by checking into the Hilton Anatole the night before our scheduled Breakfast with Santa. I cannot emphasize enough how much my limited personality needs to get away from my house to be able to focus on having fun with my kids. At home, I am way to focused on taking care of the next thing on my to-do list to relax. A night away at a nearby hotel forces allows me to spend time with my kids and let the other stuff just wait.
With Christmas PJs in tow, we made our way to our room where I was tempted to stay for the rest of the night thanks to the abundance of space for all of us. Our rooms were actually three adjoining rooms in the corner of the atrium section of the hotel. The genius here is that there are four rooms in the corners of the atrium that can be configured for any family size and shape. As a larger than average traveling family, I appreciated so much that there were options that allowed for families to customize the space that they needed. I also appreciated that there was room for everyone to have their own space (including mom!) at the end of the day. Of course, this is a trip about family togetherness, so let's focus on that.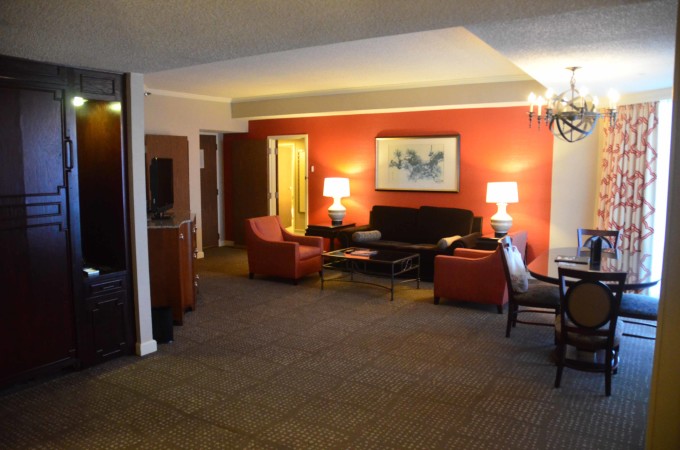 ~Large living area in our adjoining room is the perfect place to relax with a large family. At night, the Murphy Bed makes more space for sleeping~
In an effort to not leave the Christmas Magic bubble, we opted to grab dinner at the Media Bar, a casual eatery with a cool vibe that includes changing mood lighting and giant screen TVs. When dinner was complete, and trust me we ate way too much, we changed into our pajamas with way too much energy to spare before bedtime. Anatole Art Walks to the rescue. The Anatole features one of the most fascinating and extensive art collections assembled inside a hotel, and it is easily and entertainingly accessible through the app that provides scavenger hunts and art walks for every interest. Taking an art walk with the kids gave us a purposeful way to wander the hotel and check out the lights and Christmas décor along the way. It also filled the time between dinner and the nighttime movie and took care of that too-much-food-too-much-energy problem.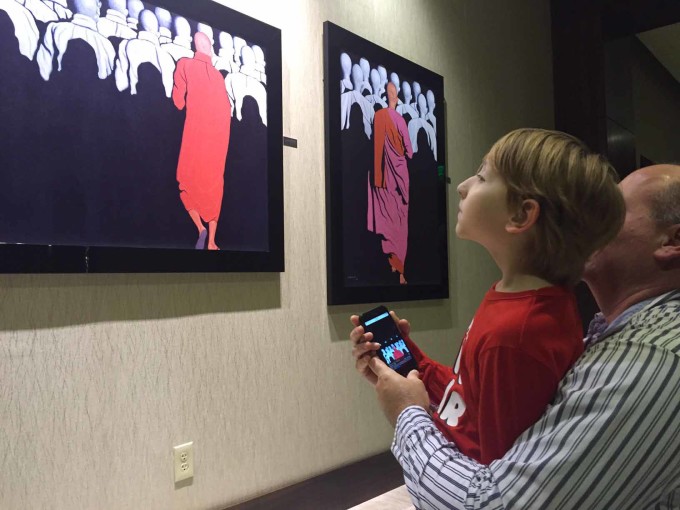 ~Art Walks are a fun way to explore the museum collection and get some energy out before bedtime~
On the nights before Breakfast with Santa, the Anatole transforms a conference room into a movie theatre, complete with classic Christmas movies and a gourmet popcorn bar. Kids are expected to come in PJs and given a pillow and blanket to make themselves comfortable during the movie.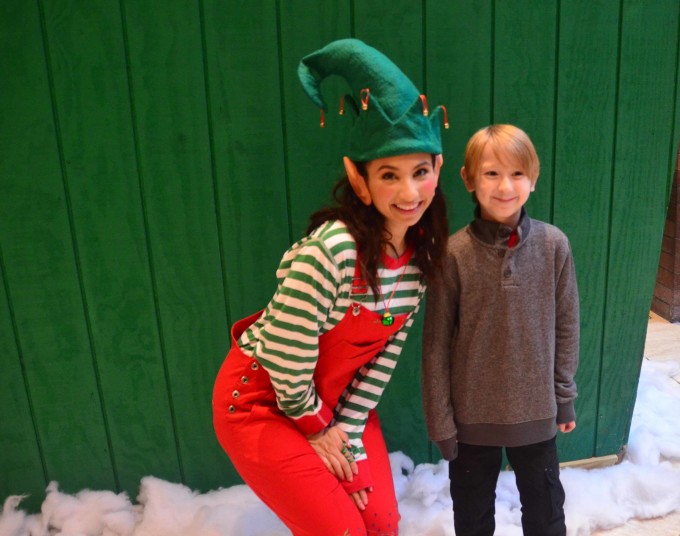 ~ A little pre-breakfast meeting with an Elf~
Breakfast with the Big Guy
Staying in the hotel the night before means a leisurely morning getting ready to greet Santa for breakfast. The breakfast buffet is extensive and yummy, with freshly made pancakes and attentive waiters that keep juice and coffee flowing. To enhance the excitement, kids are given a gift bag at check-in, which includes a paper and crayons to send a letter to Santa and an all-important jingle bell. To summon Santa into the breakfast room, a bright-eyed elf encourages all the kids to grab their jingle bell and ring it loud to call Santa to come a visit. The result is bright eyes and ringing bells that would make any Grinch's heart grow two sizes bigger.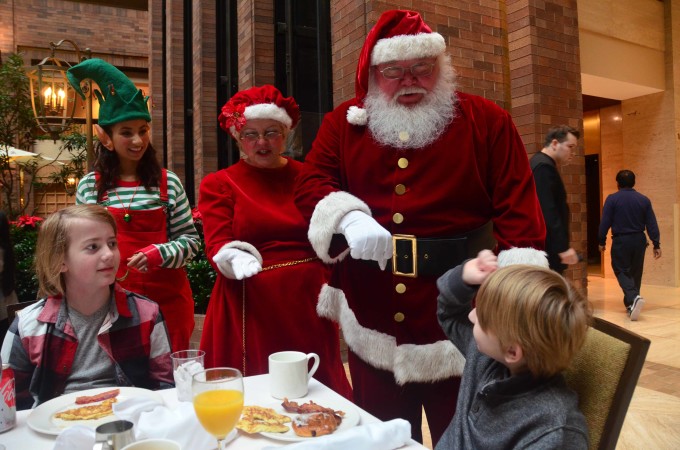 ~Fist Bumps and Breakfast with Santa~
During breakfast, Santa and Mrs. Claus make their way to each table for a personal greeting and pictures with the family. Shortly after Santa's visit, the line for the slides reminiscent of "A Christmas Story" open and kids can take their turn zipping up the stairs and down the slide.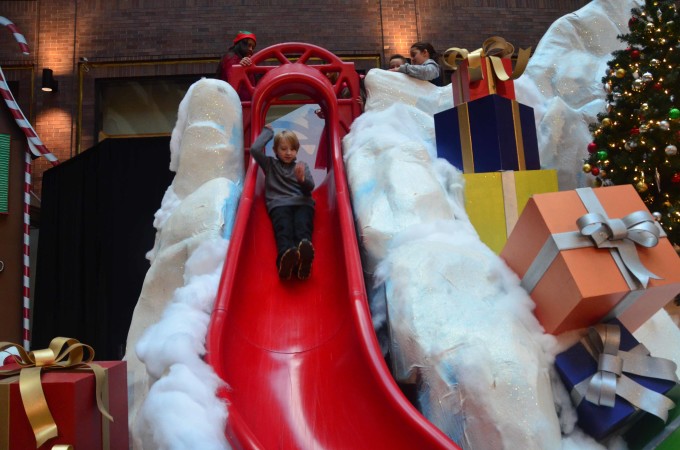 ~The Kids loved this! I resisted the urge to yell "You'll shoot your eye out" everytime someone came down the slide~
Breakfast is really just the beginning of the Christmas magic. As you depart from breakfast, kids are given a Scavenger Hunt Map and encouraged to head out around the hotel to find activities that range from Christmas cards, cookie decorating, and crafts. In the span of a couple of hours, we made a Christmas ornament, had our faces painted, decorated gingerbread cookies, decorated Christmas cards for the troops, had a story time and sing along with Rudolph, enjoyed a hot chocolate bar, and played a Christmas trivia game. For a list maker who was keen on making some traditional memories, this process checked all the boxes, but more importantly, I was able to sit back and just enjoy the process. I didn't have to clean up. I didn't have to set up. I didn't have to do anything, but show up and enjoy being with my kids.
~The Hilton Anatole hosted our stay at Christmas at the Anatole. They did not require that I express a particular viewpoint and all opinions are my own.~