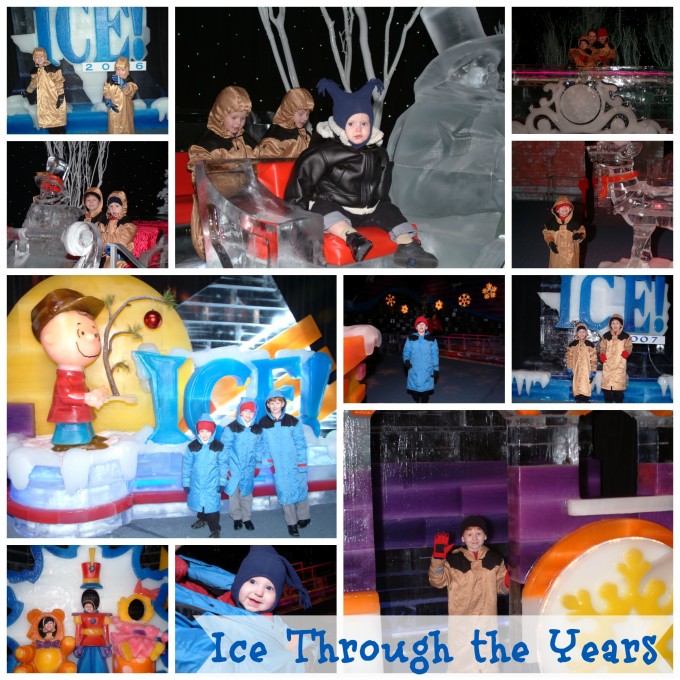 ~Our ICE Family Tradition from 2006-2016~
It's that time of year for making our list and checking off the Christmas traditions that make the holiday season special and memorable. We are lucky to be right in the middle of the Dallas/Fort Worth Metroplex where there are so many holiday happenings for families that we often have to pick and choose carefully which ones we will visit. One place that always makes the list is ICE at the Gaylord Texan. We've been attending the exhibit that features 2 million pounds of hand-carved ice since it first opened in Texas, and it is the one tradition that the kids will not let us miss. Each year we look forward to discovering the theme that will be depicted in dazzling ice creations, and taking a ride (or ten) down the slippery ice slides. Best of all, the carvings are just the tip of the iceberg (see what I did there?) for the Christmas fun that Gaylord Texan offers from Thanksgiving to after New Year's Day.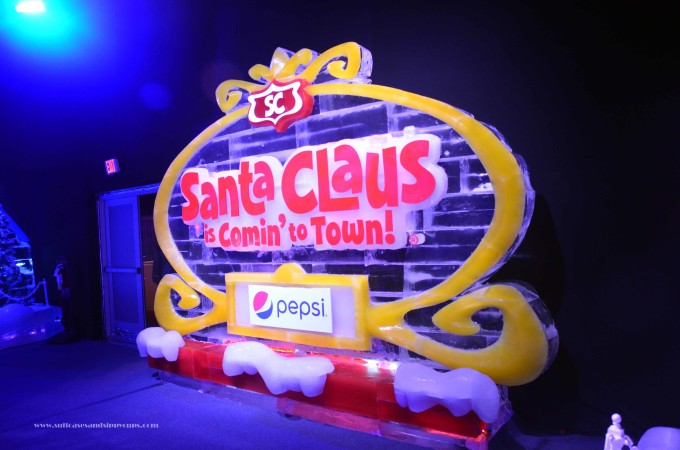 All the Chilly Details
The 2016 theme of "Santa Claus is Coming to Town" features memorable scenes from the 1970 TV classic that brought to life the beginning of the Santa Claus story. To create this beloved retelling in ice form, master ice carvers from Harbin China worked for 30 days to bring Kris Kringle, Miss Jessica, and Santa's Workshop to life in dazzling colors and intricate details.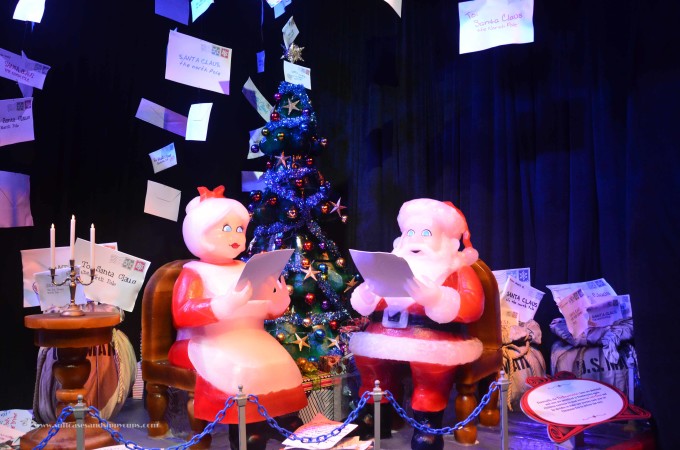 Of course, any Gaylord Texan ICE experience is not complete without zipping down a chilly ice carved slide. This year, five slides are carved into Santa's Workshop, one of the most brilliantly colored displays I have seen in ICE history. In keeping with tradition, the exhibit concludes with an awe-inspiring ice depiction of a larger than life Nativity scene, carved in crystal clear ice.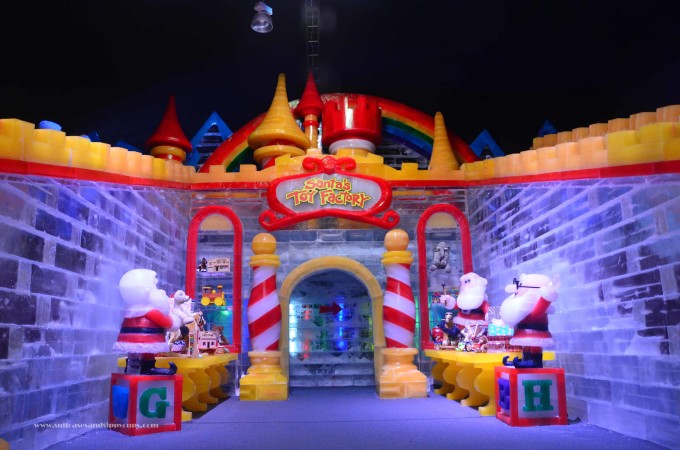 ~Santa's Workshop with Ice Slides on either side~
Even Texans Deserve a Little Winter
Occasionally, a little winter weather will make its way down south, but for the most part we only dream of a white Christmas around here. Luckily, the forecast at the Gaylord Texan always calls for snow with the addition of a Santa's Workshop themed snow hill. The eight lanes of awesomeness are covered in real snow and include single and double tubes so that families can enjoy swooshing down the hill together.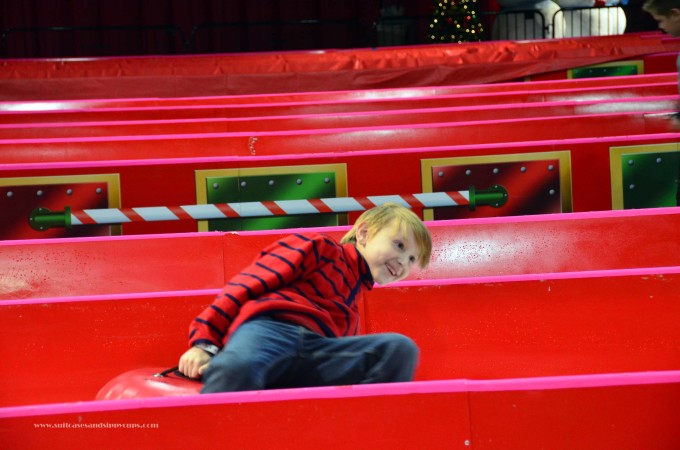 Christmas Everywhere you Go
Although ICE is the biggest draw for the Gaylord Texan's Lone Star Christmas, it is not only Christmas activity in the sprawling resort. The resort is typically a garden oasis under a glass roof but for the holidays it is transformed into a winter wonderland featuring millions of lights, a 7-foot-tall gingerbread house, miniature train sets zipping through holiday themed scenery, Texas-sized Christmas decor and more. On weekends and evenings, strolling musicians, balloon artists and of course, St. Nick are all on hand to add extra magic to the holiday affair.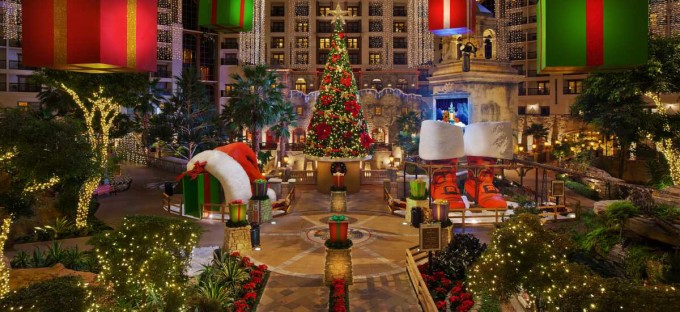 ~Photo Courtesy of the Gaylord Texan~
For visitors that want to make a weekend of the Christmas festivities (which I highly recommend), there are more than enough activities outside of ICE to enjoy with the whole family. New this year at the Gaylord Texan is a 5000 square foot outdoor ice skating rink and an exclusive Build a Bear station located near the ice exhibit. Other family events include Photos with Santa, Elf on the Shelf Scavenger Hunt, Breakfast with Rudolph, Milk and Cookies with Mrs. Claus, and Gingerbread House Decorating.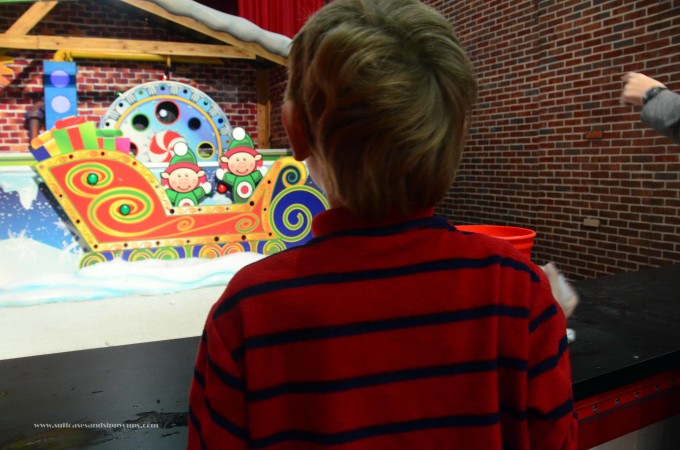 ~Practice your snowball throwing skills as one of the many activities surrounding ICE~
Check out the dedicated Christmas at the Gaylord Texan website for info on prices, dates, and operational hours.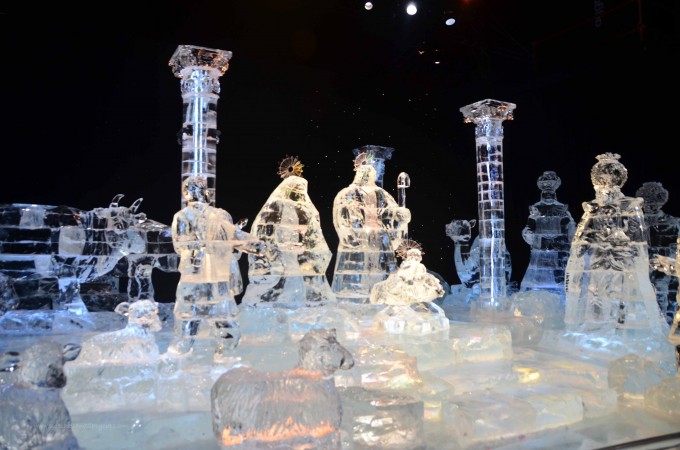 Tips for Visiting ICE at the Gaylord Texan
Bring hats, gloves and scarves. Calf length parkas are provided with admission, but a chilly 9 degrees inside the exhibit calls for a little extra protection. Be prepared to bundle up just like you would if you were outdoors in cold weather. Kid sized coats are available, but the smallest coats are best suited for older preschoolers. If you are bringing a baby or toddler, they might be warmer in their own coat that fits more snugly.
Don't miss the slides. The ice slides are the best part of the exhibit, if you are a kid or kid at heart. The problem is that there is a limited amount of time you can spend in the exhibit before your nose starts to run and your fingers get numb. Be sure you leave plenty of time to enjoy the slides and see the amazing sculptures.
Ski Pants. Speaking of the slides, slipping down them with the desired whooshing motion happens best while sitting on the tail of the parka. Sometimes it's hard for wiggly kids to keep the coat under their seat while they slide, but ski pants do the same job and add an extra layer of warmth. If you've got some ski pants, and you don't mind looking like you've packed for the mountains, bring them along.
Hit the Off Peak Days and Hours. ICE is a very popular event, so expect lines and waits on weekends and holidays. To avoid the lines, consider attending before Thanksgiving or during the week during regular school hours.
Make it a day. There is so much Christmas goodness to enjoy both inside the ICE exhibit and in the resort. Plan to spend the day at the resort after seeing ICE. Pick a few of the extras, like snow tubing or gingerbread decorating, to fill up a day of holiday cheer that will become a yearly tradition.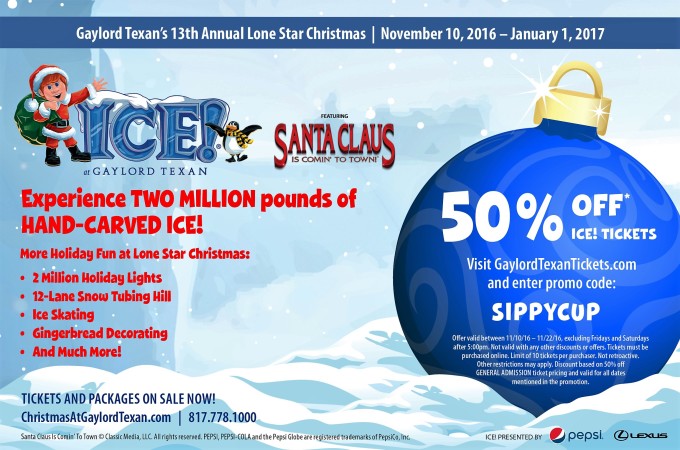 ~ ICE at the Gaylord Texan provided my family with tickets to ICE for the purpose of review. They did not require that I express a particular viewpoint and all opinions are my own.~