"Autumn burned brightly, a running flame through the mountains, a torch flung to the trees." -Faith Baldwin
Is there anything better towards the end of the year than taking a moment to step back from the whir of our busy lives and listen to crisp autumn leaves shaking themselves loose from the trees which have held them so near? To watch as they float this way and that before landing gently on the ground? For me, the only thing better is to head for the mountains where wide open vistas alight in a blazing blanket of oranges and reds. In Utah, a scenic autumn mountain drive is never too far away.
#1 Salt Lake's Cottonwood Canyons Big & Little Cottonwood Canyons are most well-known for being home to 4 of Utah's premiere ski resorts (Brighton, Solitude, Snowbird, & Alta). Take a drive up either before the snow flies and be treated to a combination of sheer granite peaks, deep evergreen-filled valleys, and a smattering of color-changing trees mixed in the middle. Pack a picnic lunch or stop in for a bite at any one of the resorts before making your way back down to the city.
Big Cottonwood Canyon: 14 miles one-way
Little Cottonwood Canyon: 7 miles one-way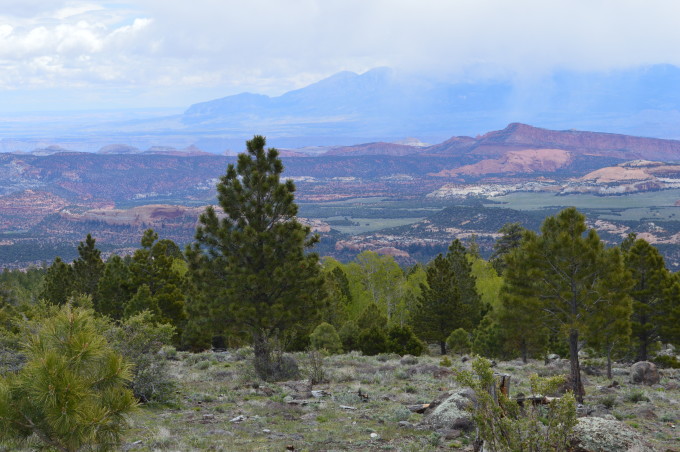 #2 Guardsman Pass With Big Cottonwood Canyon as the beginning or ending spot, this drive continues up and over the mountain with the option of adventuring on down into Park City or the Heber Valley. On the way you pass mountain meadows, groves of quaking aspen trees, and unending panoramic views. The road is steep and narrow, but passable in a family car. Much of the road is paved, but the highest section is a dirt road maintained only in the summer months. Make sure to check the weather while making plans for this autumn adventure.
Guardsman Pass: 14-22 miles, depending on which valley you choose
#3 Provo Canyon What once used to be a slow 2-lane mountain pass has now become a busy 4-lane thoroughfare through Provo Canyon. While the road has changed, the scenery has not and this drive between Provo and Heber is one not to be missed. Watch for waterfalls, the Provo River winding alongside the road, and plenty of opportunities to pull over and take a stroll.
Provo Canyon: 15 miles one-way, then turn around or continue on to Heber and Park City.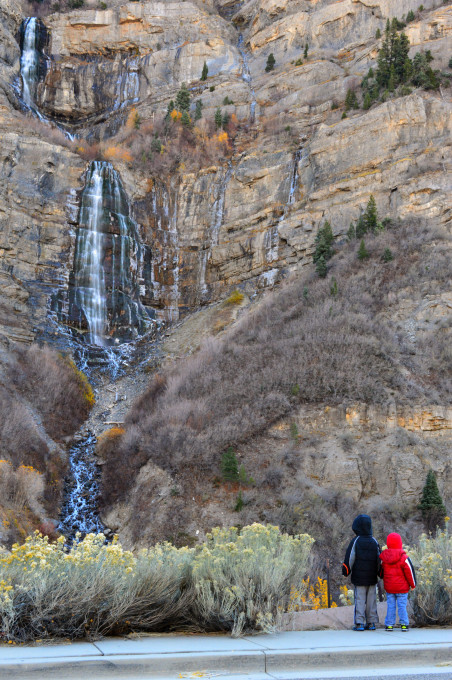 #4 Alpine Loop A third option for exiting Provo Canyon is to take one of Utah's most scenic turn-offs. The Alpine Loop meanders past Sundance Ski Resort and climbs to 8,000' while sneaking around behind Mt. Timpanogos. The curvy paved road weaves in and out of white aspen forests, opening up time and again to views of autumn-colored mountain ranges. Before exiting the Alpine Loop take a walk around Tibble Fork Reservoir or visit the Timpanogos Cave Visitor Center.
Alpine Loop: 20 miles, entered from either Provo Canyon or American Fork Canyon
#5 Mirror Lake Highway This is another beautiful drive accessible from Park City with glimpses of the Provo River winding through pine tree forests. Dotted on either side from time to time by serene alpine lakes, there are plenty of photo opportunities. Allow time to explore at Provo River Falls, as well. At Mirror Lake decide to turn around and meander back down or continue on to Evanston, WY, which will leave only a 45-minute interstate drive back to Park City
Mirror Lake Highway: 32 miles to Mirror Lake, 55 miles to Evanston, one-way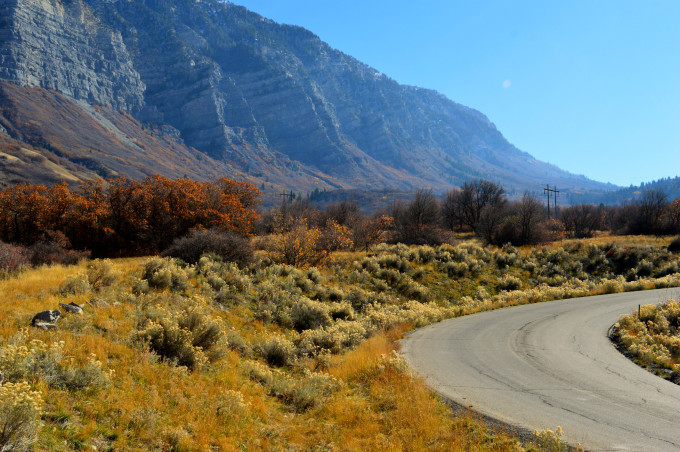 #6 Nebo Loop Slightly taller than Mt. Timpanogos, Mt. Nebo is visible from I-15 for miles. Also driving around the back side, the Nebo Loop climbs 9,000' on a well-maintained paved road and also treats the eye with sweeping crisp-leafed views turn after turn. A favorite stopping spot is Devil's Kitchen, which gives the opportunity to see red-rock formations without having making the trek all the way to southern Utah.
Nebo Loop: 37 miles, easily accessible to I-15 on either end.
#7 Spanish Fork Canyon Utah's Hwy 6 is the transportation vein for anyone traveling between the Salt Lake area and Moab. Whether on your way somewhere else, or out for a leisurely drive, this trip is exciting with canyon walls rising straight up outside your windows. If you are not continuing on to places farther south, Soldier Summit is a good place to turn around. Be sure to stop at the Tie Fork Visitor's Center which resembles an early 1900's railroad depot, complete with a life-size steam engine replica.
Spanish Fork Canyon: 37 miles to Soldier Summit, one-way
#8 Upper Colorado River Scenic Byway Leaving northern Utah's mountains of granite for southern Utah's red rock plateaus, the autumn colors seem even more vibrant in their surroundings. Driving east from Moab, this trip winds through the gorge carved out by the Colorado River. Gurgling water views turn into expansive valley views and then the reward of iconic red rock formations. Depending on how late in the season, the La Sal mountains loomin in the distance may add a dimension of color all covered in snow. This road eventually connects up to I-70.
Colorado River Scenic Byway: 44 miles, one-way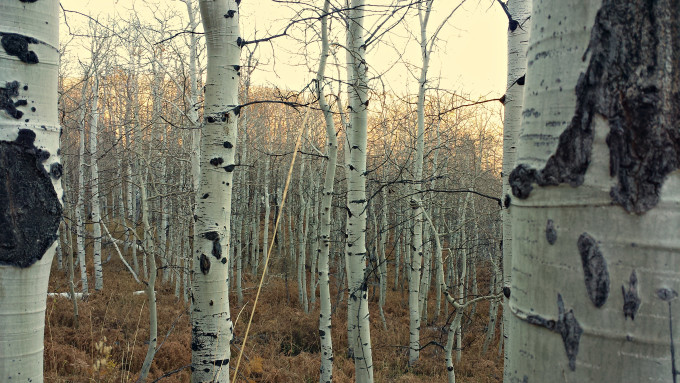 #9 Highway 12 Commonly known as the "All American Road", Highway 12 is the most scenic way to travel between Bryce Canyon and Capitol Reef National Parks. Beginning on either end, the contrast of red rock and green pine forests teases the eye. The road slowly winds up, entering a thick aspen forest. Stop for a moment to hear the wind rustle the leaves and watch as the autumn foliage illuminates the air above you in bursts of color. Be on the lookout for more breathtaking moments as you drive down out of the forest and are greeted by uninterrupted views of red slickrock below.
Highway 12: 124 miles, but easily broken into short afternoon mountain drives.
There is hardly a turn to be made in Utah that underwhelms or disappoints. The colors are spectacular whether enclosed in a high-walled canyon or stretching as far as the eye can see. Be mindful of quickly changing weather, but definitely make plans to take the family out for a drive or two.