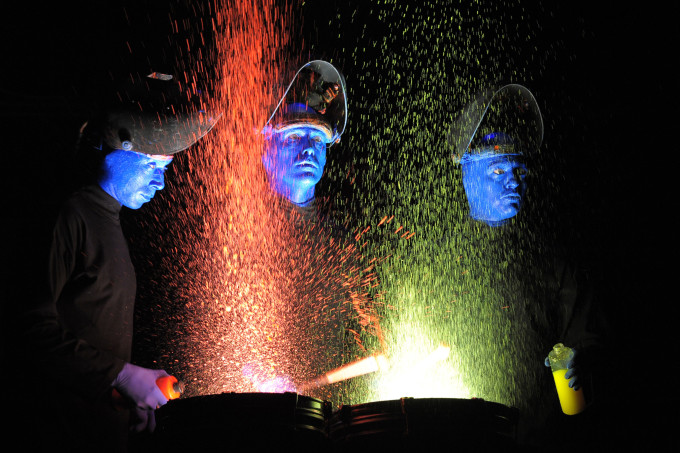 Blue Man Group, Chicago's longest running show with ongoing perfornances at the Briar Street Theatre, can, perhaps, also claim to be the show that leaves audiences with more questions than answers. The most pressing question is just who are these guys and why are they blue, but, of course, that is just the opening to the rabbit hole.
No doubt audiences have heard of this trio of not-of-this-world performers, and may associate them vaguely with something having to do with percussion and paint. Putting a descriptive point on the creation that is a Blue Man Group performance is a nebulous pursuit. Even the show website admits that the show is hard to describe.
"Blue Man Group's show is an energetic and innovative combination of music, comedy, and multimedia theatrics. Although it is almost impossible to describe, people of all ages agree that Blue Man Group is an intensely exciting and wildly outrageous experience that leaves the entire audience in a blissful, euphoric state."
Wildly outrageous, intense, and euphoric are words that spring strongly from a fanciful lexicon, but they are just words. And words just don't do this performance justice. It's one of those things you just have to experience for yourself to get it. While I could dig really deep into my bag of writer's tricks and try to describe the experience in detail, I will never be able to capture the spirit that expanded like a giant mushroom cloud of joy during the 90 minutes of performance.
The three performers of the show are best described as humanoid aliens. They are outsiders looking into a world they have never seen before. And they have some pretty hilarious and unconventional thoughts about our planet. Using mundane objects like marshmallows, twinkies, and paint, the trio explores with the intensity of a child. At one point in the show, the stage is eclipsed by a giant iPad, or GiPad. While the men with blue faces curiously explore the apps on the phone, they create both comedy and a subtly pointed commentary on the fixations in our society that we consider normal. You are laughing uproariously and thinking deeply all at the same time.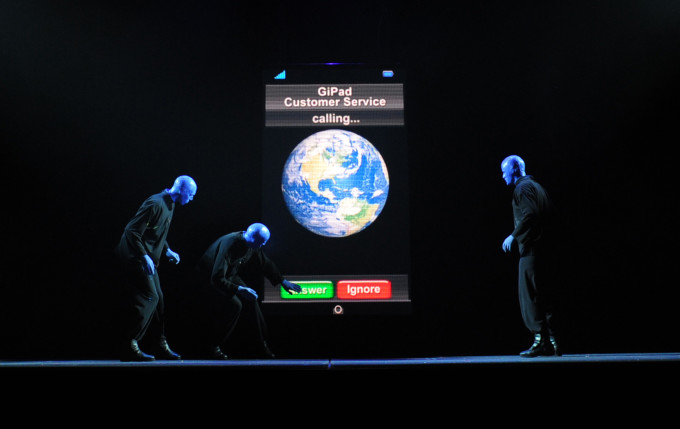 To keep the thinking/laughing combo from becoming tedious, they are punctuated by musical interludes of the percussive variety. There is a feeling that if it can be struck with a stick, it can be made into an instrument in a Blue Man show. With mad drumming skills, the trio use paint splattered drums and PVC piping to create otherworldly music that seeps into your soul. Of course, even the drumming sequences are both weird and wonderful.
If there is any sense to be made of the collection of unrelated vignettes, it is hard to pinpoint and perhaps even futile to try. Each fancifully surreal scene is more suited for a purpose of finding a place where the senses and emotions collide and setting up camp in that often ignored location.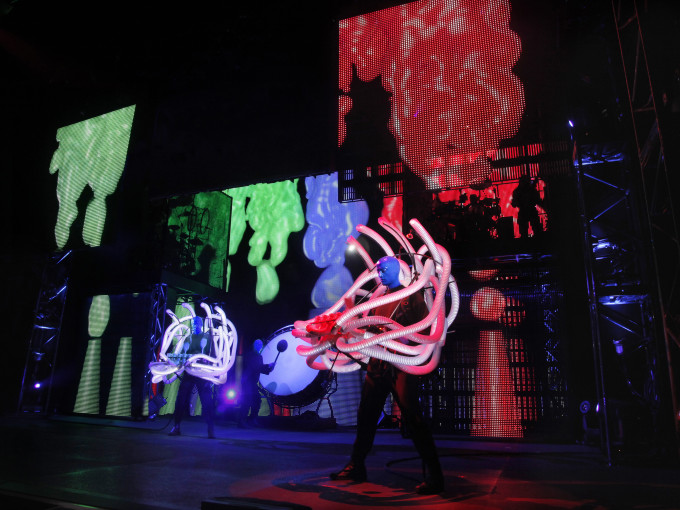 All of this playful percussion culminates in a party that is so good it could easily be described as the most fun I have ever had- and I definitely don't say that hyperbolically. While you never know what is going to happen next at this show, nothing can prepare you for the finale. With a light and sound show reverberating from the stage, the audience is thrust into the action as dozens of massive balloon balls fall from the ceiling and into the crowd. Hands all over the audience reach up to bounce the balls, which are easily large enough to need three or four people to give them a shove into the air. As the balls bounce from one part of the auditorium to the other, the illuminate with changing colors and with all heads and hands looking upward, the auditorium pulses with anticipation for the next chance to whack the giant ball.
Young people are standing. Old people are standing. Families are standing together. Teenagers, who make it a point to never be impressed by anything are standing as tall as the rest. No one is immune from the sheer joy that is pounding louder than the percussion on the stage. Everyone is on their feet, eagerly waiting for another chance to bounce the ball with the intensity of a child.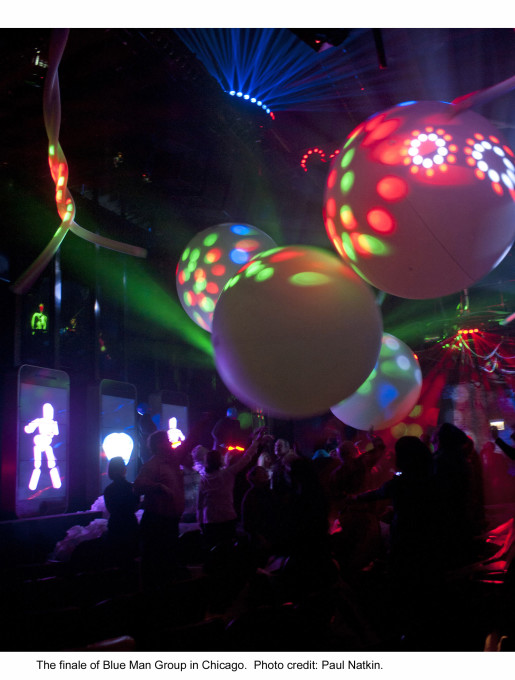 There is a sense of community, or is it competition, that emerges from crowd. Everyone should have a chance to pound the illuminated ball aloft, but it is often only the tallest in the crowd, those whose fingers reach just a bit higher that achieve the satisfaction of sending the balls upward. Is it a commentary on the one percent? Is there a refrain that technology superficially brings us together in a common experience, but actually hardens us against any deep connection? It is hard to say what the meaning of it all is, and like good art, it is likely different for each participant. Perhaps the true meaning is that in the midst of it all-humanity, technology, chaos- the best we can do is simply find joy.
~Blue Man Group Chicago provided me with complimentary tickets during my visit. They did not require that I express a particular viewpoint and all opinions are mine~