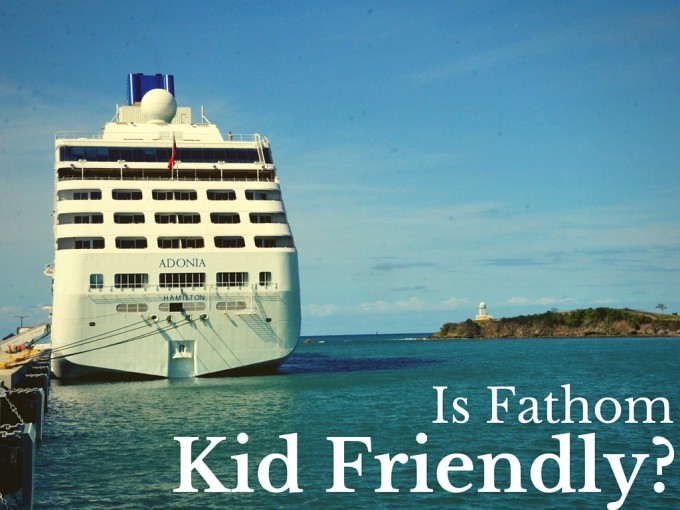 Word on the street is that Fathom, the newest travel adventure that combines cruising with Impact Travel, is not really family friendly. If you take a quick look at the literature and the amenities on the ship, it seems like the word on the street has it right for once: there's nary a kid's club or kid programming to be seen anywhere. The closest thing to fun for kids is a game room in the library. You won't find a golf course, or a waterslide, or even an ice cream machine onboard. Amenities like rock climbing walls, or flow-rider surfing machines that are staples on mega-cruise liners are obviously missing. Yes, definitely not kid friendly.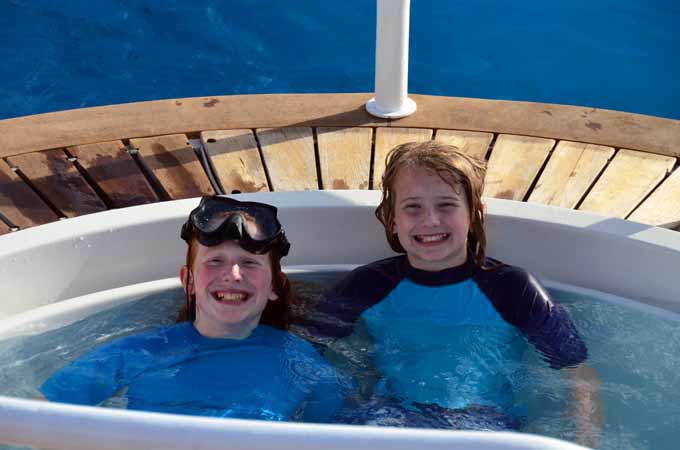 But, as I sit here on the Lido deck, watching a group of kids ranging from 8-18 playing a hilariously raucous game of giant Jenga, what is most obvious is that someone forgot to tell these kids that they weren't supposed to be having fun. The word on the street didn't get to them, or perhaps the word on the street was just plain wrong. In a world that almost demands a fast-paced, multi-media barrage in the name of keeping children entertained, the naysayers seem to have forgotten that fun comes in many forms and that shiny programming and amenities are not predictors of success.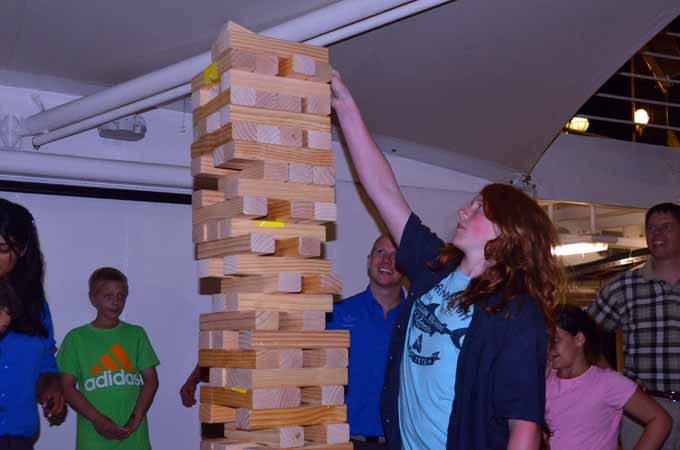 Like most parents, we give our kids very good advice, but they very seldom follow it. We have dutifully tried to exhibit a purposeful and present life for them, and they have half-heartedly smirked at us while never looking up from their video games. In other words, we boarded the Adonia with some fairly typical and slightly overindulged children who were less than thrilled about the lack of passive entertainment. They were prepared to be bored, and to be honest, I was prepared for them to be bored. What transpired was one the best weeks of their life, a week that was filled with purposeful, intentional pursuits that were both fun to the highest degree and meaningful. In a typical American household where easy entertainment is a button click away, kids don't often get the chance to exercise the muscle of making their own fun, but for one week, my kids stretched and grew and blossomed in that arena.
It says something extra special about the thoughtfulness of the Fathom brand that they have been able to create an atmosphere of enjoyment for all ages without resorting to the easy overuse of typical programming for kids.
So, how did Fathom do it? I have to believe that there is a little bit of magic woven into every aspect of this brand the likes of which even a Disney cruise couldn't create. In fact, and this is probably the money quote, when my kids were asked if they would rather go on this cruise again or another Disney cruise, they chose Fathom. With a statement that bold, it causes a parent to really dig deep and try to explain just what is going on. How is it that , on paper, Fathom seems to have nothing for kids, but in reality, their offering is so strong it makes normal red-blooded children turn their back on the Mouse?
The first dash of magic is that Fathom has created an experience that draws an exceptionally active and interesting group of people. These people are the movers and shakers of the world-a Carpe Diem kind of crowd. Simply, and yet not so simply at all, they are participators. These are the kind of people who when someone says let's try something new, they are the first to say why the hell not.
There is a kind of wild and wonderful energy that happens when you stuff a bunch of do-ers into a small space. It has nothing to do with programming and everything to do with the willingness to participate. If you've been to a really awesome party, look back and remember that it didn't have anything to do with what you were doing and everything to do with the quality of the people at that party. Fathom is that kind of party every single day.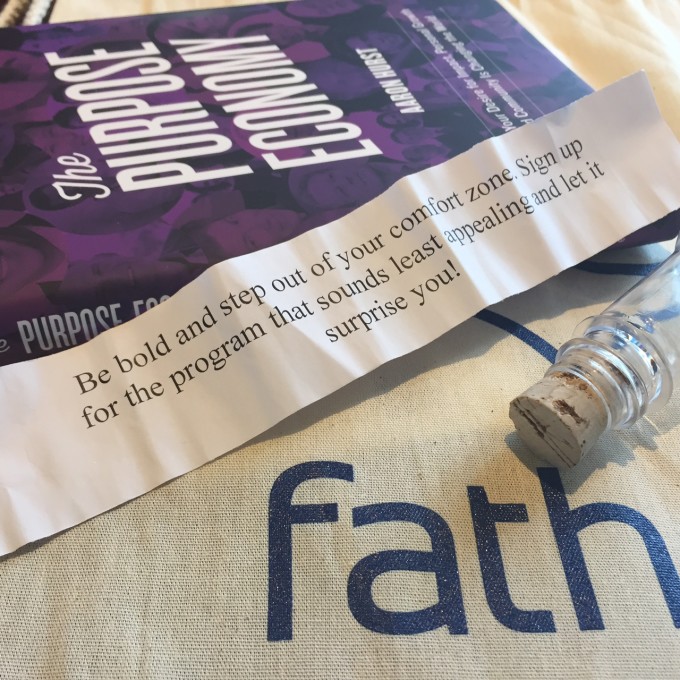 Of course, there's more. If you take a slice of the Carpe Diem crowd and place them in an incubator where they are challenged to look and find the best parts of themselves, you get an outcome that is nothing short of a life-changing experience. The programming, and by that I mean the classes, the parties, and the gatherings that are a part of the onboard Fathom experience, are all designed to get people out of their comfort zone while simultaneously connecting them with other people just like them. Imagine finding your tribe at the same time you are finding yourself. It's a good, good place to be.
What does all of this have to do with kids onboard Fathom? Well, just about everything. Kids are just as much a part of the tribe as any adult onboard. There is a pervasive atmosphere of acceptance and treating everyone like an equal that seems to dig down deep into the heart of what matters to children. Really, what does anyone want but to be looked as valuable and believed to be capable? Children are so often deprived of that experience, but this gives them a chance to be seen and, more importantly, to be believed in. And,that is an environment in which kids thrive.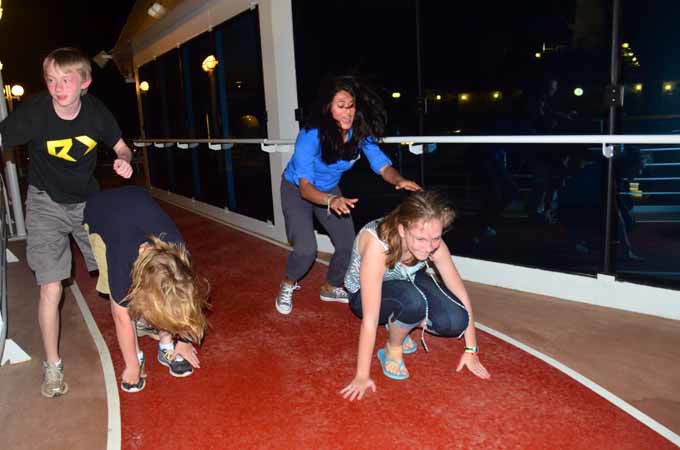 In this environment where growth was inevitable, our kids spent their days hanging out with the other kids who, by the end of the week, seemed like old friends. With all the pretense of typical childhood stripped away and unplugged from screens and devices, these once strangers fit together like pieces of a puzzle. They swam together, and played board games and card games, sometimes begging their parents to let them stay up late into the night. They shared their interests and found common grounds, and impressed one another with their talents and abilities. They sat around and just talked, quoted movies, told jokes, and swapped stories from their Impact Activities that day. The things they did on the ship were nothing special, but the moments they shared were some of the most noteworthy of their lives. In seeming to do nothing, they did everything.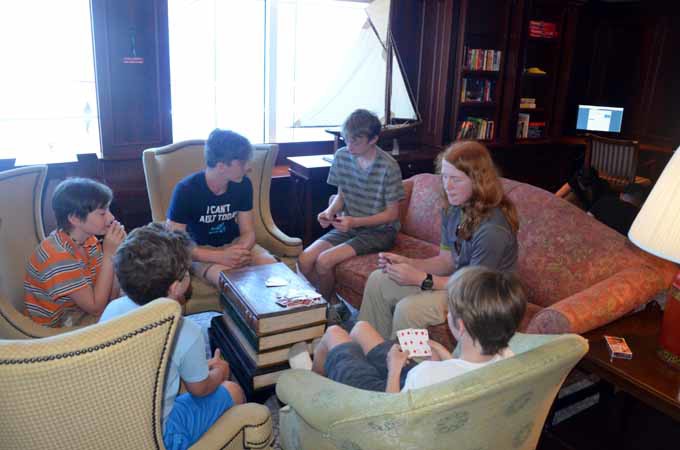 I was crazy proud of my kids on this trip. I didn't really think they had it in them, to be honest. After all, grownups don't have the corner on the market in getting stuck in a rut. It's just as easy for kids to get mired down in the monotony of school, sports practice, homework, repeat and forget to stretch themselves. Fortunately, the Fathom experience is all about pulling you out of your rut while blasting through your comfort zone, and kids get a ticket on that inner-self roller coaster just like the grownups onboard. And, it is such a good ride for every one of every age.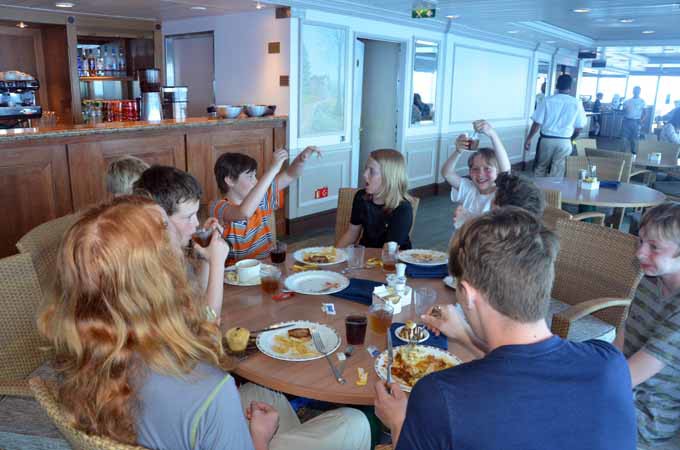 Now that I am back in the real world, I am still sort of flummoxed how my kids found a way to have so much fun on trip that just didn't seem to have anything for kids to do, but then I stop short to realize that calling our experience on Fathom "fun" is completely underselling it. My kids didn't have fun; they encountered joy and the joy filled up and stretched their souls. Maybe there's an easier way to say it: much like money doesn't buy happiness, mini-golf doesn't nourish the soul, and kids know this probably better than anyone.