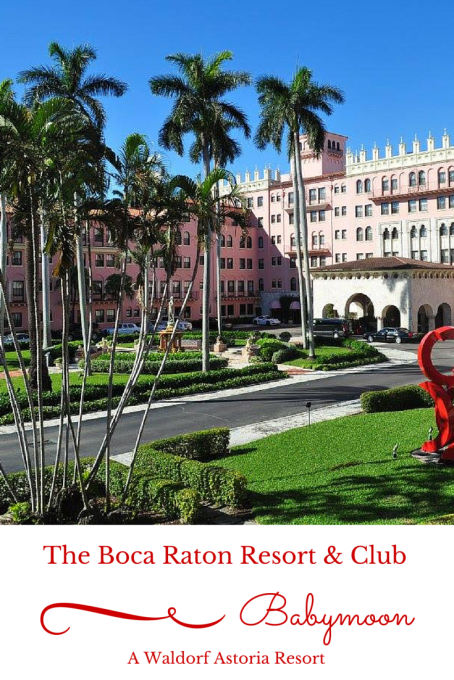 Whether it's your first baby or your third, getting away with your spouse for a babymoon before the newest addition arrives can be both a luxury and a lifesaver. When I was pregnant with my first child, my husband and I took a week-long cruise to the Caribbean. What joy to get away from a blustery New England winter and soak up relaxation in the sunshine. That time away rejuvenated us from our jobs and gave us a chance to reset before what would become the biggest and greatest transition of our lives.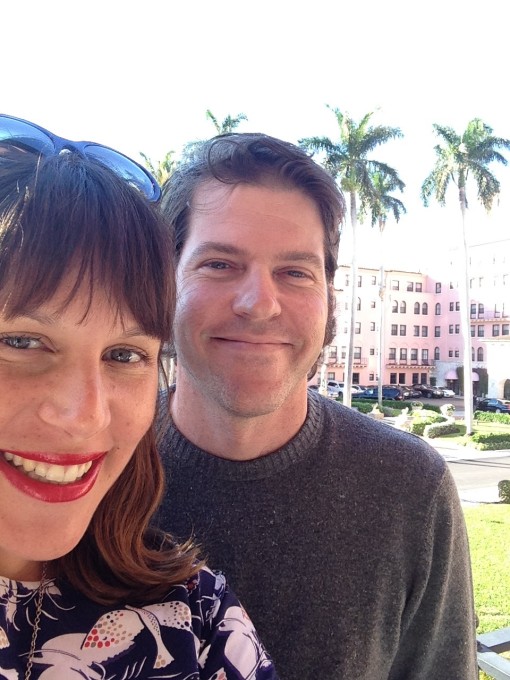 Why You Should Consider Taking a Babymoon
1. Parents have the chance to relax before the very busy time with a new baby.
2. Parents get time to connect and have conversations without interruption - something that will likely not happen once the new baby arrives.
3. Enjoy hot meals together. The first year our daughter was here, most of our meals were eaten cold, and hardly ever together.
4. This is an opportunity to put YOU first for a moment. I know as a new mom and a mom of three, this is something I often forget to do. So, go on and pamper yourself!
5. Taking time for yourself, and prioritizing your relationship with your significant other actually makes you a better parent.
Fast-forward almost five years and we are welcoming baby #3 to our family. We have done plenty of travel as a family, but my husband and I have had very little time alone together in these busy days with young children. Our babymoon cruise, two nights in NYC, and a few date nights here and there have been our only alone time. We definitely fell into putting the kids, work, and life before our own relationship - which was really a detriment to the entire family. That is why it was really important for us to prioritize our own relationship and get away as a couple to connect.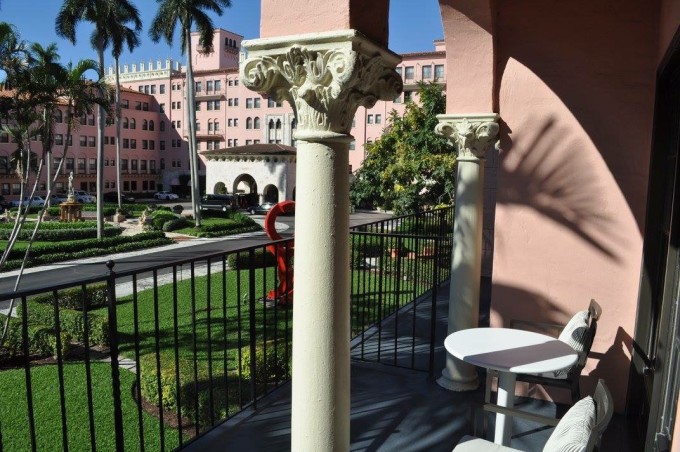 Now that we have relocated to sunny South Florida, we are fortunate enough to live in a vacation destination and didn't have to travel far to escape. The luxurious Boca Raton Resort & Club, A Waldorf Astoria Resort was the perfect choice for a weekend getaway for our babymoon.

The Boca Raton Resort & Club is both a fabulous beach club and a magnificent hotel built in the gilded age, as South Florida was being developed. The art and architecture, gardens, and pools create an atmosphere that is fit for any Hollywood star and expecting mom. Traveling by boat across the intracoastal waterways was a beautiful way to arrive at the Beach Club. The resort amenities include golf, spa treatments, and a surf machine. Being pregnant and visiting during a bit of a cold snap, I obviously wasn't trying my hand at surfing, but everyone looked like they were enjoying themselves as they tried to catch the wave.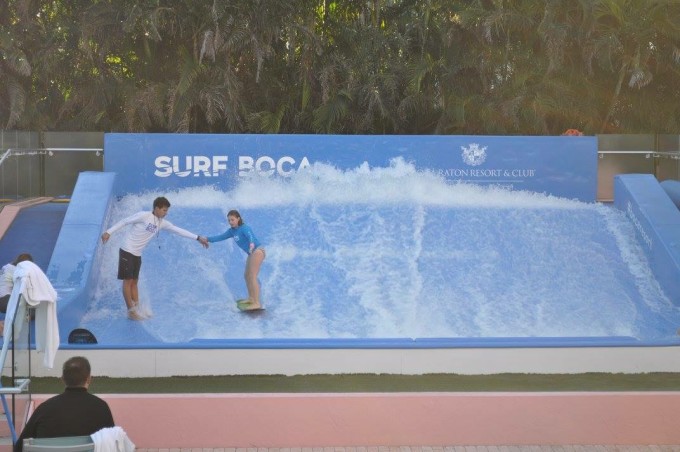 My favorite moments at the Boca Raton Resort & Club were the quiet moments-strolling the grounds and enjoying the 1920s architecture, reading a book on our balcony in the sunshine, and having a slow, multi-course, delicious and romantic dinner at one of the in-house restaurants, Lucca.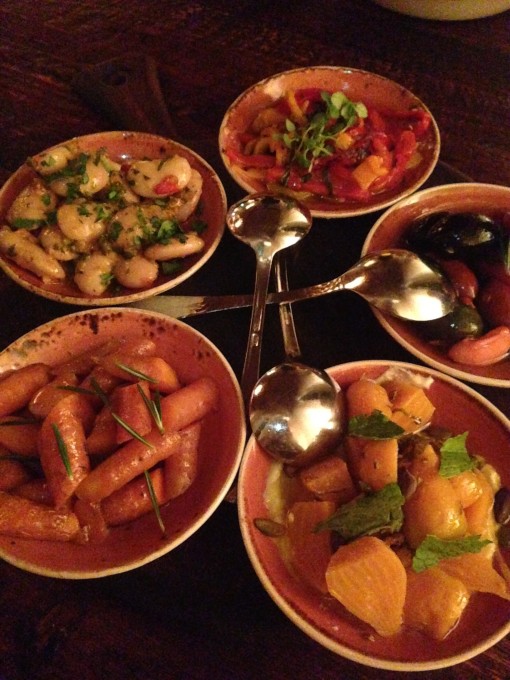 10 Reasons The Boca Raton Resort & Club is Perfect for Your Babymoon (or anytime)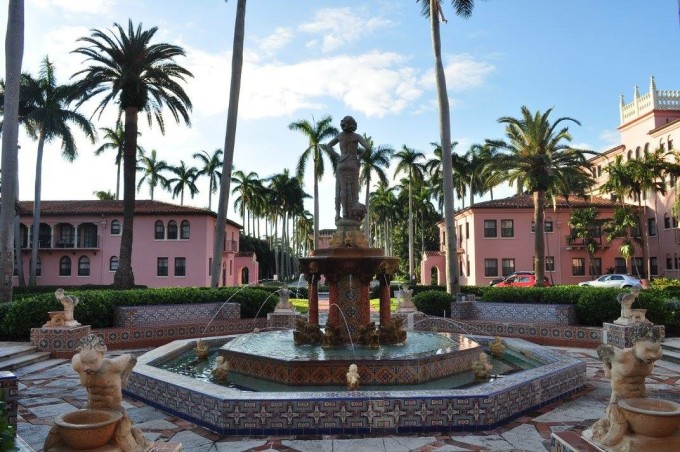 1. Gorgeous grounds and 1920s architecture to explore
2. Pristine beaches to enjoy
3. Newly renovated rooms with very comfortable beds, where you can get uninterrupted sleep!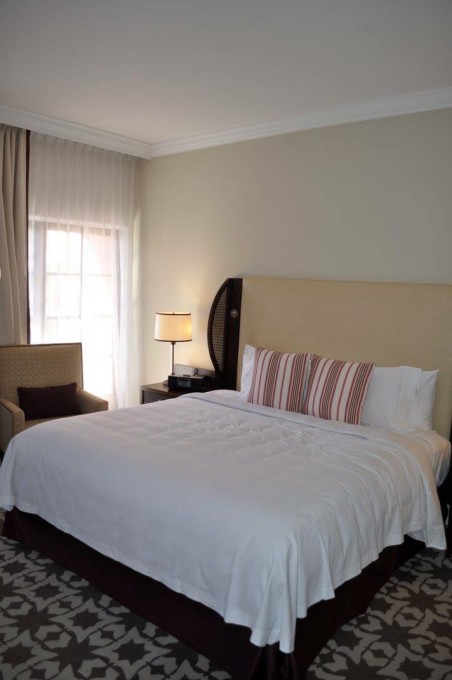 4. Wonderful customer service, including text messaging to the front desk.
5. Several dining options on site. I highly recommend Lucca. The meatball is the best I've ever had, and, I am still dreaming about the creamy polenta. Everything is delicious.
6. Frozen Hot Chocolate at Serendipity.
7. You don't have to leave the property for food, fun, relaxation, or pampering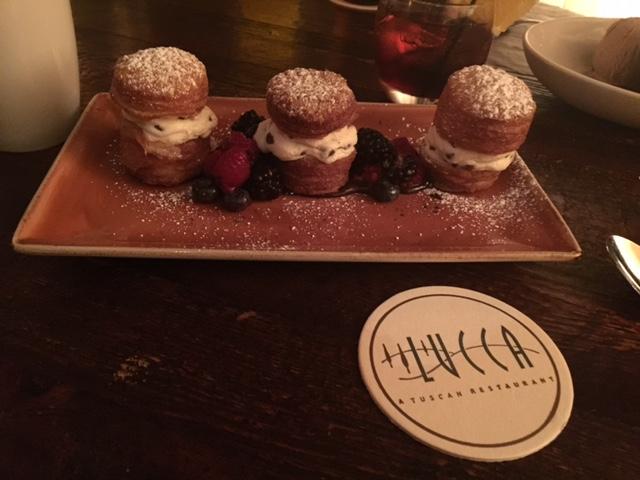 8. Warm, tropical climate with lots of options to cool off in.
9. Laid back atmosphere to hang out and connect in.
10. It's romantic!