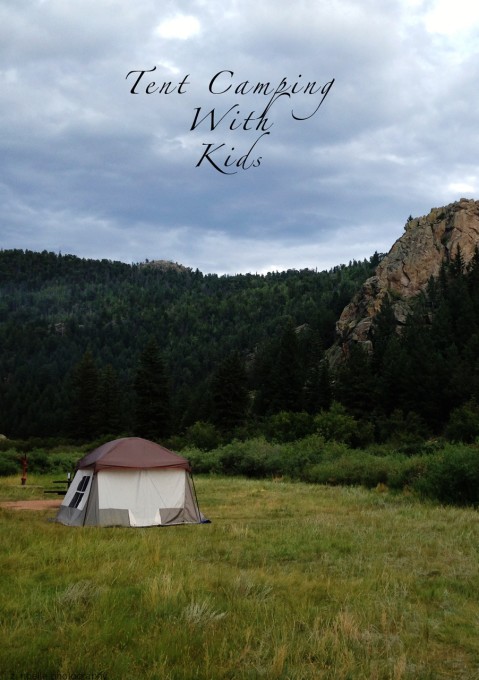 Camping for the first time with kids can be daunting, almost to the point of just not wanted to go. Despite living in Colorado for the past four years, we were camping neophytes, and we weren't quite sure to expect. We went with two other families who had plenty of camping experience and had an absolutely fantastic time. During the weekend, we learned plenty of tips for tent camping with kids.
Choose your location wisely
We decided to camp on Eleven Mile Canyon, located in the Pike National Forest. Eleven Mile Canyon has several different campsites, each one a little different. We wanted a campground with some basic amenities, like outhouses, and we wanted to be near water. Our campground, called Spillway Canyon, was perfect. It was right along the Platte River, which was shallow and calm enough for some inner tubing and had two different outhouses with composting toilets. There is no running water, but there is a well to pump water, should you need it. We brought three gallons of water along for the weekend, which was plenty for a family of four. Many people choose to completely get back to nature and camp in the middle of national forests with no toilets, but with young kids, we thought a campground like Spillway Canyon was perfect.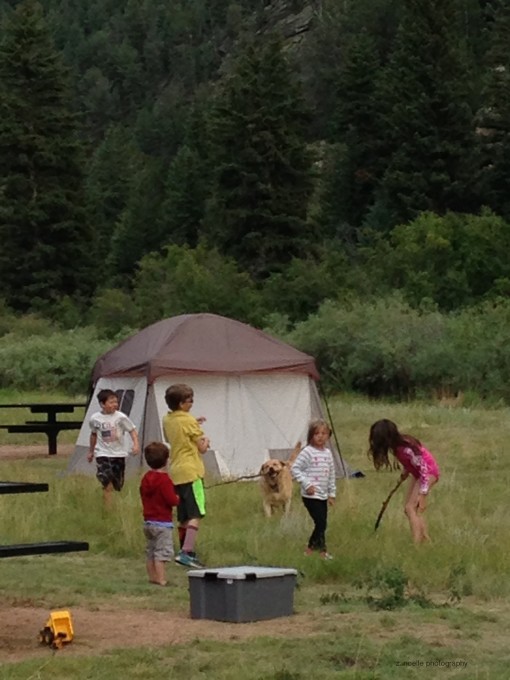 Have a basic plan for activities
A large part of camping is relaxing and enjoying nature, but without some sort of plan for things to do, kids get anxious and bored, no matter what the scenery. We decided before the trip that one day would be for hiking and inner tubing and the second day would be croquet and fishing. We arrived in the early evening on Friday, so we spent that evening setting up tents and talking by the fire. On Saturday morning, we all set out on a group hike after breakfast. After getting hot and sweaty during the hike, everyone was ready for some tubing in the river. The river was calm enough so even the youngest children could go with an adult. Our afternoons were spent relaxing while the kids colored and played hide and seek nearby. Our second day was similar with croquet games and a shorter hike. We even managed to sneak in naps during an afternoon thunderstorm.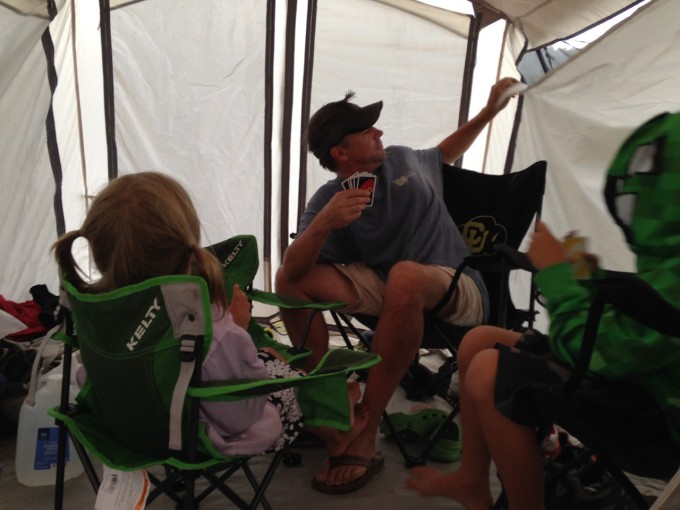 Bring certain essentials and leave others at home
We found that certain necessities were absolute and others could have been left behind. On the list to bring? A roll of toilet paper, a camping stove and coffee percolator, a box of baby wipes for freshening up, flash lights and batteries, extra blankets, a small container for washing dishes, and a hammer for driving stakes into the ground. We were also glad we each brought an extra sweatshirt for the cool nights, sunscreen and paper and colored pencils. In addition, we brought a huge tent for the four of us and we were glad to have the extra room, especially during the afternoon thunderstorms. During the rain, we all sat in the "front porch" area of our tent and played Uno.
Things we could have left behind? The HUGE cooler we brought (we would have done fine with one half the size), the extra cooking pots, the large container of dish liquid (a small travel one would have been fine), extra knives, three lanterns for inside the tent and the extra plates and utensils. One place setting per person is fine. We also had extra cups and we could have brought one water bottle for each person.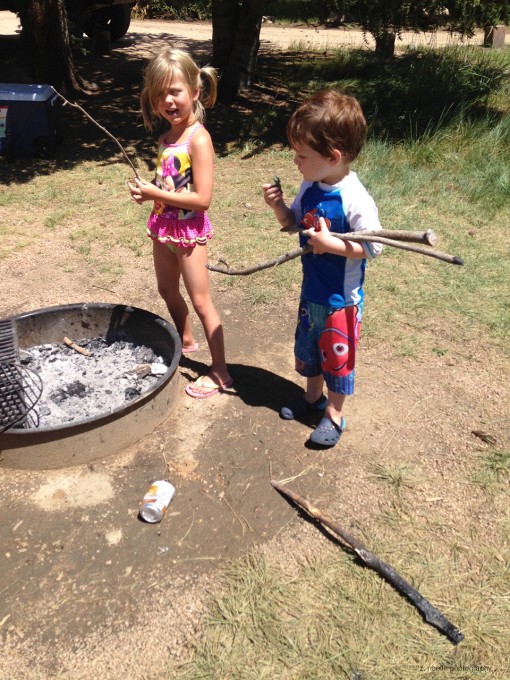 Pack wisely
Packing for a weekend camping trip is tough space wise but with some organization, it's a cinch. I brought three crates at Target - one for clothing and bathroom essentials, one for kitchen/cooking and tools and one for kid's toys. Our entire family's clothing for the weekend and all toothbrushes and toilet paper, glasses, and lotions went into one crates. All the serving dishes, pots and pans, tools such as hammers and batteries and flash lights went into another. The last crate had things for the kids to entertain them selves during the trip. We packed two of the crates, the cooler, the tent and the sleeping bags in the trunk. The crate with the kid's toys went in the car so they could entertain themselves on the drive. Our friend packed the camping stove and the gallons of water in his truck.
Tent camping with kids is a rewarding experience for the family as whole. It means so cell service, no iPad games, and no phone calls or TV. It's all about having fun as a family and bonding with each other and with nature. We are planning two more trips for next summer. Our next trips will be tent camping, but if we continue our yearly trips, we may invest in a small camper for ease and convenience. I was so happy to see my kids enjoy it, and not mention the phone or the TV even once!