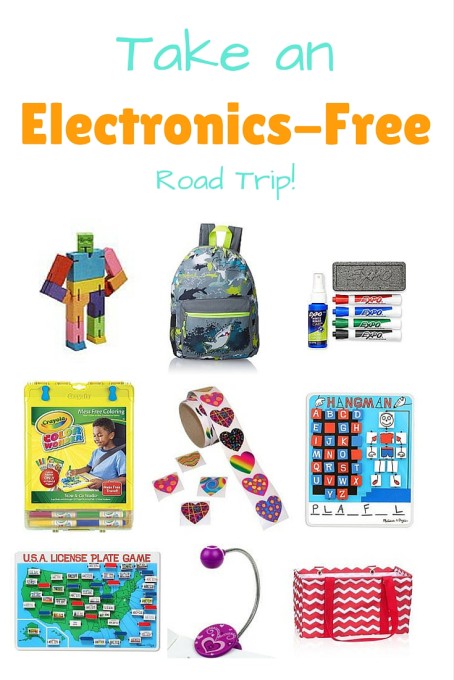 What are your family electronics rules while out on a road trip? Our family rule is no movies until we've crossed state lines. That gives us enough time to enjoy the novelty of going somewhere before it wears off and Mom is begging for a movie so the whining and fighting will stop. We cross state lines, the movie plays. When the movie is over, the DVD player closes and no more movies until we see a brand new "Welcome to..." sign. So, how do we make it work on an a mostly electronic free road trip?
Keep Everything Contained & Let the Kids Help Each of my boys has a backpack hanging in the closet that only comes out at road trip time. Instead of dreaded whining about the eternity that might be coming in the car, it is enthusiasm central when I give the command to go grab them. We do a "first-pack" with the kids putting in what they want and a "second-pack" where Mom replaces items that don't travel well (translation: won't distract them for 30 seconds) with well-worn trip-tested activities. The backpacks go into the car with the boys and are theirs to use and keep tidy.
Always Bring Something New Even with coveted possessions in arm's reach, kids are bound to get bored with what they brought to entertain themselves. Foreseeing that reality, part of my packing routine includes a tote bag filled with surprises to trade out items along the way. Some tried and true goodies include:
Stickers-Pick up a bundle of them at your local dollar store and let the kids fill sheets of paper to their hearts' content. For a little more structure, Usborne Books Sticker & Activity Books come in a dozen themes, are high quality, and add the thrill of a puzzle as kids try to figure out where each sticker belongs.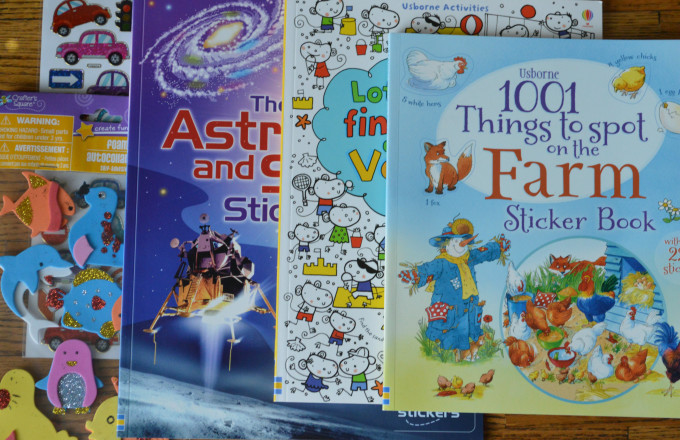 Coloring Supplies-Traveling is the perfect time for kids to use their artistic abilities. Drawing what they can see out the window will help them get used to new surroundings and open up a "Hey, what's that!" dialogue. Learn from my backseat-crayons-on-a-hot-day mistake, though, and give them a Crayola Color Wonder kit to use. You'll avoid melted wax that will not come out, as well as marker stains in the upholstery.
Dry Erase Markers-The first time I tried this, my kids were so confused. Mom was telling them to draw on the windows. They quickly wiped the quizzical look off their faces, though, and the backseat window easel is now a road-trip favorite. They draw, play tic-tac-toe, keep tally marks of things we see, write silly messages for passers-by, and use their imaginations in a way that makes being in the car a special treat.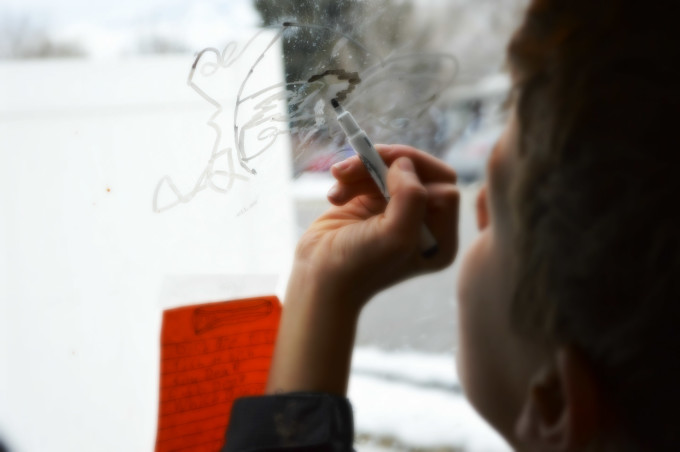 Books-We are homeschoolers, and so yes, I do try to sneak the occasional spelling or math book into the road-trip fun, but more often than not I trick the kids into learning while on vacation by bringing library books focused on the place that we are going. Some non-fiction ones, but with a little research I can usually pass back stories with local settings or cultures mixed in as well.
Toys & Games-Truth be told, I'm not a huge fan of playthings marketed as "travel size". Shrinking down a life-size game with lots of pieces to fit in a tiny case does not solve the problem of a lot of loose pieces ending up lost in my car. Thankfully, we have found a set of travel games that solves that problem. Melissa & Doug Travel Bingo, Memory, and Hangman are designed with pieces that turn and flip, but don't come off. Our family favorite, though, are Cubebots, which switch between being a puzzle and an imaginary creature come to take over the world, all attached and not going to be useless after playing with it only one time.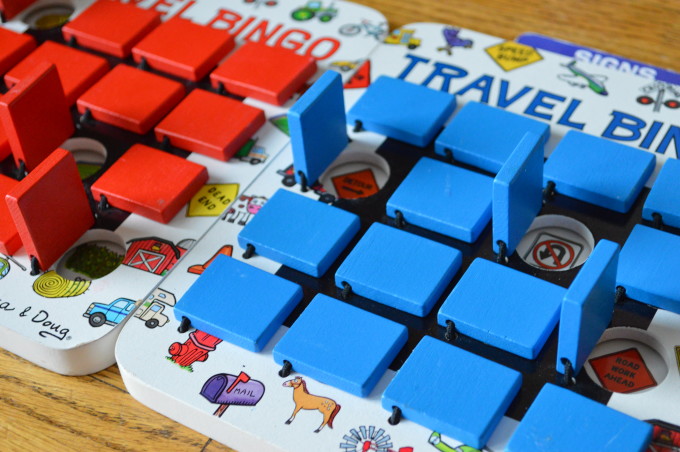 Capitalize On Your Close Surroundings Of course, you cannot expect kids to completely keep themselves busy and entertained while driving for hours at a time. An electronics-free road trip provides a captive audience for family bonding (especially with teenagers who aren't that far away from your voice and will eventually wear down and give in). When the individual activities are no longer cutting it, try one of these:
Reading-When you're at the library looking for all destination-specific materials, pick up a fun book or two to read out loud together. Whether one person does all the reading, or everyone takes a turn, getting lost together in a good adventure will pass the time quickly. We like to pick a book series, and then only read the next installment when a new vacation comes around. We've made our way through Harry Potter and Little House on the Prairie that way.
Audio Books-If motion sickness is an issue, or if the backrow is having trouble hearing Mom reading all the way up in the front, audio books are also a good alternative. These are also available at the library, but might be one valid exception to the "electronics-free" rule. Check out your library's online borrowing system or use your favorite streaming service to find a good tale.
Classic Road Trip Games-Sometimes, when everyone is getting grumpy, the best thing Mom can say is, "Let's just look out the window." The old-school games you played as a child can still be fun all these years later. Join in looking for license plates, playing the "ABC" game, or "I Spy." Make up stories about where other travelers on the road with you are going, or watch for interesting landmarks with a history that you "just happen to know."
Road trips are the ideal time to reconnect as a family. With a little preparation, the journey can be as exciting as the destination. What are your favorite electronics-free road trip tips?