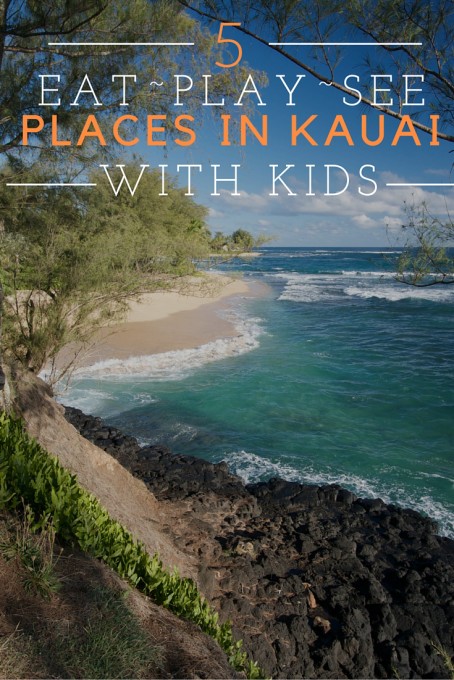 Imagine a place where sandy beaches stretch out for miles, chickens roam freely and lush green mountains are around every corner. If you have been to the beautiful island of Kauai, then you know what I am talking about. As Hawaii's oldest and wettest island, this destination should be at the top of everyone's bucket list. Even though Kauai is only 111 miles long- 55 miles of which are beach-there is plenty to explore. Here is a list of 'must dos' when visiting this island.
Poipu
Even though it is usually raining somewhere in Kauai, Poipu, on the southern end of the island, is generally sunny and warm. This is where you can find many high-end hotels, resorts and shopping. The 'must see' in this town is Baby Beach, named for the protected, crescent shaped cove that is perfect for little ones who want to get their feet wet in the shallow waters. Poipu Beach Park is also an excellent place to do some snorkeling, especially with kids! There is a protected area surrounded by lava rocks, where the water is shallow and little ones can try out some snorkeling. A 'must eat' in Poipu is a sweet little hot dog shop called Puka Dog. I know what you are thinking "a hot dog, really?" Yes, really. Mind you this is coming from a vegetarian nutrition coach…don't miss Puka Dog!! Their Hawaiian-style hot dogs have been featured on many network cooking shows as one of the most popular tourist attractions in Kauai. The beef and vegetarian hot dogs are delicious on their own, but then to top them off with a mango or coconut relish? I'm telling ya….outta this world!
Waimea Canyon State Park
Just a little further down the highway from Poipu is the "Grand Canyon of the Pacific." A drive from the base of the canyon to the top is roughly about 45 minutes long. Mom advice, some of our little ones got a teeny bit carsick, but trust me, it's worth it. Once you arrive to the top, you will see a canyon that stretches 10 miles and over 3600 feet deep. Some fun things to do (other than to gaze in awe) are jumping on a hiking trail, bringing a picnic lunch to enjoy in the meadows near Koke'e Museum, and of course, taking lots of pictures. At the bases of the canyon is a great little snow cone place called Jo Jo's. Make sure to get it "Hawaiian Style" with macadamia nut ice cream and adzuki beans. Beans? Yes! They are delicious!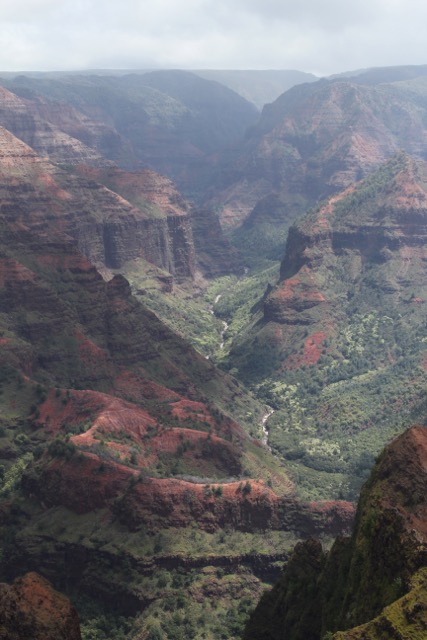 Na Pali Coast
If you have seen a Pirates of the Caribbean or Jurassic Park movie, you are acquainted with the scenery along the Na Pali coast. With its sheer cliffs dropping straight into the ocean, there are no roads on the Na Pali coast. It has to be accessed by boat or plane. On our trip we decided to go on a snorkeling adventure through a reputable company (Captain Andy's). We boarded the yacht and sailed away, stopping to whale watch and even listen to them communicate underwater. This was one of my favorite moments of the trip! All the while we were able to see the Na Pali coast in all her glory.
Once we arrived to our snorkel spot, we were able to jump into the warm waters to enjoy the sea life up close. Lunch was included in the excursion. This activity is geared towards teens and adults, unless you have really strong little swimmers. However, an activity I would suggest with with children, big and small, is a sunset cruise provided by Big Andy's. There was live music, great food, but that was nothing compared to watching the sun sink below the waves as we relaxed on the catamaran trampoline. I thought I would be more nervous with the little ones on a boat, but once I got there it was very safe. If I had to pick one 'must do ' thing in Kauai with kids it would most definitely be a sunset cruise.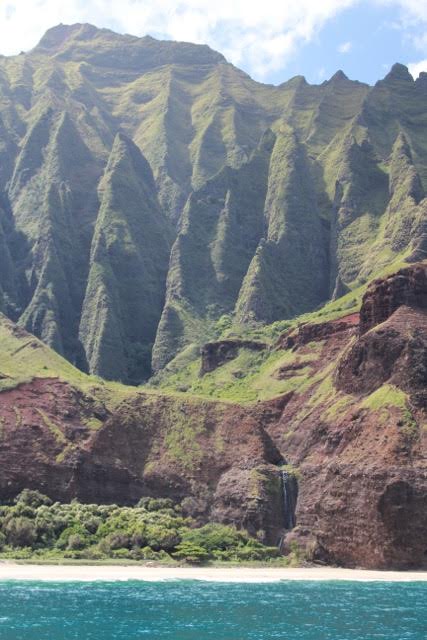 Princeville
On the northern part of the island of Kauai, you will find pristine beaches, five star hotels and sprawling mansions, owned by celebrities and dignitaries. One of the best parts about visiting Hawaii is that all the beaches are public, so you are welcome on ANY beach. As we drove north to the town of Princeville, we stopped and spent some time on a beach outside some celebrity's fabulous mansion. We were the only ones on that beach for about 6 hours! We also visited the town of Princeville itself. Be warned: everything is very expensive here. If you want to eat or shop, I suggest going to the eastern and southern parts of the island. This part of the island is also really great for on the shore whale watching. There is a turnoff on the way to Princeville near Kaelia Beach. The scenery along the north side of the island is unbelievable. It rains frequently in this part, but if you can catch it on a sunny day…truly amazing!
If you are up for an adventure, Kauai is the perfect place to take kids of all ages. It is by far Kauai's most lush, inviting island. One of our favorite parts was learning about the Hawaiian culture and being welcomed by the locals. There is definitely something for everyone in Kauai!