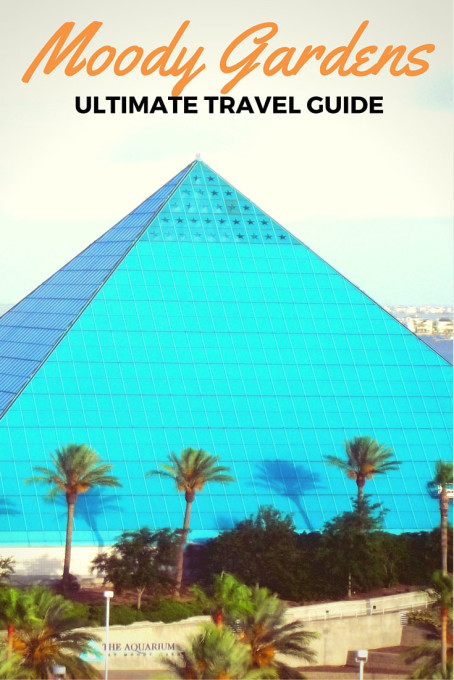 Moody Gardens and its iconic pyramidal structures has long been a Galveston Island fixture, but complex holds surprises for first-time visitors. First of all, the complex isn't nearly as grumpy or arboreal as the name might suggest and it is way more than just a garden. Moody Gardens began in the 1980s with a hippotherapy riding program for people with head injuries and the hope to become a premiere tourist attraction. Today, Moody Gardens is a vast amusement and theme park compound that includes an aquarium, a beachfront waterpark, a rainforest habitat, three different movie viewing experiences, a ropes course and zipline course, and a science museum. It is easy place to spend an entire day or even a weekend and never run out of ways to entertain the whole family.
Here is an overview of all the attractions that you can experience at Moody Gardens and how to get the most out of each attraction.
Aquarium Pyramid
The largest of the three pyramids on the Moody Gardens complex houses one of the largest aquariums in the world. The aquarium is divided into four distinct ocean environments.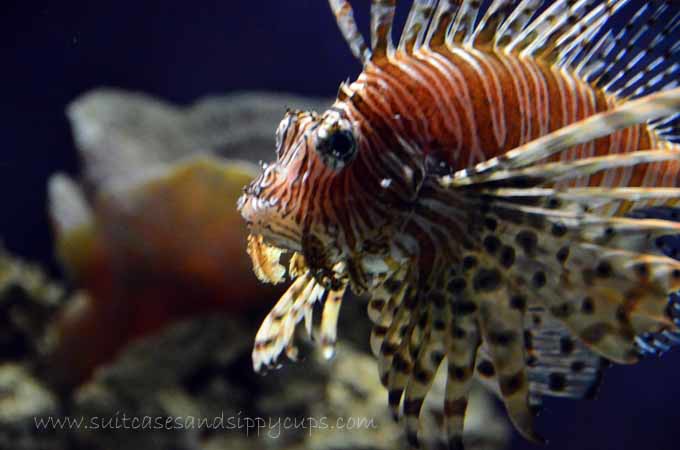 The chilly South Atlantic exhibit houses five different species of penguins that you can meet up close and personal.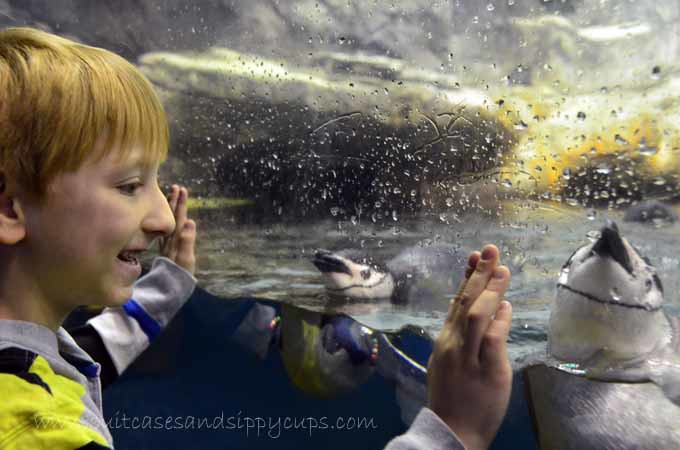 The highlight of the North Pacific exhibit is meeting Squirt, the blind sea lion who playful scoots around entertaining guests. The South Pacific is filled with colorful coral and beautiful fish.
The Caribbean is the largest exhibit in the aquarium and includes sharks, sea turtles and eels. At the center of the Caribbean exhibit a tunnel allows visitors to gaze in amazement as the animals glide overhead.
Throughout the aquarium, there are plenty of hands on places for kids to touch friendly sea creatures or games, such as the shark search, that make the aquarium an interactive environment. The kids had a fabulous time stamping their passports as they found all the species of sharks in the aquarium and loved the touch tanks.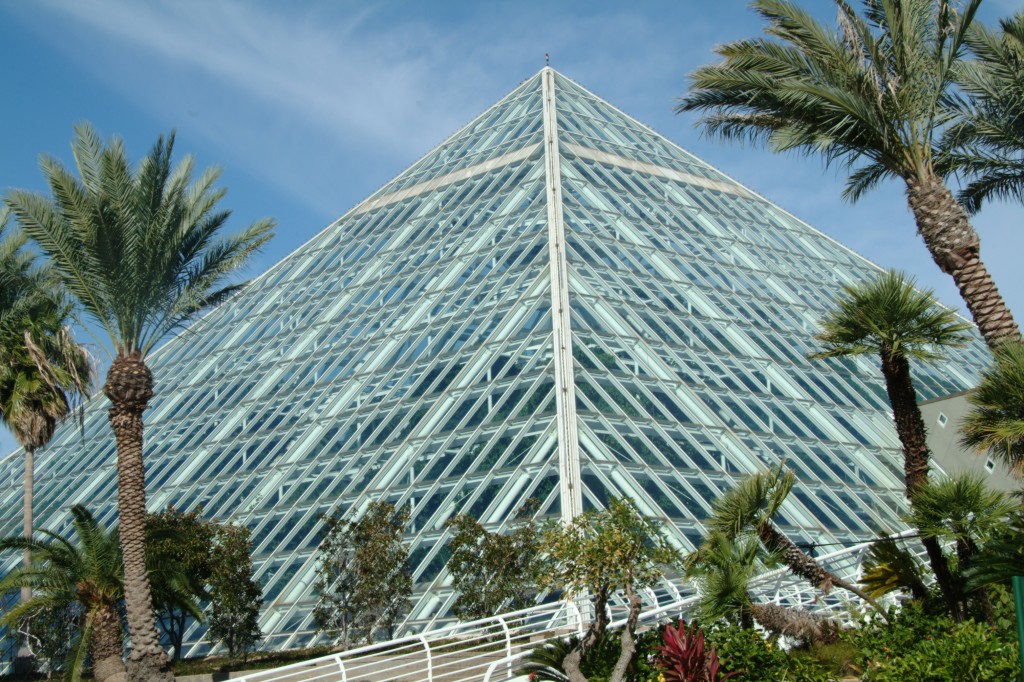 Rainforest Pyramid
This pyramid could be considered Moody Gardens' symbol of hope, as well as a reminder of Newton's 3rd Law of Motion. The "action" in this case was Hurricane Ike that left behind great destruction to the Rainforest exhibit in 2008. Moody Garden's " equal and opposite reaction" in this case was to clear away the wreckage and rebuild the Rainforest Pyramid bigger and better than ever.

The exhibit allows visitors to tour all the levels of the rainforest from the canopy to the rainforest floor. The new canopy exhibit gives visitors an eye level view of monkeys, sloths, and other free roaming tree dwellers. A butterfly exhibit is also included in the canopy. As you journey downward, you will pass through the cloud layer where you will encounter colorful frogs and artifacts from the rainforest people. A nocturnal exhibit allows you to encounter creatures that only come out at night.

The rainforest floor was our favorite part of the exhibit, combining fascinating flora and fauna (like a carnivorous pitcher plant) with immersive scenery, like the Mayan temple that is home to a green anaconda, piranhas, caiman lizards, and even vampire bats.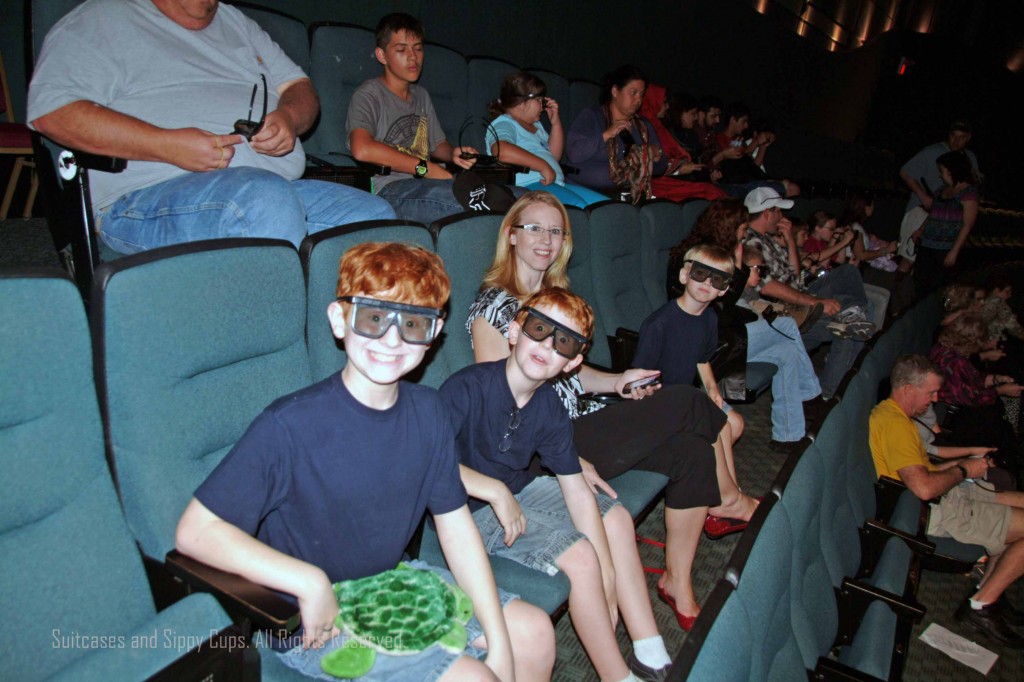 MG 3-D Theatre
At six stories tall, it's the largest theatre in Texas and the perfect place to catch a movie so realistic that you want to reach out and touch it. Of course, if you are the parents of kids who have been racing around the Gardens all morning, it might be the perfect place to catch a quick nap while the kids do something fun and educational. In addition to being the tallest in Texas, this theatre is the first in 4K Laser Projection System in the world. Movie options include educational choices or popular full length features. All movies are shown in 3-D with digital glasses.
FD Special FX Theatre
Combines special effects, such as wind, smoke, mist, leg ticklers, seat buzzers with a 3-D movie and surround sound. The feature film rotates throughout the year and varies seasonally. During our visit, films included Rio and an abbreviated version of the Polar Express complete with snow falling from the ceiling in time with the movie.
SpongeBob Sub Pants
SpongeBob Subpants is the newest movie attraction at Moody Gardens, and it is one of those things you have to see to believe. Visitors are invited to climb aboard a 3-D submarine adventure with the characters from SpongeBob that is complete with surprising special effects and live actors. But that's just the beginning. Through movie magic (and some mind-blowing technology) characters on the screen interact with audience members by name and allow participants to choose the course for the adventure. No performance is ever the same. Even if you aren't a fan of SpongeBob (and we aren't, really), this is still worthwhile, if only to enjoy the state of the art technology.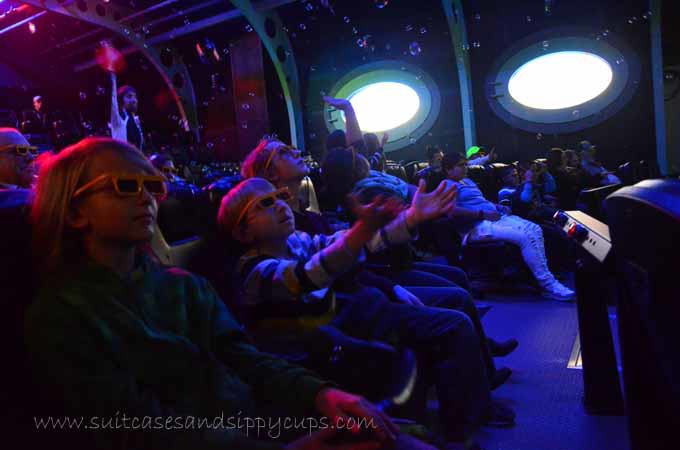 Colonel Paddlewheel's Boat
Colonel Paddlewheel Boat is an authentic replica of an 1800-style Paddlewheeler and offers hour-long cruises around the Offats Bayou. Climate controlled rooms and refreshments are available inside, but you'll want to get a seat on the rails for the best views of the bayou and to feel the ocean breezes. Be sure to grab a view from the back of the boat to see the paddlewheel churning through the water. During the winter holidays, evening rides aboard the Colonel are available so that visitors can catch a glimpse of Moody Gardens illuminated for the Festival of Lights.

Discovery Pyramid
Think of this third pyramid as a revolving science museum. Traveling exhibits that change seasonally offer something new every time you visit. During our visit, we filled our need for speed at Speed:Science in Motion, and exhibit that explores the science behind Formula One racing. If we were Galveston natives, I would definitely want a season pass here to have an opportunity to see the rotating choices.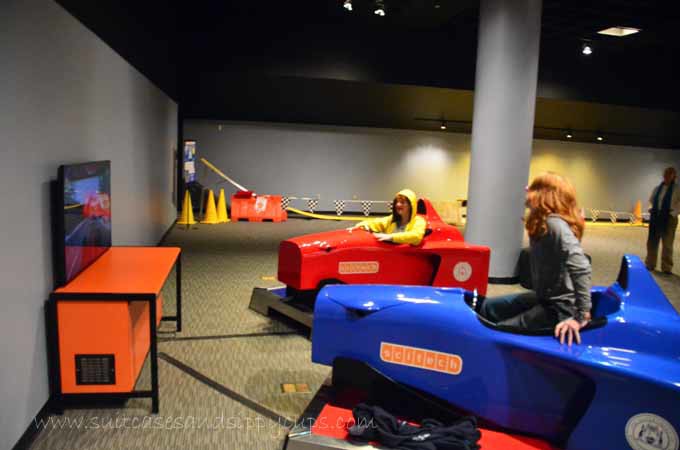 Ropes Course and Zipline
One of the newer year-round attractions at Moody Gardens tests your courage and takes you 81 feet above the surface on tallest ropes course on the Gulf Coast. The ropes course features 48 obstacles on three different levels, with a unique harness system that never needs reattachment and allows kids (and parents) to choose their individual path. We have tried several ropes courses in our travels and this kind of harness system is my absolute favorite because once the kids are locked into place they are able to explore and play without me needing to worry about equipment malfunction or that they will wander off. Even my six-year-old, who just barely made the 48-inch height requirement, was able to traverse the paths without assistance. If he hadn't been tall enough to join the big boys, there was also a Sky Tykes course designed for ages 2 to 7 and low enough to the ground to allow parents to walk along and help when needed. We loved that this was an activity that could be enjoyed by everyone in our family, and, not surprisingly it was the favorite activity of all the kids.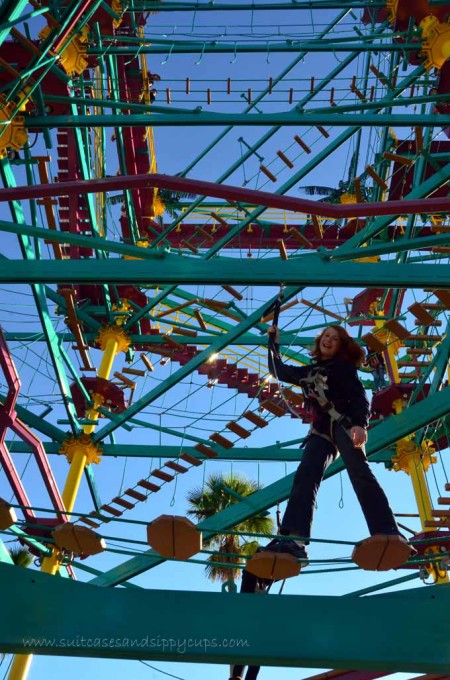 If balancing on wiggling boards and tightropes wasn't thrilling enough, the course also includes an option to soar 60 feet above Palm Beach on dual ziplines that give a bird's eye view of the Moody Gardens property. The thrill of stepping off the platform is unforgettable. Tickets to the ropes course and zipline are not included with an all-access pass, but can be purchased individually or with a 25% discount when you purchase an all-access pass.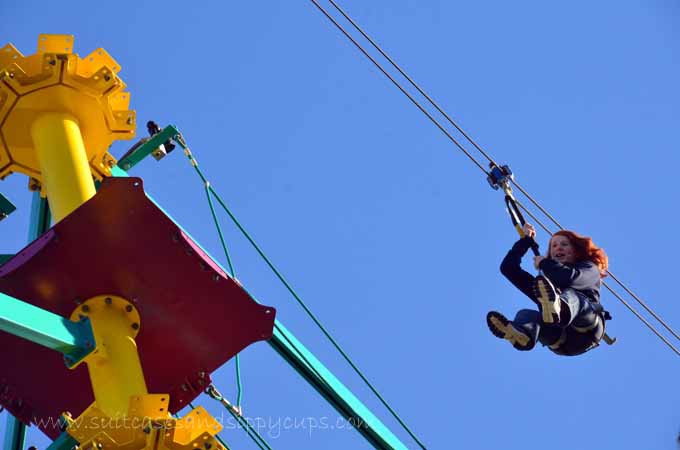 Seasonal Attractions
In addition to the year-round attractions, Moody Gardens also offers seasonal events that add even more fun and value to a visit. During the summer, Galveston's only white sand beach is just a short walk from Moody Gardens. The "beach" is actually white sand delivered from Palm Beach, Florida and is surrounded by a lazy river, wave pool, tower slides, and splash pad. The white sand and waving palm trees are available seasonally for wet and wild fun at Moody Gardens.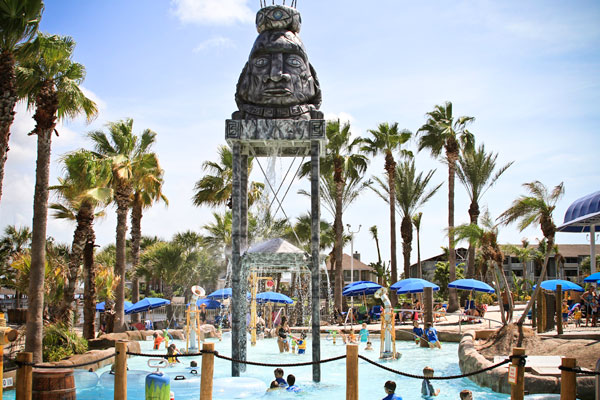 From the second week in November to the second week in January, Festival of Lights and IceLand with Spongebob and Friends are a great way to celebrate the holidays island style. Festival of Lights features a mile long trail with over 100 scenes and 100 million lights to light up the property. To complete the holiday mood, visitors can ice skate on the area's only outdoor skating rink and an outdoor snowtubing hill. Special holiday films are on deck at the 3D, and 4D Special Effects theatres. Ice Land features expertly carved sculptures from 2 million pounds of colorful ice. Don't miss the ice slides inside the chilly 9 degree exhibit.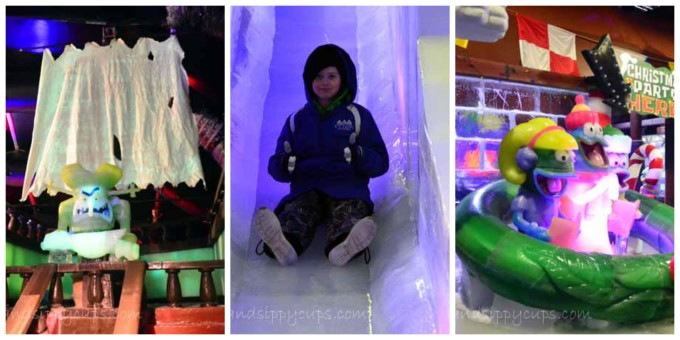 Is it Worth the Price?
One of the greatest concerns about the Moody Gardens is the price. At first glance, the price ($59.95 for an all access pass) does seem pretty steep for an animals and movies experience. Tickets for each individual attraction can be purchased, but often the all access pass is a better choice. Mostly, no one likes to spend money and feel like they didn't get enough bang for their buck. So, will you be happy spending your money at Moody Gardens?
Think of Moody Gardens as an educational amusement park. Most families think nothing about spending $40-$50 per ticket for tickets to Six Flags or a waterpark. If your family enjoys museums and zoos, then the all access pass will be a great deal. Think about it is this way: you are getting tickets for an aquarium, a zoo, 3 movies, a boat ride, and a waterpark or Christmas Theme Park for a full day of entertainment. At $59.95 per person, that is a good deal.
However, if your family wouldn't be thrilled with all of the attractions, you might want to pick and choose what would be the most fun for you.
So, how do you choose? Both the Aquarium and the Rainforest Pyramids are worth the price of admission and do not disappoint. At the individual prices, a ticket to both would run an adult $43.90, so if you are going to attend both and even one more attraction, you are better off buying the all access pass. If you have to choose just one, I would go for the Rainforest if you have had the opportunity to go to a good aquarium before.
The three movie experiences are entertaining, but are overpriced individually, so only choose these if they are really on your wish list or are a part of your all access pass.
Colonel Paddlewheel's boat is a fun ride, but not at the top of the list if you have to make choices while watching your budget.
Discovery Pyramid is another attraction that is a great part of the all-access pass, but can be skipped if you are making ticket choices, especially if you have a good science museum nearby.
How to Save Money and Not Miss a Thing
You can get a savings of $3 per ticket if you buy your tickets online before you arrive.
Book a Moody Gardens package that includes your room and two-day tickets to Moody Gardens.
Search the internet for coupon sites that might offer a current coupon.
Moody Gardens offers one free admission to one attraction for each child on the honor roll, so bring your recent report card.
A Final Note about Hope and Healing at Moody Gardens
Like most of Galveston, Moody Gardens was hit hard by Hurricane Ike in 2008 and had heavy work to reconstruct and rebuild. I was excited to see how they had used the adversity to come back even stronger and better. In the main hall, photographs and diagrams detailed the destruction and resulting community spirit that led to the excellent reconstruction.
Although this was the story of hope, I was expecting to see at Moody Gardens, it was another story of hope and healing that surprised and inspired me. And although they have achieved their goal to become a premier tourist attraction, they have not lost sight of their roots. From the beginning, Hope Therapy has been the cornerstone of Moody Gardens, providing horticultural and horse therapy to mentally and physically disabled individuals. Vocational training and job opportunities at Moody Gardens are a big part of the Hope Therapy program. Seeing and interacting with these individuals and watching them bring their passion and pride to their work rubbed off on everyone around them and was a big part of making our visit to Moody Garden magical.
~Moody Gardens provided my family with tickets to all the attractions during our visit. They did not require that I express any particular viewpoint and all opinions are my own.~