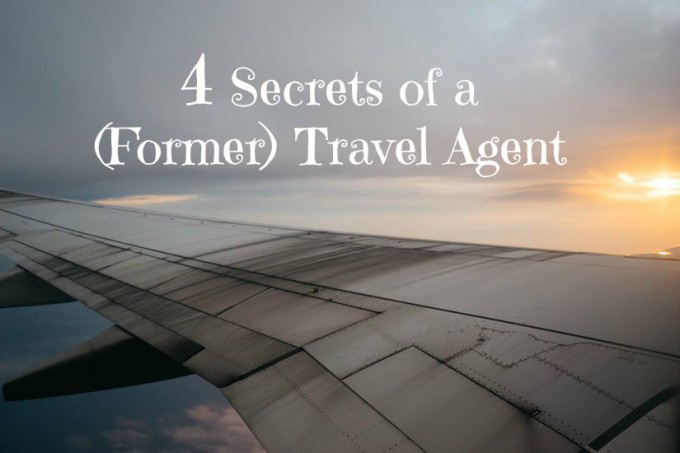 Since I was a little girl, planning travel was something I delighted in. I would peruse travel guides and tour books while Mom and Dad mapped out of summer vacation route. As an exchange student in high school, I could hop on public transportation and cure my wanderlust with a friend. So,when I found myself with a bachelor's degree and political experience and an inkling that I wanted nothing to do with politics, a wise friend suggested that I try the travel industry since that is where my true passion resided. I nabbed an entry level position at a Travel Agency and within 8 months was training to be a full-time Travel Agent.
I learned quickly that the travel industry is not as glamorous as people want to believe. There are missed connections, delayed flights, and passport and medical issues. With things like Groupon and Travelzoo, there is so much price competition. And, with the added barrage of travel websites and TripAdvisor, sometimes clients want to rest on their own intuitions other than the advice of a seasoned professional. Nonetheless, I had a core group of clients that trusted me and we became great friends in the meantime. They valued my time as opposed to counting every dollar and cent and knew I was saving them resources in the long run.
All that said, here are my top 4 things Travel Agents want you to (secretly) know:
1. Your agent really does want to find you the best price. Please honor this by not going home to search Orbitz, Travelzoo, and the like to see if he/she can come $37 lower to price match aforementioned consolidators. If his/her services are not worth that to you, then don't bother. That may seem harsh, but there is much time involved in coming up with quotes. I never just went to one vendor and looked for a price, I was always searching multiple scenarios to come up with the best deal for my clients. Honor your agent's time by trusting him/her to do the work you ask. That said, if your agent forgets to ask you if you are a member of AARP, AAA, or in the military, please tell them. They aren't psychic and want to know how they can help get the cost down for you! Along with this, prices may seem higher because most agencies only work with reputable tour companies. You may find the deal of a lifetime online, but the tour company could be a sinking ship. One of my favorite former clients only came to our office after they lost a few thousand dollars because the Central American tour operator they found online went belly-up.
2. Please don't expect your travel agent to know it all. Think of him/her as a personal assistant to your travels. My clients knew that I had knowledge of USA, Canada, Europe and Australia. Once we were out of that realm I would do all of the research I could, but I was not the leading expert in the field. There are a few travel agents that have seen it all, but unfortunately, most have been at home working on others' travels. Show them grace as they recruit colleagues and tour operators for additional information.
3. We're hounding you about your travel documentation for a reason- it must be correct. Don't brush off whether your mother's passport has a middle initial of A or the full middle name of "Agnes." If your kids want grandma along on this trip, we must know! Double check your vacation calendar before sending off dates and make sure a sitter is booked if you're traveling solo. I had a client reassure me that his wife's passport was good to go and then he called me three weeks before her Europe vacation to ask me how he could get a passport expedited!! It was due to expire while she was away! What could have been a really epic disaster (showing up at the airport with a delinquent passport) worked out only because he thought to double-check- although unfortunately 6 weeks AFTER I'd ask him to check the first time. Most countries require that your passport is good for 6 months past the date you plan to return, so check and double check dates- most good travel agents will try to keep a record of this, but we're not responsible for your negligence
4. If you saw what I saw, you would take the travel insurance. Before working in the travel industry, I always thought that the optional travel insurances offered by airlines and tour operators were something of a racket, but spending 7 years in the industry changed my mind. Let's review some dilemmas: I had a client whose appendix burst 6 days before her and her family were to leave for an Australia & New Zealand cruise. I had a client whose son passed away while they were on a cruise ship in the Panama Canal. Oh, and maybe the most worrisome of all was when my own mother became ill two days into their UK/Ireland trip and ended up in a London hospital (that's a phone call you don't want to get). Thanks to travel insurance, none of these sudden emergencies translated into a financial debacle You may not get ill, but your 90-year old grandma may pass away while you're on the other side of the world or your teenager may come down with strep the day before departure. Budget for the travel insurance ahead of time. If you think the coverage offered by the agent is too much, check around on a site like www.insuremytrip.com, just don't be left without coverage. For clients that were outright persistent against the insurance I would say, "Can you afford to lose x amount? If the answer is no, you may want to reconsider." Use this test for yourself as well.
I'll admit, sometimes it is fun to hop on Expedia or Southwest.com and plan a quick weekend getaway or week at the beach. However, there is something to be said for working with a travel agent- not only may you build a lasting friendship (like I did with some of my clients), but you can leave the price wars, the hotel reviews, and the layover times to the seasoned professionals. More than that, you'll have someone to call when a snowstorm closes the airport or your luggage doesn't arrive (Alitalia= luggage nightmare, FYI). And you can let the rock of the cruise ship lull you to sleep knowing there is someone out there who has your back... and your travel insurance policy number.