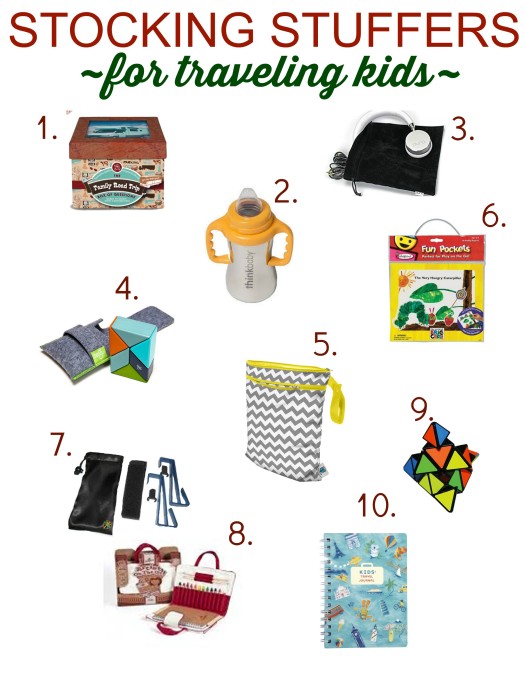 Stocking stuffers are one the best-and most frustrating-parts of the holiday season. My goal is to fill the stockings with not just junk, but thoughtful and useful gifts that will get some use past Christmas morning. For traveling kids and their parents these are some things that are on my shopping list for the season that are perfect for stuffing those stockings on Christmas morning.
Ten Stocking Stuffers for Traveling Kids
Melissa and Doug Family Road Trip Game: Are we there yet? Who cares! Get a discussion "rolling" with one of the 45 conversation starters, test your fellow passengers with 25 quiz cards, choose a classic road-trip game from 10 game-instruction cards, or check off the license plates you see on 6 paper maps.
Think Baby Sippy of Steel: With a soft silicone spout and a stainless steel-and BPA free-body, is the Think Baby Sippy is designed for modern toddlers, but what parents will really love is that it is completely spill-proof.
PuroSound Headphones: There are so many things to love about these headphones, starting with the safety features that keep the volume at a safe level for kids. The design includes an aluminum frame for greater durability, and excellent sound quality that blocks out 82 % of ambient noise. Best of all-there are no wires to untangle after a long flight.
Tegu Pocket Pouch: This set of beautifully crafted magnetic blocks is perfect for on-the-go fun. Eight pieces are stored in a sturdy felt pouch and ready for an unusually "attractive" way to construct and create.
Planet Wise Wet/Dry Bag: A truly innovative bag that allows you to carry your wet and dry items in the same bag. 2 bags in 1! Keep your dry items dry and your wet items wets! Each bag contains a "wet" section that is sewn and sealed for no wicking or leaking AND a zippered dry section along with a clever snap handle for easy carrying. Carry all your items in one bag while keeping your dry items dry and your wet or soiled items separate.
Colorforms Travel Kits: Fun Pockets Travel Kits were designed so you can take fun on the go. The tot-sized tote is packed with dozens of creative Colorforms Stick-ons to arrange and rearrange while telling stories. For bonus fun, colorforms will even stick on car and airplane windows.
Air ClipZ: With AirClipZ, you can mount your iPad, tablet or mobile device directly on the airplane seat back tray table and lock it in place. Easy to carry in a portable case.
On the Go Artist Kit: All in one traveling kit for the little artist on the go. Eco Friendly cotton carrying case holds soy-based crayons, stencils, and sketch pad.
Meffert's Pyraminx: Very similar to the well-known Rubik's Cube, the Pyraminx keeps hands and brains busy trying to turn the pieces until the faces of the pyramid are a solid color.
Kid's Travel Journal: Encourage kids to create their own meaningful souvenir as they travel. Pages for maps, daily activities, favorite events, cool new sayings and more!