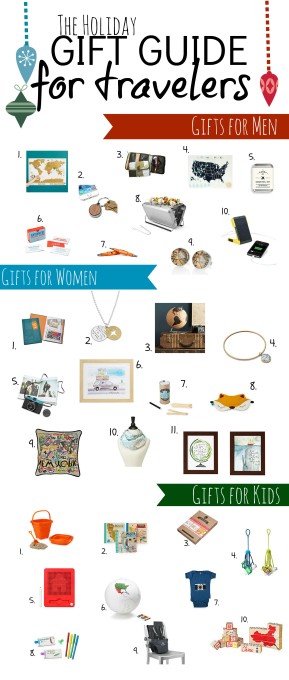 It's that time of year, when the mailboxes are full of magazines and porches are full of boxes.
One of the great marvels of living in the modern era is online shopping. It just about makes up for that Elf on the Shelf horror and other Pinterest related tragedies of the season. The one drawback of online shopping is that it can be so overwhelming. The internet is great for having all-the-things, but when you are looking for a perfect gift, it helps to focus. Raise your hand if you've sat down with your computer to order a gift and looked up two hours later with nothing to show for your time and not a single gift purchased. What you need is a go-to website that has something for everyone, even the someone that has everything.
Enter Uncommon Goods.
Uncommon Goods asked me to share some last minute gift ideas for travelers, and I was happy to do so simply because I love their products. Often, I am asked to review or share a product that I have never heard of or wouldn't really use, but that's not the case here. Right now, there is an Uncommon Goods magazine sitting in a basket next to my couch. It is well read and dog-eared (mostly with things I would love to buy myself) but also with simply great gifts that are unique and noteworthy. These gifts are expertly curated to be, not only memorable, but a departure from the typical present. I like to think of it as shopping the best indie shops and handmade booths from all over the world, but all from the comfort of my living room.
It's careful design that has created this unique brand, and a commitment to principles that are, well, uncommon in business today. Uncommon Goods operates out of a historic army terminal in Brooklyn where the lowest paid workers are paid 50% more than minimum wage. The company operates as a platform for artisans and creators, with over half of the products sold made by hand and one-third of the products made from recycled or upcycled materials. It's definitely a company with a heart.
I've pulled together some of my favorite last minute gifts for the traveler on your list, even if that happens to be you. P.S. Honey, you can buy me one of everything.
Best Gifts for Traveling Men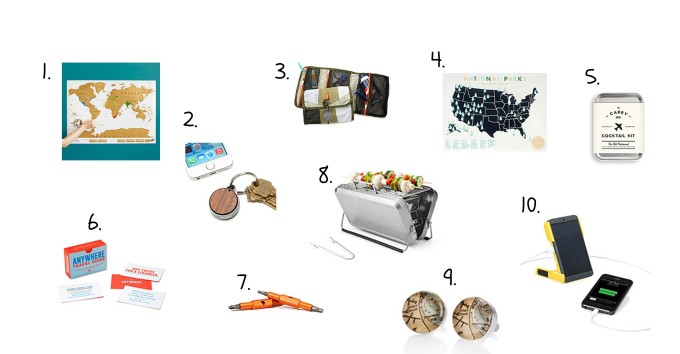 Scratch Map: Conquer the world, one scratched off country at a time.
Bluetooth Tracking Tab: Keep up with your most important belongings like your keys or your luggage.
Upcycled Tent Dopp Kit: Made from reclaimed tent fabric, this holds toiletries for travel.
National Parks Sticker Map: Chart your adventures through the nation's natural treasures.
Old Fashioned Carry-On Cocktail Kit: Everything you need to be a mixology master at 30,000 feet.
Anywhere Travel Guide: Unique prompts to make travel even more memorable.
Fix it Sticks Travel Tools: Lightweight, compact tools that are built to go anywhere.
Portable Briefcase BBQ Grill: When you need to grill on the go.
Custom Map Cufflinks: A way to wear your favorite spot on your sleeve.
Solar Powered Charger and Light: Have power anywhere you go.
See these and more gifts for men here.
Best Gifts for Traveling Women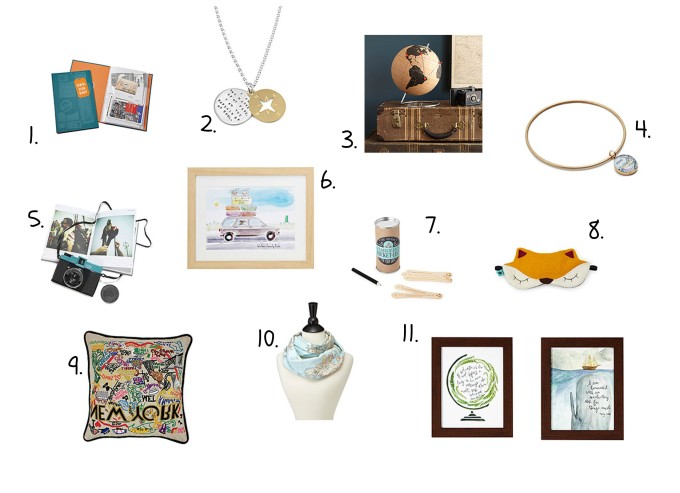 Travel Stub Diary: Keep all your travel mementoes in one place.
Master of My Fate Necklace: A poignant reminder that "I am the master of my fate. I am the captain of my soul."
Cork Globe: A 3-D way to keep track of your travels. Place a pushpin, maybe even with a picture, in each place your visit.
Custom Map Bangle: There is that one special place that you always carry in your heart. Now you can wear it on your wrist as a reminder of the special memories made at that point on the globe.
Diana Camera: Add a little old-school art flair to your travel photos.
Personalized Travel Photo: Whatever your family travel style, you can have a personalized watercolor print to show that you are always on the go. Pictured here is the SUV version, but there is a mini-van, bicycle, even a family on ski lift.
Family Fun Bucket List: Ideas for activities are listed on birch sticks as a clever way to keep your family trying new things.
Felt Fox Sleeping Mask: For those overnight flights-a quiet sleep for you and a little humor for your fellow passengers. This also comes in an adorable owl option, if foxes aren't your style.
Embroidered State Pillow: Whether it's your home state or your home in your heart state, an embroidered pillow declares your true love.
Around the World Geography Scarf: Let your love of travel keep you warm.
Jane Austen and Moby Dick : These Jane Austen and Moby Dick travel inspired quotes are swoon-worthy in whimsical watercolor prints. The Jane Austen reads: "If adventures do not befall a lady in her own village, she must seek them abroad." The Moby Dick reads: "I am tormented with an everlasting itch for things remote." Either one speaks to my traveling soul.
See these and more gifts for women here.
Best Gifts for Traveling Kids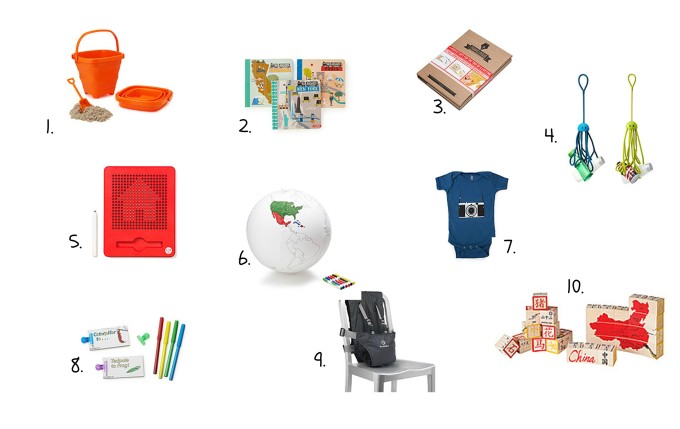 Collapsible Sand Pail: You can't go to the beach without a pail, but pails aren't exactly portable, until NOW. This is perfect to throw in a suitcase or beach for a day of sandcastle building.
All Aboard Book Series: This adorable series, created by a husband and wife team, take kids on a journey through major cities in the US and Europe. I love the charming illustrations and the opportunity for kids to explore new places in fun ways.
Scratch Travel Journal: Get kids involved in planning and memory making from your next vacation. This clever book combines a travel checklist, diary, and interactive scratch-off map to mark off the places you visit.
Shower Squid: If you have kids going off to summer camp, or a family who likes to camp, this is a cute addition to your shower caddy. Nine tentacles grab onto shampoo, soap and other cleaning gear and hold them adorably in place, so they are easily accessible.
Free Play Magnetic Table: This is a highly portable, completely quiet, and open-ended play tablet that is perfect for airplane or car travel. Magnetic ball bearings and a magnetic stylus can be moved into an endless number of designs for at least several minutes of entertainment.
Color the Earth Kit: Kids can explore the wide world in a creative way as they color this blow up globe.
The Tourist Baby Suit: Just like mom and dad, this baby is destined to be a globetrotting photog.
Flip Book Kit: Create your very own mini movies with this fun and creative flipbook kit. Perfect for keeping kids busy and quiet during travel time.
PortaChair Harness: Turn any chair into a highchair, making travel with baby much easier. My only question is why didn't this exist why I had babies?
Bilingual Baby Blocks: It's never too early to introduce babies to the sounds of other languages and cultures. These blocks come in Mandarin and Spanish characters.
See these and more gifts for kids here.