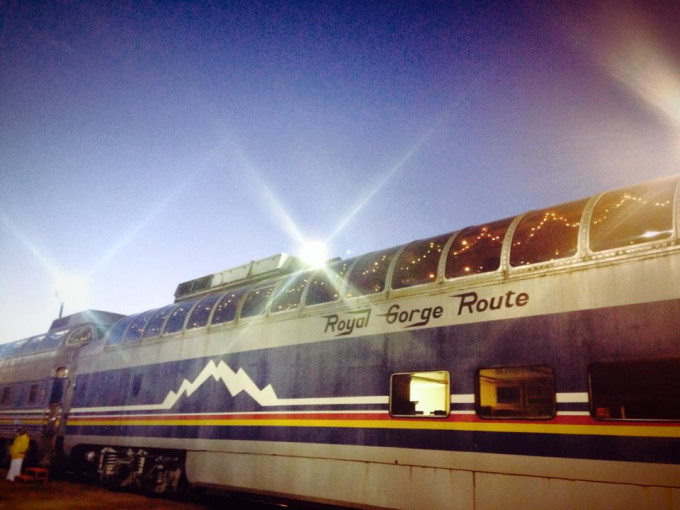 Christmas is supposed to be the most magical time of year for families, but the holiday season is, all too often, busy and sometimes stressful. To combat the busyness we keep one family tradition to decompress and really spend some quality time together. We find that quality time with Colorado's Royal Gorge "Santa Express" train. There are plenty of places to see Santa in Colorado, but this is one of the best.
Located near Canon City, Colorado, the Royal Gorge curves through Fremont Peak for ten kilometers and is one of Colorado's deepest canyons. Within this canyon, the Royal Gorge railroad runs ten miles from Canon City to Parkdale, Colorado and back again. The train has dinner rides, sightseeing rides and, the best of all, the Santa Express, a magical journey to the North Pole, complete with Santa, elves, Christmas carols and hot chocolate.
Tips for Tickets
Buy your tickets online and early at http://royalgorgeroute.com/special-events/santa-express-train/ because this experience sells out quickly. Trains depart at 1pm, 5pm and 8pm on weekdays and 12:30pm and 5pm on weekends. There are tickets for the vista dome car, the club car and the first class car. While the vista dome and club cars make for great views (at least during the day), the first class car is top notch, with warm wood walls, beautiful tables, Christmas trees and real silverware. When buying tickets, pay for your dinners with the ticket price to get a discount on food. The evening rides are the best for experiencing the true holiday feeling. Kids and adults are encouraged to dress in jammies (slippers, too!) Our kids were too shy and they definitely regretted not getting in on the pj fun.
We live in Denver, a two-hour drive from Canon City, so we prefer to go on a Saturday afternoon and stay in a hotel in town. Our kids love the experience and really feel like they are going on a weekend vacation. The Best Western in Canon City always has great deals and is an easy, three-minute drive from the train depot. There is definitely nothing fancy about the hotel, but it gets bonus points from the kids for an indoor pool.
Onboard the Train
When you arrive at the depot, tickets are waiting at will call. If you are in the first class car, they will also have a table number for you. Will call is very crowded, so we always allow plenty of time prior to boarding. After getting tickets, boarding the train is a fun filled experience with kids running around in pajamas, official looking train conductors and lots of Christmas decorations. I'm always amazed at the decorations and holiday feeling while sitting in the first class car. Right after sitting, a server confirms the meals and brings everyone drinks. Dinner is usually served promptly,so kids can get their meal done before reaching the North Pole.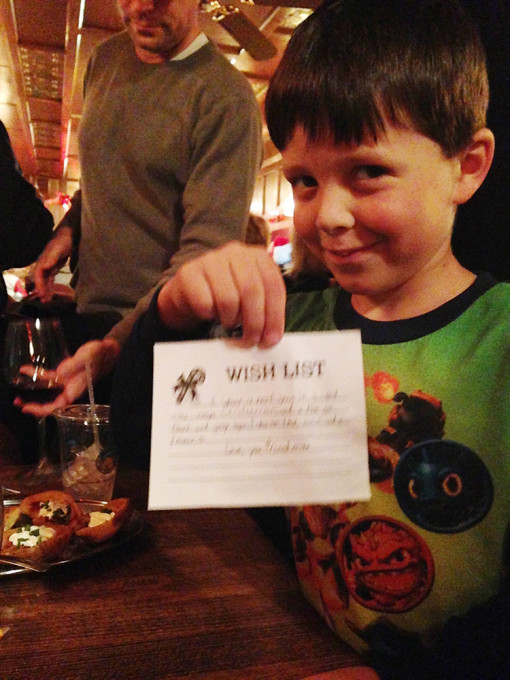 After dinner, elves make the rounds and talk to the kids, bringing hot chocolate, singing Christmas Carols and giving each child paper to write a wish list for Santa. Then the train slows for our favorite part- The North Ple. We always grab our coats and go to the open air car to view the little pretend town. The kids love it because the magic and celebration builds all throughout the train ride. I love it because they are getting older and I don't know how long Santa will be believable in their eyes.
Santa Arrives
When the train pauses to make its way back to the station, it's time to look up and see the Royal Gorge Bridge, the world's highest suspension bridge. While the bridge is always an exciting thing for my husband and I to view, the kids know when the train pauses, it's time to run back to our table because it's Santa time! Santa makes the rounds of the entire train and every car, but the first class car tables get some extra special attention. Santa spends a significant amount of time at each table with each child to go over their Christmas list. There is nothing like seeing your child talk to Santa.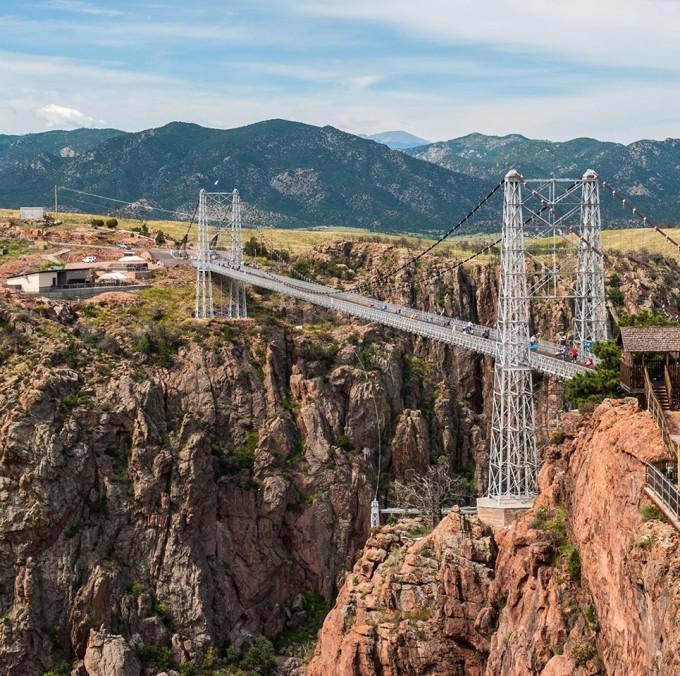 The Royal Gorge Santa Express is one of the best holiday traditions in Colorado. Combining the ride with an overnight stay in Canon City makes for a nice mini vacation, away from the hustle and bustle of getting ready for Christmas. We visit the Royal Gorge Bridge the following day and try to have a brunch before heading back home. If you're looking for a new family tradition and live close to Canon City, my kids definitely recommend it!