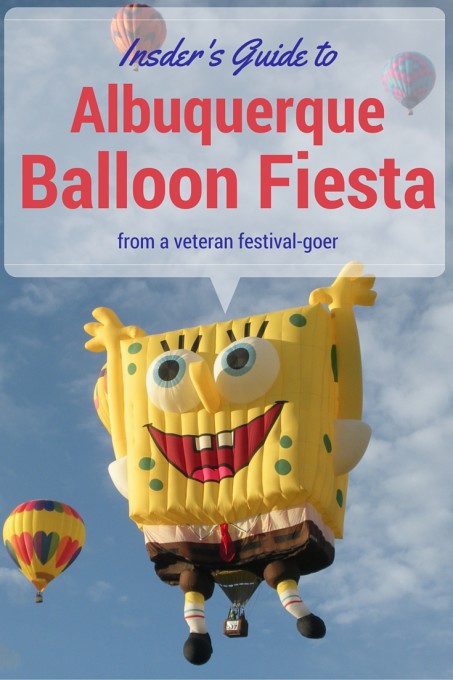 It takes a special event to pull families out of bed before dawn and keep them reveling well past dark, and that's exactly what you get when you visit the Albuquerque International Balloon Fiesta! After 5 years making the October trek to New Mexico's premier family festival, I have tips to share that will help your visit be as enjoyable as it can be.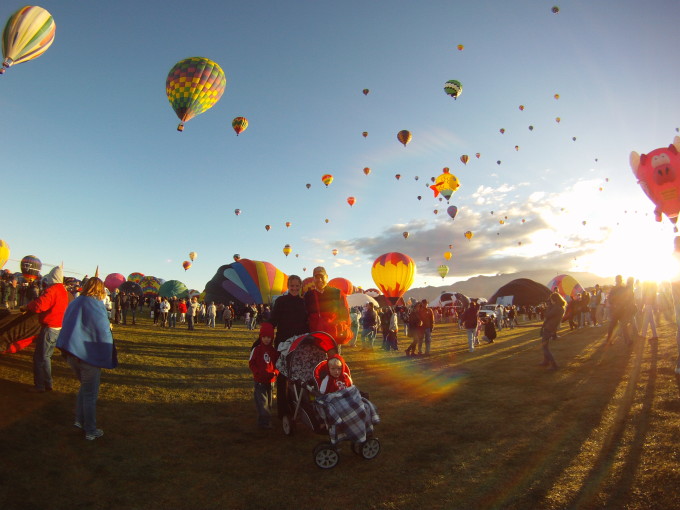 First Comes Getting There
Our first year at the Balloon Fiesta we stayed with family in Santa Fe and made the drive back and forth for all 10 days of flying. Don't do that! Anywhere in Albuquerque will be close enough to minimize the burden of the early morning commute. No matter where you're coming from, though, there will be traffic, so...
· Leave early. The Dawn Patrol is scheduled to launch by 6 AM each day. Allow time for traffic and parking and walking into the balloon field.
· Approach the balloon field from the west and park on the south end of the field. This seems counter-intuitive as there are several routes off the freeway that enter from the east, but from that direction we have routinely spent an extra 45 minutes sitting still in a long line of cars. The lesser-used western approach moves steadily and relatively quickly.
· The parking lot you want to end up in should influence your route. Approach from the east to park on the north. These lots are at a similar ground level to the balloon field and make for easy entry and exit. Approach from the west for the south lots. If you are running behind, this is a good option as the balloons will fly directly overhead as they leave the balloon field. Keep in mind, though, that the south lots are elevated so can mean a more difficult walk back to the car when everyone is worn out and tired.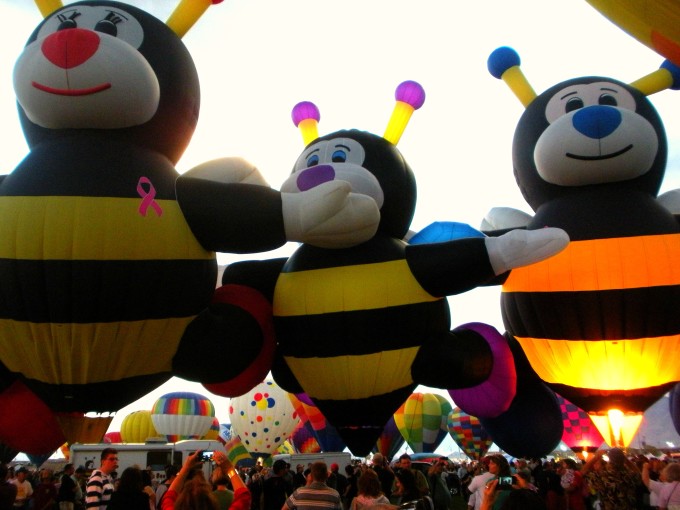 Deciding When To Go
Attending all 10 days of Balloon Fiesta is really exciting, but probably not realistic for most traveling families. Each year since our first, we have gone a fewer days until deciding 3-4 days is the perfect amount of time for us. When deciding how many days to attend, leave the schedule a little bit flexible. Bad weather days do get rain checks, and it is nice to have the option of an extra day. Schedule factors to consider include...
· Opening Weekend: Hundreds of balloons will launch to kick off the celebration; rainbows of color rising to the sky as row after row of inflatables race to lift higher and soar farther. The first two days also bring the largest sea of people and you will spend a lot of time slowly wading through them. A second drawback to going opening weekend is that many of the special balloons which are featured later in the week will not yet have arrived.
· The Special Shape Rodeo is a combination of every good childhood dream, in 10-story high, life-like fashion. The only balloons flying will be in the shape of cartoon characters, nursery rhymes, animals, and fantasies. Hands-down our family favorite is a flying rooster, but crowd favorites include a family of bumblebees, a dairy cow, and Darth Vader.
· Make sure the plan includes at least one night glow. Enveloped in darkness, the burner fires and shining colored nylon create an atmosphere entirely different than what you will have already seen.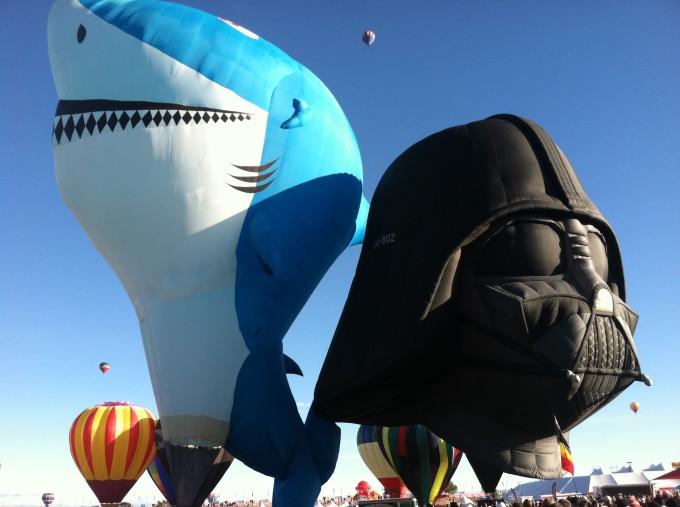 We're Here, Now What?
All logistics out of the way, the part of Balloon Fiesta kids really care about is the balloons. In addition to this post on tips for taking kids to the festival, we've learned a few ways to encourage our kids' enthusiasm while also maintaining their safety...
· Make your first stop at the New Mexico State Police "Tag Your Tots" booth. Children receive a wristband with your phone number that officials can call if you get separated from them. No other place do I feel this is more important than at Balloon Fiesta. The crowds are very large and packed in tight. It is easy to lose sight of a child in a moving line of foot traffic and the extra security measure is worth the peace of mind.
· Prepare for walking. The balloon field is equivalent to the size of 56 football fields and you will cover it many times. As balloons raise and launch, new ones "way over there" will come into view and have the whole family moving in a new direction.
· Start near the north end of the balloon field. This is where the commercial balloons line up, and it's a race to inflate and take to the air. Popping up and squeezing all together, they launch in rapid succession. It's a lot of adrenaline first thing in the morning!
· Every balloon has a trading card to collect. Bring a lanyard with a ring for each of your kids, and a hole-punch to make it easy to hang their collection and keep you from filling your pockets.
· Dress in layers. At 6 AM it may be chilly enough for gloves and hats, but by the time the sun comes over the mountain it can be back to shorts and tees.
· Keep the kids entertained with a fun scavenger hunt.
· Stay awhile. The crowds will leave en masse as the last balloons alight, but why hurry? Pack a late morning lunch, or buy a delicious green chile burrito, spread out a blanket and enjoy watching returning chase crews or competition flights. In the evening, come early enough to lay out a picnic dinner, fly a kite, or a throw a Frisbee. By the time the balloon field closes mid-day everyone will be warmed up and ready for other explorations.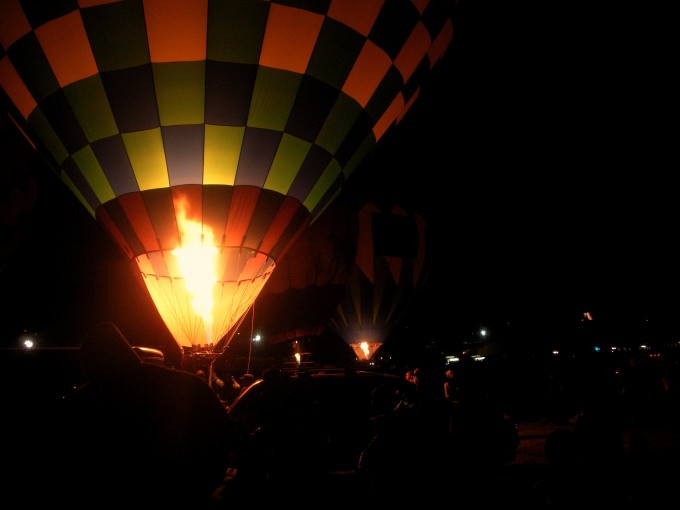 What about souvenirs?
Every year my kids come home with a mini inflatable balloon that holds air for about 2 days. They love them and for us their excitement is worth it. There are ways, however, to save money on your trinkets and mementos...
· We love the official Balloon Fiesta calendar and hang one on our wall to count down the days until our next New Mexico adventure. Look for them and other balloon items in several places around Albuquerque.
· If having this year's dates and slogan printed on your souvenirs is not important, visit the Balloon Fiesta Gift Shop south of the field entrance and museum. There you will find beautiful gifts from years past at a discounted rate.
It doesn't make sense to spend vacation getting up earlier than you do at home and walking more than your fitness counter has ever recorded, but surrounded with the sights and sounds of Albuquerque's Balloon Fiesta, it somehow all comes together, and you will completely understand what you are doing there.